Amenities:
Charcoal Grill

Full Kitchen

Hot Tub

Iron / Ironing Board

Mountain View

Parking

Washer/Dryer

WIFI
*** Decorated Christmas Tree In Unit for the Holidays ***

Enjoy mountain views from your great room, loft bedroom and covered deck. Cozy enough for a couple, big enough with 2 full bedrooms and baths as well as 2 sleeper sofas for 4 adults and 4 kids. Hot Tub, Pool Table, Jacuzzi, Free WIFI.
Cabin Bedrooms Layout
Loft Master Suite

King Bed
Sleeps 2
Loft Master Suite: Futon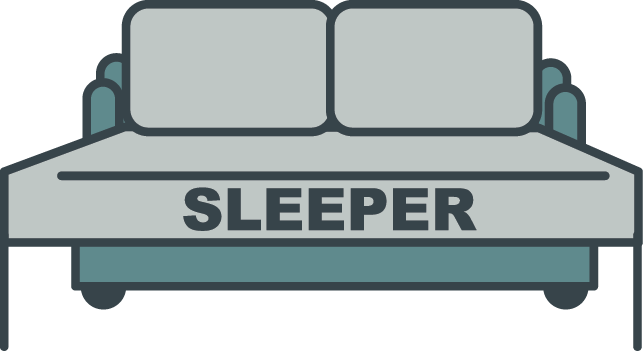 Queen Sleeper
Sleeps 2
Main Level Master Suite

King Bed
Sleeps 2
Great Room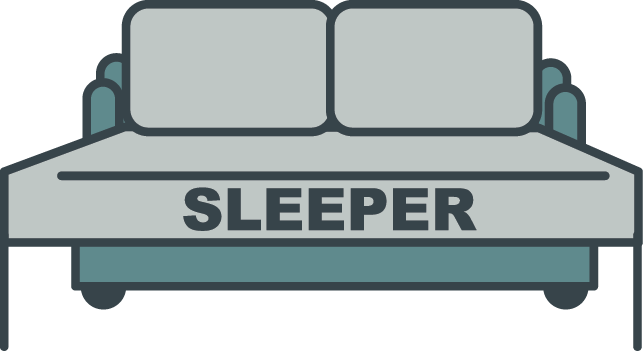 Queen Sleeper
Sleeps 2
Full Description
*** Decorated Christmas Tree In Unit for the Holidays ***

Think of a place where you can wake up and enjoy your morning coffee while sitting on a porch rocker on your own covered deck while enjoying the sites and sounds of the Great Smoky Mountains. Hawks Vue is your perfect getaway cabin for you and your special someone. Even better, the cabin features 2 full baths and 2 master suites (1 main level and one in the loft). It's cozy enough for a couple looking for a romantic getaway and big enough with a 2nd bath and 2 sleeper sofas to bring the kids or another couple. Hawks view accommodates sleeping for 4 adults and 4 kids.

An open floor plan, the great room with sitting area and fireplace features 25 foot vaulted ceilings and a wall of glass with views of the mountains. Relax in front of the fireplace on your leather sofa and enjoy a book or gathering with friends and family.

Prepare in cabin meals with your fully equipped kitchen including pots and pans, mixing bowls, mixer, blender, toaster, coffee maker, dishwasher, stove and microwave. Enjoy eating with your friends and family in the attached dining area with seating for 6.

Play a game of pool or head to the covered deck and enjoy a 102 degree soak in the hot tub.

Both the main level and loft master suite include upgraded bedding as well a full baths with Jacuzzi tubs.
*** This cabin is located 10 minutes from the main Elk Springs Resort Property
Decorated Christmas Tree for the Holidays
Mountain Views
Pool Table
Hot Tub on Covered Deck
Porch Swing
Main Level Master Suite
Loft Master Suite
2 Full Baths
1 Jacuzzi Tub
1 Sleeper Sofa
Satellite TV
Charcoal Grill
Plenty of Flat Parking
Gas Fireplace
Iron / Ironing Board
Dishwasher
FREE WIFI
Calendar
Click your dates below to check in and check out
Available
Check In Only
Check Out Only
Selected
Unavailable
Photo Gallery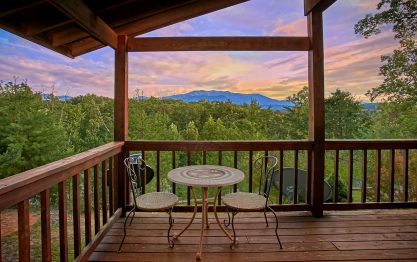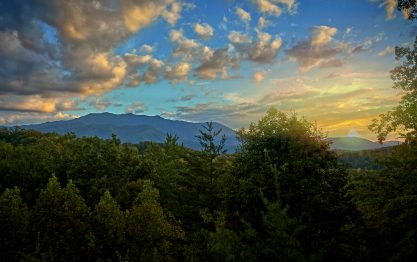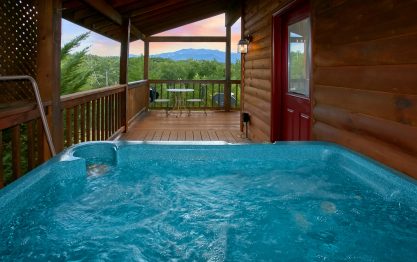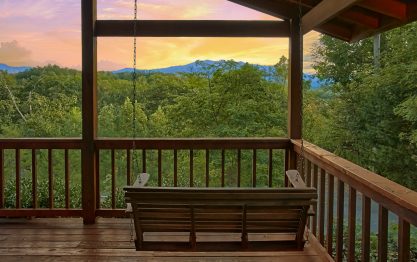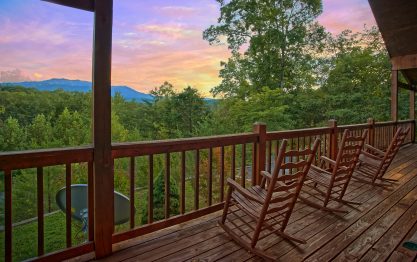 See All Photos
Reviews
Dan

Bellefontaine, OH

"Beautiful View!"

This was our second stay with Elk Springs. We have been highly satisfied both times. This cabin is beautiful. I chose this one for the views and I was not disappointed! The cabin was clean and everyth

…

ing worked as it should. Our family of 8 had the best vacation ever! Loved the deck. Love the ease of checking in, not having to go to an office for check in, they send you the door code and you can go straight to your cabin when it is ready. We would definitely recommend Elk Springs resort cabins!

+ Read More

Manager Response:

We are very pleased to see you had such a great time at Hawk's Vue! We certainly agree, this cabin is gorgeous with top-notch amenities for the entire family to enjoy. We are so happy you chose to visit us again. We hope to become your home away from home while visiting the area. Hurry back, new adventure awaits!

Mark F.

Lakeland, FL

"Mountain trip "

Excellent, the Hawk's Vue cabin was clean, everything worked, view was amazing. The cabin was also close to everything we wanted to visit.

Manager Response:

We appreciate your business and your wonderful 5-Star review, Mark! We certainly agree, Hawk's Vue has an amazing view and is filled with top-notch amenities for you and your group to enjoy. We do hope you will visit with us again during your next trip to The Great Smoky Mountains. Please keep in mind, as a returning guest you will enjoy 10% off all future bookings!

Angela

Toledo, OH

"The Perfect Getaway"

Initially my family booked 3 nights for our stay and as soon as we found our location and entered the cabin we called to book another night. The cabin was very clean, private, and had a beautiful vie

…

w with many options for relaxing. My only regret is that we couldn't stay longer. We accidentally locked ourselves out of one of the bathrooms and maintenance was there within a half hour to open the door for us and give us sightseeing suggestions. Everyone was helpful and friendly. The kitchen also had everything you could need to cook any meal throughout the day. Just bring groceries and you're ready to go!

+ Read More

Manager Response:

Thank you for your wonderful 5-Star review, Angela! It is great to hear that we exceeded your expectations. Hawks Vue is definitely a wonderful cabin to relax and escape from the everyday routine. We are glad you called for our assistance. We take pride in our customer service and love helping our guests! We do hope you will join us again during your next visit to The Great Smoky Mountains!

Katherine

Plainfield, IL

"Restful Birthday Get-Away"

Restful, clean, relaxing, and fun...despite the downpour rain for the majority of the weekend!

Manager Response:

Thank you for trusting Elk Springs Resort with your vacation lodging, Katherine. We are delighted your stay was enjoyable, despite the rain. We hope you will make plans to visit us again.

Forrest B.

Arlington, TN

"Weekend Paradise"

A fabulous weekend getaway. Elk Springs made check-in a breeze with instructions, google map link, etc through text messaging. Cabin was very clean, neat, and beautiful. Check out was also a breeze.

Manager Response:

Thank you for allowing us to be a part of such a wonderful weekend get-away, Forrest! We are happy to hear your stay was exceptional. We enjoyed having you as our guest and hope you will visit often!

Krista

Columbia, TN

"Hawks Vue"

Loved the cabin!! Great view and location!

Manager Response:

Thank you for your 5-Star review, Krista! We are excited to hear your stay was exceptional. We agree, Hawks Vue is the perfect cabin to relax and unwind from the stresses of everyday life. We enjoyed having you as our guest and hope you will visit often. Please keep in mind, as a returning guest you will enjoy 10% off all future stays. Hurry back, new memories are waiting to be made!

Gwendolynn W.

Niceville, FL

"Amazing Cabin with an awesome view "

My family and I enjoyed our stay. Everything that we needed was there. We even had a roller coaster ride every time we went somewhere.

Manager Response:

Thank you for your 5-Star review, Gwendolynn! We are delighted to hear you and your family enjoyed your stay. This certainly is a fun cabin to drive to! It will give you that authentic mountain drive without having to go up steep mountain roads. We enjoyed having you as our guest and hope you will make plans to visit again soon!

Adel A.

Newport News, NA

"It was a great and amazing experience "

I enjoyed seeing the great smokey mountains . Me and my family have a very nice time . Landscape was amazing and the proprety as well .


Manager Response:

Thank you for your 5-Star review, Adel! We are happy to hear you enjoyed your stay. We hope you and your family will come back and visit again soon!

Tanya

Columbia, IL

"Hawk's Vue"

This cabin was very nice. The highlight was the amazing view! Absolutely gorgeous. A little far from town, but not too bad. Very secluded. The cabin was clean and nice, but definitely not what I

…

would call "luxury." While everything looked really nice, you could tell most of it (furniture, TV, kitchen appliances, bathroom fixtures) were done pretty cheap.

+ Read More

Manager Response:

Thank you for your business and for your feedback. Each of the cabins that we manage are individually owned. The owner has plans to do some upgrades in the future. We are pleased that you enjoyed your stay overall and yes, those views are pretty amazing!

Bethany O.

Lexington, TN

"Bachelorette Getaway"

We had a wonderful experience. The cabin was far enough away from the city that we could enjoy the outdoors, but close enough that we could go into the city to explore.

Manager Response:

Thank you for allowing us to be a part of such a special celebration, Bethany! We are delighted to hear your stay was exceptional. We enjoyed having you as our guest and hope you will make plans to return often!

Melanie

Murray, KY

"Great Cabin Rental"

Overall our experience with this cabin was great! We booked only a couple of weeks before coming yet were able to find this cabin available with most of the amenities that are important to us. We va

…

cation quite often in the Smokey Mountains and always get a cabin to stay in. Most important to us is that the cabin must have wonderful mountain views. We also desire as much privacy as possible. This cabin was different in the fact that the front of the cabin had the deck with the mountain view and it was indeed a great view! As far as privacy goes, this cabin is located in a cul-de-sac on top of a mountain, so while there are several other cabins including one on one side, we found it to be quite private. Everything was clean, beds were comfortable, kitchen was nice. Drive up to the cabin was not too bad at all, but winding & a little tedious after dark.

+ Read More

Manager Response:

Thank you for your 5-Star review, Melanie! We are delighted to hear your stay was exceptional. We certainly agree, the views you will experience at Hawks Vue are absolutely breathtaking. We enjoyed having you as our guest and hope you will make plans to come back and visit us often!

Kellee

Wyandotte, MI

"Beautiful!!!"

This cabin was beautiful!! The views and location were perfect!!! The pictures were exactly what we were expecting!!! Only thing is we wished we could of stayed longer!! We will for sure be back!!!!

Manager Response:

Thank you for your wonderful review, Kellee! We love hearing how much you enjoyed your stay. We hope you will consider making Elk Springs Resort part of a new tradition when visiting our beautiful Great Smoky Mountains. Please keep in mind, as a returning guest you will enjoy 10% off all future stays. Hurry back, new memories are waiting to be made!

Tara W.

Pawnee, IL

"Honeymoon"

It was just like the pictures!!! It was everything we hoped for and more!!

Manager Response:

Thank you for allowing us to be a part of such a special celebration, Tara! We are happy to hear we exceeded your expectations. We hope you will consider making Elk Springs Resort part of your anniversary plans for many years to come. Please keep in mind, as a returning guest you will enjoy 10% off all future stays.

Andy P.

Waterbury, CT

"Excellent choice we made!"

Hawk's Vue cabin that we rented is exactly what it looks like in the pictures. Nice, clean and great views of the mountains. The rental company was very helpful with the area information and followe

…

d up on our stay if we needed anything. I would definitely do it again. Thank you.

+ Read More

Manager Response:

Thank you for your kind review, Andy! We are pleased to hear you enjoyed your visit. We certainly agree, Hawk's Vue is an exceptional cabin. This cabin offers great views, as well as a variety of top-notch amenities for your enjoyment during your stay. We hope you will take the opportunity to come back and visit with us again soon!

Ebony T.

Charlotte, NC

"Relaxation"

Having never rented a cabin, I was skeptical about what I would be getting into. Hawks Vue was exactly like the pictures and felt like home away from home. Looking forward to renting again!

Manager Response:

Thank you for your kind review! We are happy to hear the cabin exceeded your expectations. Please keep in mind, as a returning guest you will receive 10% off all future stays. We hope you are able to come back for your next Gatlinburg get-away soon!

Rare E.

Virginia Beach, VA

"best days I've had in a while!"

the Hawk Vue cabin was pretty something! It was very clean inside and out and the view was absolutely amazing. I would definetly come back here again.

Manager Response:

We appreciate your business and positive feedback. We are pleased to hear that you enjoyed everything about your stay and hope you will return again soon.

Hugo

Alpharetta, GA

"Beautiful setting"

We loved the location of the cabin but beware of lack of cell phone reception getting there especially if it's dark, misty raining and you're driving those windy roads all alone then it can be pretty

…

scary and easy to get lost! . Stunning views (when the cloud lifted, it rained most of the time we were there). Cabin was very clean inside and out and well equipped except for a lack of kettle. Beds all comfortable except for pull out one in living room. Loved the hot tub and sitting on the deck with the gorgeous views. Big complaint would be that we couldn't get any sleep the 1st night cause the sound of the rain on the metal roof and coming down the down pipes was so irritating and loud particularly in the upstairs bedroom!! I would give this place 5 stars had it not been for the rain noise but it's getting 3 cause if I can't sleep it's not the relaxing vacation we needed.

+ Read More

Manager Response:

We appreciate your business and for taking the time to give us this feedback. Please understand, we cannot control the weather or the amount of cell reception you receive in the mountains. We will look into adding a kettle to our kitchen inventories in the future.

Dana S.

Towell, OH

"Great cabin. Awesome view"

We stayed at Hawk's Vue over Thanksgiving and it was wonderful. The view was unobstructed and amazing. Cabin very clean with updated kitchen and appliances. Had a small glitch getting the door code to

…

work and the Internet but the staff was on it immediately. Looking forward to our next trip down. We traveled with two boys 10 and 14 and they loved the pool table!

+ Read More

Manager Response:

Thank you for the 5-star review, Dana! We apologize about your small internet and door lock problems. We are glad we were able to solve this issue for you quickly. We have 24 hour phone coverage, so our guests can have peace of mind that their issues will be taken care of right away. We encourage you to take advantage of our 10% repeat guest discount for a future stay with us!

Alan

Greer, SC

"Hawks Vue (or not)! We had fog and rain, but......"

We had fog and rain for the first two days, but when it did clear the view of the Smokies was wonderful.

Manager Response:

We appreciate your business and wonderful review, Alan. We hope you will consider Elk Springs Resort when visiting Gatlinbug in the future. Please take advantage of your 10% repeat guest discount at the time of your next booking! Hurry back, more memories are waiting to be made.

Stephanie S.

Winder, GA

"Hawks Vue"

The cabin had a great view. We enjoyed our vacation at Hawk's Vue. We have stayed at Elk Springs Resort for seven years now. We enjoy staying on the main resort property more but everything was still nice.

Manager Response:

Stephanie, we certainly appreciate your business for the past seven years! Customer satisfaction is very important to us and your feedback helps us to improve our services. October is always a busy season for us with the tourists coming here to view the beautiful fall foliage. If you would like to stay on the main resort for your next stay, please be sure to book as far in advance as possible to ensure you get the location you desire. Thank you again for your repeat business! We look forward to your next trip to The Great Smoky Mountains.

Brittany S.

Charleston, SC

"Hawks Vue rental"

great location, view, experience. Annoying that the Resort people came at 9am to change the batteries in the door knob

Manager Response:

Thank you for your review Brittany. Our system is set up to alert us when the batteries are low in the door locks and we have a small window of opportunity to change these out so that you don't get locked out of your cabin. We can track this in our computer system and this whole process took from 9:54 a.m. to 10:00 a.m. to complete. We appreciate your understanding regarding this minor but necessary inconvenience.

Danielle S.

Fremont, Ohio

"Great Mountain View"

It was gorgeous! The entire cabin was beautiful and there was so much room for everyone! Waking up to the view of the mountains was amazing. However, the mattresses on the pull out couches were very t

…

hin and uncomfortable so we had to combine the two onto one bed. The pillows were also too soft/small so I'm glad I brought my own since I'm so picky. Amazing experience overall!

+ Read More

Manager Response:

Thank you Danielle. We are pleased to hear that you enjoyed the cabin and the views. The sofa sleeper mattresses are much thinner than a regular mattress so that the mechanism can be easily folded up when not in use. We are sorry that you were disappointed by this. For that reason, most of our guests use these mainly for children to sleep on.

Steven

Bellefonte, PA

"Great Experience at Hawk's Vue"

We stayed at Hawk's Vue for the better part of the week and absolutely LOVED it. The cabin was just as advertised. I loved the mountain views while my kids enjoyed the pool table and other amenities

…

. The cabin was clean and had all the items we needed for a perfect stay in the Smoky Mountains. We would absolutely stay there again and again and again!

+ Read More

Kelly M.

Grove City, PA

"Hawk's Vue vacation"

The cabin was just as nice as it looked in the pictures. We had a couple of little issues with the TV and the alarm system, but when we called the issues were resolved immediately. The kids had a blas

…

t and we would definitely stay there again! I've recommended Elk Springs Resort to my friends.

+ Read More

Sharon S.

Blissfield, MI

"Amazing Vacation"

This is our fifth year booking with Elk Springs Resort. You can always plan on an immaculate cabin, well maintained,and great customer service. This cabin did have amazing views of the mountains, grea

…

t location, easy to get to attractions and restaurants. Truly a great vacation. Will book with them again next year. Thank you to all the staff at Elk Springs Resort.
Sharon

+ Read More

Manager Response:

We love our returning guests and your review shows that we are still doing a great job after all these years! We are pleased that you find our staff easy to work with and our cabins clean and well maintained. We take pride in our efforts and your feedback means a lot to us!

Christine

Merrimack, NH

"A Fabulous Stay!"

For a large family of 7 it is difficult for us to be able to take a vacation all together. Elk Springs Resort gave us a wonderful family experience in an absolutely beautiful cabin. The view of the mo

…

untain from the living area was fantastic. What a treat it was to be able to have stayed at such a place! The cabin was in great condition and perfectly clean and well prepared upon our arrival. It's just a short drive to the Smoky Mountain National Park and even shorter drive to downtown Gatlinburg. A great place to explore! Definitely would love to return and highly recommend this cabin and Resort to others!

+ Read More

Tim W.

Chicago, IL

"Hawks Vue Review"

My family had a great time. The cabin was amazing. Driving to the cabin, as well as the view was astounding. We want to go back to enjoy it more. We saw other cabins in the area and believe we stayed at one of the best. I recommend this cabin.

Jerome T.

Indianapolis, IN

"A wonderful view at Hawks Vue"

The stay at Hawks Vue was amazing! After the second time navigating the road to the home... it was such a beautiful drive full of winding roads (barely enough room for 2 cars to pass though, but that

…

was the purpose of being in the mountains)! The home was very accommodating, roomy and cozy! The view from the loft bedroom was like looming at a painting! We will definitely be back soon!

+ Read More

Radhakrishnan C.

Rockville, MD

"hawk's vue - amazing cabin"

even though we stayed only for 2 nights, the stay at hawk's vue cabin was awesome.

Allyson V.

Memphis, TN

"Family Getaway!"

My husband, mother, father, brother and cousin all had a fantastic time! My family had never been to the mountains and they never wanted to leave, especially the cabin. We loved cooking our meals in t

…

he cabin and drinking coffee on the porch while watching the beautiful scenery. We will definitely be back!

+ Read More

Darlyn

Danville, Indiana

"Fantastic view and quite setting"

Hawks Vue cabin sits on the mountainside with a view of the beautiful Smokey Mountain National Park to greet you. We loved the peacefulness but yet close to arts and crafts community. Just a short dr

…

ive to Gatlinburg downtown. The cabin was great and we would love to come back for a longer stay next time. Directions to the cabin were good but definitely get there before dark if you are unfamilar with the area. Keep the directions in the car with you or you can easily forget a turn onto the right road since you have a few roads to turn onto to get to the cabin. Beatuiful area, beautiful cabin, and beautiful weather couldn't ask for more than that we had a great stay!

+ Read More

Valerie R.

Ormond Beach, Florida

"Nice cabin with nice view!"

This is our second time renting from Elk Springs. We liked this cabin a lot. It's in the arts & crafts area. It had a beautiful view from the front of the cabin. It's in a neighborhood with other

…

nice rental cabins, but the area is very quiet and not to hard to get to. The only cabin really close to us was separated by a sliver of trees on a high natural wall of dirt, so although it was right next door it still provides privacy. The only problem we had was that our security code did not work at first, but this was fixed in a timely manner. I would recommend this cabin, especially if you want to spend a lot of time in the arts & crafts area.

+ Read More

Deanna A.

Columbia City, IN

"Perfect Family Get-Away!"

We booked this cabin at the last minute, got in the car and drove!!! It was a perfect 3-day, 2-night getaway. Beautiful accommodations! My nine-year-old discovered that he LOVES pool, and my 13-year

…

-old took off, exploring before the car was even in park. So much to do!! Close to Gatlinburg and touristy things, and a little bit farther to white water rafting and hiking to Midnight Hole. We will be back!

+ Read More
Load More Reviews