Amenities:
Charcoal Grill

Full Kitchen

Hot Tub

Iron / Ironing Board

Mountain View

Parking

Washer/Dryer

WIFI
If you are looking for a 3 bedroom luxury cabin with an incredible view, then look no further. You may find a few cabins with views that are just as nice, but you won't find many secluded cabins that have the luxury finishings and amenities like Hawks Ridge.
Cabin Bedrooms Layout
Master Suite 1

King Bed
Sleeps 2
Master Suite 2

King Bed
Sleeps 2
Master Suite 3

King Bed
Sleeps 2
Game Room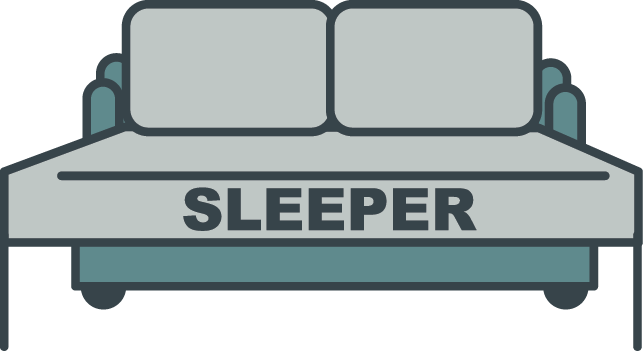 Queen Sleeper
Sleeps 2
Full Description
Enter at the mid level into the great room and enjoy amazing views through the 22 foot wall of glass and exposed beams up to the loft area. Relax in front of the fireplace where you can enjoy the views and a book or maybe watch your favorite sporting event on the 48" HDTV.

The main level includes a king master suite with full bath and upgraded bedding. Just off the great room is a full kitchen with all the appliances, cookware and utensils you'll need to prepare in cabin meals for your group including a mixer, blender, toaster, coffee maker, dishwasher and microwave. A charcoal grill is included for your convenience. You can enjoy the outdoors on 1 of your 2 covered decks. Maybe even relax in the hot tub with mountain views after a day of hiking.

Head up for some peace and quiet into the upper level loft bedroom king suite with romantic jacuzzi tub.

Ready for some excitement? Head down to the lower level game room with eclectic stained concrete floors where you can compete in a friendly game of pool or foosball with your friends. Turn the game on in the background on your 42" HDTV with DVD player.

This cabin includes 2 futons for extra sleeping capacity. A washer/dryer as well as free WIFI is included for your convenience.
*** This cabin is located 10 minutes from the main Elk Springs Resort Property
Incredible Mountain Views
Pool Table
Foosball Table
Hot Tub on Covered Deck
3 King Suites with Full Baths
2 Futons
1 Jacuzzi Tub
5 TV's, 5 DVD Players
TV in each Bedroom
Satellite TV
Charcoal Grill
Plenty of Flat Parking
Gas Fireplace
Full Sized Washer / Dryer
Iron / Ironing Board
Dishwasher
FREE WIFI
Calendar
Click your dates below to check in and check out
Available
Check In Only
Check Out Only
Selected
Unavailable
Photo Gallery
See All Photos
Reviews
Mark R.

Hanahan, SC

"A weekend getaway with the kids "

We met our kids there for the weekend and the property was great beautiful views easy to get to. ?

Manager Response:

Thank you for your wonderful review, Mark! We are delighted to hear you stay was exceptional. We enjoyed having you as our guest and hope you will visit again soon!

Gm

Oviedo, FL

"Wonderful Experience "

It was wonderful to stay there, enjoying the mountain views from inside the cabin or any balcony. Lots of swings and rocking chairs on balconies. Neat and clean rooms in a perfect condition and nothin

…

g to complain about. We would come back again to this specific unit, "Hawks Ridge".

+ Read More

Manager Response:

Thank you for your wonderful review! We are delighted that you had such a great stay and were able to take in the wonderful views of the Smoky Mountains. We hope you are already planning your next visit to Elk Springs Resort. Hurry back, new memories are waiting to be made!

McKenzie H.

Raleigh, NC

"Amazing View! "

Our stay in Hawks Ridge Cabin was wonderful! The cabin was perfect and the views were breathtaking! Everyone I spoke to at Elk Springs Resort were unbelievably helpful and welcoming!

Manager Response:

We certainly appreciate your kind review and recognizing our wonderful customer service staff for a job well done. We feel communicating with our guests is extremely important and we want to ensure your cabin getaway experience is as stress free as possible. We utilize phone calls, emails and text messaging to make sure our guests are informed of all the necessary information needed before, during and after checking in to one of our luxury cabins. Thank you for your business and we look forward to having you back for a future stay.

Patrick

Sussex, WI

"Spring Break"

We enjoyed our time at Hawks Ridge. This was our second time at an Elk Springs property and we were not disappointed. The amenities were exactly as described. The property was immaculate and you can

…

see they take pride in it. Would definitely stay here again and I will only stay at Elk Springs properties when I am in the area!

+ Read More

Manager Response:

Thank you for your business and kind feedback. We look forward to doing business with you in the future. We have several cabin choices, so be sure to check them all out on our website or contact our sales department to assist you in making that perfect cabin selection for your next stay with Elk Springs Resort!

Jennifer M.

Oxford, MI

"Hawkins Ridge stay"

We had a great time at Hawkins Ridge! Staff was very helpful. Cabin was very clean, super comfy beds,& stocked kitchen. The view was great. Close to town. Kids and hubby loved the pool table and I lov

…

e the relaxing deck to read on. Will be back for another vacation soon. Hopefully in one of the pool houses next time.

+ Read More

Manager Response:

Thank you for your business and for the wonderful review, Jennifer! We are pleased that your cabin choice was everything you hoped it would be. We do our best to provide our guests with a home-away-from-home experience and your 5 star review is proof of what Elk Springs Resort is all about! We would love to have you back for a return stay. When you are ready to book, our professional sales staff would be happy to assist you in finding the perfect pool cabin for your family to enjoy or feel free to check out our website for descriptions and up to date photos! Also, be sure to mention that you have stayed with us before and you will receive an automatic 10% discount!

Evelyn S.

Huntsville, AL

"Thanksgiving"

We had a marvelous time. The cabin was tremendous and very well appointed. I can only hope and pray that it is safe from the fires spreading through the area.

Manager Response:

We are excited to hear you enjoyed your stay, Evelyn! Hawks Ridge is an exceptional cabin that offers the perfect location to enjoy a true get-away from the hustle and bustle of everyday life. We are happy to report that this area was unaffected by the fires. It is as beautiful today as it was during your visit. We hope you will make plans to come back and visit us again!

Elizabeth

Hamilton, OH

"Great Vacation"

Great company to work with and the location was fantastic! Loved our cabin!

Manager Response:

Thanks so much for taking the time to review us! We are so glad that your enjoyed your stay! Please come visit again! Return guests will receive a 10% discount on all future bookings!

Courtney G.

Muskegon, MI

"Beautiful"

A very nice cabin with beautiful views. Very spacious. The cabin was up tucked in the mountains.
Very well set up...pool table, hot tub, etc...

Manager Response:

Thank you for your 5-Star review, Courtney! We are happy to hear your stay was exceptional. We enjoyed having you as our guest and hope you will make plans to come back and stay with us often!

Todd R.

North Fort Myers, FL

"Todd"

Very nice place to stay...a very private location away from the downtown gatlinburg and pigeon Forge...but yet close to downtown...would definitely stay there again!!!

Manager Response:

We are excited to hear you enjoyed your stay at Hawks Ridge. We certainly agree, the location of this cabin is perfect. We hope you will take the opportunity to come back and stay with us again during your next visit to our Great Smoky Mountains.

Cesar Z.

Altamonte Springs, FL

"Heaven"

Extremely Beautiful... LOVED IT!!!! Breathtaking

Manager Response:

Wow! We are excited to hear you had such a wonderful visit with us! We hope you will make plans to come back and stay at Hawk's Ridge again. Please keep in mind, as a returning guest you will enjoy 10% off all future stays. We hope to see you soon!

Diane H.

New Castle, PA

"Almost Heaven"

A beautiful and spacious cabin with wonderful mountain views. This was our second Elk Springs cabin and both have been top notch!

Manager Response:

Thank you for your 5-Star review, Diane! We strive to provide top-notch cabins that will make you feel at home from the moment you walk in the door. We are happy to hear that Hawk's Ridge exceeded your expectations. Please contact us when you are ready to start planning your next Gatlinburg get-away. Your next Smoky Mountain adventure awaits you!

Martine

Birmingham, AL

"Love the Place"

Very nice location and great view

Manager Response:

Thank you for your kind response. We look forward to your next stay in the beautiful Smoky Mountains.

Mohammed A.

Beavercreek, OH

"Amazing Experience "

Went with my family of 5 and loved it.

Manager Response:

Thank you for sharing your experience with us. We are pleased to hear that you and your family enjoyed your stay with Elk Springs Resort. We look forward to having you as our guest in the future.

Jennifer W.

Cedartown, GA

"Great Family Getaway"

We have a family of 7 and the cabin had plenty of space! If we wanted to watch a movie, play a game pool or have quiet time, this place met each need. The people at Elk Springs offered superb hospital

…

ity. We would definantely consider staying at Hawks Ridge again.

+ Read More

Manager Response:

Thank you for your business! We hope you will continue to enjoy Elk Springs Resort's cabins for many years to come! We are running a great Groupon promotion right now. Feel free to check it out and book your 2017 vacation with us!

Mark

Franklin, TN

"Outstanding cabin!"

Another great Elk Springs property - and we've stayed at many. This one is very private with a fantastic view and clean as always. No problems at all.

Manager Response:

We appreciate your loyalty and your wonderful 5 star review, Mark! We certainly agree! Hawks Ridge is a perfect cabin for viewing the beautiful Smoky Mountains. We do hope to see you again very soon.

Richard

Memphis, TN

"Nice Place"

Very nice place with great views. The trees in front of the house could be trimmed to provide much better views from both decks. Overall a very nice place that is very quiet. Deer and turkey spotted just down the road from the house.

Manager Response:

Thank you for taking the time to give us this great review, Richard! We certainly appreciate your business and welcome your feedback. It helps us to continue to improve our customer service and overall guest satisfaction. We hope you will consider a future stay with us.

Munira R.

Round Rock, TX

"Very pretty and clean cabin"

Was absolutely great! The cabin was very clean, great location, loved the multiple patios and the fact that each couple had their own level in the house :) Just have one recommendation to the owner -

…

would be great if you had enough dishwashing and washing liquid to last the whole stay. We had to end up buying a big packet and leaving it there since there was enough for just one wash and we were there for 3 days. Other than that a wonderful cabin!

+ Read More

Manager Response:

Thank you for the review Munira! We do our best to inform our guests, by email prior to your arrival, that you only receive a starter pack of supplies and that you will have to buy your own if necessary. We are sorry for any inconvenience this may have caused for you. It seems that the cabin itself was perfect and everyone enjoyed their time here! We hope you will consider a return trip to one of our cabins again.

Christine B.

Pinckney, MI

"Week long stay and Hawks Ridge"

We had a great time in Hawks Ridge. The cabin was clean. We loved the pool table, and hot tub. The kitchen had everything we needed to make big meals for our group of 6 adults and 2 kids. We were all

…

very comfortable there. Great place to stay for vacation!

+ Read More

Manager Response:

Thank you for the 5 star review Christine! We are pleased to hear that you enjoyed everything about your cabin stay and we look forward to your return.

HK J.

Orlando, FL

"Very Nice"


the property was great, plenty of room for the 6 in our party, would stay again

Manager Response:

Thank you for the review of your stay at Hawks Ridge. We are pleased that you and your party enjoyed your stay here. We hope you all come back to breathe in some fresh mountain air again soon. Remember, as a repeat guest, you receive a 10% discount on your next booking.

Larry G.

Addis, LA

"Wonderful views and a restful stay!"

We had a very relaxing stay in the cabin! I would go back for sure. Since we did a great deal of our own cooking, I might suggest bringing a larger pot or two along. I cooked for 8 could have used a l

…

arger one. Any deficiency was quickly taken care of by the resort services! Beautiful area to visit! I highly recommend Hawk's Ridge.

+ Read More

Manager Response:

Thank you Larry! We appreciate your feedback. We are sorry that the basic cookware set at the cabin wasn't adequate for your larger party. We hope you found the kitchen well stocked otherwise. We hope you and your family come back to relax at an Elk Springs Resort cabin again and again!

Vicky B.

Dewitt, MI

"Hawks Ridge Cabin"

Great cabin. Great view. Clean and modern. Easy check-in and check-out. Centrally located to all entertainment sites. Out of the maddening crowd in the evening so you can relax.

Manager Response:

Thank you Vicky! There is so much to see and do here in the Great Smoky Mountains, but nothing like kicking back and relaxing when you are away from it all. What better way than a cabin stay like you enjoyed? We sure hope you come back to Elk Springs Resort cabins in the future.

David

Elmhurst, Illinois

"Hawks Ridge"

Hawks Ridge is a great cabin with an excellent view. The condition of the cabin upon arriving was phenomenal; interior and surrounding exterior were cleaned. The customer support was above par. I will

…

definitely be using Elk Springs Resort Cabin Rentals in the future.

+ Read More

Yihang

Columbus, OH

"Great cabin"

Very nice Cabin. Very good location.

Soumyadeep G.

State College, PA

"Great Vacation"

We were a group of eight graduate students from PennState. We stayed at the Hawks Ridge cabin over the weekend and it was great. There is parking for upto 4 cars. Loved the jacuzzi overlooking the smo

…

kies. The pool table and the foosball tables were a hit. The property has a stunning view and has a beautiful location away from Gatlinburg's hustle and bustle. I however would advise caution to people driving to this place since the approach road has a lot of sharp blind turns. The place was super clean. Had all the things needed in the bedroom and kitchen. Has an outdoor grill too for all the grill enthusiasts. Check in and check out was super easy. Overall we had a blast. Will definitely book again with them if I head there again.


+ Read More

Adam F.

Knoxville, TN

"Fun, Relaxing Weekend"

My brother, three friends, and I are avid outdoors people. I was able to talk everyone into renting your cabin and just hiking for the weekend--instead of backpacking. We certainly weren't disappointe

…

d. We were able to enjoy the park, then come back, cook, relax, socialize, play games, and plan our next adventures. I think I've started a new tradition!

+ Read More

Chester U.

Cookeville, TN

"Hawks Ridge"

Our vacation with Elk Springs was very pleasant, Hassel free and I would highly recommend them to anyone staying in The Smokey Mountains.

Taylor P.

Pineville, NC

"Best Mountain Experience Yet"

Such a beautiful place to spend a long weekend with a few close friends. The cabin was clean and the views were amazing. I will definitely consider going back here in the future.

Bennette

Salpillo, MS

"Great experience!"

Excellent! 5 stars!! The only thing I can say that was not a positive was the location for an "adult only trip." All night life is a good distance so we had to take cabs everywhere to enjoy adult beverages. Beautiful, secluded location though!

Debbie S.

Proctorville, Oh

"Peaceful, Easy Feeling"

A wonderful destination facility.

David F.

Monroe, LA

"Perfect Cabin"

My family had a wonderful stay at Hawks Ridge. Beautiful views, very relaxing. Would like to have more outdoor furniture.

Christopher

Houston, TX

"A little bit of paradise!"

We had a fabulous stay at Hawk Ridge. The view is spectacular. The home was in immaculate condition. We were there 4 nights and 5 days. Our only complaint is that we should have stayed longer! We h

…

ope to return again. The property is secluded enough to feel very private, yet a drive into Gatlinburg or Pigeon Fordge is quick.

+ Read More

Marcia

Indianapolis, IN

"family get together and get away"

Fantastic view and an awesome cabin with everything we could need or want. The only thing that could of made it better(which is a small deal in comparison to what it did provide was not enough loungin

…

g seating for the porch with the fantastic view. We pulled the rocking choirs(2) from the front porch but we needed seating for 8

+ Read More

Kevin F.

Marshall, IN

"Happy Times at Hawk's Ridge!"

Terrific time in Tennessee. Hawk's Ridge is a terrific cabin with everything you want from a Tennessee vacation. Elk's Springs Resort was terrific customer service and a great choice for our next Tennessee vacation.

Linda G.

Monticello, IN

"Hawks Ridge Stay"

Our Family were visiting the area for our Granddaughter's wedding. Teh cabin was everything we had hoped for and more. Clean, excellent location. Highly recommend for anyone.

Rose R.

Sound Beach, NY

"Peaceful retreat"

Our home was warm and inviting. It was wonderful having a separate area for the kids to hang out. The upstairs loft was very cozy. Nice experience

Holli L.

Wheeling, IL

"Perfect place for a perfect get-away"

THe cabin was ready and waiting when we arrived. Although the heat was not working the staff promptly came out (twice) and got it working perfectly. We enjoyed everything -- the views, the space, th

…

e technology, the great kitchen, the deck's -- perfect for family time and a great base for touring the area. While the cabin seemed pricey, it was an amazing value for what we got. Would love to come back!

+ Read More

Ann G.

New Roads, LA

"Great stay....snow and all"

My family totally enjoyed our stay at Hawks Ridge. Check in was easy. Everything was in order when we got there. I had to call a couple times for towels, garbage pick up and an issue with the wi if,

…

but my calls were always returned promptly and service was provided very quickly. Our kids had a great time playing in the unexpected Thanksgiving snow!! It was a fabulous vacation.

+ Read More

Daniel

Silverlake, IN

"Hawk Ridge"

Very relaxing hit the colors just right and would return to the same place, glad we did not have to go thru the dollywood tourist area to get there. Thanks

Lionel

Richmond Hill, GA

"LMP"

The property was beautiful and clean. The location was just awesome and the view was to die for. I highly recommend the property.

Jeffery M.

Springfield, IL

"Wow what a view"

Spectacular view, awesome "cabin" more like a vacation home.will Definately come back to this one

Deborah H.

Greenville, SC

"Great overall"

Had a little trouble maintaining Internet connection for our various computers.

Traci

Little Hocking, OH

"Excellent facility"

The cabin was very beautiful and had spectacular views. Very quiet and quant. I will select this property again for a future trip.

Roger F.

Allentown, NJ

"Family Vacation"

The kids and grandkids had a great time. The place was large enough for all 11 of us. A lot of things to do in the area for all ages. The only thing is this place needs a gas grill.

Cliff B.

Bradenton, FL

"Relax -Relax and then Relax ....."

WIfe and 17 yr old twins had a great week !
The only issue learn out to get around downtown or enjoy the walk .....

Jagruti A.

Charlotte, NC

"Everything was exellent.Request for Kleenex Tissue in Bathrooms."

It was very good $ we will come again.

David C.

Lakewood, NY

"2nd stay with elk Springs resort"

Elk Springs represents itself very well, The customer service is # 1. Rest assured if an issue arises ELK SPRINGS WILL MAKE IT RIGHT! Thank you Elk Springs for making your customers feel right at home, Hope to return again soon

Cromwell Luke G.

Peachtree City, Georgia

"Amazing."

Hawks Ridge was the perfect get away for my bachelor trip. It was secluded and beautiful and very peaceful. It was extremely well furnished and a joy to live in for a few days. Thanks for the great experience!

Mary Ann P.

Cincinnati, OH

"Wonderful Mountain Vacation"

We had a great time. No problems or incidents to complain about. Would definitely like to stay here again in the near future.
Load More Reviews