Amenities:
Full Kitchen

Gas Grill

Honeymoon

Hot Tub

Iron / Ironing Board

Parking

Washer/Dryer

WIFI
Very private and very secluded - the two most important features you have requested. Just wait until you're in the hot tub covered by your own private gazebo. This is the perfect ending to the day whether you have been hiking in the Great Smoky Mountains or zip lining across the tree tops! Spend time on the covered deck relaxing on a rocker or in the gazebo hot tub; spend time inside surrounded by lush wooded views of the valley and bluff mountain.
Cabin Bedrooms Layout
Master Suite 1

King Bed
Sleeps 2
Master Suite 2

King Bed
Sleeps 2
Great Room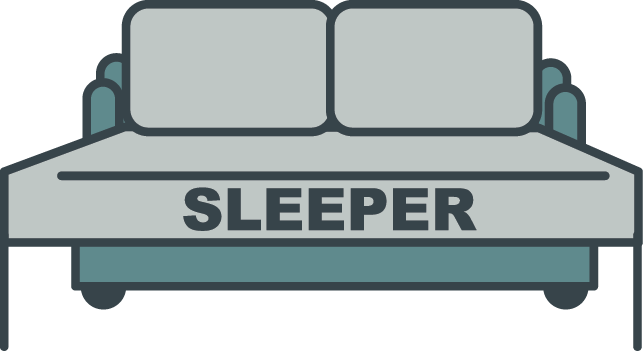 Queen Sleeper
Sleeps 2
Full Description
The upper level features a well appointed master king suite with a full bath including a tub/shower combination. Beautifully furnished, this bedroom only adds to your comfort while staying as our guest. Just outside this bedroom is the loft game room - that pool table is just waiting for someone to declare it's time for fun and maybe a few friendly bets!

The main floor living room is surrounded with vaulted ceilings and soaring windows plus a spectacular stone fireplace with a gas fireplace. A 42" flat screen TV is perfect for the summer and winter games! Please note - the couch opens to become a queen sized sleeper sofa, complete with linens, for last minute guests. The open floor plan leads to the well equipped kitchen with cherry cabinets and stainless steel appliances. The designated chef can easily create a full course meal or take advantage of easy cooking with the gas grill. Also on this main level is the main king bedroom complete with lovely, comfortable furnishings. The adjoining hall bath features a tub/shower combination.

The driveway is paved and the flat entry to Grin and Bear It is very user friendly with one step up to the main deck. A ramp leads to the gazebo and hot tub. There is a small grassy play area for kids. A beautiful cabin in a very beautiful part of the country - get ready to Grin!

Hot Tub
Pool Table
Gazebo with hot tub
Covered Decks
FREE High Speed Wireless Internet
Gas Fireplace
2 King Suites
2 Full Baths
2 Rocking Chairs
3 TV's
3 DVD Player
Digital Cable
Washer/Dryer
Gas Grill
Free Local and Long Distance Calling
Calendar
Click your dates below to check in and check out
Available
Check In Only
Check Out Only
Selected
Unavailable
Photo Gallery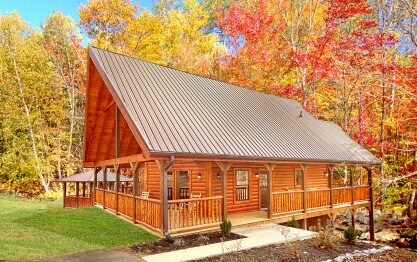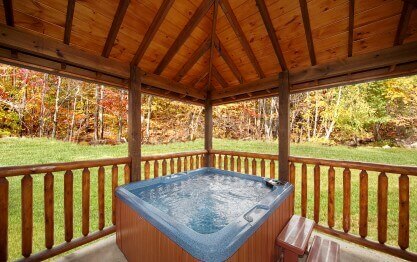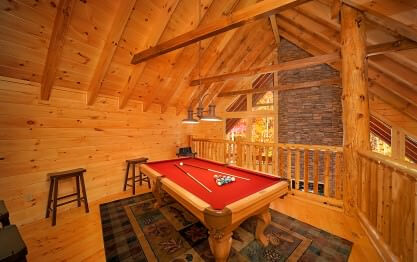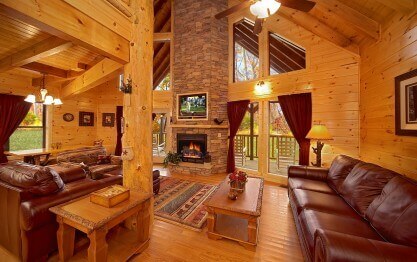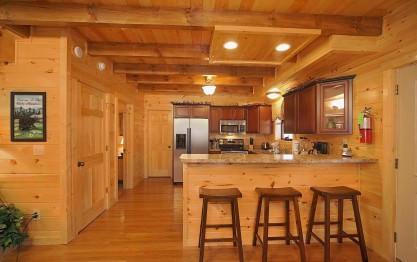 See All Photos
Reviews
Annette

Irvine, CA

"Site Visit"

Had a wonderful stay!! Cabin was cozy and had everything we needed! It was hard to leave, wish we had more time to spend there. I look forward to returning very soon!!

Manager Response:

Thank you for your wonderful review, Annette! We would consider it an honor for you to come back and stay with us again! We are delighted to hear you enjoyed your stay and hope you will visit our beautiful Great Smoky Mountains often!

Douglas C.

Melbourne, FL

"Family New Years Visit"

Everything was as advertised. Clean, stocked and ready for a relaxing holiday.

Manager Response:

Thank you for allowing us to be a part of your holiday plans, Douglas! We are delighted to hear you enjoyed your stay. We hope you will make plans to come back and visit us often!

Ronald C.

Florence, AL

" A wonderful experience "

The cabin was nice and spacious . Beautiful view, I experience my first bear in the wild. Downtown Gatlinburg very nice . Very wonderful experience .

Manager Response:

We are so happy you enjoyed staying in Gatlinburg and our Great Smoky Mountains. We hope that you can return to stay with us at Elk Springs Resort again in the near future! Thank you so much for your review Ronald!

Joan B.

Amelia, Ohio

"Grin and Bear it "

Very good

Molly B.

Fort Wayne, Indiana

"Perfect get away!"

We had an amazing experience. The cabin is gorgeous, clean and well equipped. The property is in excellent condition. The check in and out process is convenient.

Beth S.

Ballwin, MO

"Grin and Bear it cabin review"

Awesome Cabin! Cabin very clean. Easy check in and out.Staff very helpful and informative about location,driving instructions,supplies available in cabin along with information about local grocery stores.

Robert H.

Medina, OH

"Weekend at Grin and Bear It"

We were very happy with the cabin and loved all of the sites nearby. Our trip to Gatlinburg was a memorable one, and we are looking forward to coming back again.

Manager Response:

Thank you for your wonderful review, Robert! We love to hear that you enjoyed the cabin. Our goal is to provide cabins that will make you feel welcome from the moment you walk in the door. We want you to enjoy every moment, making magical memories that will last a lifetime. We hope you will allow us to be a part of future visits for years to come. Please come back and see us soon!

Krystle D.

Knoxville, TN

"Wonderful"

The cabin was very clean and a lovely. The bed and the living room furniture was comfortable. Everything was perfect for our vacation. We loved everything about the cabin and would definitely come back and stay again.

Manager Response:

Thank you so much for your review. We hope that you come back to stay with us again in 2017.

Michael B.

Spring, TX

"Couldn't have a better vacation"

Second time we've stayed at this house and enjoyed it just as much as the first time. Staff is always extremely helpful and location is great to relax or see the Smoky Mountain region.

Manager Response:

Thank you for the wonderful review Michael! We are glad you have found your perfect get-away in the Great Smoky Mountains. Our friendly staff is here to assist you from start to finish, every time. Please always feel free to call us during your stay if we can assist you in any way.

Robert H.

Belleair, FL

"mountain getaway"

Nice trip cute cabin

Manager Response:

Thank you for your feedback. From your comments, it appears that you enjoyed your trip and liked the cabin. We hope you will consider a future stay with us.

Teresa S.

Deltona, FL

"The Perfect Getaway"

My mom has always wanted to stay in a log cabin and this meet everyone of her expectations. We visited in December when the weather was cool and crisp. The cabin was perfect. My mom raved over the b

…

eautiful wood, the way the stones from the fireplace extend to the top of the ceiling, and the kitchen with the granite counter tops. Most importantly being there allowed her relax in her dream vacation home. If our schedules would have allowed, we could have easily extended the stay for another week. My mom can't wait for a chance to come back. There was not one thing that we would complain about or suggest an improvement. Check in and out was simple and customer care was only a phone call away to answer any questions, including who delivers pizza.

+ Read More

Manager Response:

Thank you for your business! We hope you will continue to enjoy Elk Springs Resort's cabins for many years to come! We are running a great Groupon promotion right now. Feel free to check it out and book your 2017 vacation with us!

Jonathan

Gordonsville, TN

"greatest place to stay"

The cabin was so great,it was in a great location and has everthing we could hope for. We were totally impressed with the resort company as well, they were helpful and friendly. I highly recommend this vacation spot.

Manager Response:

Thank you for your 5 star review, Jonathan! It is our pleasure to provide you with a home away from home vacation! We hope you will consider a future stay with us and take advantage of your 10% repeat guest discount!

Jason L.

Kingsport, TN

"Peaceful Retreat"

Cabin was beautiful and accommodated with luxury furnishings. It was located close enough to all attractions and restaurants but far enough away on the mountain that you felt secluded. We enjoyed ou

…

r stay so much we have already begun making plans on our return to Elk Springs Resort and reviewing which cabin we would like to stay in the next time. I highly recommend choosing Elks Springs Resort.

+ Read More

Erica D.

Grove City, OH

"Short family getaway "

We have a wonderful 2 nights at the "grin and bear it" cabin. Such a cute little cabin. Private and secluded yet close to local attractions.

Manager Response:

Thank you very much for the 5-star review, Erica. It sounds like you made the perfect cabin choice for a quick family getaway. We are pleased that you enjoyed your stay and encourage you to take advantage of our 10% repeat guest discount on your next booking!

Rahul G.

Herndon, VA

"Grin & Bear It "

Its awesome..!!A very nice place to stay.

Manager Response:

It sounds like you made the perfect choice for a cabin vacation experience! We are pleased to hear that your stay was awesome! We hope you will return for a future stay. Thank you for submitting your review to us and for being our guest!

Jim W.

West Chicago, IL

"Fall get away with brother and sister inlaw"

Great get away and was peaceful and relaxing which is exactly what we wanted. Property was clean an neat, described very well and directions to the cabin were good. All attractions were as advertised

…

and we found 3Jimmy's restaurant and enjoyed so much we ate 3 dinners there and only 5 minutes from the cabin.

+ Read More

Manager Response:

We certainly appreciate your business and thank you for the great review, Jim! This cabin, located on the main Elk Springs Resort property, is a great place to enjoy some rest and relaxation. It is just a short drive to local attractions, eateries, shopping and downtown Gatlinburg. We encourage you and your family to take advantage of our repeat guest discount and receive 10% off your next stay!

Courtney K.

Louisville, KY

"Our Stay"

It was great, nice place, everything looked like the pictures, we were very pleased. Elk Springs was vety at tentative to our needs.

Manager Response:

We appreciate your kind review Courtney. We work hard to make sure our pictures and cabin descriptions do not mislead anyone, so thank you for mentioning this in your review. We hope you are already planning your next stay with us.

Wendy

Slidell, LA

"GREAT CABIN!"

This is a beautiful, comfortable cabin. Nicely decorated and the beds were comfortable. Kitchen is well stocked, but bring your own can opener because theirs is rusted out! The location is good?far

…

enough away to feel secluded, but close and convienent to town, shopping, groceries, etc.
Enjoyed the critter show at the Comedy Barn in Pigeon Forge, as well as the Hatfield and McCoy dinner theater.

+ Read More

Tracey S.

Clarksville, TN

"Wonderful stay at Grin & Bear It..."

This is our second time staying at Grin & Bear It? it's a very cozy cabin located within the Elk Springs Resort community. The cabin layout is perfect for our family, and you are nestled within the w

…

oods so you have privacy. I would highly recommend staying here...

+ Read More

Manager Response:

Tracey, thank you very much for sharing your Grin & Bear It experience with us! We are pleased to have you as a repeat guest and found everything to your liking once again. The cabin location does provide you with some privacy within the resort setting. We hope you continue the tradition of allowing Elk Springs Resort to provide you with all of your vacation needs.

Nicole

FPO, NY

"Perfect Getaway "

We loved our stay at "Grin and Bear It". The house was fully stocked with all that we needed and then some. We felt it was plenty private and very relaxing. We would recommend the cabin, and Elk Springs Resort to superb customer service.

Sandra

Danville, GA

"Grin & Bear it"

Loved the cabin and seclusion.

Lawana T.

West Chester, OH

"Beautiful cabin "

We are retired, this place was very fun to sleep at. My husband wakes up 2 times a night at home, he bragged that he slept all night the 2 night we stayed here. We all loved the setting, how clean it was. Hope to come down again.

Michael O.

Clarkston, MI

"Breath taking!!"

This was our second cabin it was just as good and amazing as the other cabin we stayed in. Had a great time with hopefully be back soon! Loved it didn't want to leave!! Thank you

Janis C.

Indianapolis, IN

"2nd wonderful stay at Elk Springs"

We spend 2 nights last spring at Bear necessities .. The cabin was so nice we decided to return this spring and increase our length of stay. Grin and Bear it was also lovely. I wouldn't hesitate to re

…

turn, and will highly recommend Elk Springs to friends and family !

+ Read More

Latasha J.

Harvest, AL

"Cabin was everything and more!"

I really enjoyed my stay. The cabin was nice and cozy. It had everything we needed for the trip. The hot tub made for a relaxing trip.

Molly B.

Fort Wayne, Indiana

"Even better than expected!"

We had an amazing time and the cabin was gorgeous! We were impressed by the quality and cleanliness of the cabin. It was a treat to have it equipped with games to play! I am only sad that due to weath

…

er we did not use the hot tub but next time for sure! It was fun to be close enough to the attractions of Gatlinburge to enjoy them and then be able to retreat to our cabin. Overall it was better than we had even hoped. Thank you!!

+ Read More

Mike M.

Pfafftown, NC

"Beautiful Property"

The cabin was clean, organized, and everything you could ask for in a vacation destination. The process of renting was smooth, the location was secluded and the neighbors were easily accessible. Only

…

thing is the winter weather was a little hindering but Elk Springs was expeditious with shoveling and salting the driveways. I plan to come back next year!

+ Read More

Michael B.

Spring, TX

"Wonderful Experience`"

This is the second time that we have stayed at Elk Springs and would recommend (and do) to anyone that asks. Is a wonderfully relaxing way to spend time. They have a variety of size houses. This pa

…

rticular one was a two bedroom with one bedroom downstairs and one upstairs. VERY RELAXING PLACE!!!!

+ Read More

Jalencia

Fairburn, GA

"Relaxing Getaway"

Very nice, secluded, and cozy cabin. I definitely will be back!

Jessica O.

Forest, Va

"Grin and Bear it was a real treat!"

We had a wonderful weekend getaway at this cabin!

Lisa

JONESBORO, AR

"Fantastic!"

The location was very convenient, yet private and quiet. It was very clean and well-maintained. The furnishings were in good condition, comfortable beds, nice kitchen, etc. We did experience a problem

…

with the cable television and we called the customer service and they were out within 10 minutes. In addition we received several courtesy calls afterwards to make sure the problem was fixed, which it was. We had a great time and would recommend this to everyone.

+ Read More

Wanda

Aynor, South Carolina

""Grin and Bear It" Fall Getaway"

Wonderful!!! We thoroughly enjoyed our much needed time away. The pictures do not do the property justice, as it is absolutely gorgeous. Super simple check in and check out - love that!!!

Loretta

Greenwood, MO

"Happy Camper "

What you see on the website is exactly what you get...awesome. Really enjoyed our stay and hope to return. Liked the feeling of being in the mountains but only minutes from all the activities. Would

…

recommend the Alamo for dinner and the Ober Gatlinburg tram/ride. Thank you!

+ Read More

Lori

Greenfield, IN

"Restful Retreat"

Cabin was very clean & well equipped. Even though it is in a community the layout if the cabins felt private. Would definetly stay again.

Mengyang

COLUMBUS, OHIO

"Nice Cabin for labor day weekend"

We spent two nights there. We love the kitchen a lot, as it is fully equipped. We also enjoyed the hot tub and pool table.

Alejandra

Chicago, IL

"Last minute vacation"

Great experience!

Shane

Nashville, TN

"Just what our family needed"

This was an incredible way to end the summer and rest before school begins. We loved the peacefulness and family time we experience here.

Carleen

Loveland, OH

"Grin and Bear It Review"

Beautiful cabin!

Barbara

Lakeland, FL

"family reunion"

I think we picked the perfect place for our family reunion. The cabins we rented were close to each other which allows us to easily visit everyone.

Teresa

Bellbrook, OH

"Easy to "Grin and Bear It" in Gatlinburg"

The folks at Elk Springs go the distance to accommodate visitors. Every one of them was friendly, helpful and courteous to talk to. We really enjoyed our visit.

Karla C.

Salem, WV

"Repeat customer"

We come to elk springs for relaxation as well as home provisions. We have stayed with them several times, never a bad stay. The only suggestion I would give is bring extra towels.

Kimberly

Apex, NC

"Good time"

We had a great time. Our cabin was neat and the location of the hot tub was away from the other cabins. The fireplace was cozy and we all enjoyed our time. We drove into town and spent an afternoon si

…

ghtseeing and shopping. We were able feel like we were close enough to do things in town and far enough away to feel like a retreat.

+ Read More

Jeny

Ware Shoals, SC

"A Dream Come True"

I was satisfied with my stay it just wasn't long enough! lol The condition was great and very clean! The location is great because it is near other cabins but it was off to itself. The staff was really nice and helpful! I would recommend to a friend!

Christina P.

Franklin, TN

"Awesome weekend get-a-way"

We had a wonderful time at this very lovely cabin. A very romantic spot for a couple to enjoy life outside the big city.

William A.

Charlotte, NC

"Cozy Retreat"

This was our third stay at the resort and our first time in this cabin.They are all beautifully decorated,comfortable and very clean.This is the best place to "get away" and enjoy the best of the mountains.

Silvia P.

Marietta, GA

"livin and loving life"

Omg. I had the best birthday of my life there! Everything was perfect. I will be coming back in April. The cabin was excellent!

Mandy M.

Thibodaux, LA

"Awesome Stay!"

Grin and Bear it is the perfect cabin if you have little ones. You do not have to park so close to the road like other cabins. There is also a good amount grassy area for the little ones to run aroun

…

d in. The cabin was in excellent condition, and stocked with everything you need. For us, the location was perfect. We are already looking at dates for next year!

+ Read More

Jennifer

Coconut Grove, FL

"a beautiful home in the mountains"

we had a beautiful time we will never forget I must say that the little cats outside were the best

Don

Murray, KY

"Our stay in Gatlinburg, TN."

Wonderful! The personnel were pleasant, knowlegeable, and courteous during the sign-up as well as during the week.Cabin (cottage) was up to standards, well furnished and everything in working order. T

…

he driveway needs a little work as it was almost impossible to drive in straight on. We used the neighbors drive way and backed into the cabins driveway, much easier.

+ Read More

Jeff M.

Chesterfield, MI

"Tranquil and Restful"

We rented this cabin for an anniversary getaway for our 25th and my parent's 56 anniversary. This was a great cabin. Very peaceful and tranquil. The cabin was nicely decorated had all the amenities

…

of home. We loved sitting on the porch in the rockers and enjoying the sounds of nature such as dueling woodpeckers in the woods in the morning and the crickets at night. The cabin was easy to find and was minutes away from Gatlinburg and most times a 20-30 minute drive to Pigeon Forge. We did have on small issue with a leak from the upstairs bathroom to the downstairs bathroom upon arrival. Called the maintenance number and he was there in less than 30 mins to fix the issue. Very polite and professional and fixed it within an hour. No more issues during our stay. Would stay here again!!! Loved the Grin and Bear It cabin.

+ Read More

Manager Response:

Glad we were able to assist you so quickly.
Load More Reviews