Amenities:
Full Kitchen
Gas Grill
Honeymoon
Hot Tub
Iron / Ironing Board
Parking
Washer/Dryer
WIFI
A popular honeymoon and romantic getaway cabin the Fontana offers rustic luxury in a true stacked log cabin. Cozy up in the love seat in front of the Gas Fireplace and admire the stacked stone hearth and intricate wood work in this custom Gatlinburg log cabin. Exposed log beams accentuate the loft area and 28 foot vaulted ceilings. Located in the arts and crafts community at Elk Springs Resort, the Fontana is minutes away from the unique galleries, shops and restaurants. Enjoy the upstairs loft jacuzzi tub and bonus room with queen sleeper sofa which can be used to accommodate another couple or the kids. The Fontana includes 2 full baths!
Cabin Bedrooms Layout
Master Suite

King Bed
Sleeps 2
Loft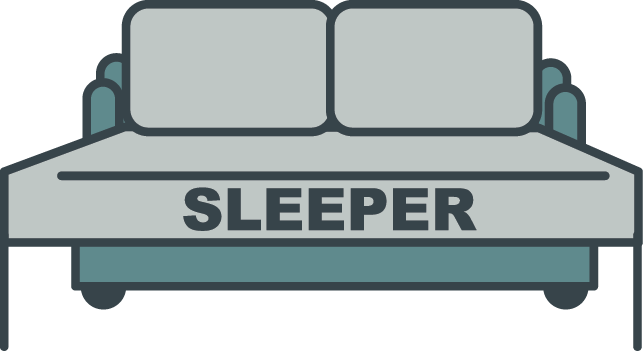 Queen Sleeper
Sleeps 2
Great Room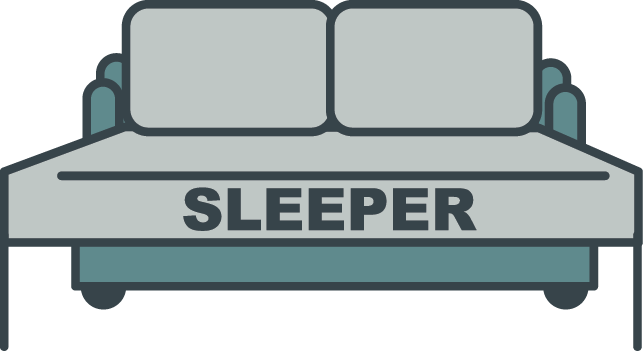 Queen Sleeper
Sleeps 2
Full Description
Enter the Fontana from your flat paved parking area and notice the wagon wheel rustic bench on the front porch. The cozy great room features a leather sleeper sofa and floor to ceiling stacked stone fireplace with TV and digital cable. The adjoining kitchen and dining area is fully stocked so you can cook meals in the cabin. Or, perhaps you'd like us to coordinate having a personal chef prepare an in cabin meal for your special vacation.

A full bath and master suite on the first floor includes a king sized bed with upgraded mattress and bedding as well as a TV with digital cable and DVD player. A washer dryer is also included on the first floor for your convenience.

You and your significant other can shoot a game of pool in the loft over looking the great room or enjoy a dip in the jacuzzi tub adjoining the loft area. If you have another couple or your kids visiting with you, there is a queen sleeper sofa for sleeping in the upper level as well as a full bath!

Venture out to the deck with 2 gazebos, gas grill and your own private Hot Tub.

Free Wireless Internet is included with this cabin!
Hot Tub
Pool Table
Jacuzzi Tub
Gazebo
1 King Sized Bed
2 Sleeper Sofa's
Free High Speed Wireless Internet
Gas Fireplace
2 Rocking Chairs
3 TV's
3 DVD Players
Washer/Dryer
Gas Grill
8 Minutes to Downtown Gatlinburg
20 Minutes to Dollywood

Calendar
Click your dates below to check in and check out
Available
Check In Only
Check Out Only
Selected
Unavailable
Photo Gallery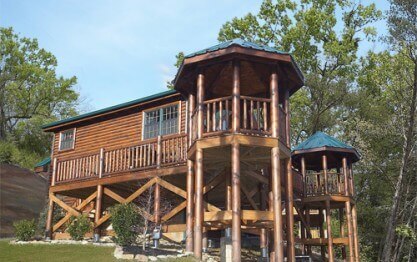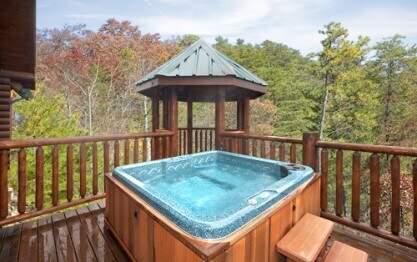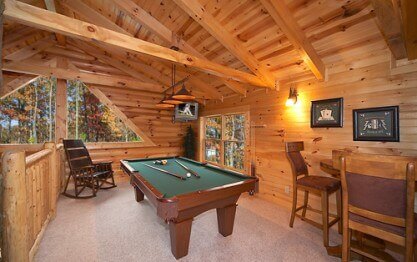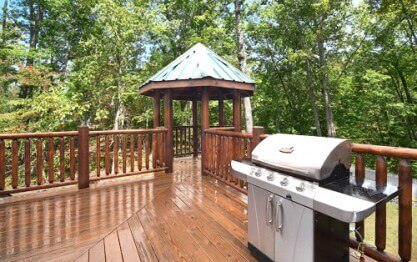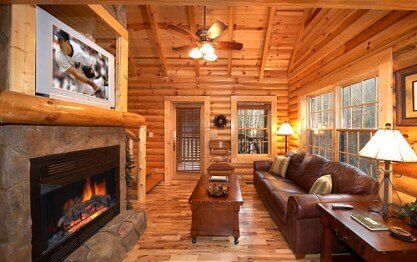 See All Photos
Reviews
Natalie D.

Luverne, AL

Manager Response:

Thanks so much for taking the time to review Elk Springs Resort and "Fontana". We are so happy that you had a great stay. Please come back and stay with us again!

Carlina M.

Hartley, DE

"Beautiful Cabin! Romantic Setting!"

My husband and I stayed in Fontana for a week for our honeymoon! It was perfect! The other cabins weren't too close and the location was perfect!

Jerry W.

Marshall, Mi

"Our stay in the SMOKIES"

EXCELLENT!!

Manager Response:

Thank you for your 5-Star review, Jerry! We are thrilled to hear your stay with us was exceptional. We hope you will make plans to come back and visit with us as often as your schedule allows. Hurry back!

Carrie

Zeeland, MI

"home away from home"

The Fontana was a beautiful and comfortable cabin. It is a few minutes outside the busyness of town. We enjoyed the hot tub on the deck under the stars. We stayed so busy on our trip we didn't spend a

…

s much time at the cabin as we thought which was a bit of a shame because it was beautiful. Pictures online are true to what you get. The cabin is the first on the street, you can see the neighbors cabin through the trees on the deck, no mountain views. Overall a nice home away from home!

+ Read More

Manager Response:

Thank you for your wonderful review, Carrie! We are thrilled you enjoyed your visit. We certainly agree, Fontana is an exceptional cabin. It offers the perfect location. It is so close to town, yet just far enough away to make it feel like your own personal paradise. We hope you will consider coming back and staying with us during your next visit to Gatlinburg. Hurry back, your next adventure awaits!

Mark R.

Hanahan, SC

"30th anniversary at Fontana"

It was a very wonderful stay great location cozy cabin we will definitely stay again

Manager Response:

Thank you for allowing us to be a part of such a wonderful celebration, Mark! Congratulations! We are excited to hear you enjoyed your visit. We hope you will consider making Elk Springs Resort part of a new tradition when visiting our beautiful Great Smoky Mountains. Come back and see us soon!

Karrie M.

Jeffers, MN

"Tennessee vacation"

The lodging was perfect. We really enjoyed the location and the peacefulness.

Manager Response:

We are excited to hear your enjoyed your visit with us, Karrie! We hope you will take the opportunity to come back and see us as often as you can.

Kristie

Asheville, NC

"The Fontana Review"

We were delighted to receive this cabin rental as a gift and were equally delighted to see and stay in this cabin. The cabin was the perfect combination of rustic and modern making this stay wonderful.

Manager Response:

Thank you for your kind review, Kristie! We are excited to hear that you had such a wonderful stay. We hope you will come back and see us as often as possible.

Craig W.

Albany, GA

"Great stay"

Our stay was very relaxing. The cabin was clean. The check in/out was simple. My daughter loved her private loft. We will definately be back!

Manager Response:

Thank you for your recent stay with us. We are happy to hear you had an exceptional stay. We have several cabins to choose from that offer a private loft for future stays. Please keep in mind, as a returning guest you will receive 10% off all future visits.

Denise S.

Memphis, TN

"LOVED IT!!"

This was mee & my boyfriend's first time staying in the cabins at Elk Springs. It was so peaceful & relaxing. We enjoyed every bit of the Fontana cabin that we stayed in. The cabin had up to date feat

…

ures & appliances. The decor was nice, which gave us the Gatlinburg Mountain Cabin feel. Most of all, the staff was nice & made themselves available to us at all times. We have planned to come back & make it a yearly getaway. I loved loved loved the Fontana cabin!!!

+ Read More

Manager Response:

Thank you for your kind feedback. We are happy to hear that your stay was exceptional. We strive to assist you in making each stay memorable. Please keep in mind, as a returning guest you will receive 10% off all future stays.

Ashley B.

Aiken, SC

"Romantic weekend"

My boyfriend and I took our first trip alone this past weekend and we could not have asked for a better trip!!!!

Monica B.

Bremen, GA

"Valentine's weekend getaway"

The Fontana was a perfect cabin. It was clean and neat and convenient to Gatlinburg.

Kevin W.

Austell, GA

"Great place"

We enjoyed our stay

Manager Response:

We are happy to hear you enjoyed your stay at Fontana. We offer a great selection of luxurious cabins to make any visit to our beautiful Smoky Mountains truly memorable. We hope you will consider staying with Elk Springs Resort again in the near future! It's never too early to start planning your next get-away.

Emily B.

Nashville, TN

"Our wonderful stay at Fontana"

My husband and I had an AMAZING stay at Fontana!! The cabin was perfect for us- cozy, clean, efficient and romantic! Our favorite features- the jacuzzi and grill! We were able to bring a cooler on our

…

trip and cook a full meal right in the cabin. We felt right at home and didn't want to leave!

+ Read More

Sandra B.

Alexander City, AL

"Fontana"

The Fontana cabin was just the right size for me and my husband. One bedroom/two baths but has capability to sleep 4 more with the two sleeper sofas. Loved the decor - rustic but not too "mountain cu

…

tsie". Only drawback - wish it had a better mountain view and not so close to the other cabins.

+ Read More

Andrew C.

Charlotte, NC

"First family vacation"

We recently had a baby 5 months ago and this was our first family vacation. The drive through the Foothills Parkway on our way in made an amazing start to our adventure. We were extremely impressed by

…

the cleanliness of the cabin and loved the convient location. The amnesties were great and all worked as advertised. I can honestly say that it was one of the most relaxing vacation environments I have ever been in. Thank you Elk Springs for the wonderful memories. We will be back soon!!!

+ Read More

Manager Response:

Thank you for your kind review. We are pleased to hear that you had a very positive cabin rental experience. We certainly hope you will come back and stay with us again. All of our guests receive a 10% discount off all future stays!

Andrea A.

Johnston City, IL

"Hooneymooner's Paradise"

The Fontana was a beautiful cabin. It was very easy to find from downtown Gatlinburg. It is close enough to all of the shops downtown. The description of the cabin online was very precise and looked j

…

ust as good in person. It was extremely clean. The staff called to check on us several times during our stay, which was very nice. The only thing we didn't care for was the bed. It was too hard for us. I recommend updating the mattress. We were married on the patio and it was a beautiful place for us to honeymoon also. I highly recommend this cabin. It is perfect for 2 people. We loved the hot tub outside and the Jacuzzi tub inside upstairs.

+ Read More

Manager Response:

Thank you for choosing one of our cabins as your wedding and honeymoon destination! We are pleased that you had a wonderful time and enjoyed your stay. Our cabin furnishings are inspected on a regular basis and replaced as needed. We appreciate your feedback and will be sure to check the mattress for replacement right away. We hope you will return to celebrate your wedding anniversaries with us in the future. Congratulations and best wishes from all of us here at Elk Springs Resort!

David S.

Moultrie, GA

"Fall Honeymoon in the Fontana"

We had a wonderful 3 night honeymoon in an absolutely perfect cabin just 3 miles north of Gatlinburg with a high temperature of a comfortable 63 degrees and a low temperature of a warm 42 degrees; we

…

used the fireplace only to start each of our mornings with our coffee, all snuggled on the leather sofa.

The secluded outdoor hot tub was my favorite amenity.

Bring extra towels and extra washcloths because I promise you will enjoy your stay!


+ Read More

Manager Response:

David, thank you very much for the great review. We are so pleased that you chose one of our luxury cabins for your honeymoon destination. We hope you will return to celebrate many wedding anniversaries with us. Congratulations and Best Wishes from all of us here at Elk Springs Resort!

Debrah and Jarrod L.

Westerville, OH

"Perfect Cabin Retreat"

Spent our honeymoon at the Fontana and the cabin was absolutely beautiful. Staff was helpful and friendly and the location was close to Gatlinburg. We will definitely be back

Manager Response:

Congratulations Debrah and Jarrod! We are honored that you chose one of our luxury cabins for your honeymoon retreat. We hope you will spend all of your future wedding anniversaries with us. All of our repeat guests receive a 10% discount off their next booking. Thank you for the 5 star review.

Marc W.

Elkhart, Indiana

"Anniversary Getaway"

As always, an effortless check-in, wonderful relaxing stay in a beautiful mountain home, and an effortless check-out. The experience creates great memories every time it is tried...

Manager Response:

Customer satisfaction is very important to us at Elk Springs Resort. Our express check in process saves you the hassle of driving out of your way to an office to pick up a key to access your cabin. It is our goal to make your cabin rental experience as stress free as possible. We look forward to your return to make more Smoky Mountain memories. Thank you for your positive feedback Marc!

Sharon

San Clemente, CA

"Sisters' Getaway"

We had a lovely, relaxing stay at the Fontana property. We do a sisters' getaway every year and this was one of the best. We loved the area for the food and arts shopping. We wished for tables on t

…

he deck and a teakettle, but otherwise we had everything we needed! Loved it.

+ Read More

Manager Response:

Thank you for the great review Sharon. It is always nice to hear that everyone enjoyed their cabin stay and the local attractions as well.

Shaunta M.

Saint Louis, MO

"This was my family first vacation "

I want to thank the whole staff for accommodating me and my family. Even though it was for 2 nights I loved the cabin and town. Everyone was friendly. I'll be back next year with even more family. Th

…

e onlything that was scary was i didnt have reception for my phone for your phone call to get the code to let me in. Maybe sending an email with a phone call. Thank you

+ Read More

Manager Response:

Thank you for your great review Shaunta! As always, we enjoy hearing about happy family experiences with our cabin rental company. For the record, we have never lost a guest yet. We call you with your door code and leave a voicemail. If we are unable to leave a voicemail, we text and/or send an email letting you know your cabin is ready and give you the door code. Typically, if our guests have poor cell phone reception, they will call us once they get somewhere with service to get the door code. Our customer service department is open from 8 a.m. until 12 midnight, seven days a week to assist you with any questions or concerns. Rest assured, you don't ever have to be worried about being able to communicate with us. We do offer several larger luxury cabins to accommodate more family members. Be sure to check them out on our website and mention you have stayed with us before so you will receive a 10% repeat guest discount.

Lora S.

Crane, TX

"Awesome Trip"

Beautiful Cabin and grounds. Had everything we need for a wonderful stay. Can't wait to go back!

Manager Response:

Thank you for the great review Lora! We are happy to hear that you enjoyed everything with your cabin stay and had a wonderful time! Be sure to take advantage of your 10% repeat visitor discount when you book your next stay.

Jane

Mooresville, IN

"Spring Break"

Fontana was everything and more than we expected. I wish we hadn't planned activities everyday so we could have it enjoyed more. We will be back!

Noeli

Saint Louis, MO

"Rustic luxury"

We enjoyed the area, the decor, the building, the interior, the accessories we needed for our comfort and dining and of course, the hot tub under the stars! We would have loved excellent sheets to go with all the other beauty.

Sergio

Miami, FL

"Amazing best cabins in Gatlinburg most beautiful place to visit."

Breath taking scenery and will definetly be going back the cabin could not be anymore perfect.


Betty R.

Winnfield, LA

"Couple's getaway"

My husband and I were looking for a place to get away from the usual and relax. We were 100% satisfied with our stay at Fontana! It was a beautiful cabin, location was great, and it had everything we

…

needed. It was such a relaxing and peaceful time. The cabin is more than adequate for two couples to stay, but it was absolutely perfect for my husband and myself. We had zero problems with the property. I would highly recommend it to someone looking for a beautiful place to vacation.

+ Read More

Sandy C.

Bluford, Illinois

"Great Weekend Getaway"

We had a great time. The cabin was wonderful. Very comfortable and had everything we needed. We will definitely be back.


Judy F.

Pendergrass, GA

"Even better than expected!"

My husband and I had the best vacation getaway at the Fontana. The cabin was even better than we expected. Beautifully decorated, great amenities, private, perfect for a romantic getaway! Wish we could have stayed longer - we hated to leave!

Jennifer W.

Grand Rapids, MI

"Family Trip"

We loved staying at the Elks Resort cabin. Next time we will cancel all activities and just stay at the cabin and relax

James M.

Chapel Hill, NC

"Weekend away!"

Very nice experience. The cabin is just minutes away from downtown Gatlinburg and Pigeon Forge. And also just minutes away from the great Smoky Mountain national Park. The location was terrific.

T

…

he cabin was beautiful. Jacuzzi, fireplace, Jacuzzi bathtub upstairs, pool table? Very comfortable and very nice.
The entire place was very clean and organized and had all of the kitchen utensils necessary to stay home and cook some great meals.
The whole cabin community was very peaceful and quiet.

+ Read More

Joanne

Haddon Heights, NJ

"Absolutely wonderful"

First time to Gatlinburg. The house was perfect. Charming, cozy and very comfortable. Nothing missing (except hangers for closets of all things!) Great location with complete privacy on both sides. Would definitely recommend to others.

Charlotte S.

Germantown, MD

"A Great Getaway"

My husband and I decided to take a mini vacation and the Fontana was perfect! The cabin was just as it was described and looked just like the pictures. We had a few questions regarding the hot tub

…

and called property management and they responded quickly and were very courteous. I look forward to coming back and staying again.

+ Read More

Alyssa K.

Caledonia, MI

"Wonderful"

We really enjoyed our stay and would have loved to stay longer. Will definitely come back someday.

Peter P.

Dearborn Hts, MI

"an excellent getaway"

Such an amazing trip. The place was so beautiful.

Travis S.

New Orleans, LA

"Great cabin "

It was a great vacation rental experience for me and my family. We was inlove with the cabin. We wanted to see snow but we still have a great time. We also had the chance to see a big black bear on the way back to the cabin. We will be back.

Daniel C.

Pell City, AL

"relaxing"

Fun weekend in the mountains. A little far from town but not too bad.

Talia C.

Akron, OH

"Quiet escape - we made ourselves at home"

My husband and I stayed in the Fontana cabin for our first visit together to the Smoky Mountains. We loved having all the space and comforts of an entire house. The cabin would have been perfect for t

…

wo couples, because the upstairs loft bedroom actually was quite private, tucked around the corner from the common area with pool table. The cabins are situated in a development on a wooded hillside, which is very quiet, and only a 5 minute drive to town. We did have a sense of privacy there, even on the deck, because the trees blocked the view from the cabin next door. Our only disappointment was the lack of outdoor furniture. There is no where to sit outside to eat meals. The wooden rockers are very uncomfortable. A picnic table would be sufficient, and there is plenty of room. If you are staying at the Fontana, we recommend bringing some folding lounge chairs for the deck.
The cabin is absolutely spotless! We really were able to relax here, and we especially enjoyed sitting in the hot tub at night under the stars. We would definitely rent the Fontana again.

+ Read More

Marvin G.

Springfield, MO

"Wonderful"

We were very impressed with the cabin. It was our 40 the anniversary get away. Every room was very nice. Thanks for leaving coffee filters. Little things like that salt pepper. Really make a differenc

…

e when we forget something. I feel it was thoughtful. The bed was very comfortable. We would recommend the FONTANA

+ Read More

Nadia T.

Hamburg, NJ

"Adorably Cozy Luxury Camping! "

Wonderful new clean cabin! Booking was easy, great customer care from Marty! We can't wait to return and starting to plan next years return!

Christian B.

Clarksville, TN

"my wedding (fontana)"

Very relaxing, enjoyable and plenty of space. A little too close to other cabins but still a nice place to be.

Alin B.

Brunswick, GA

Karen

Jacksonville, FL

"Excellent Cabin Experience!!!"

The pictures on the website is great but seeing this property in person is breathtaking. Every accommodation was available and some...I am looking forward to visiting again with some more family and friends. Love it!!!

Lisa S.

Timberville, VA

"Excellent Honeymoon Cabin"

We loved this cabin & will definetly be back!

Erica B.

Brandon, MS

"Our Secret Get-A-Way"

We've rented thru Elk Springs in the past and we've never been disappointed. Our recent visit was in Fontana and it was simply breathtaking. The cabin was well laid out and we had plenty of room for t

…

he 2 of us. We definitely enjoyed our stay and will always use Elk Springs Resort!! The staff were very helpful in scheduling and gave us a discount for being a repeat customer. Hands down this is the best place to stay if you need a secret get-a-way.

+ Read More

Rebecca H.

Columbus, OH

"great honeymoon!"

My husband and I really enjoyed our stay at the Fontana cabin with Elk Springs. The cabin was absolutely beautiful and in great condition. The staff was very kind and reachable by phone. The cabins we

…

re appropriately far enough apart that we felt we could have a private honeymoon. The cabins were close enough to the national park and downtown Gatblinburg to still feel close to the action. We had an incredibly relaxing and fun time, and can't wait to come back and try one of the other cabins!

+ Read More

Scot M.

Laotta, IN

"Great cabin"

This was our first experience with cabin rental and vacation in Gatlinburg. Cabin was cozy and well maintained. We will definitely stay at Elk Springs Resort in the future.

Lynn W.

Chuckey, TN

"22nd Anniversery"

Great!!!!

James W.

Roanoke, VA

"Nice Getaway..."

First time to Elk Springs Resort after hearing about it from a co-worker. The cabin was fantastic. Well appointed and very comfortable. The location outside of the main flow was perfect. we will definitely be back.

Stephen M.

Johnson City, TN

"Snowy new year getaway"

We had a wonderful time at Fontana cabin! The cabin was very cozy with nice amenities and a great location. The staff was wonderful and we look forward to our next stay at elk springs resort!

Rick J.

Middleburg, Fl

"Honeymoon"

We enjoyed our stay in the Fontana very much, the home was beautiful. I just wish the cabin was located further up the mountain with a better view.
Load More Reviews