Amenities:
Full Kitchen

Gas Grill

Hot Tub

Iron / Ironing Board

Parking

Theater Room

Washer/Dryer

WIFI
One of our most popular 3 bedroom cabins - you will quickly see why. You and your family can enjoy a movie in our own private theater room with 9 foot theater screen, or perhaps play a game of pool or foosball. Escape to one of 2 master suites each with full bath, king sized bed and jacuzzi tub.
Cabin Bedrooms Layout
Master Suite 1

King Bed
Sleeps 2
Master Suite 2

King Bed
Sleeps 2
Bunk Room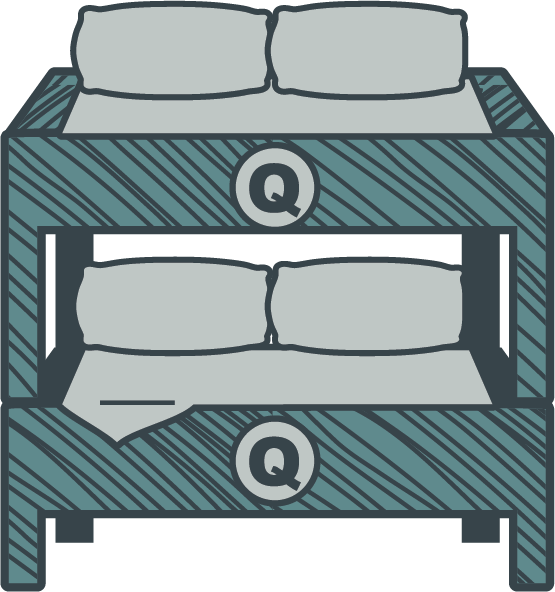 Queen Bunk
Sleeps 4
Great Room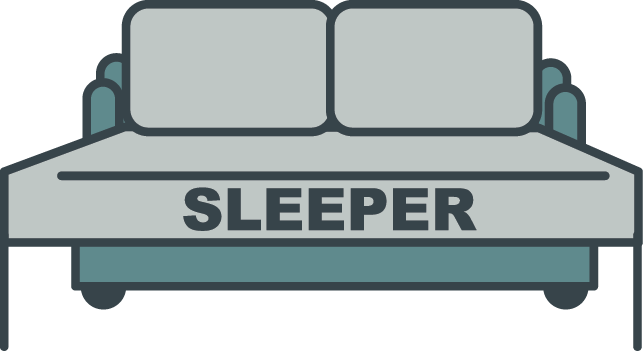 Queen Sleeper
Sleeps 2
Full Description
Quietly sitting at the end of a cul-de-sac, Firefly lodge offers excellent privacy in the heart of Elk Springs Resort. This three bedroom cabin opens up into a large open area with an air hockey table, pool table and flat screen TV. You will make your way to the great room and notice the large center fireplace between a floor to ceiling wall of glass. There is plenty of seating where you can enjoy the gas fireplace and flat screen TV. A 1/2 bath and full size washer/dryer are located on the lower level.

The adjoining dining room with rustic table and benches combined with the breakfast bar offers plenty of seating. The upgraded kitchen with stainless steel appliances and cherry cabinets is full stocked to prepare meals in your cabin. A gas grill is located just outside the dining room on the covered deck.

On the main level is a master suite with jacuzzi tub, full bath with stand up shower and king sized hand made aspen bed. All the bedrooms, including the main level master come with DVD player and flat screen TV.

Head upstairs where you will find a queen bunk room with a full bath, perfect for kids or for even 2 adults. Another private king master suite with jacuzzi tub, full bath and shower is located on the upper level. A unique feature to Elk Springs are the custom private theater rooms with 9 foot theater screens. Also located on the upper level is the theater room where , due to the popularity of this amenity, many guests spend a majority of their in cabin stays.

Finally, you have a private hot tub located on the covered back deck where you can enjoy a 101 degree soak after a long day of hiking or shopping.

End your cabin search by booking Firefly Lodge in Gatlinburg.
Private Theater Room With 9' Screen and Surround Sound
Hot Tub
Pool Table
Air Hockey
FREE High Speed Wireless Internet
2 Jacuzzi Tubs
2 King Master Suites with Private Bath
Queen over Quen Bunk Room with Private Bath
4 Rocking Chairs
5 TV's
4 DVD Players
Washer/Dryer
Gas Grill
8 Minutes to Downtown Gatlinburg
Calendar
Click your dates below to check in and check out
Available
Check In Only
Check Out Only
Selected
Unavailable
Photo Gallery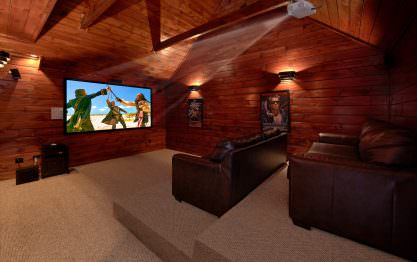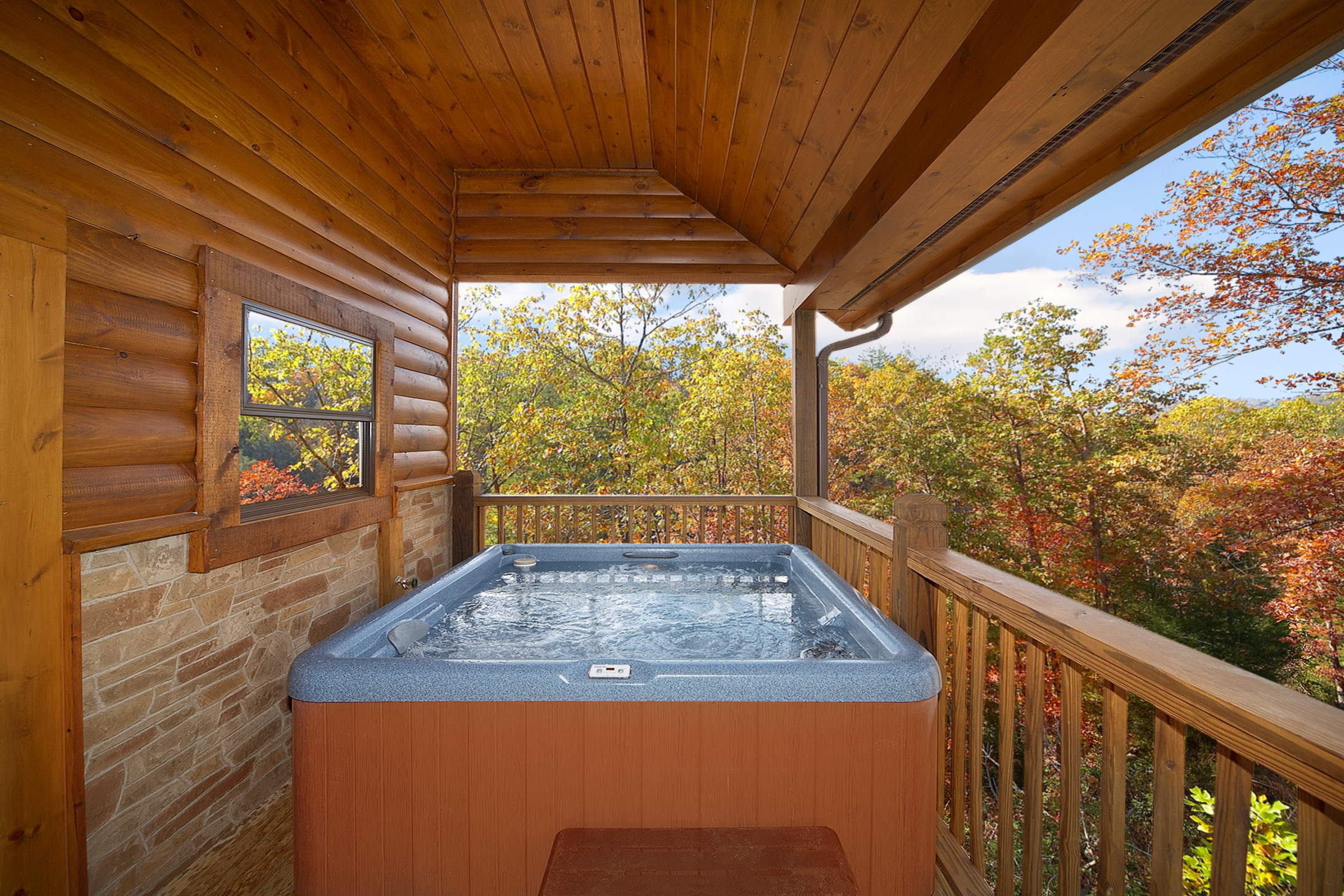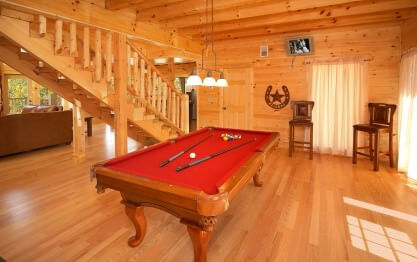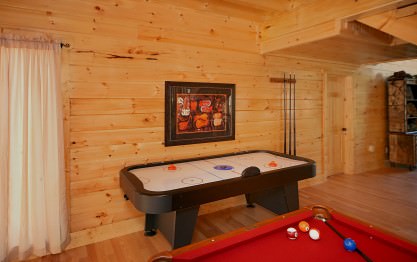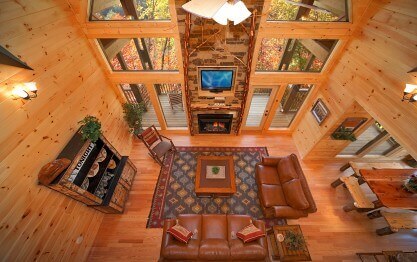 See All Photos
Reviews
Scherrie R.

Dayton, OH

"5 Star "

Nice Relaxing stay, very clean and fun for the kids

Manager Response:

Thank you for your wonderful 5 star review, Scherrie. As always, we enjoy hearing about happy family experiences with our cabin rental company. We hope you will join us again during your next visit to The Great Smoky Mountains! Please keep in mind, as a returning guest you will enjoy 10% off all future bookings. Hurry back, new memories are waiting to be made!

Xiao Li Y.

Staten Island, NY

"Great Smoky Mountains vacation"

My family enjoyed our stay at this vacation rental very much. Thank you!

Manager Response:

We certainly appreciate your business and thank you for your kind review. Hurry on back for a future stay. The mountains are calling you!

Diana C.

Nashville, TN

"Family Getaway"

My mom and nephews came down from New York, my husband and our son decided to take a trip to the mountains as a family. We found this cabin and the pictures really sold us. When we got there the pla

…

ce was spacious, clean and just beautiful. The experience with the family was amazing, the kids used the outdoor hot tub, my husband and I enjoyed the heart shaped Jacuzzi. The customer service was wonderful, they gave me the telephone number of places where I was able to have balloons and heart shaped pedals in the master bedroom. My husband was surprised to say the least and loved the whole experience. Sometimes you look at the pictures and you get to the place, its very different and disappointing. This place was awesome! Thank you Elk Springs Lodge, it was luxurious and immaculate. God bless you.

+ Read More

Manager Response:

Thank you for taking the time to share your wonderful experience with us, Diana! We are delighted to hear we exceeded your expectations. We care about our guests and want each stay to be memorable. We enjoyed having you as our guest and hope you will consider staying with us again during your next visit to Gatlinburg. Please keep in mind, as a returning guest you will enjoy 10% off all future stays.

Desiray B.

Warren, MI

"Wxceptional!!!"

Exceptional!!!Will definitely be back soon.


Manager Response:

Thank you for choosing Elk Springs Resort and thank you for your wonderful review! We look forward to you coming again and again!

Eduardo C.

Orlando, FL

"amazing "

amazing experience and place to go


Manager Response:

Thank you for your 5-Star review, Eduardo! We are excited to hear you had a wonderful stay. We hope you will come back and visit with us often!

Robert E.

Villa Hills, KY

"Great Place"

I am a pro at rentals in Gatlinburg. Been doing this for 30 years. Firefly was great very private well furnished and plenty of room. Will
use Elk rentals in the future. Plus access to Food City is a plus.

Manager Response:

Your feedback is music to our ears, thank you! We are delighted to hear we exceeded your expectations, Robert. We would consider it an honor for you to come back and visit with us again. Please keep in mind, as a returning guest you will enjoy 10% off all future stays. Hurry back, new memories are waiting to be made!

Tiffany

Charlotte, NC

"We loved our cabin!"

We loved the cabin! It was beautiful, clean, a nice kitchen and the resort was nice and well kept. We wold definitely recommend this resort/cabin. The reservation process through check out was a seamless, no issues at all!

Manager Response:

We are happy to hear you had such a wonderful time, Tiffany! We hope you will consider making Elk Springs Resort a part of a new tradition when visiting our beautiful Great Smoky Mountains. Your next adventure awaits!

Yolanda W.

Atlanta, GA

"Love at first sight !"

My stay at Elk Springs was nothing short of amazing ! We really enjoyed our stay, and the cabin was beautiful !

Manager Response:

Thank you Yolanda for the wonderful review! We hope that you come stay with us again in the near future!

Travis S.

New Orleans, LA

"Family winter vacation "

Awesome, Awesome, Awesome

Manager Response:

Thank you for the 5 star review, Travis. We are pleased that you and your family had an awesome time here at Elk Springs Resort! We hope you will make it an annual tradition and return again and again to make more Smoky Mountain memories!

Ginny Z.

Raleigh, NC

"Great Vacation"

The Firefly Lodge was very nice and exactly what we wanted. The location was perfect, offering seclusion in the mountains, but also being very close to town to enjoy all the fun stuff Gatlinburg and P

…

igeon Forge have to offer. We experienced a few problems during our stay (gas starter on grill and fireplace didn't work and air conditioning went out), but the maintenance folks were at our house within 15 minutes of reporting the problems (even when calling at 8:30pm) and fixed what they could. The air conditioning needed a new part, so that didn't get fixed until the next day. Thankfully, the weather was decent so we didn't get too hot.

+ Read More

Manager Response:

We sincerely apologize for the maintenance issues you experienced while you were our guest and thank you for your patience while we resolved each one for you. Obviously, these issues weren't anticipated, but our maintenance staff was quick to spring into action so you would have these problems resolved as quickly as possible. Customer satisfaction is very important to us and your feedback helps us to improve our services and overall guest experience. We appreciate your business and hope you will return to the Smoky Mountains and stay with us again soon.

Shannon J.

Union, KY

"Great for large families! "

We enjoyed it very much! Especially the theater room!

Manager Response:

Thank you Shannon! Our theater rooms are a big hit with everyone. We are glad everyone enjoyed Firefly Lodge.

Lea

Amherst, OH

"Very nice!"

We loved it! We have 4 kids and they were occupied and not at all bored. The cabin was beautiful and very clean! We would definitely come back!

Matt T.

Brookfield, CT

"Excellent Smoky Mountain vacation"

Our stay in the Smoky Mountains via the Firefly Lodge in the Elk Springs Resort was wonderful. Being centrally located (within 5-15 minutes) to the all activities in the National Park, Gatlinburg and

…

Pigeon Forge allowed our party of 6 to maximize our vacation with things to do. The resort cabin itself was upscale, spacious, clean and a very welcome place to return to after a long day.

+ Read More

Manager Response:

Thank you for your wonderful review, Matt. We are delighted that you and your group enjoyed the Firefly Lodge cabin. We do hope that you will join us again in the near future. Please keep in mind, as a returning guest you will enjoy 10% off all future stays. Hurry back, new memories are waiting to be made!

Kelly

Murfreesboro, TN

"Firefly Lodge - Great place to stay"

This was a great cabin. It was actually in a really good location....only 15 minutes from Gatlinburg and 20 minutes from Pigeon Forge. We thoroughly enjoyed our stay.

Jamie W.

Prospect, Kentucky

"Firefly Lodge"

This is our 3rd stay in this resort and it is always a great experience!! This was a really nice cabin with plenty of room for our large family. Clean and well stocked...only thing I would ask for is more towels available!

Joseph

Alexandria, KY

"Recent Stay @ Firefly Lodge"

Last week was our 2nd time in Elk Springs and it was another great experience for our family. Excellent getaway in a relaxing atmosphere.

Stephanie

Charlotte, NC

"Great Accomodations"

Relaxing

Karen

West Chester, OH

"FANTASTIC!"

Fantastic experience all around. The customer service is excellent from the initial reservations through the final checkout. The property is exactly as pictured and described online, except the theate

…

r room now has couches instead of chairs. These cabins are stunning, clean, well maintained and have so many amenities. The location is perfect as it is secluded, but only minutes from activities and restaurants. We plan to recommend the resort to friends and certainly plan on returning ourselves!

+ Read More

Sandeep

Ann Arbor, MI

"Firefly"

Great place to stay near the Smokies and Gatlinburg. Slept 7 comfortably, all amenities were as described. A little lower down the mountain so not as good a view as some of the higher up cabins. Hot t

…

ub/jacuzzi tubs were great and necessary after long hikes.

+ Read More

Chase W.

Harrisonburg, LA

"Stess Reliever"

Great place to relax!

June J.

Nashville, TN

"Great Family Reunion Time at Elk Springs (Firefly Lodge)"

Our three-day stay could not have been more enjoyable. Our family rented 4 cabins all within in waling distance of each other and spent a lot of quality time together. The cabins were clean and ever

…

ything was conveniently located. We even saw two bears when we were there.

+ Read More

Danielle P.

Oak Park, MI

"WONDERFUL!!"

This was the best vacation by far. I didn't know what to expect. I read many reviews mostly good about the resort. I few things concerned my reading that some of the amenities were broken or lack of u

…

p keep with the property. This was far from the truth. Everything was clean, working properly and exceeded more than what I expected. Its something you have to experience for yourself and please don't let a few bad reviews prevent you from having a great experience. we would love to get back there!!!

+ Read More

Frieda C.

Fort Worth, TX

Laura I.

,

"Spring Break in the mountains"

The sign at the entrance gives you a fair warning, "you may never want to true! We took the kids (4 month, 7, & 10 year old) on spring break and Elk Springs (Firefly lodge) was the perfect place to h

…

ang our hats! It gives you the mountain feel with only a few minute drive into the heart of Gatlinburg! We met family and friends and new friends at the resort and we can't wait to come back!

We have already reccomended Elk springs to numerous friends and colleagues the first week back.

Very relaxing and honestly the cabin is entertainment enough for the kids which results in adult time, priceless!

Can't wait to come back!

Matt & Laura

+ Read More

Bonita W.

Cincinnati, OH

"it was great"

we had a very good time. every thing was nice the cabin was one of the best cabin i have ever stayed in.

Pam

Paducah, KY

"Amazing!!"

We had an amazing time for the weekend we were there. We brought along 2 children who were very excited for the theatre room (the reason we rented that cabin). But ours did not work and we couldn't ge

…

t a hold of the main people because we didn't have service. The last night we went into town and called and they fixed it that night in a very timely manner but that only left us with one night with the theatre and we didn't even end up watching it because they kids fell asleep. But that wasn't their fault just our luck! Our place was very close to town and was absolutely beautiful! I will keep coming back to elk springs, they made sure our stay was enjoyable!

+ Read More

Samantha

Camby, IN

"Family memories"

My kids loved the atmosphere and the woke look. Their favorite was the air hockey table.

Nancy B.

West Chester, Ohio

"Girls get away"

We enjoyed our stay very much. I've stayed in several homes in the area. The only thing I didn't like was that we were not up high with a good view. The kitchen could have been a little bigger with mo

…

re supplies and more hooks for towels in the bedroom with the bunks.

+ Read More

Stefanie S.

Evansville, IN

"Firefly Lodge Review"

We loved our cabin and had a wonderful vacation. Looking forward to visiting again in the future!

Amanda

Milford, OH

"Beautiful and Clean Cabin"

Our cabin was beautiful and was very clean when we arrived. We used all appliances during our stay and everything was in perfect working order. We loved the theater room and the hot tub.

Nancy S.

,

"awesome"

really enjoyed it!

Anthony L.

Birmingham, Al

"The Levert & Starrs wonderful getaway"

When you think of Heaven- think of Elk Springs resort Cabins. Our recent stay was just "AWESOME" we all had the most wonderful time. Our Grandchildren didn't want to leave and neither did we. From

…

the moment you enter the property until the time you will leave will be just breath taking. Heaven here on earth is one of the only ways for us to describe ESR. Whoever designed these rentals didn't leave a stone unturned. They covered any and everything a family could want except "Groceries" and I'm sure if they knew your eating habits they would have tried to arrange it for you. We are now planning our trip back next year. Again we thank the Elk Springs Resort staff for a five (5) star week. Keep up the great work and God bless you all!

Happy still in Birmingham,
The Levert & Starr Family

+ Read More

Burt T.

Wilmington, NC

"Great Cabin"

We just enjoyed a wonderful vacation at Firefly Lodge. The cabin was perfect for us. Well furnished, very clean and super comfortable. The theater room was a nice touch and our 8 year old daughter loved the bunked double beds. We'll be back!

Marcos C.

Louisville, KY

"cabins"

everything was really nice, but I stay one entire night waiting for somebody in maintenance because one of the Jacuzzi was not working and I call the office and they tall me that they were going to s

…

end somebody. That never happened. But everything else was good

+ Read More

Angela

Lake City, FL

"Our 2011 Stay in the Smokies"

The property was very nice and clean. The only reason I didn't give it 5 stars is because our fireplace didn't work and our washing machine had issues spinning out. The people were very nice, though. We had a very nice time ! :)

Teressa W.

Loveland, Ohio

"Wonderful Cabin Stay"

First visit to Gatlinburg and I LOVED my stay. Beautiful cabin located in the artsy community. About 10 minutes from downtown. Cabin was just as presented in website images. Furniture was current

…

and in great condition. The home theatre was fantastic for kids but there were lots of tears in the chairs. Overall a wonderful experience and plan to visit again next year.

Only complaint was the HVAC was really out of balance. The downstairs was cold and the bedrooms upset were very hot (folks sleeping upstairs were up all night sweating). We opened windows the second night and solved that issue.

Thanks for a great vacation home!

+ Read More

Erik G.

Hialeah, FL

"Wonderful Stay! Would definetly return!"

From the moment you walked into Firefly Lodge you felt like you were home! The cabin was immaculate. Everything from the kitchen to the bathrooms were spotless. It is stocked with all the essential

…

s you need, especially in the kitchen. It's location is very convenient to Downtown Gatlinburg as well as Pigeon Forge and all the other local attractions. We were a group of 10 ( 6 adults and 4 kids all under 4 years old) and we could not have been happier with our stay.

On another note, the Elk Springs staff was always very helpful and informative. We would definetly recommend Elk Springs Resort Cabins.

+ Read More

Jessica R.

Christiansburg, VA

"Great Trip to Fall Wonderland!"

Everything was great! :)

Just never have enough time. Every cabin I have rented from Elk Springs Resort, I have been very pleased. I am a hard person to satisfy with accomidations and I have

…

not had any complaints!

Always Clean, Hassle Free, Beautiful Cabins.

+ Read More

Bill

Mobile, AL

"Fall Escape"

Floor had not been mopped in the kitchen or den areas, otherwise stay was pleasant.

Keomie P.

Ooltewah, TN

"Awesome cabin"

Very nice clean luxery cabin I will always cabin eith elk springs

Mayank C.

Lexington, SC

"A weekend to remember"

It was easily one of the best weekends ever. It was great fun staying at the lodge, it was absolutely clean and in great shape. The theater screen was the icing on the cake. The hot tub and the grill

…

all worked perfectly. Great experience at a great lodge.

+ Read More

Kelly

Rosemount, MN

"Great time/ Location"

Trip to Gatlinburg was wonderful. Cabin location was perfect - not too far out of town, but away from the business dist.Quiet!Would stay again in a heart beat!

Jan

Mobile, AL

"Awesome vacation"

The Firefly Lodge is a beautiful cabin. We made use of the game tables as well as the theater room. Close to many activities. We ziplined, rode the rapids, went site seeing, ate and shopped. Staff was

…

very helpful. You can hear others on the upper floor but not bothersome. Just wish my cell phone provider could have picked up a signal. Wireless worked great. Overall a fun trip to the mountains.

+ Read More

Jason O.

Pensacola, FL

Phyllis

Mount Morris, MI

"Cozy Clean and Comfortable"

We had a great stay. Everything we needed was there plus so many additions to really make the stay nice, the worse part was that we could only stay two days.

Shawn

Elkhorn City, KY

"Our stay at Firefly Lodge was very satisfying and relaxing. We were very impressed with the conditio"

anyone interested in vacationing in the area.

Virginia S.

Collierville, TN

"Awesome!"

My entire family had a great time. If we didn't have to go out, we had plenty to keep the adults and children entertained. Everything was just perfect and the scenery from the cabin was so beautiful. We definitely enjoyed every moment of our stay.

Carl R.

Powell, Tn

"Family reunion"

Loved the chalet and will definitely be back again. The house was wonderful, well furnished and loved the theater room.

Linda

Johns Creek, Ga

""

We really loved our stay at this resort. The property was in wonderful condition and decorated very nice.

Cindy B.

Forest, VA

"Elks Springs - Firefly Lodge Gets 2 Thumbs Up!"

We loved the modern kitchen ammenities! We were also blown away by the Home Theatre Room! Very convenient to Gatlinburg.
Load More Reviews