Amenities:
Full Kitchen

Gas Grill

Hot Tub

Iron / Ironing Board

Parking

Pet Friendly

Theater Room

Washer/Dryer

WIFI
A Value Cabin! - Relax outside in your own private screened in porch or gather with family and friends in the Home Theater Room with 9 foot theater screen, surround sound and leather theater seats. This is a professionally decorated luxury cabin designed for friends and family to gather and enjoy. Its appeal is the open and comfortable setting whether you want to spend time inside or on the porch, you can absorb the beauty surrounding Finders Keepers and share great times throughout your stay.
Cabin Bedrooms Layout
Master Suite 1

King Bed
Sleeps 2
Master Suite 2

King Bed
Sleeps 2
Master Suite 3

King Bed
Sleeps 2
Bunk Room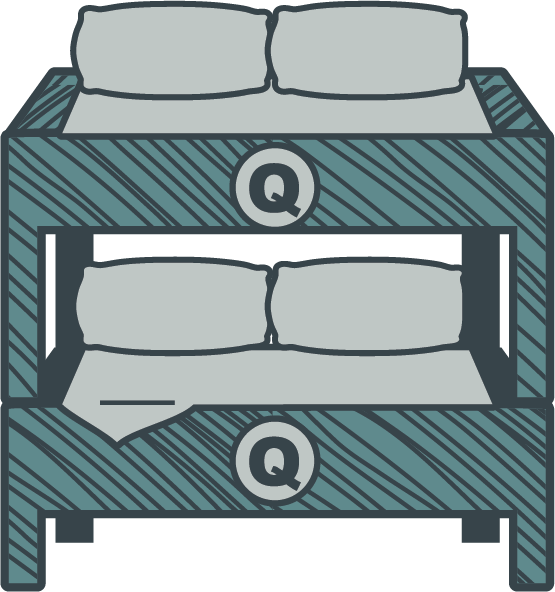 Queen Bunk
Sleeps 4
Loft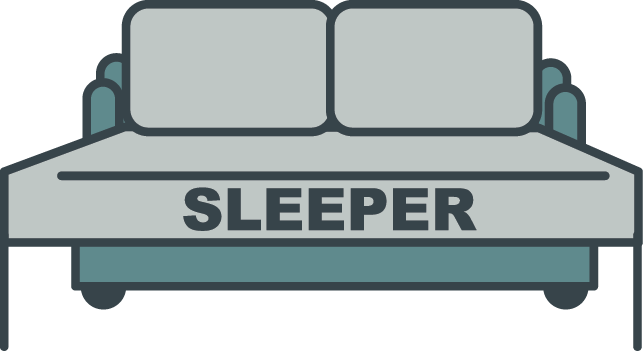 Queen Sleeper
Sleeps 2
Full Description
Guests mention what a spacious kitchen area this Gatlinburg cabin has and how it flows naturally as friends and family gather. Enter the cabin on the middle level and notice the large and fully equipped kitchen with adjoining dining and living room. A 3 sided gas fireplace and large flat screen TV is located in the center of the room for your convenience. Exit to the screened in porch or the side deck with your own stainless steel gas grill.

Don't worry about recreation here! The upper level has a pool table with gas fireplace and flat screen TV, an air hockey table and a theater room with a 9 foot theater screen and surround sound. While some guests unwind in the great room and on the deck or porch, others can head upstairs for some fun. A futon in the game room also provides extra sleeping for 2 additional guests.

Finders Keepers sleeps up to 12 total. It features 4 bedrooms and 3 full baths, plus a half bath on the main level for your convenience.

The upper level has a King bedroom and attached bathroom; the lower level has 1 King master suite bedroom, plus another King bedroom and one bedroom with a queen over queen bunk bed. There is a second full bath on this level, too. You will also find a washer and dryer on the lower level to do a quick load of laundry on extended stays.

Just a few reminders: Don't forget to bring your favorite DVDs to enjoy in your very own private home theater room. Remember to remind your group there is an air hockey table as well as a pool table. Finally, there is a private hot tub on the lower level for your group to enjoy. If you find Finders available for your dates, we assure you it's a keeper!
*** Value Cabin
Theater Room with 9 Foot Theater Screen
Surround Sound
Leather Reclining Theater Seats
Hot Tub
Pool Table
Air Hockey Table
FREE High Speed Wireless Internet
2 Gas Fireplaces
8 Rocking Chairs
Screened in Porch
Outdoor table/chairs
6 TV's
6 DVD Players
Washer/Dryer
Gas Grill
Stainless Steel Appliances
Luxury Leather Furniture
3 King Beds
1 Queen over Queen Bunk Bed
1 Futon
8 Minutes to Gatlinburg
5 Minutes to a Major Grocery Store
20 Minutes to Dollywood
Calendar
Click your dates below to check in and check out
Available
Check In Only
Check Out Only
Selected
Unavailable
Photo Gallery
See All Photos
Reviews
Danielle T.

Southfield, MI

"Finders Keepers"

Me and my fiancÚ decided to plan a couples vacation with a group of friends and needless to say it was pure heaven. It was very clean, and so very fun. There was a sign when you entered warning us ab

…

out the fact we may not have wanted to leave. TRUE! We contemplated on staying another night but unfortunately my fiancÚ had to work the next day. My recommendation is to book for a longer trip at least 3 nights because 2 felt soooo short. I absolutely loved it!

+ Read More

Manager Response:

We are so happy you enjoyed your stay! Please come stay with us again for your next getaway! Thank you for your wonderful review!

Gehad S.

Lake Worth, FL

"Finders Keepers "

We had an excellent experience from finding the right cabin to check in and everything else. Great service from Elks Spring Resort

Manager Response:

Thank you very much for the 5-star review! As always, we appreciate the feedback from another satisfied guest. We are pleased that you had such a great experience and found the perfect cabin for your stay. We look forward to having you back real soon!

Edgar A.

Lancaster, CA

"Family Gathering In Finders Keepers. "

My whole family loved it. Plenty of space to enjoy throughout the cabin with family and even areas to have your alone time. No need to go to the movies because the movie theater inside the cabin is ju

…

st as great as the cinemas. Minutes away from downtown gatlingburg and less than 30 minutes from Dollywood Park. Both pigeon forge and gatlingburg are such great cities to go sight seeing and attending attractions. There are even jeeps, off road UTVs and even three-wheeled slingshot motorcycles available for rental in the local area. I will be revisiting next year and definitely will be renting again with Elk Springs.

+ Read More

Manager Response:

Thank you so much for your review. We are so happy that you enjoyed your stay in our beautiful Smoky Mountains! We look forward to you returning to visit!

Derick G.

Fishers, IN

"Great stay!"

Easy check in, great communication when needed with Elk Springs. We will definitely be back next year. LOVED the theatre room and game loft. Plenty of room for 8 people

Manager Response:

Thanks for the wonderful review! We are so happy that you enjoyed your stay! We look forward to having you as our guests again!

Ethan K.

Masaryktown, FL

"Group Getaway"

This property is located on an easy and beautiful road. The cabin itself was great and clean. Check in and out was super easy. We had a great time and will be returning next year to Elk Springs.

Manager Response:

Thanks so much for your review! We are so happy you enjoyed your stay. We look forward to seeing you again Ethan!

Ronald M.

Cincinnati, OH

"The McKenzies"

The weekend getaway was superior; just what we needed.

Manager Response:

We are pleased to hear your weekend get-away was a success, Ronald! We certainly agree, Finders Keepers is the perfect cabin to relax and let the stresses of everyday life melt away. We hope you will consider staying with Elk Springs Resort during your next visit to Gatlinburg.

Melissa C.

Columbus, OH

"Rest n Relax"

House is very pretty very clean and great entertainment for my grandson

Manager Response:

We are excited to hear Finders Keepers exceeded your expectations. We offer a great selection of kid-friendly cabins on Elk Springs Resort. We want all of our guests to feel at home, from the young to the young at heart. We hope you will consider staying with us again during your next visit to Gatlinburg. Hurry back, your next adventure awaits!

Linda H.

Salisbury, NC

"Excellent!!!!!"

We all had an excellent time, the cabin was very nice hard to leave and come home. We will definitely be back.

Thank you.

Manager Response:

Thank you for taking the time to share your wonderful experience with us. Linda! We enjoyed having you as our guest and would consider it an honor for you to stay with us again. Please keep in mind, as a returning guest you will enjoy 10% off all future stays.

Alkesha R.

Farmington Hills, MI

"Awesome vacation!!"

As first time visitors my family and I truly enjoyed our stay and are already planning a return trip! The property was very accomadating for a family getaway.

Manager Response:

Thank you for allowing us to be a part of such a wonderful family get-away! We love to hear that your time spent with us was exceptional. Please keep in mind, as a returning guest you will enjoy 10% off all future stays. We hope to see you soon!

Omar

Milwaukee, WI

"Time off the grid"

It was a wonderful time enjoying the nature and walk trails in the smoky mountains .

Manager Response:

We are happy to hear that you had a wonderful stay. Elk Springs Resort offers the perfect location to enjoy easy access to the Great Smoky Mountains National Park. We hope you will consider staying with us during your next visit to our area.

Anita

Redford, MI

"Family Super Bowl Weekend"

The Elk Spring Resort's grounds were beautiful! The Finders keepers cabin was wonderful. The only complaint that I have is signage on route to the resort. Is it a state or county restriction to post

…

signs along the roads to show that you're heading in the right direction of the resort? My family and I were novice to the Gatilinburg area and got lost several times up in the hills? It was pretty scary up there and the sun was going down on us.

+ Read More

Manager Response:

Anita, we are very pleased to hear that you enjoyed your stay with us in the past and hope you will consider taking advantage of our wonderful Groupon promotion we have going on now. The mountains are calling and awaiting your return!

Rafael

,

"A home away from home"

This cabin was a home away from home. Perfect size for our family vacation with room to spare and plenty of things to do to keep the little ones entertained. Great location being located only a few mi

…

nutes away from Gatlinburg and few more minutes away from Pigeon Forge. The cabin was clean, updated, comfortable, and the process to check in and check out was super easy. Fantastic vacation that I have and will recommend to any and everyone!

+ Read More

Manager Response:

Thank you for your business! We hope you will continue to enjoy Elk Springs Resort's cabins for many years to come! We are running a great Groupon promotion right now. Feel free to check it out and book your 2017 vacation with us!

Jenny B.

Miami, FL

"Perfect family vacation"

First time visiting elk springs resort, this cabin accomadated my family very comfortably we had 3 set of families and small children in our group, the kids loved the movie room, adults loved the hock

…

ey table and pool table also jacuzzi a major plus! The kitchen was perfect since we cooked most of the time and you will save a lot of money by doing that! We had minor issues with AC on Christmas Day the gentleman came out super fast to fix for us! I would email them and get response right away! I am already planning for our next trip!

+ Read More

Randy R.

Smyrna, GA

"Three family Christmas trip!"

We had three families including 6 adults. And 5 grandkids! we had plenty of room! Loved the bunk room and play room!!

Cheryl P.

Holly, MI

"Great Stay"

Nice Cabin, location, great stay

Josie

Topeka, KS

"Something fun for EVERYONE!"

We booked the Finders Keeper cabin the day we drove in from Kansas. The reservation process was much quicker and simpler than I expected. All the information we needed was sent by Dave even before I h

…

ung up the phone. I didn't tell my (four) kids and husband where we were staying and when we walked in they all squealed with excitement so that made me happy! The cabin is really spacious yet cozy and decorated very well. Everyone had something to do from air hockey to the hot tub, pool table, theater room to the hanging swing on the deck. We couldn't figure out how to turn on the air hockey machine (there was a switch against the wall) so I called on a Sunday morning and within an hour or so maintenance called (although we missed it) and then came by and showed us where it was. Later we received a follow up call to make sure it was working and asked if we needed anything else. Really friendly and helpful staff who make their #1 priority around guests enjoying their stay. And there is SO much to do in Gatlinburg and surrounding towns you could spend weeks there and not get to it all! We only stayed 2 nights since the kids were starting school but the long drive was worth it. We will be back next year and I wouldn't hesitate to stay in an Elk Springs Cabin again. I'll say the one drawback for me is I'd like to be more separated from surrounding cabins and have a space for my younger kids to play but that might not matter to some people- there were some cabins higher up that may fit the bill. Although my family didn't seem to mind!

+ Read More

Manager Response:

Thank you for your kind review Josie! We do have secluded cabins available off the main resort property. Be sure to ask one of our sales agents to assist you with finding the perfect cabin location for you when you return next year. You do receive a 10% discount on all future stays just for being a repeat guest!

Steven

Weston, FL

"Summer in the Smokies"

Second summer at Elk Springs. Another great stay! Chalet is beautiful, clean, and spacious. Location is great-easy drive to zip lining, white water without having to go through town and easy access to

…

Pigeon Forge and Gatlinburg. Property management staff very helpful and professional.

+ Read More

Manager Response:

Thank you for such a nice review Steven! We love to hear from our repeat guests letting us know we provided you with the best cabin stay possible.

Allean

Hampton, VA

"2015 Family Reunion"

Awesome facility. Our family had a great stay.

Manager Response:

Thank you Allean Hinton and family for allowing us to provide an awesome facility for your 2015 Family Reunion experience!

Adam E.

Belmont, NC

"Great stay!"

Nothing to complain about here. Fantastic vacation spot and fantastic cabin!

Brent

Greeneville, TN

"Great Cabin!"

We took our church youth group here and they loved it. Everything is nice and clean and the layout worked well for a group. The staff called and checked on us while we were there and since someone pro

…

mptly when I reported a problem. They did their best to fix the problem and was very professional and friendly. I would definitely recommend this cabin.

+ Read More

Debra

Durham, NC

"weekend trip"

we were very pleased with our stay. the property was very clean and the service company was very attentive. we had an issue with the dvd player in the theater room and they responded promptly and took care of the issue. would certainly return.

Michelle

Grayson, GA

"Fabulous Finders Keepers Cabin "

We had the BEST time ever in the Finders Keepers cabin! There was plenty of space and lots of games for everyone. The furnishings and decor were beautiful! We will definitely go back!

Mary N.

Leeds, AL

"Great Vacation"

We had a great time...the cabin was beautiful and very clean. The kids loved the theater room. Big kitchens for meals, which was great because we were snowed in most of our stay. The gas grill was

…

a great addition, we were able to use it a couple nights. Will defiantly be back!

+ Read More

Luana C.

Atlanta, GA

"Awesome cabin! "

We stayed 3 nights at this cabin and we loved it! Very large rooms, well equiped kitchen, planty of space to everyone. The pool table was very good and we had lots of fun. And it was very easy too boo

…

k and we had no bad surprises at all. Cant wait to come back!

+ Read More

Joseph C.

Cross Lanes, WV

Arline

Columbia, SC

"CLATIC Explores Gatlinburg, TN"

Clean, spacious, comfortable. Easily accessible by senior citizens. The heat in the basement was a little low, however, all else was very comfortable

Christine H.

Fort Thomas, KY

"Too bad we couldn't really KEEP this cabin!"

We had a great stay! Comfortable cabin with lots of ammenities!

Michelle M.

Indianapolis, IN

"Lovely Family Vaca"

Our cabin was beautiful and the amenities were a blast. We thoroughly enjoyed our stay and wish we would have done an additional night. The staff was very friendly and was available to answer any ques

…

tions I had. I loved how close it was to everything but felt so far at the same time. We spent the majority of our time in the cabin. I would definitely stay there again. Thank you

+ Read More

Elmedina G.

Chicago, IL

"Awesome, Lots of Fun"

We had a group of 15 people, adults and children. We all enjoyed ourselves so much and felt that two nights and three days was way too short and if we could do it again we all would stay lot longer. T

…

he home theater room was awesome, the hot tub, the entire cabin is awesome.
We spent so much time in the cabin that we ran out of time to do outdoor stuff. We did go to Gatlinburg, a really awesome town, lots and lots to do for everyone.
A very nice and cozy place with lots of activities.

+ Read More

Hans C.

Atlanta, GA

"Great Family Getaway"

Booked this cabin as a way for all of us to be under one roof to celebrate my Mother's 60th Birthday without having to book several different hotels etc. in her hometown. That would not have been exci

…

ting. This cabin was the perfect alternative and worked out great! I definitely recommend them! :)

+ Read More

Rafael Z.

Valrico, FL

"First time stay in Gatlinburg"

This was our first time staying in Gatlinburg. My wife and five daughters stayed at this cabin for ten so we had room to spare and it was hard to leave the cabin behind to go see the attractions as we

…

really would had loved just taking advantage of all of the amenities. The people at Elk Springs Resort outlined what to expect and when. Everything worked according to plan and we got the call with our code as they said they would the day of arrival so we didn't have to worry about picking up a key and walked in into a well appointed cabin, clean and ready for use with all the essentials. We will be back and will for sure go through Homeaway again in search of and Elk Spring Resort Cabin.

+ Read More

Alisha B.

Monroe, LA

"Family fun time"

My family and I had a blast at Elk Springs Resort Cabin. I will be coming back to the Smokey mountain soon. I advise people to come to visit here at Elk Springs Resort.

Jaren K.

Brown Deer, WI

"Relaxcation"

The family was looking for an adventuresome yet relaxing vacation. We found this with our stay at the Elk Springs Resort. Minutes from Gatlinburg with plenty to do along with many scenic roads and t

…

rails to explore. Fabulous time with ability to relax inside the luxurious cabin (Finders Keepers)....loved the home theater.

+ Read More

Travis

Bardstown, KY

"Great Stay"

Had a great weekend. Would definitely recommend to anyone.

Ginger V.

Tuscumbia, AL

"Cleaner Than My House!"

While we were there it was really cold, like 14 degrees. I wanted an extra blanket so bad and the last day I found one in a dresser drawer! Sure wish I had known that! Overall the only improvemen

…

t I could think of was heated floors on those ceramic tiles in the bottom floor bathrooms. The cabin was spotless, the hot tub was clean as a whistle, the big screen was awesome and we loved the gathering room! Thanks for the best vacation in the Smokies in years!

+ Read More

Angela H.

Aiken, SC

"Great cabin"

Wonderful new clean cabin

Ravy

Alexandria, KY

"Davids 1st"

Great experience all around. In the future this will be the first place we look when planning a trip.

Amita

Arlington, VA

"A great reunion spot!"

A lovely cabin which was well maintained, comfortable and perfect for a family reunion. I would highly recommend this to others!

Kamolrat M.

Columbia, SC

"Nice place to stay in Gatlinburg"

The cabin was really nice. Everything functioned well. The location is good only a few minutes to Attractions.

Luvenia

N Little Rock, AK

Bob B.

San Antonio, TX

"Elk Spring Resort - two great years in a row!"

Our family has thoroughly enjoyed staying at Elk Springs Resort for two summers now - with next year plans in the works! Wonderful accommodations!

Mary Ellen

Georgetown, TX

"As Advertizzed"

Our family reunion was wonderful in part because we chose Elk Springs Resort. We used a total of 5 cabins/homes and everyone of them was exactly as depicted on the website. They truly are amazing properties.


Mac

Atoka, TN

"I had a great time!!"

This was by far one of the best vacation experiences that I have been on!

Guy

Centralia, IL

"Great cabin"

Best co in Gatlinburg to rent from

Freda

McDonough, GA

"First time in a cabin"

This was the best experience ever!! The kids were very excited about the activities available inside the cabin as well as outside. We brought board games as well so everyone had something to do.The r

…

ooms were very clean and there were enough dishes for everything we wanted to cook.

+ Read More

Corinne M.

Columbus, Ga

"Weekend away"

I took my husband away for a weekend and it was amazing!!

James P.

Lavonia, MI

"Finder's Keepers"

we had a wonderful vacation at Finders Keepers,Elk Springs Resort. the cabin was clean and well laid out. Only change that could be made is to put the queen bunk beds upstairs in the game area were the kids liked to hand out.

Regina

Knoxville, TN

"Basketball champs"

Met our needs perfectly

John B.

Laurel, MD

"Great Vacation"

This was our 2nd stay at Elk Springs-things were great.

Michael

Cape Coral, FL

"Fantastic Stay"

Everything from booking to arrival to departure was top notch! We loved our cabin and plan to come back.
Load More Reviews