Amenities:
Gas Grill
Honeymoon
Hot Tub
Washer/Dryer
WIFI
Lots of character in this private and unique studio open plan. Many guests are intrigued by the unique layout of this studio cabin and love to book it for a romantic getaway with their someone special. With a king bed, Jacuzzi and intimate setting its the perfect getaway with value pricing.
Cabin Bedrooms Layout
Great Room

King Bed
Sleeps 2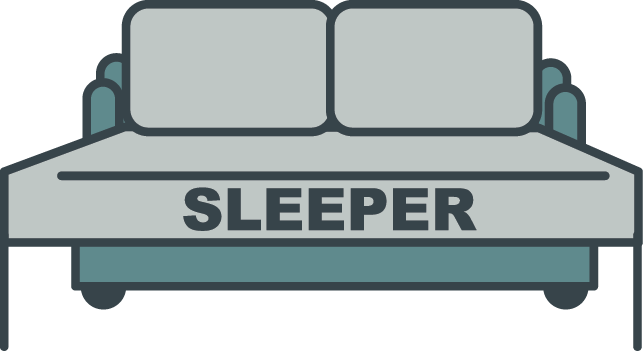 Queen Sleeper
Sleeps 2
Full Description
Located off the spur between Gatlinburg and Pigeon Forge the location is ultra-convenient as you are just 10 minutes from the fun in Pigeon Forge or Gatlinburg. The main entrance to the National Park is a quick 10 minutes away with no traffic via the Gatlinburg Bypass.

When you are done enjoying a day of shopping or hiking you can relax on your deck in your 100 degree hot tub. Or enjoy a wood burning fire while in your Jacuzzi tub inside your romantic cabin.

Retire to the king bed and awake to the sounds of nature from your deck. A fully equipped kitchen with small dining area will have everything you need to prepare meals during your stay - or head into town and enjoy some of the great restaurants such as the Peddler in Gatlinburg or The Mill in Pigeon Forge. Both are just about 10 minutes from your front door.

Free WIFI and washer/dryer is included for your convenience.
*** This cabin is located 15 minutes from Elk Springs Resort ***
Wood Burning Fireplace
Charcoal Grill
Jacuzzi Tub
Hot Tub
Fireplace
King Bed
Queen Sleeper Sofa
FREE WIFI
Cable TV with Espn and Espn2
Washer/Dryer
10 Minutes to Downtown Gatlinburg
10 Minutes to Pigeon Forge
10 Minutes to National Park (via Gatlinburg Bypass * No traffic)
10 Minutes to Major Grocery Store
15 Minutes to Outlet Shopping
15 Minutes to Dollywood
20 Minutes to Arts & Crafts Community

Calendar
Click your dates below to check in and check out
Available
Check In Only
Check Out Only
Selected
Unavailable
Photo Gallery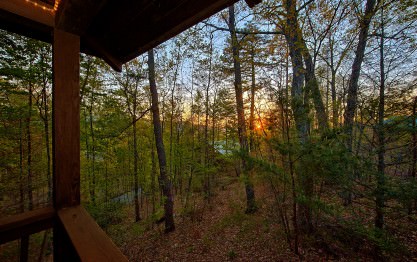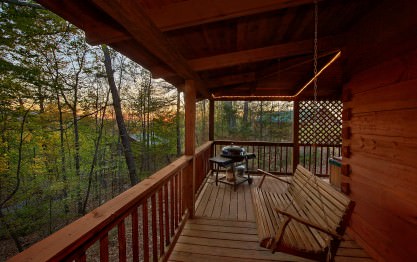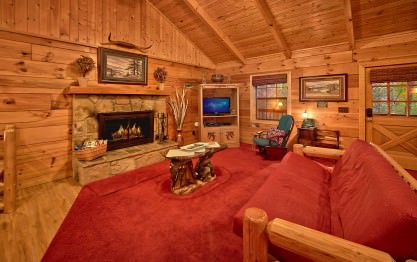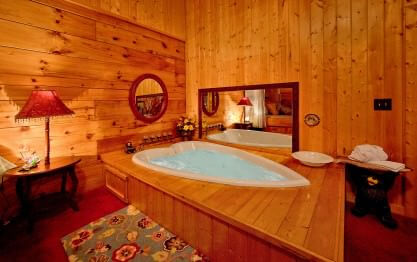 See All Photos
Reviews
Elizabeth L.

Kansas City, KS

"Perfect honeymoon cabin!"

We absolutely loved this cabin and would recommend it to anyone!!

Andrew P.

Owenton, KY

"Lover's"

We had a wonderful time and looking forward to coming back soon

Manager Response:

Thank you for your kind review, Andrew. We are excited to hear your stay was exceptional. We hope you will come back and visit with us again soon. Your next adventure awaits!

Christian C.

Tampa, FL

"Awesome Stay"

Everything was better than expected and location was very convenient for my week getaway. Would very highly recommend staying here.

Manager Response:

It sounds like you chose the perfect cabin, Christian! We love to hear that your stay was exceptional. We certainly appreciate your recommendation, thank you. Please come back and visit with us as often as your schedule allows. Keep in mind, as a returning guest you will enjoy 10% off all future stays. We hope to see you soon!

Jacob

Spring Hill, TN

"Romantic, quaint cabin"

This cabin was adorable! Perfect size for 2 people. Very romantic. Everything was super clean when we arrived. We had everything we needed for a short stay! I definitely want to return to this cabin!

Manager Response:

It sounds like you have found your new home away from home when visiting Gatlinburg! We love to hear that Falling In Love exceeded your expectations. It is the perfect cabin for a romantic get-away for two. It is never too early to start planning your next trip. Please keep in mind, as a returning guest you will receive 10% off all future stays! Your next Smoky Mountain adventure awaits you!

Terry S.

Greenwood, SC

"Nice cabin"

The cabin was nice and we loved it but the only thing we didn't like was that it had bugs. I had to kill them all wkend

Brad

Antioch, TN

"Best time in the mt"

Would so do this again.

Manager Response:

The Falling in Love cabin is a great selection for a quiet mountain getaway. It is a very popular choice among couples and honeymooners. Thank you for your review Brad and we hope you will consider a return trip to the mountains soon.

Kimberly

ACWORTH, GA

"Great Time!"

It was a short trip, but a really nice stay. Wish we could have stayed longer. The only feedback I have is that it would be better to have check out at 11am instead of 10am. We felt rushed that mor

…

ning to hurry up and get out. One hour can really make a difference.

+ Read More

Manager Response:

Thank you for your review Kimberly. Late checkouts are available upon request up until noon without an extra charge. If someone is checking into the cabin at 3 p.m. that same day, we are not always able to accommodate your request. A phone call to our Customer Service Department is all that is needed and they will advise you if you can have an extra hour or two to checkout. We are pleased that you enjoyed your short but sweet get away at Falling In Love.

Grace M.

New Kensington, PA

"clean, secluded cabin "

We had a wonderful stay at the falling in love cabin. It was very clean and conveniently located right between pigeon forge and Gatlinburg. We will definitely consider returning!!

Manager Response:

We are pleased to hear that you had a wonderful stay at Falling In Love. It is a great little cabin for a couples' retreat. We certainly appreciate your review Grace!

Douglas

Greenfield, IN

"Awesome Anniversary getaway "

We had a great time. Cabin was in excellent condition and very well maintained. We spent time taking hikes and enjoying the scenery. We will definetly return.

Manager Response:

Thanks Doug! We are pleased that you had an awesome anniversary getaway at Falling In Love! There is nothing like breathing in the fresh mountain air while out hiking and taking in the natural beauty of this area! We do hope you return year after year for more anniversary memories!

Cristiano C.

Franktown, CO

"Wonderful place "

Amazing stay at the falling in love cabin. Highly suggested!!!????

Manager Response:

Thank you for the great review Cristiano! We are pleased that you enjoyed the Falling In Love cabin. Please come back for a future stay and take advantage of your 10% repeat guest discount!

Gwen L.

Rineyville, KY

"AWESOME--experience for our honeymoon"

Gwen & Matt
We spent two nights of our honeymoon at the Falling in Love Cabin. It was an absolutely beautiful cabin & perfect for a honeymoon.

Thank you for a wonderful stay!!!

Alex V.

Pennsboro, WV

"Perfect Honeymoon"

The cabin had everything we needed and then some. We loved the fireplace and canopy bed. And we were sure to make use of the hot tub and jacuzzi tub.

Stephanie L.

Clarksville, TN

"Mini Vacation"

Everything was wonderful! Only thing, there were no working lights over the hot tub, so we were unable to use it after dark.

April R.

Anderson, SC

"Joe & April"

Fantastic, our cabin was clean & exactly what we were hoping to find!

Daniel R.

West Chester, OH

"Peaceful"

While both Pigeon Forge and Gatlinburg are full of tourists and traffic, our cabin was an oasis of peace, nature and rest. Not only was this the perfect compliment to all the rush of those two places

…

, but it allowed us to actually rest, which we've needed for almost a year. I definitely plan to go back.

+ Read More

Tom R.

Franklin, TN

"Falling in Love cabin lives up to name"

Had a grat time in a very romantic cabin. Exceeded expectations

Timothy A.

West End, NC

"Falling in Love Cabin"

The cabin was beautiful & a nice get away for the weekend. We def. will be coming back in the future

Amber

Washington, WV

"Loved it"

We stayed here over a weekend in November and it was fabulous. If only the weekend were longer.

Claude

Eatonton, Georgia

"Relaxing place to stay"

We booked for the day before Thanksgiving and Thanksgiving. We appreciated the information Elk Springs gave us in advance via email, for most of our questions were answered there. The cabin was exac

…

tly as described. There were snow flurries the day we arrived and the evening before we checked out. I called Elk Springs about the possibility of being unable to come off the mountain, but was assured that the forecast didn't warrant my concern - and that proved to be true. I would recommend this property to friends, and would recommend Elk Springs for their rentals, whether on-site or off.

+ Read More

Tammy V.

Woodridge, Il

"Just Lovely!"

Lucky to be there with the trees changing color. Just a beautiful setting. The cabin was very clean and the hot tub was perfect after a long day of driving and another day of hiking.

LaVonda D.

Homer, MI

"Great vacation"

Very enjoyable, perfect location, can't wait to do it again, will definitely rent from them again

Khalid A.

Miami, Florida

"A wonderful spectacular cabin"

Me and my family had a great time in this wonderful spectacular cabin. We had time to gather up, spend quality time and get to escape from crowded cities and conjusted roads. We would love to come back in the near future.

Patricia

Flatwoods, KY

"Falling in love review"

It was me and my husbands 20 th anniversary and we loved our cabin. Check in and check out was so simple and the cabin was very well maintained and clean. This was our first time renting a cabin and will definitely be back to rent another one.

Julia C.

Hoover, AL

"Pigeon Ford Getaway"

Loved the location. cabin had everything we needed for our two nght stay.

Sharon M.

Pinckney, Michigan

"Anniversary trip"

We used a groupon code to take a trip for our anniversary. This cabin was convenient to gaitlenburg and pigeon forge. The smokey mountain park is also just minutes away. So lots of things to do or jus

…

t hang at the cabin it is very quiet neighborhood. Would definitely go again and recommend to friends.

+ Read More

Joanne

Cincinnati, OH

"Relaxing Vacation Spot!!"

Me and my boyfriend stayed here for 2 nights. We loved every minute of it. This cabin was secluded and very peaceful. We had a beautiful forest view and we can not wait to go back!! The falling in lov

…

e cabin included a full kitchen with any type of cookware you needed. Washer and dryer was also included and came in handy. The hot tub on the porch had to be our favorite part. I recommend this cabin to any couple who are trying to have a little getaway from reality of our busy world.


+ Read More

Max H.

Louisville, KY

"Awesome"

Loved the place. Small roads to get there were the only issues. The rest of the experience made it more than worth it.

Holly C.

Hermitage, Tennessee

"Wonderful weekend in a romantic cabin for 2"

We had the best time in this luxurious little cabin! Loved the hot tub on the porch and the heart shaped jacuzzi in the living room! The kitchen was well stocked with anything needed to cook great mea

…

ls. Cabin felt very cozy and we had the best time staying there.

+ Read More

Tyler C.

Carbondale, IL

"Amazing Birthday"

Such a wonderful time spending my fiance and my birthday weekend here. We loved the feel of the place and we both decided that we will be booking with Elk Springs Resort Cabin Rentals every time we go to Gatlinburg.

Jonathan

Lebanon, KY

"Falling In Love"

It was wonderful! No problems and the resort was very helpful with all the questions we had! The cabin was clean and fit my OCD standards. The property was located right outside of Gatlinburg and was

…

just a short drive to Pigeon Forge. It was located on a mountain road but that was to be expected as it wasn't at the actual resort. The instructions on how to get in and out of the cabin was easy! The cabin was actually ready an hour for us! Checkout was just a phone call to the office! The reservation process was easy! I plan to stay with this resort on our next vacation as well as try to get the same cabin as we loved it!

+ Read More

Ron B.

Dublin, OH

"Beautiful cabin"

We were quite pleased with the Falling in Love cabin. The location was beautiful, it was clean, well kept and maintained. The only problem was with the contact phone number. Despite emailing my wife's

…

cell phone as the contact phone 3 times, you used our home phone for the door access code the first day. Just a little confusion there....but all is good. I have already referred you to some neighbors.

+ Read More

Jason S.

Troutville, VA

Peggy

Fairdale, Kentucky

"Perfect"

Am looking forward to going again. And will be getting a cabin threw elk springs resort when I do.

Load More Reviews