Amenities:
Charcoal Grill

Full Kitchen

Hot Tub

Iron / Ironing Board

Mountain View

Parking

Washer/Dryer

WIFI
Unrestricted views of the mountains! Relax with someone special on the covered deck at Endless Views. Whether it's waking up and enjoying your morning coffee or watching the stars in your hot tub, this 1 bedroom cabin with 2 full baths and sleeper sofas is perfect for a couple on a special occasion or for a family with kids.

The cabin was built to showcase expansive views of the Smoky Mountains and Mt LeConte while providing top notch conveniences and comfort. Unobstructed and expansive views are found throughout the cabin. This cabin offers more gaming options that the standard 1 BR on Legacy and there is a small bonus sleeping loft are that will be a hit with the kids and kids at heart. Legacy Mountain Resort also has it own zip line vendor on site!
Cabin Bedrooms Layout
Master Suite

King Bed
Sleeps 2
Great Room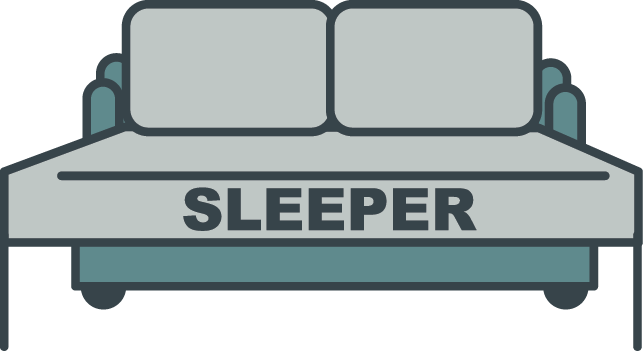 Queen Sleeper
Sleeps 2
Loft: Futon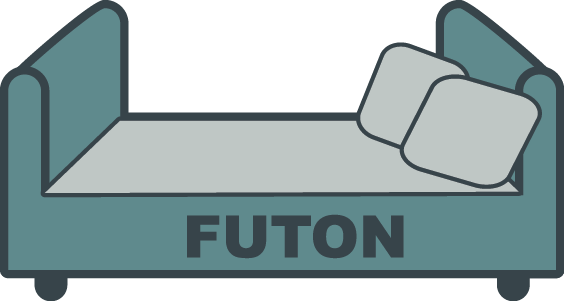 Futon
Sleeps 2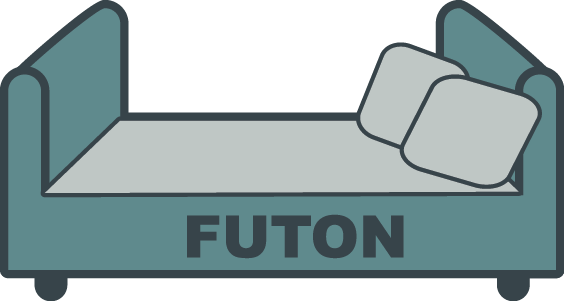 Futon
Sleeps 2
Full Description
This 1 bedroom luxury cabin includes a loft game room with queen sleeper sofa as well as a queen sleeper sofa in the great room. While perfect for couple on a special getaway looking for amazing views, this cabin also is a perfect option for a family with kids or a 2 couples.

Bored? Not here! You will enjoy playing pool or foosball in the loft with views of the mountains through the great room windows! Head out to the hot tub and relax under the stars.

Plan your day or connect with friends, or even the office :( with the free WIFI and local and long distance calling.

Prepare in cabin meals with your fully equipped kitchen and charcoal grill just outside your door.

There are wide paved roads and paved parking to this cabin so don't worry about gravel mountain roads. You are conveniently located just 10-20 minutes to everything that brings visitors to the area including the National Park, Dollywood, outlet malls, Golf, Gatlinburg, and Pigeon Forge.
*** This Cabin is located 15 Minutes from Elk Springs Resort ***
Zip Line Vendor On Site
Incredible Mountain Views
Pool Table
Foosball Table
1 King Bed
Jacuzzi Tub
1 Queen Sleeper Sofa
Loft sleeping nook (sleeps 2-4 kids)
2 Full Baths
Fireplace (Electric)
Charcoal Grill
Free WIFI
Full Kitchen
Washer/Dryer
8 Minutes to Dollywood
10 Minutes to Pigeon Forge
15 Minutes to Outlet Malls
15 Minutes to Downtown Gatlinburg
20 Minutes to National Park
10 Minutes to Grocery Store and Pharmacy
Calendar
Click your dates below to check in and check out
Available
Check In Only
Check Out Only
Selected
Unavailable
Photo Gallery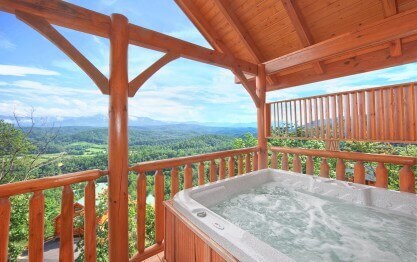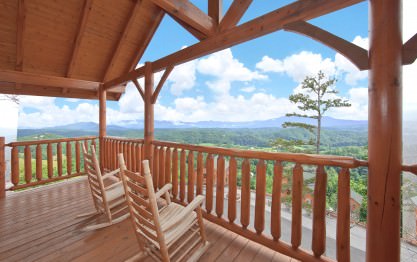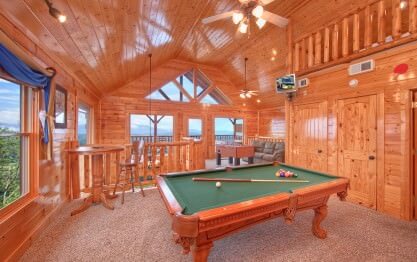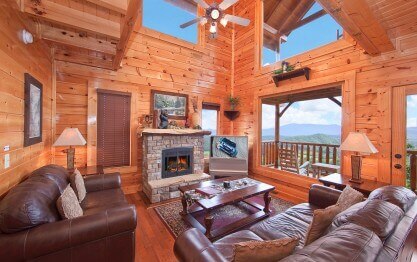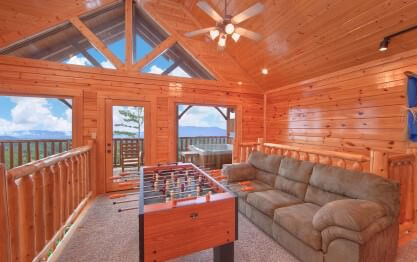 See All Photos
Reviews
Asim

Houston, TX

"Best vacation ever"

We had a great time at this cabin. Views were great and cabin was in great condition. In my youngest child's words, "this was the best vacation ever.".

Manager Response:

We are so happy you and your children enjoyed your cabin stay! As always we love hearing about wonderful family experiences. We hope you will join us again during your next trip to Gatlinburg. Please keep in mind, as a returning guest you will enjoy 10% off all future bookings. Hurry back, new adventure awaits!

Amber

Riverview, FL

"Awesome rental with great view"

We had a great time. We were so pleased with how clean the cabin was and how amazing the views were. We would definitely stay there again.

Manager Response:

Thank you for your wonderful 5 star review Amber! We are very pleased that you enjoyed your stay in Endless Views. We appreciate your business and look forward to your return stay with us!

Richelle

Longwood , FL

"From the flats of Florida to the Mountains of Tennessee"

A vacation worth repeating!

Manager Response:

We are excited to hear your stay was exceptional, Richelle! We would consider it an honor for you to visit us again. Please keep in mind, as a returning guest you will enjoy 10% off all future stays. Hurry back, your next adventure awaits!

Kelli G.

Chesapeake, VA

"Breathtaking Views! Wonderful Place!"

We spent 3 nights at the Endless Views cabin and loved every minute. The views from the upper and lower balconies were breathtaking and we enjoyed watching the sun set over the Smoky Mountains in the

…

evening, in the rocking chairs. Anytime we rent a cabin, the view is top priority, and this is worth every penny. Cabin is clean and felt fresh. Furniture was nice quality and decor was lovely. our 4 kids enjoyed the hot tub and pool table. I appreciated the washer/dryer and detergent provided.

Check in was super easy and received a text the day of check in with the lock box code. Couldn't be any easier.

Would highly recommend to anyone wanting a gorgeous cabin in the Smokies! Oh, and only a short drive from Pigeon Forge. Less than 10 min and it was nice to escape the hustle and bustle there. Once on the property, the road does snake up the mountain to get to the cabin, but it is well designed and we felt totally safe.

+ Read More

Manager Response:

Thank you for your kind review, Kelli! We certainly agree, Endless Views has a spectacular view of the mountains and the children are able to enjoy top-notch amenities as well. Customer satisfaction is important to us and we are ecstatic to hear you and your family had such a great time. We truly hope to become your home away from home while visiting our area. Please keep in mind, as a returning guest you will enjoy 10% off all future bookings. Hurry back, new memories are waiting to be made!

Sandra L.

Cockeysville, MD

"Smoky Mountain High"

This cabin was absolutely perfect. Clean and beautiful. The view was spectacular and made it super relaxing to just sit and enjoy a glass of wine sitting on the deck or in the hot tub. We spent mor

…

e time in the cabin than we ever did anywhere else we've ever stayed on vacation because it was such a pleasure to be there. No one wanted to leave when our week was over. This was one of our best stays in the smokeys where we've been coming since we were married here.

+ Read More

Manager Response:

Thank you for sharing your wonderful experience with us, Sandra. We love to hear stories such as yours! It sounds like you chose the perfect cabin to relax and unwind from the stresses of everyday life. We enjoyed having you as our guest and hope you will visit often. Please keep in mind, as a returning guest you will enjoy 10% off all future stays. Hurry back, your next adventure awaits!

Robert D.

FRANKLIN, TN

"Endless View"

Had a great stay. We will be returning.

Manager Response:

Thank you for your kind review, Robert! We are delighted to hear you enjoyed your stay. We enjoyed having you as our guest and would consider it an honor for you to stay with us again. Please keep in mind, as a returning guest you will enjoy 10% off all future stays. We hope to see you again soon!

Joseph

Orient, OH

"FANTASTIC"

Unbelievable high quality cabin, with amazing views made for an awesome experience. Excited to visit again!

Manager Response:

We sincerely appreciate your business and thank you for the outstanding 5 star review! As always, we enjoy receiving guest feedback. It helps us to continuously improve our overall customer service. When you are ready to book your next stay, please be sure to mention that you are a repeat guest and you will receive a 10% discount!

Nikki L.

Newburgh, IN

"Amazing cabin!"

The cabin had amazing views! It was a beautiful cabin and had everything we needed for a great weekend. It was only about a 10 min drive to all the restaurants and tourist attractions. Can't wait to stay there again!

Manager Response:

Thank you for your 5-Star review, Nikki! We are delighted to hear your stay was exceptional. You certainly chose the perfect cabin! Endless Views is just a short drive to all of the area attractions, yet, just far enough away to enjoy extraordinary views throughout your stay. We enjoyed having you as our guest and would consider it an honor for you to stay with us again. Please keep in mind, as a returning guest you will enjoy 10% off all future stays. Hurry back, your next adventure awaits!

Nan E.

Erin, NY

"Family Vacation"

The cabin was exactly as pictured and everything was clean and in working condition. The views were amazing, there was enough sleeping space with the pull put beds, and the kids enjoyed the pool and f

…

oosball table. The water pressure was excellent, instant hot water and there was no odor to the water. The location was perfect. We were out far enough to feel away from the hustle and bustle but close enough that we could explore Pigeon Forge, Gatlinburg, and the Smoky Mountains National Park in just a short drive. The road to the cabin is winding and steep but it actually added to the appeal of staying in the mountains. Although cabins were nearby we never felt crowded. We will definately be returning in the future!

+ Read More

Manager Response:

Thank you very much for your 5-star review and letting us know how much you enjoyed your family vacation! The cabin location, the views and the amenities make this a perfect cabin choice for couples or small families. Unlike most mountain roads here that just go straight up, the drive up Legacy Mountain gradually gets steeper as you drive up and around the next turn. I think you will agree that the view from the cabin is totally worth the drive! We love our repeat guests and are pleased that you are considering a return trip. We hope you will take advantage of your 10% discount on your next booking. Hurry back! The mountains are calling your name!

Tim T.

Coppell, TX

"Best mini vacation!!"

It was a little hard to believe that the view this cabin had that was shown in pictures was real. When we reached the cabin the views were even better than the pictures. Pictures don't really capture

…

the real beauty of the views. Cabin was amazing - clean, spacious and super comfortable!!

My wife, son and I want to come back again.. soon! Fall time is probably the best time because of the color change.

Great customer service from easy payment to easy check out.

+ Read More

Manager Response:

Thank you for allowing us to be a part of such a special family vacation, Tim! It sounds like many wonderful memories were made during your visit. We enjoyed having you as our guest and hope you will make plans to come back and stay with us again! Please keep in mind, as a returning guest you will enjoy 10% off all future stays.

Lance E.

Pickton, TX

"Perfection"

Awesome, we had a great time, cabin was perfect and cozy.

Manager Response:

Thank you for your 5-Star review, Lance! We are excited to hear you enjoyed your stay. We hope you will make plans to come back and stay with us again soon!

Jon & Laurie

Hiram, ME

"Spectacular Views"

This vacation rental was one of the easiest to reserve, to add a night and to check in and out.

This cabin has one of the best views of the mountains ranges in the area as far as my opinion goes..

…

.we sat on the decks every morning and night enjoying the views. The cabin was clean and well kept and offered all we needed for a week stay. The resort is close to Gatlinburg, Pigeon Forge and Sevierville areas for many options to keep busy and places to dine.
We couldn't have been any made our once a year vacation awesome.

+ Read More

Manager Response:

Thank you for your wonderful review! We love to hear how much you enjoyed your stay. We certainly agree! The views you will experience once you walk through the door at Endless Views are truly magical. It sounds like you found your perfect cabin! We hope you will make plans to come back and stay with us again. Please keep in mind, as a returning guest you will enjoy 10% off all future stays. Hurry back, new memories are waiting to be made!

Kelly M.

Chapel Hill, TN

"Phenomenal"

Amazing and relaxing! Beautiful place to stay!

Manager Response:

Thank you for your wonderful review, Kelly! We are delighted to hear we exceeded your expectations. We hope you will make plans to visit often!

Aaron

Colfax, LA

"Family getaway "

Great cabin! It was extremely clean and had everything we needed and more. The hot tub, pool table, and foos ball table were added bonuses. We were extremely pleased with the cabin and the view and wished we could have stayed longer.

Manager Response:

Thank you for your kind review, Aaron! We are happy to hear you and your family enjoyed so many of the amenities at Endless Views. We hope you will make plans to come back and stay with us again during your next visit to our beautiful Great Smoky Mountains. Hurry back!

Melissa

Brighton, MI

"Great Time Away"

it was a great place with a beautiful view.

Manager Response:

We are excited to hear you had an exceptional stay, Melissa! We agree, the views at Endless Views are truly breathtaking. We hope you will consider making Elk Springs Resort part of a new tradition when visiting Pigeon Forge. Come back and see us soon!

Andrew S.

Warner Robins, GA

"Endless Views"

Had an excellent experience at Elk springs. Couldn't have been more satisfied with our stay.

Manager Response:

We are happy to hear we exceeded your expectations! Please contact us when you are ready to start planning your next get-away. We are always happy to assist you. Come back and see us soon!

Leisa T.

Kimper, KY

"View of a lifetime"

The view was amazing, the cabin was beautiful and I would stay here again. It could use updated TV in the living room and the mattress needs replaced.

Manager Response:

We are delighted to hear you enjoyed your visit! Thank you for sharing your feedback with us, Leisa! Your suggestions have been noted and shared with our maintenance department. Spring is around the corner. It's a nice time to start thinking about a return trip to Gatlinburg. We hope to see you again soon!

Erica P.

Indianapolis, Indiana

"Weekend getaway "

One of the top places i have ever stayed at! What an awesome experience and view during my stay.

Manager Response:

We are delighted to hear you enjoyed your visit! Spring is around the corner. It's a nice time to start thinking about a return trip to Gatlinburg. Please keep in mind, as a returning guest you will enjoy 10% off all future stays.

Racheal S.

Adamsville, AL

"Amazing views"

The cabin was great but the view was amazing. It was very clean and in a good location. Not too lfar from the parkway. The only thing I did not like was the fireplace and that the jetted tub was upsta

…

irs and not in main bath. Overall though it was a great cabin and will definitely stay again!

+ Read More

Manager Response:

Thank you for your review, Racheal. We appreciate your business and your feedback regarding your stay. We are pleased to hear that you really enjoyed your stay and we would have to agree that the views are amazing at Legacy Mountain! We hope you will consider a future stay with us and take advantage of your 10% repeat guest discount.

Katelyn B.

Ashland City, TN

"breathtaking view"

This place was absolutely spectacular! The cabin was clean and nice and very roomy. It was the perfect getaway! The view was amazing!! My stay was only for two days originally, but we ended up staying

…

three days because we just weren't ready to leave yet! I will most defiantly recommend this place to family and friends! I will be returning to this place every time we go back if it is open! I was provided with excellent customer service during my whole stay, which I was tremendously thankful for!!! I had no trouble getting to the location of the cabin. We didn't get to do everything we intended to do, that will require a longer stay than 3 days, lol. But we enjoyed doing the sky lift. And shopping on the strip of Gatlinburg! We even had a blast doing the alpine coasters in pigeon forge. We ate at the chop house and it was fantastic. Our first day we ate Bubba grump shrimp and that place was sooooo good! We ate a mellow mushroom one night and it was pretty good but I'd recommend Bubba bump shrimp to anyone if your not wanting to eat somewhere really expensive. It's worth every penny you pay there!!!

+ Read More

Manager Response:

Thank you for your 5-star review and for sharing your Gatlinburg experience with others! We pride ourselves in providing excellent customer service to our guests and your review proves that we are true to our word. We look forward to having you as a repeat guest. Be sure to mention that you have stayed with us in the past and you will receive a 10% discount off your next stay!

James H.

Troy, IL

"loved the view"

stayed at endless views for a weekend get away. Had a great time. Breath taking views.

Manager Response:

Thank you for your business! We hope you will continue to enjoy Elk Springs Resort's cabins for many years to come! We are running a great Groupon promotion right now. Feel free to check it out and book your 2017 vacation with us!

Patricia

Sauk Village, Illinois

"Endless views AMAZING"

My husband and I had a wonderful stay.Everything was clean, the views were amazing, and the staff was veey friendly.Everything worked properly.We would recommend this place to everyone and we will be coming back to stay for our anniversary next year.

Manager Response:

We appreciate your business and wonderful 5 star review, Patricia. We are honored that you plan to join us in the near future. Please take advantage of your 10% repeat guest discount at the time of your next booking!

Saleh A.

Doha, Doha

"Amazing place "

Easy , nice , clean , safe

Manager Response:

Thank you for the nice review Saleh. We are very pleased that you had a positive cabin rental experience. We value your business and encourage you to come back and stay with us again in the future. All of our repeat guests receive a 10% discount when they book their next stay!

Alyson

Suwanee, GA

"Escape to the Mountains"

My husband and I had a wonderful 3-day getaway in Endless Views cabin. The cabin is in a cabin community so we had neighboring cabins on each side. The cabin was clean and had all the necessary kitch

…

en items, towels, soap, etc. The view was spectacular from both decks. You can see the mountains from the bedroom as well. We would have liked some cushions for the rockers and some pot holders for cooking, but we managed just fine by using extra linens. The cabin is away from the hustle and bustle of Pigeon Forge and Gatlinburg but just a 5 to 10 minute drive to all the restaurants, shopping, and arcades.

+ Read More

Manager Response:

Thank you for your review Alyson. We are pleased that you enjoyed the cabin and the spectacular views of the mountains. We have several luxury cabins to choose from and would love the opportunity to find you the perfect one to suit your needs on your return visit.

Kara

Loveland, OH

"Great Stay at Endless Views!"

The cabin was clean and the company (Elk Springs Resorts) checked into to ensure everything was to to our satisfaction upon arriving. Great experience!

Manager Response:

Thank you for your review Kara. Customer satisfaction is very important to us, so we do a welcome call after your first night's stay to ensure you are enjoying your experience. We hope you consider a return visit soon.

Steve M.

Hampstead, NC

"Beautiful Views, Great Location"

The cabin looks pretty much like it is shown in the pictures. It is centrally located to both Pigeon Forge and Gatlinburg. We were pleasantly surprised with the good amount of linens, and other supplies the Management Staff left in the unit.

Manager Response:

Thank you for your review Steve. We are pleased that you enjoyed your stay at Endless Views.

Chris W.

Ballwin, MO

"Great stay "

If there is a better place to stay in the Gatlinburg area I didn't see it. The cabins are great and it's a short drive to the Smokiea, Gatlinburg or any other tourist spots. Highly recommend it.

Manager Response:

Thanks Chris! We are pleased that you enjoyed your stay and found everything to your liking. The cabin is just a short drive to all of the main attractions, but still in an area where you can kick back and relax and enjoy some quiet time. Get your friends and family to come along on the next vacation and upgrade to one of our larger cabins!

Hiren

Orlando, Florida

"Awesome View"

As the name suggest it is truly ENDLESS Views. Excellent cabin for Romantic Get Away

Manager Response:

Romantic Getaways are the specialty here at Elk Springs Resort! Thank you for staying with us and for taking the time to give us this review! We hope these endless views will bring you back for a future stay!

John K.

Indianapolis, IN

"Views"

Wonderful cabin with excellent views. The TVs are dated, which is no big deal because we didn't go there to watch TV. We had a wonderful time and would like to return in the future.

Laura W.

Hudson, FL

"Endless Views perfection"

The view of the Smokies from the cabin were amazing. The cabin has the perfect amenities for a family of 5 (4 of them young adults). Located within an hour from our favorite activities. Just a lovely vacation, we didn't want to leave.

Tiffany

Fort Wayne, IN

"First time visitors "

My husband and I came to Tennessee for the first time for our honeymoon, we absolutely loved the cabin and the mountains. The name of the cabin was very fitting because the views were truly endless! We will definitely be coming back!!

David C.

White Lake, MI

"Anniversary"

Wonderful!!

Moses

Albany, GA

"smoky mountais view"

It was oone of our top vacations

Tamika A.

Waxhaw, NC

"Beautiful view "

Beautiful view very relaxing clean me and my husband will definitely return what a great Valentine's.

Jacqueline D.

Longwood, FL

"Elk Springs Resort "

It was a wonderful experience. I will recommend to anybody! Planning my next visit soon!

Tresia R.

Russellville, Al

"Winter getaway"

The cabin was superior in many ways. It was just far away to allow you to relax but close enough to get to shopping, attractions, and events. The view was fantastic. The cabin was clean, kitchen has

…

top of the line appliances, and all needed cooking utinsels. Bathrooms has adequate water presure. All around great cabin and enjoyed my stay very much.

+ Read More

Diane W.

Auburn, KY

"Fantastic Place"

This cabin was a delight in every way--it was immaculate, spacious, tastefully decorated, and had stunning views of the mountains. When we went we had the best of both worlds--prime fall leaves and th

…

en it snowed. Just gorgeous. The cabins do lack privacy on the back balcony, but with amazing views like that I'm sure no one was looking at us. Easy check-in and out, and the staff checked in with us to see if we were enjoying our stay. We had a fantastic time and won't hesitate to book again.

+ Read More

Valerie F.

Villa Park, IL

"Wonderful"

We truly thought this cabin was just spectacular! The views were fantastic and the cabin was so clean. It felt like there weren't even windows in between, while looking out at the mountains, it was ju

…

st a breathtaking view! Loved waking up in the morning sitting outside on the rockers taking in all the beautiful views and being above the clouds was fantastic! Thanks for a wonderful stay, will for sure recommend this to people and we hope to be back!

+ Read More

Daniel

Owatonna, Minnesota

"Endless View "

Endless View is the right description for this cabin. Thought it may be to close to other cabins but everything was fine. Except for a guy in a white sports car racing up and down on friday night.

Daniel L.

Rochester Hills, Michigan

"Endless Views #54"

We stayed here for a little honeymoon get away. It had great views of the mountains in a great location. We loved relaxing in the hot tub and enjoying the views. I would recommend this to everyone I k

…

now. Got to enjoy trips to the smokey mountain national park and visit gatlinburg and pigeon forge.

+ Read More

Laura C.

Sugar Hill, GA

"Exactly as Portrayed!!! Hated to leave"

I had been hesitant for years to rent a cabin due to the mixed reviews of various property management companies, but my fears were put to rest with this trip. Elk Springs Resort had the place spotles

…

s, and the customer service was OUTSTANDING. They are very thorough, timely and friendly. We actually extended our stay one more day the morning we were supposed to leave because we enjoyed ourselves so much. We are definitely going to be returning but will be bring more people and getting an even bigger place!! Can't wait to make these cabins our getaway spot several times a year. Worth every penny compared to what you get at hotels. Linens were fresh, everything worked and the place was spotlessly clean. Oh yeah, and the view was breaktaking!!!

+ Read More

Matthew

Moline, IL

"Another great stay!"

We have stayed at Elk Springs Resort now for the past two years and have not been disappointed! This cabin was perfect for us and our children. So relaxing and the views are breathtaking! Highly recommend!

JIAJUN

WILLOWBROOK, IL

"Very nice place"

The room have a very nice view, and luckily,we saw a black bear there. We had a very happy vacation.

Kimberly

Nashville, TN

"Great views."

Enjoyed our stay in Endless Views. Would recommend some over the door hooks be placed in bathrooms and kitchen.

Lukasz

Madiera, OH

"Fantastic cabin with an amazing view"

We will be back :)

Tim S.

Birmingham, AL

"the perfect honeymoon getaway"

I will be return as soon as I can. Accommodations and Location were A+++. The only thing I might push a little harder for next trip will be a discount.(The other properties I considered were offering

…

spring discounts). Regardless I thoroughly enjoyed "Endless Views"

+ Read More
Load More Reviews