Amenities:
Full Kitchen
Gas Grill
Hot Tub
Iron / Ironing Board
Mountain View
Parking
Sauna
Theater Room
Washer/Dryer
WIFI
Catch up with family or friends while taking in the beautiful mountain views from Eagle's Nest. A 3 level Chalet plan provide excellent space for groups of adults and kids to spread out into separate areas to get some peace and quiet. This includes a home theater room with 9 foot theater screen, pool table, classic 60 game Arcade Game, a sauna and a hot tub!
Cabin Bedrooms Layout
UL King Suite

King Bed
Sleeps 2
ML King Suite 1

King Bed
Sleeps 2
LL Bunk Room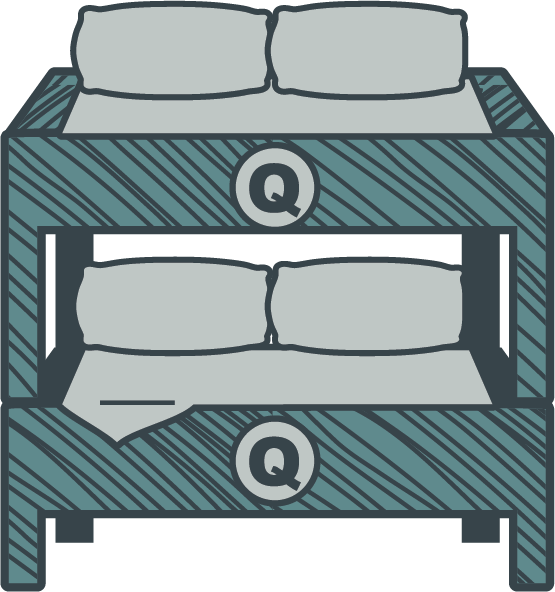 Queen Bunk
Sleeps 4
LL Sitting Area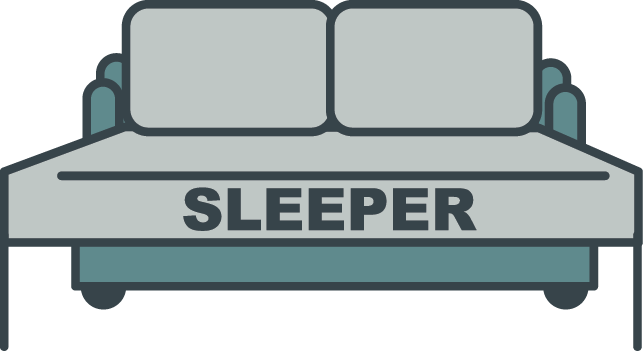 Queen Sleeper
Sleeps 2
Full Description
Located at the end of a cul-de-sac, this quiet cabin greets guests with a ramp into the main level where you will find the dining room, great room and kitchen. Notice the upgraded cherry cabinets in this large and fully stocked kitchen. A breakfast bar and dining table provides plenty of dining space.

The great room offers a leather sofa and additional seating where you can relax in front of the gas fireplace or enjoy views of Mt. LeConte through the floor to vaulted ceiling windows. A king master suite and full bath are located adjacent to the kitchen area.

Upstairs is a king master suite with rain shower and tub as well as the loft pool table area. Just off the loft is a private balcony offering some of the best views in the resort.

Downstairs is the theater room with tiered theater seating, a 9 foot screen and surround sound. A great experience and highly recommended if you haven't stayed in a theater room cabin before. A TV lounge sitting area for the kids with sleeper sofa and classic 60 game Arcade game, sauna and stack washer/dryer are also on the lower level. Finally a queen over queen bunk room that can sleep 4 kids or 2 adults on the lower bunk as well as a full bath with stand up shower.

Just off the lower level deck is your own hot tub set to 101 degrees.

Free Wireless internet is provided with this cabin!
Home Theater Room with 9 foot theater screen and surround sound
Classic 60 game Arcade Game
3 Gathering areas (loft, great room, lower level lounge)
Views of Mt. LeConte
2 King Master Suites
1 Queen over Queen Bunk Room
3 full baths
Sauna
Hot Tub
Pool Table
FREE High Speed Wireless Internet
Gas Fireplace
6 Rocking Chairs
5 TV's
4 DVD Players
Washer/Dryer
Gas Grill
Calendar
Click your dates below to check in and check out
Available
Check In Only
Check Out Only
Selected
Unavailable
Photo Gallery
See All Photos
Reviews
Codie H.

Atlanta, GA

"Great Weekend with Great Friends"

7 of my friends and I had an incredible weekend at Eagles Nest in Elk Springs Resort. The cabin was very nice and had everything we were looking for -- hot tub, theatre room, kitchen, etc. We loved th

…

e location and were easily able to travel into Gatlinburg for dinner and into the Smoky Mountains to hike. The staff was responsive when we had a maintenance request and constantly communicated with me regarding check in, check out, arrival information, etc. Would highly recommend staying at this cabin and look forward to going back!

+ Read More

Manager Response:

Thank you for your 5-Star review, Codie! We are excited to hear you and your friends had a great get-away. We certainly agree, Eagles Nest has it all. It is ideally located just 10 short minutes from downtown Gatlinburg to make venturing out for a day of fun easy and convenient. We hope you and your friends will consider making Elk Springs Resort part of new tradition when visiting Gatlinburg. Please keep in mind, as a returning guest you will enjoy 10% off all future stays. We hope to see you again soon!

Stephen V.

Corbin, KY

"Very enjoyable "

The theater was the highlight of the stay. Hot tub, sauna, movie, and repeat. Close to town but feels like you are miles away from the hustle and bustle of life.

Manager Response:

We love to hear that you had such a great stay, Stephen! It sounds like wonderful memories were made. We certainly agree, Eagles Nest offers the perfect location to experience the best of both worlds. We hope you will consider making Elk Springs Resort a part of a new tradition when visiting Gatlinburg. We hope to see you soon!

Timothy

Madison, AL

"Great View!"

The view of the mountains from this cabin was spectacular! There was plenty to do in the surrounding area, and our visit was very peaceful. I definitely recommend this stay.

Jeanine

Martinsville, IN

"Unplug to Recharge at The Eagles Nest"

We loved our stay at the Eagles Nest. This time it was just the two of us but we're already asking our adult kids to check their calendars so we can make it a family affair next time! We've traveled e

…

xtensively and recognize a well appointed, clean and spacious place as a rare gem. This cabin provided the perfect atmosphere to retreat from our busy schedule, unplug and recharge. The Arts Community below the resort offered small shops, restaurants and friendly local residents. We are definitely returning for another visit.

+ Read More

Manager Response:

Thank you for the 5 star review Jeanine! We are pleased to hear that you enjoyed everything about your cabin stay and the local attractions! Repeat guests receive a 10% discount on your next stay. We look forward to your return to make some more memories in the Smoky Mountains.

Gwendolyn

Greensboro, NC

"Can't wait to return"

We stayed at eagles nest, it was amazing. The cabin was everything we were looking forward to. The children enjoyed the game room while my husband enjoyed just relaxing. It's in a great location. I ca

…

n't wait until we return, we are definitely booking with elks spring resort.

+ Read More

Manager Response:

Thank you Gwendolyn! It sounds like you and your family picked the perfect cabin to enjoy a nice little getaway in. We look forward to your return to Elk Springs Resort!

Callie G.

Mobile, AL

"Couples 3-day Weekend Spectacular!"

Perfectly wonderful cabin set up for 3 couples or for separating boisterous children from adults needing more quiet. The wide deck on all three levels had rocking chairs and safety railing.

Three

…

teachers worked together for 10 years and after retiring, moved to 3 different states. Now, the teachers and the spouses, meet for a 3-day weekend each year to catch up. This could not have been any better. It rained on Saturday, but that didn't matter at all!

+ Read More

Manager Response:

Thank you for the 5-star review Callie! That is great that you were able to reconnect with former coworkers and their families to enjoy some down time together. We hope you will consider making it an annual tradition. We offer all of our repeat guests a 10% discount on future bookings!

Malgorzata J.

Bloomingdale, IL

"Eagle's nest"

Very nice cabin with great view. We had a wonderful stay, nice, quiet and relaxing. Close to town and hiking trails in Smoky Mountains.

Manager Response:

Thank you for your positive feedback with your experience at Eagles Nest. Our Elk Springs Resort location is just far enough away from busy downtown Gatlinburg to allow for quiet and relaxing times, yet close to all the local attractions and hiking trails in the area. We love repeat guests, so book your next stay with us and receive a 10% discount!

Gary

Rockvale, TN

"A great time was had by all."

Our family gathered for a nice week-end and the accommodations were perfect. We thoroughly enjoyed the spaciousness of the cabin. It could not have been better.

Ursula

Simpsonville, SC

"The best cabin by far for our vacation"

In a nutshell we will only stay at Eagles Nest. This cabin was absolutely fantastic. The best part of our vacation was staying at this cabin

Robert

Cape May, NJ

"eagles nest"

My family and I were blown away by the eagles nest cabin. Absolutely gorgeous. From the wood work to the theater room to the relaxing views from the decks. Very clean, spacious and cozy. Gatlinburg is

…

a little GEM of a town in the middle of nowhere so much to do. Cool little shops Tho it is a little pricey. People are so nice im not used to that begin from south Jersey lol. We loved it so much I looked in to buying a house there. Needless to say we will definitely be back

+ Read More

Harold

Bloomfield, IN

"Spring Break"

Cabin is very nice, and in a great location.

Marynell

Hoover, Al

"5 STAR"

My family of 6 have been coming to Gatlinburg for over 25 years. I would say Elk Springs is one of the best we have stayed at in all those years. I LOVE new! Everything was top notch and the staff is such a pleasure to work with. We will be back!

Jacob M.

Carrollton, GA

"Eagles Nest"

Excellent and will be renting this same cabin again and again!

Stacy W.

Fairfield, OH

"amazing!"

We had a fabulous time and are looking forward to returning sometime soon.

Amy M.

Metropolis, IL

"Wonderful family cabin!"

This is our second visit to Elk Springs. The cabins are clean, modern, and family friendly. The movie room chairs were awesome! The kids loved the cabin, and we will be choosing Elk Springs in the future.

Meg C.

Whitefish Bay, WI

"Spring Break 2014 Review"

We had a fabulous experience at your cabin and would recommend for anyone. Our kids thoroughly enjoyed the cabin experience. From the hot tub to the theater room to the swing outside, what a relaxing vacation with a beautiful landscape!

Harold

Bloomfield, IN

"Spring Break"

Great place to stay. Everything was exceptional.

Nicole N.

Lewisville, NC

"Great Getaway!"

Was a wonderful experience shared with good friends. Would definitely go back as soon as possible.

Nicholas

Woodstock, GA

"Definitely Recommended!"

Facilities were well maintained, clean, and exactly as described. Thanks!

Kimberly

Columbia, Sc

"Excellent Cabin!!!!!!!!!!"

This was my family first time being in a cabin an it exceeded my expectations for sure!!!!!!!!! Very clean, close to downtown an very easy to find! We would for sure love to come back to Elk Springs again in the future!!!!!!!

Reed T.

Bluff City, TN

"A GREAT PLACE TO STAY!!"

We had a great time...A GREAT CABIN A GREAT LOCATION..

Aaron P.

Houma, LA

"Family Thanksgiving Trip"

Our Cabin was wonderful ! We really enjoyed the views from our rocking chairs on the Porch !! We will be back !

Patricia

Knoxville , TN

"Great weekend get-away"

Excellent accommodations! The property was perfect for our family. We really enjoyed the theater room and hot tub. The property was very clean and the kitchen was well stocked for us to prepare meals. We definitely would rent this property again.

Bernetha

Chatham, VA

"Spacious, family friendly, updated -- Great experience"

We booked this cabin on a whim and ended up loving it. Everyone slept comfortably and enjoyed every aspect of the cabin. Appliances were updated and the theater room was definitely enjoyed by all. We

…

felt very fortunate to be able to reserve this cabin as close to our arrival date as we did. The reservation process was great. Overall great experience.

+ Read More

Donna

Lexington, KY

"great clean place"

Would definitely rent from Elk Springs again.

Leigh Z.

,

"Loved It!"

Great time! Beautiful cabin! 10 out of 10!

Susan L.

Laflin, PA

"A Sancturary!"

Eagles Nest cabin was beautiful! Loved the layout, theatre room, pool table and secluded feel. Would definately stay there again. Elks Springs resort is a very professional organization.

Marc V.

Twin Lakes, MI

"Eagles nest"

Spring break 2013

Patricia B.

Southgate, KY

"BEST RESORT IN THE SMOKIES"

WE HAD A GREAT TIME ON OUR YEARLY GIRLS TRIP. WE HAVE BEEN COMING TO THE SMOKIES FOR OVER 20 YEARS AND THIS WAS THE MOST PLEASANT EASY CHECK IN AND OUT WE HAVE EVER HAD. THE CABIN WAS MORE BEAUTIFUL

…

THAN THE PICTURES ON THE WEB SITE. THE FURNITURE WAS VERY NICE AND COMFORTABLE. THE LOCATION IS WONDERFUL, CLOSE TO EVERYTHING BUT SO QUIET AND PEACEFUL.WE HAVE ALREADY TOLD FRIENDS AND RELATIVES HOW GREAT THIS RESORT TREATED US. GREAT CUSTOMER SERVICE, THEY RESPONDED SO QUICKLY WHEN WE CALLED. WE WILL ABSOLUTELY BE COMING BACK NEXT YEAR!!

+ Read More

Philip K.

Smithland, KY

"Greeat Cabin"

The cabin was grreat and the family loved it.

Matthew

Jacksonville, FL

"A wonderful week"

The cabin was excellent.


Lisa L.

Albany, IN

"Family Vacation!"

The cabin was great! Our family enjoyed spending time together in this family oriented cabin!

Jan T.

Crozet, VA

"Great place to reconnect with family"

The Eagles Nest was fabulous! It was everything we hoped for and more. Just three little things we would add; hooks or rack for towels in bathrooms, trashcans on each level and clothes hangers. The me

…

dia room and rocking on the three decks was a little bit of heaven. Highly recommend!

+ Read More

Stacie

Harrisburg, Nc

"Great!"

House was perfect, in great location. Loved the theater room. View was blocked by trees but everything else made up for it!!! Will definately stay again.

William

Lake St. Louis, MO

"Roughing it in luxury!"

Great experience!

Christy

Webster Groves, MO

"Cabin vacation summer 2012"

Our entire family enjoyed the stay in the cabin - even our 2-year old did not want to leave!

Angelia M.

Rocky Point, NC

"perfect fit "

Eagle nest was a perfect. Fit for my familys vacation.The house. Had all the amenities of a hotel but the comfort of home.Very. refreshing!close. To everything. We look. Forward. To coming. Back, again & again!

Natasha W.

Louisville, KY

"Spring Break 2012"

I was pleasantly surprised. Everything was nice & relaxing. I will definitely stay again.

Corlis

Trussville, AL

"Great Time!"

The property was clean, plush, and beautiful. We enjoyed the theater room the best. Service was great!

Teresa

Lenoir City, TN

"Would've love to have stayed longer"

We definitely enjoyed our stay. Our children had their own rooms. We had privacy. The sauna, hot tub and theatre were great. It was disappointing that the theatre did not run by cable. We had to go re

…

nt some movies to use it, but did so and it was great. Would love to come back again.

+ Read More

Paul O L.

Waverly, OH

"The Eagles Nest"

We really enjoyed our stay at the Eagles Nest. Loved the Theater room. Beds could be a little more comfortable. Would defintely stay with Elk Springs Resort again.

Patricia B.

Southgate, KY

"great getaway"

Tje cabin was wonderful. The location could not have been better. Plenty of privacy yet close to town. The management couldn't have been nicer or more professional. We will be back next year and will recomend this property to friends

Holly H.

Grand Rapids, MI

"Eagle's Nest"

We enjoyed our stay at Eagle's Nest and we will definitely stay w/ Elk Spring's Resort again. We greatly appreciated their hospitality and professionalism.

Johnny B.

Antioch, TN

"Eagles Nest"

We have stayed in several cabins in within the Smokys. This by far is the best cabin we have rented.. Would defitely recommend this cabin to anyone looking for great get away.

Paul S.

Helotus, TX

"Great Stay at Eagles Nest"

resort was beautiful and very well appointed. The cabin was great, I wish I could have stayed longer. Great place for a family reunion

Daniel P.

Kokomo, IN

"Best Lodging We've Ever Stayed In"

Eagles Nest is a great property in Elk Springs Resort. The view isn't quite what it was when the pictures were taken, but it's still a great secluded cabin with a nice view. We had 1 maint issue that

…

was dealt with promptly. Great staff, awesome cabin ... we didn't want to leave, and will use Elk Springs again.

+ Read More

Manager Response:

Hi Dan, we decided to leave the trees up behind this cabin. It has a nice view, but better in the winter. While people love the wide open views, we've found that most customer love the feeling of being in the woods. It's harder to put the trees back up than take them down so we are cautious about taking too many trees down to open the views. Thanks for the feedback and as a repeat visitor you get 10% off all future stays!

Brian B.

Parsippany, NJ

Denise

Union, KY

"Family Loved Eagles Nest at Elk Springs Resort"

Victoria

Owings, MD

"Beautiful and roomy cabin. Perfect for families."

Cabin was exactly what we expected from looking at online photos. Cabin was very spacious with all the amenities we needed. We would definitely recommend staying in the Eagles Nest. The other cabin

…

s looked really nice too. Eagles nest is on a flat cul de sac with 3 other homes that aren't too close together. The only complaints I would submit are: 1. The theater is awesome with a huge screen and comfortable seating, but there is a $30 non-HD DVD player in it! Being that you could find a HD DVD players for under $100, it is totally ridiculous to have a gorgeous theater room but watching movies that have a low quality fuzzy picture. 2. I do believe the cabin is a good value, but the towels you are given in the bathrooms are so cheap, flimsy and small. I normally would never complain about something so petty, but the towels provided literally could almost be considered disposable.

+ Read More

Jennifer C.

Sachse, TX

"Did not speak to a property manager, no phone or cell service at the cabin"

Cabin was very nice, however, no xbox included as per the website. My husband and boys were disappionted as they brought games to play together, something they never get to do at home.

Manager Response:

We issue the xbox's upon check in. When you check in, there is a phone number in the cabin manual and on the refrigerator for you to call and we will bring the unit to your cabin. We appreciate the opportunity to have you stay with us! Should you need something during a future stay, please call our office. thank you!
Load More Reviews