Amenities:
Full Kitchen
Gas Grill
Honeymoon
Hot Tub
Iron / Ironing Board
Parking
Washer/Dryer
WIFI
Sparkling, glimmering and shining like a star - that's how you will feel after spending a few nights in Diamond Mine! Spend the day being refreshed by the great outdoors and the Great Smoky Mountains, and then return to your getaway, Diamond Mine. Welcome the night skies as you enjoy the hot tub located on the upper deck covered under the roof peak ? no one can peek! - and bask in the very soothing waters that will help you relax and enjoy nature as its best! Very private and secluded...
Cabin Bedrooms Layout
Master Suite 1

King Bed
Sleeps 2
Master Suite 2

King Bed
Sleeps 2
Great Room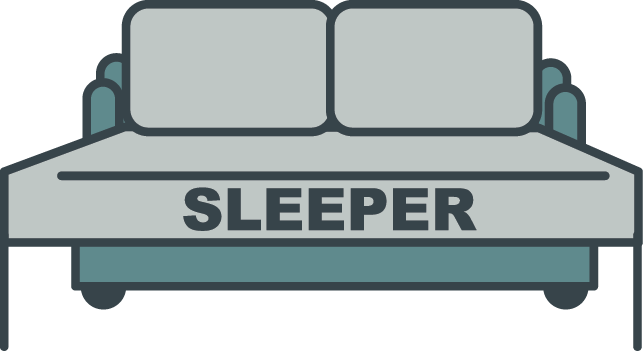 Queen Sleeper
Sleeps 2
Full Description
The upper level features a beautifully furnished king master suite with a tub/shower combination. Just outside the upper level bedroom you will find the pool table located in the loft area. Time to challenge your cabin-mates to a game or two before lights out!

The first floor well appointed king bedroom assures a great night of sleep too. With an accompanying full bath with jetted tub and shower head. Furnished with only comfort in mind, the living room opens to the first floor covered deck. Note the very beautiful gas log fireplace and extended views along the glass wall leading to the main deck. The living room leather sofa is also a queen sleeper sofa just in case you have company!

With plenty of dining space and working area the full kitchen, breakfast bar and rustic log dining table provide plenty of room to gather and eat in. The stainless steel kitchen is fully equipped to serve a couple or a crowd, and don't forget the convenience of the gas grill fight outside your door on the deck for year around cooking.

Diamond Mine provides easy access to the cabin with a paved driveway and only one step up to the deck plus a half step into the front door.

And what would morning coffee be without rocking chairs on the main deck - what a fabulous start to your day! If only this Diamond could be Mine!
2 King Suites
Hot Tub
Pool Table
Jetted Tub
FREE High Speed Wireless Internet
Gas Fireplace
4 Rocking Chairs
4 TV's
2 DVD Player
Washer/Dryer
Gas Grill
Calendar
Click your dates below to check in and check out
Available
Check In Only
Check Out Only
Selected
Unavailable
Photo Gallery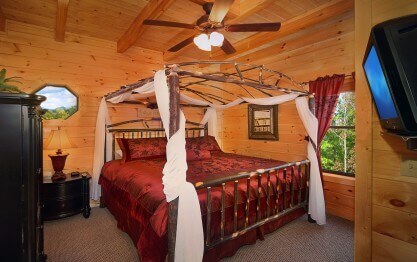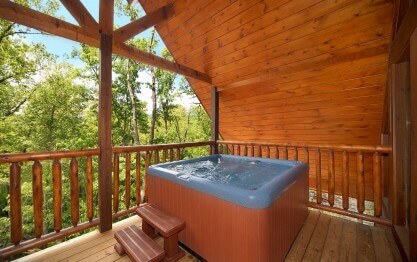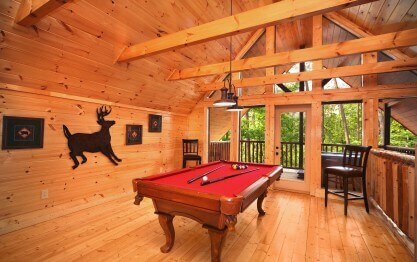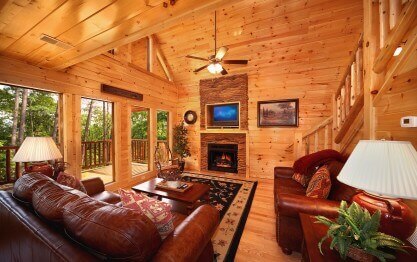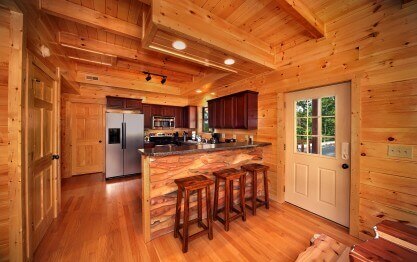 See All Photos
Reviews
Mike P.

Hubbard, OH

"a dream home away from home"

our stay at the cabin was awesome. it was very clean and had the comforts of home. it had everything u needed . it was so peaceful and beautiful. we totally enjoyed our stay there and will definitely go back. very romantic

Manager Response:

Thank you for your kind words, Mike! We loved having you as our guest. We would consider it an honor for you to come back and stay with us again during your next visit to Gatlinburg. Hurry back, new memories are waiting to be made!

Gwendolyn W.

Beach Park, IL

"Oasis in the mountains "

The cabin we rented was wonderful. It was like a home away from home. It had everything we needed for our stay and was a peaceful oasis in the mountains.

Manager Response:

We are thrilled to hear your stay was exceptional, Gwendolyn! This cabin certainly has everything you need to relax and enjoy all that our area has to offer. We hope you will make plans to come back and stay with us again during your next visit to Gatlinburg. We hope to see you again soon!

Steven

Canton, MI

"Awesome Cabin!"

Diamond Mine was a very cozy and nice cabin. The cabin had everything we needed.

Manager Response:

Thank you for your wonderful review! We are happy to hear you enjoyed your visit with us. We hope you will consider staying with us again during your next visit to Gatlinburg.

YiWen (Joanne)

Zionsville, IN

"Diamond Mine"

Clean and beautiful cabin. Super easy check-in and check-out process. Great location for hiking in the Smokey mountains. It was a perfect experience, definitely will stay there again!

John B.

Quincy, IL

"Even better than we anticipated"

Very good. Great accomdations

Manager Response:

We are happy to hear Diamond Mine exceeded your expectations, John! We hope you will make plans to stay with us again during your next visit to Gatlinburg. Please keep in mind, as a returning guest you will enjoy 10% off all future stays.

Nicole R.

Miramar, FL

"vacation"

I had the most amazing time. I can't wait to go back!!!

Manager Response:

Thank you for allowing us to be a part of such an amazing stay, Nicole! Please contact us when you are ready to start planning your next get-away. Keep in mind, as a returning guest you will enjoy 10% off all future stays. We hope to see you soon!

Mark A.

Argilitte, KY

"Diamond Mine Cabin Vacation"

Our families stay at Diamond Mine Cabin was exceptonal. The cabin was in great condition and secluded enough for a great getaway experence. I would recommend this cabin or any of the other ones Elk Sp

…

rings Resort has to offer. The location of cabin was conventially located approximately 10-15 minutes away from all of the restaurants and tourist attractions in Gatlinburg. I look forward to making this a annual vacation for my family.

+ Read More

Manager Response:

We would love to assist you in making this an annual event, Mark! With so many cabins to choose from, you can have a new adventure every time you visit! We look forward to spoiling you for many years to come. We hope to see you soon!

Sarah

Tuscumbia, AL

"Nice cabin. Close to town."

Very nice cabin. Clean. Just a few minutes from downtown gatlinburg. Might not be too easily accessible if icu.

Tim J.

Lexington, KY

"Diamond Mine Review"

Really great. Had a blast.

Manager Response:

Thank you for your kind review! We are always happy to hear that you enjoyed your time spent with us. Please keep in mind, as a returning guest you will always receive 10% off all future stays. Please come back to see us soon!

Mark B.

Timberlake, NC

"Pleased with our first stay"

The property was very nice, very clean, and well maintained. The checkin process was great with getting the door code via phone call instead of having to go to "front desk". It was quiet. Cabins were

…

closer than I thought they'd be, but enough trees and foliage to give privacy. One drawback was the A/C would not go below 70.

+ Read More

Manager Response:

Thank you for your review Mark. Diamond Mine is tucked in among several trees to give you that sense of privacy and seclusion. We are pleased that you found our express check in to be a breeze. We don't allow our air conditioning units to go below 70* because the units will actually freeze up and quit working. We have had this happen and then you would be without this amenity for several hours while it thawed out and maintenance got it up and running again. We appreciate you letting us know that your first stay was a success. We hope you consider a future stay and take advantage of a 10% repeat guest discount.

Shannon W.

LaGrange, OH

"Paradise"

The cabin was beautiful. We enjoyed every aspect of it.

Michele P.

Enterprise, AL

"Summer vacation"

We were pleased from the moment we walked in. Very nice cabin. Easy to find and convenient to Gatlinburg and Pigeon Forge. Very quiet. The staff was friendly and helpful. They even called to ch

…

eck on us. Overall very pleased with everything. I will definitely book with Elk Springs Resort again. Already planning our next trip.

+ Read More

Scott B.

Vandalia, OH

"Great getaway"

Excellent experience.

Lana M.

Martinsville, IN

"Steve McConnell"

Enjoyed our stay at Diamond Mine Cabin.
Very clean and functional.
Easy access upon arrival.

Justin T.

Port Saint Lucie, FL

"Into the wild"

Excellent experience at the Diamond Mine cabin. The location is great and the cabin is in very good condition. I cannot comment on the comfort of the pullout couch since we did not use it.

Robin

Houston, TX

"Smokey Mountains"

We had a great visit.

Regina D.

HUntsville, AL

"dime piece"

it was relaxing and quiet

Wendel F.

Louisville, KY

"BEST VACATION EVER"

It was my first time to Gatlinburg Tn but definitely not my last, it was the most AMAZING experience ever. The cabins are gorgeous and very clean. No hassle or headache or hidden fees. The only thing you have to worry about, is not wanting leave.

Dayana S.

Lakeland, FL

"Beautiful Diamond Mine cabin "

The cabin was absolutely amazing it had everything we needed it was really clean and well maintained, management staff was great very efficient and kind i would definitely recommend elk spring resorts

…

to my family and friends! ! Cant wait to come back! !

+ Read More

Michael O.

Clarkston, MI

"Stayed in 2 different cabins was beautiful and a great time!!!"

We were only planning to stay for 2 nights but when we got here we didn't want to leave so we called to see if we could stay longer. We could we just has to move to a different cabin it was worth it s

…

till didn't want to leave but had too! We will be back in the furture!!

+ Read More

Amitai

Bingham Farms, MI

"Ture Diamond"

great cabin, well kept. well kept grounds.
As described all amenities included, clean. Easy to get to the towns around and of course, the mountains !

Vervika L.

Mauldin, SC

"The beautiful Diamond mine"

My family and I enjoyed living in your beautiful cabin that we enjoyed it as much as our vacation if nit more. The cabin was us as the pictures on your website but better. It was clean, modern yet it

…

still captivated the cabin ambiance. my family and I Loved, Loved Loved your cabin. Thanks for a pleasant experience. I am a blogger and I will definitely recommend your resort on my blogs. Sincerely, A very happy customer.


+ Read More

Brenda

North Augusta, SC

"Short but sweet"

Although our visit was brief, we loved the accommodations and will rent at Elk Springs again.

Judy G.

Roanoke, IN

"Ahhhhhmazing!"

Beautiful cabin. Immaculately clean. Awesome setting.

William C.

Arcadia, FL

"great experience"

Wonderful

Claudia

Nashville, TN

"Diamond Mine"

We had two wonderful days in the cabin. We were welcomed by two friendly kittens as soon as we got there. The cabin was beautidul

Resa

Clinton, Tn

"Diamond Mine fall weekend"

It was our 2nd time staying with you all...we loved it! See you again next year!

Doris H.

Memphis, TN

"Diamond Mine Cabin????!"

Relaxing; breathtaking surroundings; every inch of the cabin was beautiful, clean, & comfortable. Check-in & out was easy & trouble-free. The staff was great! While no one ever disturbed us; when we c

…

alled them with a request they acted fast & couldn't have been more accommodating! We will DEFINITELY be returning! THANK YOU!!

+ Read More

Royce M.

Suwanee, GA

"A terrific experience!"

What a delightful stay we had here. While we were right in the heart of the arts and crafts district and in a cabin community, the property was very private. We had everything we could have needed,

…

the place was immaculate, and the check-in and check-out processes couldn't have been easier. We will definitely consider Elk Springs Resort for our next vacation rental.

+ Read More

Paul D.

Johnson City, TN

"Nice Getaway"

It was very clean, private, and convenient to down town gatlinburg. Awesome hot tub and loved how it was tucked away on the upstairs balcony. We will definetly stay here again!!

April D.

Commerce Twp, Michigan

"JAAZ "

Diamond Mind was just "Perfect"! Very clean, inviting and comfortable. We were very impressed with this resort from the start and will be returning in the future. Maintenance was called due to not

…

being able to turn on the gas fire place on the porch - the service was prompt!!! We loved everything about it! We have already told all our friends how nice this was.

+ Read More

Tara K.

Nashville, TN

"Met and exceeded our expectations!"

Our stay at this cabin was fantastic! The cabin's located was angled and situated where it was near other cabins yet still maintained its own privacy. The inside cabin amenities surprised us! With f

…

iltered water, kitchen appliances and tools, wonderful gas fireplace that could be turned on by a quick turn of the hand dial, the comforting hot tub on the second floor balcony with a gorgeous and isolated view, outdoor patio furniture, and more! My boyfriend and I loved this cabin and said we would definitely come back! I highly recommend this cabin to others.

+ Read More

Kelsey

Birmingham, AL

"Wonderful time!"

Very updated, clean, and comfortable. I'll never stay anywhere else!

Paul S.

Indianapolis, Indiana

"Very relaxing!"

This was a guys trip... My sons and my father. We relaxed, had fun, and made memories that'll last a lifetime!

Pandora

Atlanta, GA

"Awesome!"

Great location--less than 10 mintes from restaurants, shopping, etc. Cool if you take advantage of it. If not, too pricey when compared to larger, similarly furnished cabins in Blue Rigde


Luis D.

Miami, FL

"Great Time"

My stay was great will do it again next year

Michael W.

Pensacola, FL

"The Place to Stay When In Gatlinburg"

This was our second stay with Elk Springs Resort. We will not stay anywhere else ever again. ESR is goes above and beyond to make their clients happy. Cabin was ready before promised, super clean,

…

grounds well maintained. Great location. We love it here. Highly recommended.

+ Read More

Joseph

Alexandria, KY

"Excellent Weekend Family Getaway!"

Our family had a great time on a recent 3 day weekend @ Diamond Mine in Gatlinburg, TN! I highly recommend Elk Springs Resort.

Randal M.

Oak Ridge, NC

"Outstanding"

Easy check-in,check-out process. very well furnished, good location. Will certainly stay here again.

Ericka B.

Grosse Ile, MI

"Exceeded our expectations"

We stayed at Diamond Mine with another couple. The cabin was perfect. It was clean, everything was in good working order. We were unable to light the fireplace on the deck and called for assistance. H

…

elp arrived in a matter of minutes. He was prompt, polite and professional.
The commute into town was quick and easy.
We would definitely return.

+ Read More

Mireille E.

Baden, PA

"Best Vacation ever"

One of the best vacations we ever had. The house was very clean, the location was amazing. We had a great time. Definitely going back...

Blaine R.

Indianapolis, IN

"Clean and Comfortable"

Spending a long weekend at our Elk Springs cabin was great. The cabin was very clean and more comfortable than a hotel room. I highly recommend Elk Springs Cabins.

Jenny H.

Moore, OK

"Perfect"

I don't want to tell people about this place because I want to keep it to myself! My husband and I had such a relaxing memorable time. For the first time in a few years I was completely relaxed. I am

…

head over heels in love with this place. Thank you for providing my husband and I with a perfect 10 year anniversary.

+ Read More

Pam O.

Cleves, OH

"Awesome"

It's a house that you dream about.

Charles F.

Loretto, KY

"vacation"

I had a great two night stay. Love that resort is located just a few minutes from downtown Gatlinburg. This was my second year in a row that I stayed at Diamond Mine, plan on going again next year. On

…

ly complaint...cost more this year than last year and I got a returning customer discount.(Stayed same amount of nights & same month as year before)

+ Read More

Kathy

Oswego, IL

"Perfection!"

Our cabin was spotless and well stocked. Perfect location. Far enough away from the busy towns but close enough to everything you want. This was our second stay and we will definitely be back. We woul

…

dn't think of staying anywhere other than Elk Springs!

+ Read More

Michelle P.

Chesapeake, VA

"Perfection"

Perfection is one word to describe this cabin. It was definately the best part of our vacation! We can't wait to come back. Counting down the days until we can return!

John W.

Jacksonville, AR

"Like Returning Home"

This is our third time to come and stay at the Elk Springs resort, and every time it's Like returning home to our oasis in the Smokey Mountains.

Joanne

O'fallon, IL

Stephanie

Strafford, MO

"Great cabin! Relaxing vacation "

Great cabin. Really enjoyed the week. Clean, great location, easy check in/out. Would highly recommend!
Load More Reviews