Amenities:
Full Kitchen

Gas Grill

Honeymoon

Hot Tub

Iron / Ironing Board

Parking

Washer/Dryer

WIFI
Perfect for a romantic getaway or honeymoon. This custom Hertiage log home design was hand built with stacked logs and offers a rustic yet luxury vacation with all the modern amenities in a new home. Recently built, Cupids Arrow is in new condition and features a queen suite on the lower level and upper level queen loft suite with jacuzzi tub.
Cabin Bedrooms Layout
Main Level - Bedroom 1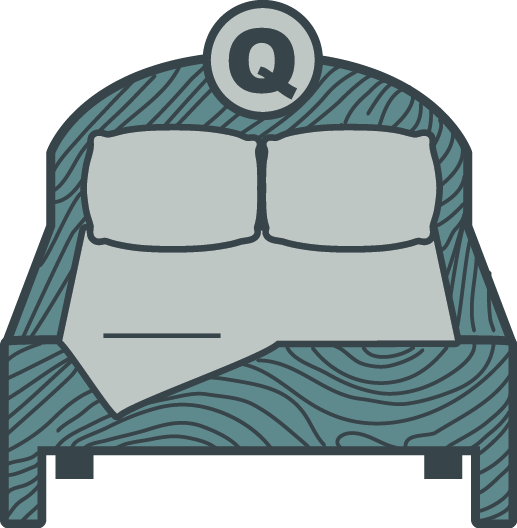 Queen Bed
Sleeps 2
Upper Level - Bedroom 2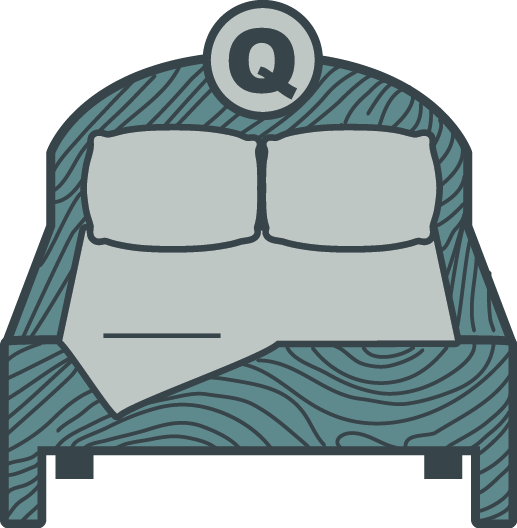 Queen Bed
Sleeps 2
Full Description
You can surprise your special someone to a visit to Cupids Arrow, one of our newest Gatlinburg cabin rentals that features luxury furnishings with a rustic yet romantic experience. You can enjoy a game of pool or maybe you want to sit and relax after a day in the park in your own private hot tub on the covered deck.

Escape to the main level master suite where you will enjoy upgraded mattress and bedding and a flat screen TV with DVD player. This cabin is perfect for a couple and even works if you want to bring another couple or maybe the kids as their is an upstairs bedroom just off the loft.

For you convenience there is a full kitchen with dining area and breakfast bar as well as a washer/dryer for extended stays. FREE WIFI is available in Cupids Arrow.
Hot Tub
Pool Table
Jacuzzi Tub
2 Queen Beds
Free High Speed Wireless Internet
Gas Fireplace
2 Rocking Chairs
4 TV's
3 DVD Players
Washer/Dryer
Gas Grill
8 Minutes to Downtown Gatlinburg
20 Minutes to Dollywood
In Cabin Massage Available
In Cabin Chef Available
Calendar
Click your dates below to check in and check out
Available
Check In Only
Check Out Only
Selected
Unavailable
Photo Gallery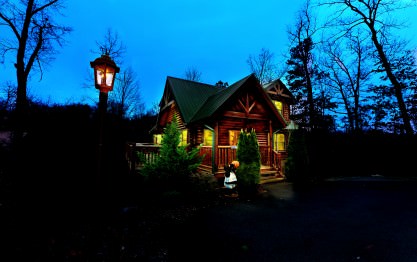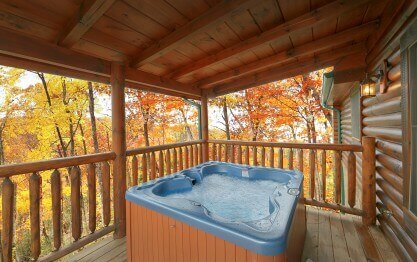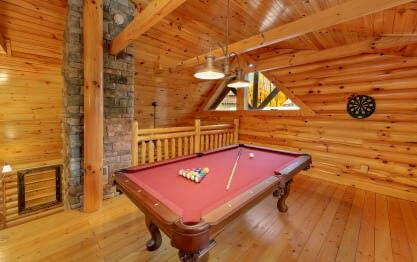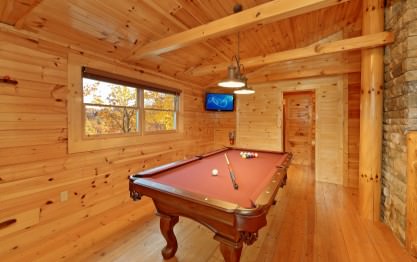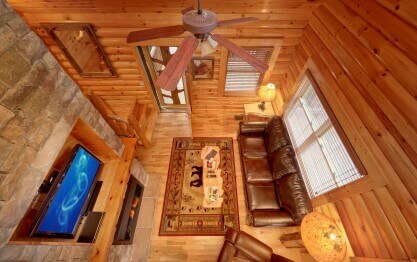 See All Photos
Reviews
Andria

Piqua, OH

"Peace & Quiet"

This worked perfectly for our 15th wedding anniversary. Everything was as pictured!

Manager Response:

What a wonderful way to spend such a special occasion! Congratulations on 15 years of wedded bliss from all of us at Elk Springs Resort. We appreciate your business and your kind review. Hope you are already making plans for a return trip.

Orestees D.

Lexington, SC

"Davenport Fun"

We had a great time and a romantic weekend!!!!!!!!

Manager Response:

We certainly appreciate your 5 star review regarding your stay at Cupids Arrow. This is a perfect cabin choice for a romantic weekend! We hope you are already planning a future stay with us. Our repeat guests receive a 10% discount off their next stay, so hurry back for some more memory making in the Great Smoky Mountains!

Aaron L.

Cincinnati, OH

"Perfect Cabin "

We had a wonderful stay at Cupids Arrow in Elk Springs. The cabin is exactly as pictured, it was spotless and well equipped. The layout is perfect with the nice leather living room, the loft space for

…

additional relaxation and fun and two nice bedrooms. We loved the fireplace, back porch and hot tub. The company (Elk Springs) was fantastic to work with, answering any question we had upon arrival and throughout our stay. It was nice to stay in the arts and crafts area, away from the noise of downtown. We will visit again and highly recommend to any friends looking to stay in the area.

+ Read More

Manager Response:

Thank you for your 5-Star review, Aaron! We are delighted to hear your stay was exceptional. We hope many wonderful memories were made during your visit. We would consider it an honor for you to stay with us again. Keep in mind, as a returning guest you will enjoy 10% off all future stays. Hurry back, your next adventure awaits!

Robert M.

lake city, FL

"Honeymoon"

Excellent cabin and location. Staff was very friendly and helpful.

Manager Response:

Thank you for taking time to review Elk Springs Resort and "Cupid's Arrow". We strive to provide excellent customer service and a wonderful all around experience for our guests. Please come back and stay with us again!

Cammie S.

Hudsonville, MI

"Cozy Clean Cabin"

We were very happy with our rental experience through Elk Spring Resort. The cabin was very clean, every extra was there, and it was perfect location from Gatlinburg. We would love to come again, we loved our stay. SO MUCH better than a hotel!!!

Manager Response:

Thank you for allowing us to be a part of such a wonderful vacation, Cammie! We are sorry, but hotel stays will never be the same after staying at Cupids Arrow! There is no comparison once you have experienced a cabin in the Great Smoky Mountains. This cabin was built to spoil. We hope you will make plans to come back and see us often. Please keep in mind, as a returning guest you will enjoy 10% off all future stays. Hurry back, new memories are waiting to be made!

Tami G.

Glen Carbon, IL

"Cupids Arrow"

Quiet, Clean, and an overall great experience

Manager Response:

Thank you for your kind review, Tami! We are happy to hear your stay was exceptional. We enjoyed having you as our guest and hope you will make plans to stay with us again!

Shan

Somerville, MA

"Great place!"

great experience, hope to stay longer :)

Manager Response:

Thank you for your kind review! We love to hear the cabin exceeded your expectations. We hope you will make plans to come back and stay with us again in the near future. Your next adventure awaits!

Katie B.

Lexington, KY

"Couples Getaway"

It was wonderful! The cabin was amazing, the directions were great! The check in (call with code) was so convenient!

Manager Response:

Thanks so much for your review on Elk Springs Resort! Customer satisfaction is our goal! We hope that you will choose Elk Springs for your 2017 vacation.

Ron

Gallatin, TN

"Fabulous stay at Cupid's Arrow!!!"

This stay had to be one of our best stays in Gatlinburg, and we visit each year. The entire experience with Elk Springs Resort from start to finish could NOT have been better. Cupid's Arrow was the pe

…

rfect cabin for our stay, and we had beautiful snow to top it off! We were 2 couples staying, and there was ample room for all. It seriously looked brand new inside, and we are sticklers for cleanliness. The location was ideal for us, as well. A short drive to be right in the heart of things in Gatlinburg. We will take time to check out the Arts and Crafts community next trip, as it was a mere 5 minute drive away. HIGHLY RECOMMEND this cabin/Resort!

+ Read More

Manager Response:

Thank you for such positive feedback, Ron! We truly appreciate your business and hope you will consider another stay with us this year. The mountains are calling, so be sure to come back for some more Smoky Mountain memories!

Alexis H.

Brentwood, TN

"Birthday Getaway"

I had an amazing time on my weekend getaway. The experience was amazing! I will be back many more times and I have recommended Elks Springs to everyone I know. The company and management really made m

…

y weekend special. I thank you for everything it was truly a great experience.

+ Read More

Manager Response:

It is wonderful to hear you had such a successful time away. We thank you for the opportunity to be a part of your amazing get-away. We hope we will have the chance to welcome you back for years to come. Please mention you are a returning guest when planning your next vacation. You will receive 10% off all future stays as a returning guest.

Allison

Albertville, AL

"News Years "

Wonderful Cabin!

Manager Response:

Thank you for choosing Cupids Arrow for your New Year's get-away. We strive to provide exceptional cabins with top notch amenities to ensure that each stay is full of wonderful memories. We hope that you can come back and see us soon!

Joseph

Hartselle, AL

"Perfect "

We absolutely loved our cabin! It was very convenient to downtown but far enough away to enjoy the views. We will def be back!

Paulette D.

Louisville, MS

"Awesome Experience!"

Perfect vacation!

Manager Response:

Paulette, thank you for your 5-star review and for being our guest. We certainly appreciate your kind feedback and look forward to having you as a repeat guest.

Shemeca P.

Tuscaloosa, AL

"Weekend getaway"

Wonderful escape

Steven

New Hope, AL

"Fall Getaway "

My family and I were very pleased with our cabin. The cabin was very clean and the entire property was very well maintained. This particular cabin was just enough room for the 4 of us. We will definitely be using these cabins in the future.

Manager Response:

Thank you for the 5 star review Steven! It is our pleasure to provide you with a positive guest experience. It sounds like you and your family made the perfect choice for a cabin getaway at Elk Springs Resort.

Elaine W.

Galax, VA

"Wonderful getaway"

We wanted to have a brief getaway to celebrate our 1st anniversary. We chose Cupids Arrow because we liked the pictures, especially the heart shaped tub. We enjoyed our stay very much. The pictures

…

are very accurate. We had a wonderful, relaxing anniversary.

+ Read More

Manager Response:

Thank you for the great 5 star review Elaine! Congratulations on your 1st anniversary! We are pleased that you enjoyed a nice little getaway and hope you will make it an annual tradition to celebrate many more years of wedded bliss!

Barbara

Collierville, TN

"Blissfully peaceful vacation"

Perfect weekend at Cupid's Arrow in Elk Springs Resort. The cabin was well equipped and spotless, everything we needed for our 3 night stay. In addition we loved having the hot tub right outside our d

…

oor on the deck. Having the pool table provided hours of fun and relaxation. We are looking to return later this fall for another spectacular vacation.

+ Read More

Manager Response:

Thank you for the wonderful 5 star review Barbara! As always, we appreciate receiving reviews letting us know that everything with your cabin getaway experience was very positive. When you get ready to book your stay for this Fall, be sure to mention that you have stayed with us before and receive a 10% discount. The views and Fall colors are simply amazing! We look forward to your return!

Brian

Windsor, ON

"Great place to stay in the Smoky Mountains"

We were very excited for our stay at the "Cupid's Arrow" cabin. There are two bedrooms and we were going with our two young kids. We weren't disappointed ? the place was really nice, super clean, and

…

had all the amenities you could need. Decent wifi and cable as well. Beds were comfortable, hot tub was very clean, the must spray for bugs as we hardly saw any. We picked up some groceries nearby and made use of the full kitchen on a few occasions to help cut down on restaurant food costs. Driving in from Pigeon Forge has a lot of narrow, winding roads, but thankfully it was a bright afternoon our first drive up so it wasn't too difficult. Driving there at night is a bit more nerve-wracking if it's your first time. Coming from the Gatlinburg side is a bit easier though, less narrow roads from that direction. So much to do in Pigeon Forge and Gatlinburg for families, which were each roughly 20 to 30 minutes away from the cabin. I only wish we could have stayed longer!

+ Read More

Manager Response:

Thank you for your review Brian! I have to agree, some of these winding mountain roads can be a little scary to drive on. We are glad that you were able to safely navigate to and from your cabin to enjoy all of the local attractions. Be sure to bring your family back again soon!

Jeanette B.

Wadsworth, OH

"recommended"

we enjoyed our stay in the cabin. it was very neat and clean and the staff was great.


Manager Response:

Thank you Jeanette! We appreciate your kind review and letting us know that you had a great experience with Elk Springs Resort. Please come back to make some more mountain memories soon!

Lee Ann

Centerpoint, IN

"Peace & relaxation"

Loved the cabin. This was the first time we stayed in a cabin and we loved it. Cabin was in a like new condition. Would definitely use this company again. We had a great experience.

Manager Response:

Glad to hear your first cabin rental experience was everything you hoped it would be. We have several different sized cabins to accommodate your entire family. Bring them along on your next adventure and take advantage of a 10% repeat guest discount!

Gina C.

Enoree, SC

"Beautiful Cabin"

This was the perfect cabin for us. It was one of the cleanest I have ever been in. It had all the amenities that was needed. The resort has it made very easy for you to check in and out with no pro

…

blems. We didn't want to come home and I will be back to stay here or in one of the other cabins for sure. You can't go wrong, we left an item at the cabin and when I called to let them know they found the item and mailed it to us with no problems. Thank you for a lovely stay.

+ Read More

Manager Response:

Thank you for the wonderful feedback! We are pleased that everything was to your satisfaction with your cabin stay. When you are ready for your next visit in the beautiful Smoky Mountains, be sure to mention you have stayed with us before and you will get an automatic 10% discount!

Tracy

Harrah, OK

"Cupid Arrow Getaway "

The cabin was charming and comfortable. We enjoyed the hot tub on the deck and nightly family pool games. Not too far from town to enjoy the activities but far enough to feel the peace of being in the

…

mountains. Several cabins were fairly close around us- but we never were bothered by them and still felt fairly private.

+ Read More

Elisha

ATLANTA, GA

"Wish I could have stayed forever... "

Extremely relaxing, calm private setting. Hot tubs were soothing while nature was serenading. Thanks Elk Springs!

Shaohua Y.

Baltimore, MD

"Perfect!!!"

Best Cabin/Vacation Rental I have ever had...
The only cons are the checking out time is 10:00AM, but it is completely understandable...The Cabin is much larger than the standard room in the hotel. Strongly recommended!

Misty

Lawrencburg, IN

"Great Place to Stay."

The cabin was wonderful and worked out great for my family.

Carolyn E.

Tuscaloosa, AL

"Cupids Arrow can't miss"

I love our stay here. The cabin was clean and modern. The hot tub was already ready for us to enjoy. Plenty of cookware and paper products so there was no stress. Literally minutes from Downtown Gatli

…

nburg which was good if you wanted to just get out and stretch your legs. Just pack your bags, bring your food, and get ready to enjoy. We loved it so much we are coming back again in October for my husband's birthday. Oh and did I mention great customer service!!! Five stars all around.

+ Read More

Lori M.

Clearwater, FL

"Great place to stay!"

It was amazing!! Beautiful cabin! Perfect location!!

Myung Goo K.

Lawrenceville, GA

"Elk Springs Resort - Cupids Arrow Stay Review"

It was an awesome experience.

People who went with me loved the place where we stayed.

The place was very clean and well prepared.

Everything worked perfectly except the fire place.

Ho

…

wever, the company responded to our need right away,
when we called for help to fix the fire place.

I really want to go back here for longer time.

+ Read More

Brittney S.

Jackson, Tn

"Cupids arrow long weekend."

My husband and I stayed at cupids arrow with our 2 young sons. The cabin was clean but I would think for the price that we would have had a better view of the mountains.

Loretta

Greenwood, MO

"Happy camper #2"

We enjoyed this cabin and its warm home like atmosphere. It was a perfect distance from the busy shopping and activities in Gatlinburg. We moved to this cabin on our last night so we weren't able to e

…

njoy it as much we would have liked but really appreciated them accommodating us on short notice and allowing us to extend our vacation one more day.

+ Read More

Dawn

Raleigh, NC

"Perfect Getaway"

We called last minute and where able to get a wonderful deal on a wonderful cabin. It was just what our family needed. Fun with the pool table and dart board and nice relaxing time in the hot tub. Cab

…

in was perfect size for us and very clean. The location was very close the the grocery store. Love how it is a cabin resort so we didn't feel out in the middle of no where but still had the privacy we needed for us. Will definitely return.

+ Read More

Karen W.

Tulsa, OK

"Beautiful log cabins"

Excellent. Nice, spacious, clean, wonderful views, great hot tub.

Tomorrows R.

Cincinnati, Ohio

"Relaxing"

My stay was comfortable and relaxing I did not want to leave. Everything was clean and I did not need to leave for anything everything I could have possibly needed for cooking or cleaning was already

…

provided for me. I can not wait to plan my next trip for the entire family

+ Read More

Maher A.

Largo, FL

"good time"

I enjoyed every minute of being there.

Crystal P.

Dalton, GA

"Awesome stay ! "

Was a great vacation !

Erin M.

Erlanger, Ky

"A nice romantic holiday <3"

My boyfriend came to visit from England and this was one of the places we decided to go while he was here. Everything about this trip was amazing. The check in/check out process was quick and easy. Wh

…

en we walked into the cabin, we were taken aback by how beautiful and clean the cabin was. Everything was absolutely perfect. The other cabins were close in proximity, but it was still private enough that we felt we were the only ones on the mountain side. I can't say enough positive things about this cabin and company and I wanted to say thank you for providing such a romantic cabin for my love and I to enjoy together. :-)

+ Read More

Daryl M.

Apex, NC

" Had a great time @ Cupids Arrow"

This was a great rental, I would recommend this rental for everyone in need for a getaway from the congestion of Gatlinburg, yet convenient if that is your thing, does not have a mountain view or a pr

…

ivate location but
does offer a quiet location. Would like to stay
here again in the future and possibly check out other rentals within this resort!

+ Read More

Amy K.

Troy, Ohio

"Cupids Arrow"

Our cabin was awesome. Very quiet and beautiful. Easy to get to and very accessible to Gatlinburg and Pigeon Forge. Would recommend this resort to anyone.

Suraj

Lafayette, LA

"Great Place to take a long break"

Enjoyed the beautiful view and the serenity of the place.

Suzy K.

Charlotte, NC

"the most beautiful thing I seen in the longtime"

I love it I even had chef Ray come and cook for us and he had everything in the kitchen. Very quite and beautiful area.

Tim S.

Pendleton, KY

"Great Place"

My wife and I had a great time at Cupids Arrow cabin at Elk Springs resort. The location was nice and secluded in the artist community of Gatlinburg and very close to downtown Gatlinburg. The cabin wa

…

s the perfect size for my wife and I. It was very clean. I would recommend this cabin to anyone wanting to get away for a while. I would rent this cabin again. This was our second stay at Elk Springs resort and we had a good time both times.

+ Read More

Chris B.

Noblesville, IN

"Perfect stay! Thank you!"

.

Nate

Birmingham, AL

"trip"

Had a great time at the cabin, the process was very simple and a very good location. I would recommend Elks to my friends.

Sarah K.

Thiensville, WI

"Engaged in the Mountains"

We had a beautiful porch? on which we got engaged :) !!!

Michelle J.

Darlington, SC

"Great vacation"

It was excellent!! It was my second time renting form Elk Springs. I have plans to rent agin in January!!!!

Cody

Tuscaloosa, AL

"Great trip."

Came to elk springs for our honeymoon and for sure plan on making it a vacation destination many more times.

Pamela G.

Toledo, OH

"A comfy....cozy....Mountian retreat"

We stayed in Cupids Arrow, it was so clean and cozy. We felt right at home, there were cabins on both sides of us but the way they were layed out we felt very private. They thought of everything to ma

…

ke us feel at home. We did a lot of walking and climbing at the Park, and it was heaven to come back to the cabin and climb in the hot tub!!! If anyone is thinking of visiting The Great Smokies...this is the place to stay!! We will b going back next year and will stay at the Elk Spring Resort!

+ Read More

Wilfred R.

Moncks Corner, SC

"Best experience"

My wife and I love the cabins location to all the nearby sites and the charm and cozy feel of the cabin. Since it was just the two of us we wanted something small but yet comfortable, I also like that

…

options are available for different sizes on the 2bdrm cabins which made our decision more enjoyable to pick one. I can?t wait to book our next vacation but this time we are inviting friends to join us on this great experience.

+ Read More

Mary

Chipley, FL

"R&R"

Absolutely wonderful. Can't wait to stay here again. It was quiet and convenient for a beautiful time.

Sherri B.

Hollandale, ms

"GREAT CABIN & VERY CLEAN!!!!"

This cabin was SPOTLESS!! It was wonderful and breathtaking!! We did not want to leave...wish we could have stayed a month up there. Highly recommend this resort. We will be back!!

Load More Reviews