Amenities:
Creekside
Full Kitchen
Gas Grill
Hot Tub
Iron / Ironing Board
Parking
Washer/Dryer
WIFI
Your own private Trout stream! Just a few feet from your covered pavilion with fireplace is Webbs Creek! Enjoy 300 feet of frontage on this large trout stream running through the Great Smoky Mountains. Relax on your screened in porch, porch swing or wrap around deck all while enjoying the sites and sounds of the adjoining Creek. Equally as beautiful in summer and winter, your party will enjoy the comforts of this luxury Gatlinburg Cabin. Plenty of room for an outdoor wedding or gathering!
Cabin Bedrooms Layout
Main Level - Bedroom 1

King Bed
Sleeps 2
Main Level - Bedroom 2

King Bed
Sleeps 2
Main Level - Bedroom 3

King Bed
Sleeps 2
Main Level - Great Room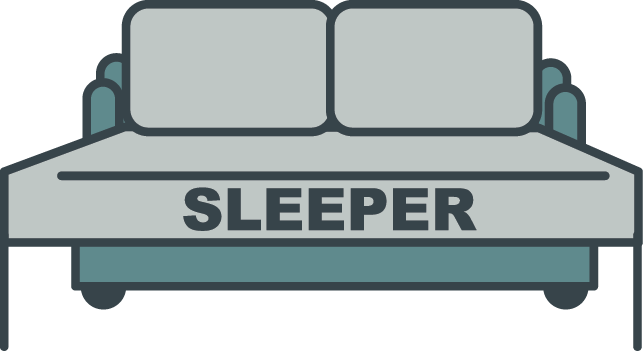 Queen Sleeper
Sleeps 2
Upper Level - Bedroom 4

King Bed
Sleeps 2
Full Description
Inside or outside this luxury Gatlinburg Vacation Rental you can enjoy the beauty of the Great Smoky Mountains. You and your party will have plenty of room to spread out and relax in the great room with comfortable seating, gas fireplace, and wall of glass to admire the creek and outdoors. See if you can count the over 140 bears included int he decorations of this professionally decorated cabin!

Venture outside and sit creekside on the porch swing where you can enjoy a book. Fish or dip your feet into the adjoining creek right outside your door. For cooler evenings you can gather around the outdoor fireplace in the covered pavilion with rockers and a picnic table. Or wake up to the sunrise on your screened in porch with breakfast area.

Back inside is the full kitchen stocked with the appliances, cutlery and bake ware you'll need to entertain and feed your family and friends. Grill on the deck included!

Escape to the loft or one of the spacious bedrooms where you can use free wireless internet or relax and wind down with digital cable TV. Each bedroom is furnished with upgraded mattresses and linens.

While not fully ADA compliant, the entry level master is handicap accessible and includes hand rails in the bathroom for those who need a little extra assistance or convenience.

The upstairs loft game room includes a regulation pool table and a kids play area with toys for the little ones. And don't forget the hot tub on the deck! What a great way to end a day of hiking or shopping.

This cabin is located just 20 minutes from downtown and is accessible off highway 321 so you can avoid the heavy traffic through Pigeon Forge and Sevierville.
*** This cabin is located 20 minutes from Elk Springs Resort ***
300 Feet of Creekside Frontage
Outdoor Firplace and Pavilion
Screened in Porch
Hot Tub
Wheel Chair Friendly
FREE High Speed Wireless Internet
Indoor Gas Fireplace
4 Rocking Chairs
Picnic Table
Outdoor Breakfast Area
Outdoor seating for 14
4 TV's
4 DVD Players
Washer/Dryer
Charcoal Grill
Ourdoor Porch Swing Overlooking the creek
Calendar
Click your dates below to check in and check out
Available
Check In Only
Check Out Only
Selected
Unavailable
Photo Gallery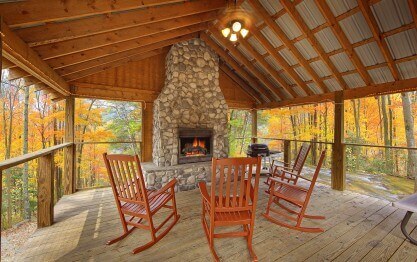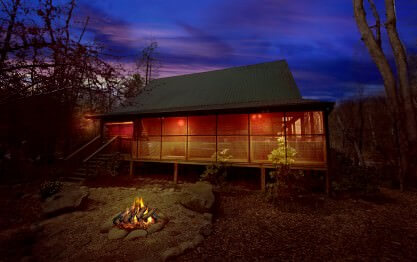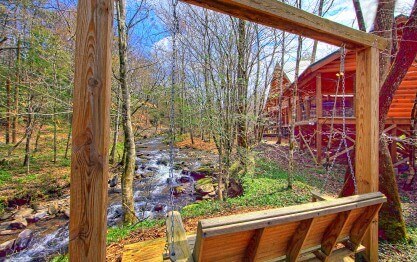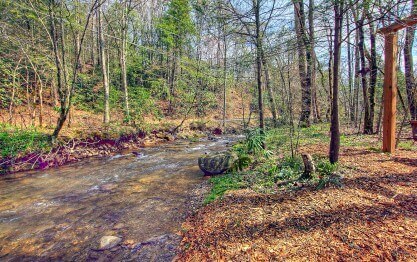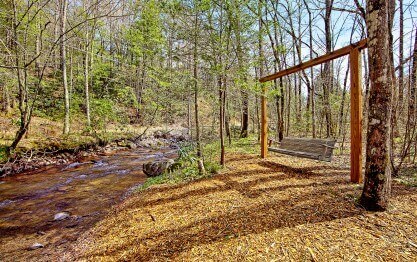 See All Photos
Reviews
Monte N.

Antioch, TN

"Fall wedding"

We had an amazing time! The cabin was clean and very family friendly. The play area was perfect for my 6 year old daughter. We used the cabin for our wedding weekend. Be used the outside deck and fire

…

place. It was incredible. There is plenty of room for whatever you would need to do. It is quiet and the tree's provide the perfect amount of privacy. The story of the cabin made the weekend even more special. You can tell it was built out of love and family. Wayne's Garden is a special place, and provide's a wonderful touch.

+ Read More

Manager Response:

We are so happy you chose to spend your special weekend with Elk Springs Resort! Thank you for taking the time to give us this amazing review. Please make plans to come stay with us again!

Kathy

Panama City, FL

"Awesome Cabin"

This cabin is absolutely beautiful. Had everything we needed. Has two doors open to the hot tub deck one from the master suite and one from the hallway from another bedroom which was great. The outs

…

ide fireplace deck about the stream is so nice to enjoy the evenings. It is entirely screened in which is great for little kids. It is about 20 minutes from Gatlinburg which is not bad at all. The road is good for traveling. It is private enough. This place is awesome!!!

+ Read More

Manager Response:

So happy you enjoyed your stay at Creeksong. Please come back to visit again! Thank you for you wonderful review!

Lisa

Alexandria, KY

"AMAZING!"

This was a family vacation we had wanted to do for quite some time. Creeksong did not disappoint. The layout was perfect as well as the setting. We felt very much at home there and can not wait to go back.

Manager Response:

We are elated that "Creeksong" could be your home away from home! We look forward to seeing your for future stays! Thank you so much for your review.

Michael M.

Jacksonville, FL

"BEST TRIP EVER BEAUTIFUL CABIN "

AWESOME AWESOME AWESOME WE ARE COMING BACK

Manager Response:

Thank you for your wonderful review! We love to hear that we exceeded your expectations. We hope you will consider making Elk Springs Resort part of a new tradition when visiting our beautiful Great Smoky Mountains. With so many cabins to choose from, each visit can be a new adventure with memories that will last a lifetime!

Cathy Z.

Canton, TX

"Wonderful Vacation Stay"

Loved this cabin. It was not on the resort, about 9 miles from downtown Gatlinburg, but I loved it. It was nice being secluded in the woods. The view was beautiful! Looking forward to booking again in June.

Peter S.

Wauwatosa, WI

"Gracious Comfort in the Great Smokys"

We had a party of 8 for our Fall Escape party. The cabin was perfect in all ways! It was our third stay at a Elk Springs Resort cabin - first for all others in the party. Everyone was blown away b

…

y the cabin size, inclusions, and comfort. It was totally clean, included all the necessities in the kitchen, and was relaxing to hear the creek run all day. Every night was spent by the fire for several hours discussing the days' adventures. We left tired but happy, resolving to return again!

+ Read More

Tiersha

Knoxville, TN

"Can we move in? "

This was our second visit to this cabin, and the first of many cabins we decided to return to. The kids and their friends spent all day in the creek playing and having a blast. We all were ready to pack up and move here permanently.

Manager Response:

We are so happy that you all enjoyed your stay. We look forward to seeing you again. The Great Smoky Mountains is a wonderful place to live and visit! Thank you for the amazing review Tiersha!

Pamela

Johnson City, TN

"PERFECT GETAWAY"

This was my 5th stayed at this cabin and we thoroughly enjoyed it. the cabin was very clean and all the beds appeared to have new mattresses. I stayed in the upstairs bedroom and I have never slept o

…

n a more comfortable mattress. Will definitely come back again.

+ Read More

Diane

Westphalia, MI

"Wonderful"

Very nice and comfortable, There were 9 of us staying at this rental - 6 adults and 3 children the ages of 5, 3 and 1. It was very nice for each couple to have their own bedroom and bathroom. The wa

…

sher and dryer came in handy. The space was very well distributed. The children really liked the loft with the playroom and the adults enjoyed the pool table and chess and checkers in the loft. The hot tub was a big hit also. The stream outside was very relaxing to hear and the grandchildren enjoyed playing in the water. The porches were wonderful with the ages of the children so they could play out there and not worry of falling off because they were screened with locking doors.

+ Read More

Manager Response:

Thank you for taking the time to share your wonderful experience with us, Diane! We love to hear that your stay was exceptional. It sounds like many wonderful memories were made during your visit. We certainly agree, Creeksong is the perfect cabin to relax and enjoy the nature that surrounds you! We are happy to hear you enjoyed so many of the amenities offered at this cabin and hope you will make plans to come back and stay with us again. Please keep in mind, as a returning guest you will enjoy 10% off all future stays. Hurry back, the Smoky Mountains are calling!

Howard B.

Decatur, IL

"Perfection"

Great get away just far enough off the Beaton path but not too far, and no mountain road to drive up. The creek is awsume.

Tracy H.

Fairbury, IL

"An Amazingly Beautiful Cabin"

Creeksong is quite an amazing place! We loved our stay, the cabin and the quiet setting were just what we were looking for. Our sons ages 7 & 11 loved catching minnows and craw dads in the creek! T

…

he cabin was so clean and can equipt with everything we would need for our stay. The 15-20 min to downtown Gatlinburg didn't bother us a bit, it was nice to visit the busy town and then head back to the quietness of the cabin and babbling creek. We can't say enough positive things about our stay- we are looking forward to a return trip!

+ Read More

Karen G.

Delphos, OH

"Great Family Vacation!"

Our family of 5 adults and 5 children (ages 10, 7, 5, 2 and 4 months) recently stayed at Creeksong. This vacation was different than most of our vacations. The greandkids usually want to stay at a p

…

lace where they can go swimming. We wanted to give them a taste of the outdoors. When we first arrived, they were a little disappointed with no swimming pool. This quickly changed as they learned how to enjoy the creek behind the cabin. They played in the creek for hours, just enjoying nature. At night we sat in the hot tub and built a fire in the out door fireplace. We loved the fact that we could keep an eye on our 2 year old easily with the locked gates in each outside area. We truly enjoyed the vacation at Creeksong

+ Read More

Manager Response:

Wow! Thank you for allowing us to be a part of such a memorable family vacation, Karen! It warms our heart to hear that your grandchildren were able to enjoy the simple pleasures of a true outdoor adventure. We are certain these are memories that will last a lifetime! We hope you and your family will take the opportunity to come back and visit with us as often as your schedule allows. Your next adventure awaits!

Victoria S.

Lowell, NC

"Awesome"

Perfect 100% family oriented cabin.

Manager Response:

We love to hear that you enjoyed your stay. We pride ourselves in providing cabins that are family friendly. We have pet friendly cabins as well, so the entire family can come and enjoy our beautiful Smoky Mountains. We want every member of the family to feel at home. We hope you will give us the opportunity to be your vacation destination for many years to come.

Martha

Middletown, OH

"Exceeded our expectations"

If you have kids, you couldn't pick a better location for a cabin. Right on a very, very pretty creek where our kids spent most of a day playing. The real treat is that it was near the national park

…

, but on the outskirts where it isn't so busy. We were only a 5min drive from Cosby creek, which is a true hidden Gem!

+ Read More

Manager Response:

We love to hear that our guests had such a great time! It sounds like you and your family made a lot of wonderful memories. We agree, Creeksong is in the perfect location. It is far enough from town to relax and enjoy all that nature has to offer. We hope you will consider staying with us again during your next visit to our beautiful Great Smoky Mountains. Your next adventure awaits you!

Dawn

Land O Lakes, FL

"Weekend stay"

Wish we could have stayed longer! Wonderful time with friends!

Franci

Soddy Daisy, TN

"Creeks Song Family Valentine Weekend"

Exceeded all expectations.

Lawrence H.

Spring Hill, TN

"Christmas 2015"

we had a great time, the place was perfect for our group.

Adam F.

Brandon, FL

"Excellent Time at Creeksong!!"

We had a great time at Creeksong in Gatlinburg, Tn. Everything was in order when we arrived for check-in. It was easily accessible and just a short trip to downtown. The cabin was in good order when w

…

e arrived. We didn't have to ask for anything when we arrived. The management company was always available to answer questions when we needed them. We would definitely stay there again.

+ Read More

Manager Response:

Thank you very much for your 5-star review, Adam! We are pleased that you enjoyed your stay and had no issues with your cabin rental process. We look forward to having you back as a repeat guest in the future.

Annmarie

Lawrenceville, GA

"Family Trip"

The cabin was amazing. Very kid friendly. Just beautiful

Cynthia H.

Mount Juliet, TN

"Amazing"

We held my daughters wedding at Creeksong. It was beautiful and perfect for the intimate setting.

We had everything we needed and were able to just relax and let things happen.

We will definitely be coming back

Manager Response:

What a wonderful place for a beautiful Fall wedding, Cynthia! It is our pleasure to have you as our guests and we are so pleased to hear that everything was just perfect! The Fall colors in the mountains have been amazing this year. Congratulations and best wishes to the happy couple from all of us here at Elk Springs Resort. We will be looking forward to your return!

Misty S.

Trenton, OH

"Family Getaway"

Creeksong was a great cabin with plenty of porch seating. The creek was perfect and so calming. The cabin was well stocked and clean. I would recommend this cabin and hope to return!

Manager Response:

Thank you for the nice review, Misty. We are pleased to hear that the whole family enjoyed their time at Creeksong. The sounds of nature coupled with the sounds of the creek flowing by are very peaceful. It sounds like you made the perfect choice for a nice little getaway. We look forward to your return. Our repeat guests receive a 10% discount off all future stays.

Donna

Anniston, AL

"Grands"

Was a great trip with the grands. Everyone loved the cabin. Sitting by the outdoor fireplaces listen to the water was wonderful.

Manager Response:

Thank you Donna! I think you made the perfect choice for a getaway with the grands. We are pleased to hear that everyone loved the cabin and all of the amenities too! We appreciate your business and hope you will return for a future stay with Elk Springs Resort!

Dan

The Colony, TX

"Creeksong Cabin - Wonderful Family Vacation Spot"

?Creeksong Cabin - Wonderful family vacation spot!?

Creek Song Cabin had it all: 4 bedroom, 4 bath (each bedroom had its own bathroom), pool table and game room, well stocked kitchen (includi

…

ng wine glasses and opener), kid's toy area for small children (a pleasant surprise), back porch with rocking chairs overlooking the stream, hanging swing located right next to the stream, a covered pavilion with a stone wood-burning fireplace, a screen enclosed side porch (great for breakfasts), and movies available in the cabin. The cabin is very large and has enough separate areas that everyone has plenty of space and privacy if wanted. There is a campfire spot perfect for sitting around the campfire and roasting marshmellows. There is a hot tub, located on a different side patio, that was very clean. Everything was a good working condition. The back porch overlooking the stream was our favorite spot for morning coffee...serenaded by the birds and the sound of the stream rushing. The campfire spot and the outdoor pavilion with a fire burning were our favorite evening spots. After reading other reviews, we expected to be able to see several cabins nearby, but the grounds feel very secluded. Only at night could we see a cabin on the far hillside. The cabin was very clean, bed linens appeared new, and beds were comfortable. My only recommendation would be that the owners need to do a walk through to check on a few lights that were burned out especially in closets.

We got a recommendation from Elk Springs Resort for a rental company to rent Pack-N-Play for our 8 month old grandson. It was at the cabin when we arrived. The rental company was called "Hey Baby Rentals."

We have always stayed in separate resort rooms with our kids and grandchildren but this was a delightful change of pace. We will go back for sure!

Room Tip: Master bedroom had direct access to the hot tub from the room.


+ Read More

Manager Response:

Thank you Dan! Your review describing your wonderful vacation at Creeksong would make anyone want to go there to experience this hidden gem! It sounds like you and your family hand-picked the perfect cabin to make some Great Smoky Mountain memories at. We would love to have you return again, so please mention you have stayed with us before and receive a 10% discount off your next booking.

Kayla E.

Saint Joe, AK

"Excellent Vacation Home"

This is a relaxing and beautiful place to stay.

Bruce C.

Gonzales, LA

"Creeksong Cabin Gatlinburg Tn"

This was the perfect place for us to vacation. We brought our 3 adult children and their spouses and our 7 grandchildren. There was ample enough space for us all. The location couldn't have been bette

…

r. We were away from the hustle & Bustle of everyday life, but still close enough to the town to visit and explore other areas. Being from Louisiana, naturally we love to cook, and the outdoor cook area and fireplace were perfect for us. We loved being able to sit on the porch every morning to drink our coffee and listen to the sound of the water in the creek. It was very relaxing and peaceful. Our whole experience was awesome!

+ Read More

Manager Response:

This is great news! We are pleased that the entire family was able to get together to make some long-lasting memories at one of our beautiful cabins. A get-away in the Great Smoky Mountains is like no other. Come back and see us real soon and don't forget to use your 10% repeat guest discount on your next stay!

William L.

Martinsville, Indiana

"Fun fun fun"

Loved the cabin. Found it was just alittle far out. Kids had fun in creek. N ed XT time probably pick a cabin a little closer in.

Simone

Detroit, MI

"A weekend wasn't long enough"

We thoroughly enjoyed our stay. We wish we could've stayed longer! The peacefulness that surrounds the cabin, the beautiful creek scenery, the privacy of the rooms, even the perfect summer weather, ma

…

de our weekend that much more wonderful. We got a little confused on the driving directions because one of the landmarks, Crazy Horse, is no longer called Crazy Horse. Other than that one hiccup we were able to find our way back and forth to the cabin with ease. We're already planning next year's trip, possibly for a week this time.

+ Read More

Lynn M.

Green Bay, WI

"Great Place To Unwind"

For 4 years now we have taken a motorcycle trip with good friends down to the beautiful Smokey Mountains. We knew what we wanted/needed in a property to stay at by now, so thanks to a Groupon for Elk

…

Springs we could afford a luxury cabin. We picked Creekside for the tranquility of the rushing creek, the beauty of the home inside and out, and the location. It was/had everything that was described. The property was well-maintained on the outside and clean, although the windows needed washing. The manager provided great service when we called for information.

It was cool to cold the week we were there so after long rides each day, it was nice to come back to a warm hot tub, fire in the fireplace and the sound of the rushing creek.

A lot of love was put into this special place, and we appreciate the owner sharing it. We would like to come back next year, God willing, as it was perfect for us.

+ Read More

Stephanie

Lavinia, TN

"Easter 2015"

The cabin was very nice. We received our door code about an hour before the 3pm check in time. We had stayed with Elk Springs before so we were familiar with the area the cabin was located.

Stacie B.

Clarksville, TN

"Simply the best!!"

We instantly fell in love with Creeksong! We have stayed in many cabins across the state and across the board this was by far the best we've ever seen. From the location to the luxury details inside the cabin did not disappoint in the slightest!

Phil

Seneca, SC

"Weekend Retreat"

A perfect cabin for our four couples. The kitchen was very well stocked and the setting is beautiful. We were there during very cold weather, but this cabin would be great for other seasons of the year when you could enjoy the outdoor features.

Marie S.

Tallahassee, FL

"Wonderful mountain vacation cabin"

Everything as described about Creeksong was correct. It was a wonderful place for a vacation. The property was well kept and very clean. The management provided excellent service. We would recommend C

…

reeksong to anyone that wanted to spend time in the mountains. 5 star rating plus.

+ Read More

Michael

Grand Haven, Michigan

"Absolutely Perfect Christmas Celebration Cabin"

Our family had the most enjoyable time relaxing in this picture perfect, clean and comfortable cabin to celebrate our Christmas!

Sherry S.

Prairieville, LA

"Fabulous Thanksgiving Week"

We absolutely loved our stay at Creeksong Cabin outside of Gatlinburg. The cabin was beautiful, clean, spacious and had everything you need for a great time with family. I highly recommend your stay.

…

I cannot imagine how you could ne disappointed. It was a pleasure to work with Elk Springs Resort.

+ Read More

Carol

Whitwell, TN

"senior citizen siblings annual getaway"

We had a wonderful time, and the cabin was amazing. We have stayed in a lot of them, but this one was the best. Loved the fact that all 4 bedrooms had their own bathrooms. Just listening to the creek bubbling away was so relaxing.

LuAnn

Aiken, SC

"Perfect retreat for our family!"

Absolutely wonderful cabin for family gathering. It fit our needs perfectly and the setting is gorgeous. Cabin is spacious and beautiful. Being by the river was so peaceful and we loved the wrap arou

…

nd porch and outdoor fireplace. Property was clean and well maintained. Customer service was outstanding.

+ Read More

Kimberly K.

Lafayette, IN

"Awesome"

Oh, my gosh. Creeksong was absolutely gorgeous and huge. All 10 of us absolutely loved it and we all hope to go again. It was very clean, secluded just enough and easy to find. The sound of the cr

…

eek out back was heavenly and the setting made for some beautiful pictures! The cabin was decorated with lots of bears (somewhere around 300 of them!); I will always think of our trip whenever I see a bear figurine -- plan to buy one to have at home as a remembrance. Three Jimmys pub was nearby and had wonderful food.

+ Read More

Patricia K.

Franklin, TN

"Beautiful Cabin, Wonderful Visit!"

Creeksong is a very warm and inviting cabin, beautifully decorated and well supplied. We enjoyed sitting in the porch rocking chairs, the outdoor fireplace and the hot tub, all while listening to the

…

babbling creek...very peaceful! We even saw a bear cross the creek on our first day! It was a very enjoyable but far too short get-away!

+ Read More

Sharon C.

Knoxville, TN

"Beautiful!"

I have stayed in different cabins in the area and creek song was by far the best one. Will definitely stay there again and highly recommend it. Great place for children. Will bring my grandchildren next time.

Tammy D.

Cincinnati, OH

"Awesome and so Relaxing"

What a fantastic stay. Went there to relax before the start of the school year and we plan to do the same next year. Can't do better than sitting in one of the rocking chairs, drinking some coffee and listening to the creek. Thanks.

Laura

Webster, TX

"Best summer ever"

Our second time to this cabin, we loved it so much we came back.

Rebecca

Croton, OH

"better than the pictures"

We did venture out to the National Park and other area activities but could have spent every minute of our vacation at this beautiful cabin. Even our five busy boys enjoyed just rocking on the porch

…

and roasting marshmallows in the outdoor fire place. Their favorite ofcourse was playing in the creek every day. They found everything from crawdads to fish. It was spectacular. We are looking forward to our next visit.

+ Read More

Jacqueline

Aiken, SC

"Perfect Family Weekend"

Cabin layout was extremely well thought out. It was perfect for family and/or for adult couples wanting privacy.

Cynthia T.

Chattanooga, TN

"Top Notch!!"

Awesome Cabin on a little mountain stream!! Loved the outdoor fireplace and fire pit!!!

Timothy H.

Old Hickory, TN

"Great Stay!"

Best cabin rental experience thus far! I have stayed in G'burg many times and this by far was the best stay so far!

Brett

Denham Springs, LA

"A Perfect Secluded Relaxing Vacation!"

A group of friends, 6 adults with 2 three year old girls, went for a week in the beginning of November of 2013. This cabin was so relaxing and clean. We loved the pavilion that connected to the back p

…

orch with the built in fire place. Every single night we sat out there by the fire and listened to the creek while we cooked dinner. (We brought our cast iron pot and burner.) We spent the majority of our time at the cabin and sight seeing at Cade's Cove. Before we left we all agreed on making this an annual trip, or at least every other year! We thank the owners for sharing this home with us. It's a beautiful cabin with amazing scenery.

+ Read More

Randal H.

Bryam, MS

"Creeksong"

We had a wonderful time and even gave the cabin info to several friends. I had a lot of calls when my friends saw the pictures. Thank you for such a great experience!

Shelley

Newburgh, IN

"Creeksong was Great!"

We really enjoyed our stay at Creeksong. We traveled with our two sons, parents, and an Aunt. There was plenty of room for all of us. The boys really enjoyed having the loft area and bedroom to them

…

selves. The outdoor deck area was huge! We wish we have chosen a warmer time to stay so that we would have had more opportunity to enjoy the deck and the creek.

+ Read More

Daryl S.

Ashtabula, OH

"Enveloped in nature's beauty!"

Creeksong was everything it was described to be, a beautiful cabin in the woods. The babbling brook outside the cabin soothed and calmed your spirit. The cabin was spotlessly clean and the beds were v

…

ery comfortable. The kitchen was very well equipped excepted for some of the teflon pans were in need of being replaced. Our group took advantage of the Zip line outfit called Climb Works which was located just a short walk up the road behind the cabin. I would highly recommend Climb Works as a first class organization, we had a wonderful experience! The cabin is close to the Greenbrier entrance to the National park which has beautiful waterfalls and great hiking trails and it is close to the Arts and Craft Loop which has unique handmade artisan wares. If you like nature and want a place to get away from the hustle and bustle of modern life Creeksong is the place.

+ Read More

Leslie W.

Hendersonville, TN

"Labor Day Weekend 2013"

Really enjoyed staying at Creeksong! Waking up to the sounds of the stream with coffee in my hand made for a great start to the day. Creeksong is a very peaceful place.
Load More Reviews