Amenities:
Creekside
Full Kitchen
Gas Grill
Honeymoon
Hot Tub
Iron / Ironing Board
Parking
Washer/Dryer
WIFI
If you are looking for a cozy one bedroom VALUE cabin in downtown Gatlinburg, look no further than Creekside Chalet. Just a short 8-10 minute walk to the downtown area, this cabin located on a quiet street with a creek running right out your front steps. The cabin sleeps 4 with an upper level studio king bedroom and a sleeper sofa in the lower level entry area. A hot tub located on a deck is completely enclosed by a fence creating absolute privacy.
Cabin Bedrooms Layout
Master Suite

King Bed
Sleeps 2
Entry Sitting Area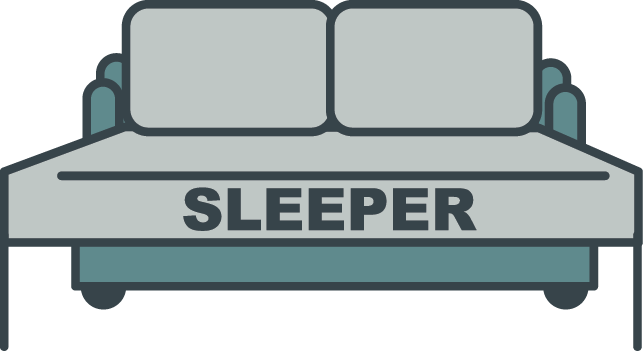 Queen Sleeper
Sleeps 2
Full Description
Located on Baskins Creek, you can sit and relax and enjoy a bottle of wine in one of the rockers on your deck while listening to the sounds of the creek below. Stay in and cook meals in your fully equipped kitchen or use the grill conveniently located on the deck off the kitchen and dining area.

Recently updated this newer cabin has upgraded amenities and finishes to enhance the value of you stay. This unique cabin offers both value and convenience including FREE wireless internet.
This Property is located 10 minutes from Elk Springs Resort!
Walking Distance to Downtown Gatlinburg
Enjoy Sounds of the creek running in front of the cabin
Hot Tub on private patio
Porch Swing
Wood burning Fireplace
1 King Bed
1 Queen Sleeper Sofa
CD sound system
Cable TV
Free Wireless Internet
2 Rockers
37 Inch TV
Lower Level Entry
Studio Layout
**No Dishwasher**
**No Washer/Dryer**
Calendar
Click your dates below to check in and check out
Available
Check In Only
Check Out Only
Selected
Unavailable
Photo Gallery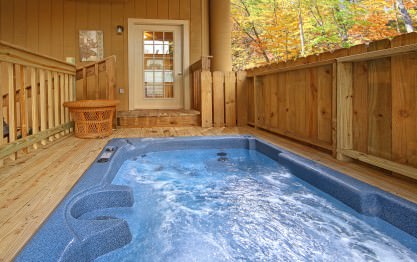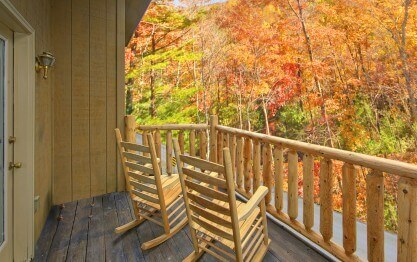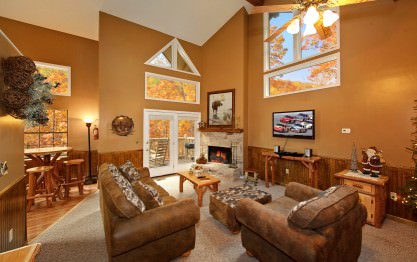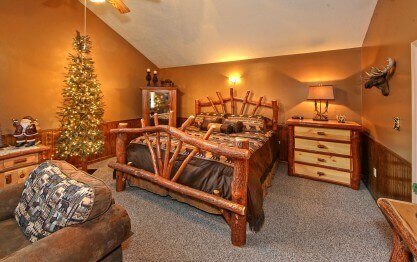 See All Photos
Reviews
Kara

Coker, AL

"Romantic getaway within walking distance to Main Street. "

We were very happy with our stay. The location was convient and easy to find. This place is perfect for a couple or small family to vacation. It is within walking distance of many popular attractions

…

and shops. The chalet is nicely decorated and has a very cozy feel. Even though it is very close to Main Street, it is still far enough away that you can enjoy beautiful scenery as you listen to the creek from the porch or balcony. We really enjoyed that you can check in and start your vacation without having to sign paperwork at a Main office. This place was easy to book through Elk Springs resort. The next time that I vacation in Gatlinburg, I will definitely book it through this company.

+ Read More

Joseph D.

Columbia, TN

"rejuvenating Getaway Spot!"

This is a great property! Well kept and within a minimal walk to the "Strip". We will be back to this little gem!

Nancy Ann W.

,

"Gatlinburg get away"

Everything was great!

Manager Response:

Thank you for your kind review, Nancy. We are excited to hear your stay was exceptional. We hope you will consider making Elk Springs Resort a part of a new tradition when visiting Gatlinburg. We hope to see you soon!

London M.

Cincinnati, OH

"London's Review of Cabin"

the experience was great and perfect for my friend and I.

Donald

Holly Springs, MS

"An Easy, Relaxing Get-Away"

We enjoyed our stay - it was a relaxing time for us. We did a lot of sight seeing, shopping and eating and the weather could not have been better.

Manager Response:

Thank you for the review, Donald. There certainly is no shortage of things to do in Gatlinburg and the surrounding areas. We hope you will consider a return visit to one of our luxury cabins and take advantage of your 10% repeat guest discount.

Tony R.

North Vernon, IN

"Anniversary in the mountains"

Beautiful place loved it! Appsolutely would stay again close to all the excitement down town but very quiet.

Manager Response:

Thank you for sharing your 5 star review Tony! We are pleased that you enjoyed your cabin stay and hope you will return to celebrate future anniversaries with us!

Thomas

Middletown, OH

"Nice place"

Nice place for a couple. Basiclly like an effiency upstairs. There is a couch (not sure if it is a roll away or not) and a TV in the landing downstairs. It is close to a half mile walk to the strip. O

…

verall it was very nice and much enjoyed. Bring your iTV device or simular if you want to watch netflix. Bring coffee and filters if you want to make coffee.

+ Read More

Roger E.

League City, TX

"The Creekside Chalet"

The Chalet is a neat, clean cabin located 1/2 mile from the main area of Gatlinburg. It is far enough away to be very quiet and cosy, yet close enough to walk into Gatlinburg. The full kitchen allows

…

you to eat in if you choose and the location allows you to eat out as often as you like.

+ Read More

Julie

Western Springs, illinois

"Creekside Chalet"

Absolutely lovely! Will definitely come again!

Brian

Aiken, SC

"Verlaine Chalet "

Good experience. We enjoyed the cabin. It's location was a plus.

Jennifer B.

Litchfield, IL

"Bears from the Balcony"

We had a lovely stay at this very clean and comfortable residence. On our first evening we were sitting on the upper balcony and saw a bear across the ravine, just at eye level. It was close enough

…

to be exciting, but far enough away across the road and on the other side of the mountain, to feel safe. We never saw him again, but it started the trip off on a high. The kids enjoyed hanging out in the hot tub at night and the layout was just right for our family of 4. The convenience of being able to walk downtown was especially nice. The chalet was peaceful and private, just right. A great place!

+ Read More

Otis T.

Brenton, WV

"Great vacation"

Had a great stay. Everything was clean and very comfortable. Really quite even though you are so close to town. My wife and I enjoyed this rental.

Tanzir S.

Patterson, NJ

"perfect for a quiet vacation"

Creek side chalet was a beautiful cabin. It was clean and perfect. my husband and I didn't have any complaints.

Jennifer R.

Alabaster, AL

"A beautiful retreat"

We felt at home the minute we walked through the door. We loved sitting on the patio, listening to the creek. It is tucked away enought to feel like you are in another world, yet within walking distan

…

ce to all of the shops and restaurants. We will be back!!!

+ Read More

Robyn B.

Greenbrier, AR

"Great location"

My husband and I just returned from a great time in Gatlinburg. This cabin is centrally located for all the action. We day tripped to Tail of the Dragon, Cade's Cove, and Biltmore. The cabin was clean, nicely decorated, and perfect for a couple.

Alexandra R.

Oak Lawn, IL

"Cabin Getaway"

I have this weekend to my boyfriend as a birthday surprise and we couldn't have loved it more than we did! The place was amazing, and we will definitely be back.

Senthilkumar

Pinellas Park, FL

Josh

Indianapolis, IN

"A VERY COMFORTABLE PLACE TO STAY"

Cabin was just like home but a get-a-way where you do not want to go back to your actual home. Everything is within 5 miles. Great experience.


Jason

Point Pleasant Park, Cenupia

"Wonderful !"

Stayed 2 nights in december 2013, loved it. Property very well maintained, and great location to the town. Would certainly rent again from Elk Springs Resort!

Anthony F.

Pell City, AL

"120613 STAY"

THE CABIN WAS WONDERFUL, CLEAN AND LOTS OF ROOM. WILL TRY TO STAY AGAIN - THE MANAGEMENT WAS SO HELPFUL - THANKS AGAIN

Lisa W.

Spring Hill, FL

"Creekside Chalet"

The accommodations were awesome! We had a very nice time! Only suggestion would be a hairdryer and robes to wear to the was VERY cold :)

Robin E.

Conroe, TX

"Robin Endres Packard"

The cabin was very conveniently located to downtown Gatlinburg. The Elk Springs staff checked in to make sure everything was good. Great stay!

Steven J.

Oregon, OH

"Rejuvenate "

This was the best staring with location, ready hot tub and ice cubes! The atmosphere was relaxing. We tell everyone it is a must see and kid friendly. You made our second honeymoon very romantic! Even

…

the weather was perfect. Thanks to all involved in every aspect of Elk Springs Resorts. Blessings and Harmony; Steve and Lisa Jinkens 1-6 SEP 2013

+ Read More

Suzanne

Cincinnati, OH

"Creekside Cabin - Coziness At Its Finest!"

Our creekside cabin was everything we hoped it would be and more. The Elk Spring Resorts company is professional and easy to do business with. We especially like the easy online booking, email commu

…

nications, express check-in and the follow up phone call on our first morning.

+ Read More

Zachary

Chatsworth, GA

"Amazing"

The property was very clean and exactly what we expected plus some!

Cory L.

Bloomongton, IN

"Awesome cabin"

The cabin was right over a mountain stream. Nothing like waking up in the morning and stepping outside to the mountainside and hearing the stream flow through. Great atmosphere.

Mary C.

Rogers, AR

"Second Honeymoon was a Hit!"

Creekside Chalet was wonderful! Cozy, clean, comfy, just like the pic online! Enjoyed relaxing in the hot tub after a long day of shopping, felt like we were in a private tree house. Gatlinburg was

…

fantastic ~ the locals were quite friendly and knowledgeable with lots of advice and ideas. The food was great and reasonably priced. If you are looking for a quiet rental for 2-4 people, this is it! We highly recommend it. Kerry from Elk Springs was wonderful to check on us and give last minute, specific directions to our chalet. Just a wonderful overall experience! Thank you.

+ Read More

Angie D.

London, OH

"Fabulous Vacation"

We had a WONDERFUL time. There is soo much to see and do. And the cabin was great! They thought of anything we might need and supplied it. We couldn't have asked for more.

Denise L.

Cross Lanes, WV

"great place"

loved it so much that we just got back and I have already booked another cabin thru elksprings to take our children back for vacation.

Janyth

Maumee, Oh

"Nice get-away cabin for couple or small fam"

Cute cabin close to town. Easy walk (1/2 mile?) was a bonus, but did miss having a little yard area for our boys to "run" around. Easy reservation, check-in/check-out procedure.

Keith

Watertown, Tennessee

"Creekside"

This cabin is just wonderful, great location, clean,hot tub was fresh and clean, couldn,t ask for any better place to stay, little pricey up front but got cheaper as I added days since no one else was

…

booking it for the remainder of the week. I highly recommend Elk Springs and will definitely return. Staff was wonderful, and very helpful if you needed anything..

+ Read More

Latonya

Decatur, AL

"Birthday celebration in the mountains."

We really enjoyed staying in the Chalet for the weekend. The fireplace was the greatest after we went out and purchased starter logs. The firewood on the site was very difficult to burn. We loved the

…

hot tub about 4a.m. while the snow was falling. We will definitely return!
Birthday Girl

+ Read More

Kimberly

Calhoun, GA

"Wonderful! "

It was amazing and we had a wonderful stay! We will be combing back and using the same sources. Thanks!!

Matthew

Pikeville, KY

"Overall: 4.5 out of 5"

Everything about this place was great. The only negatives i can think of are the location and no washer/dryer...But on the location part its according what you want, if you want to be walking distance

…

to town then this place is for you but if you want to be up in the mountains with great views, then this is not the place but other than that this is a great find.. And it was cheaper than most other cabins we looked at and thats a good thing not a bad thing cause this place was really nice..

+ Read More

Jenelle Y.

Clarksville, TN

"Beautiful "

I loved this cabin. It was clean and had everything we needed. It was nice and cozy and quiet. I would definetly come again.

Gregory P.

Elberton, GA

"Week stay in Creekside Chalet"

Experienced a very enjoyable week in Gatlinburg, TN while residing at the Elks Springs Resort's, Creekside Chalet. We mainly stayed in the chalet for the week venturing out for food and dining in most

…

days and nights and felt right at home. I recommend it too both adventurous tenants due to its walking distance to town and those looking to just relax by the fireplace and listen to the creek.

+ Read More

Richard

Cincinnati, OH

"Clean. Convenient. Comfortable."

We were very pleased with this rental. It is just as pictured. We had no internet service, so we called the office and they responded quickly by phone. Their solution did not work, but they called ba

…

ck to check and offered to send someone. They were very responsive. We will definitely stay with Elk Springs again

+ Read More

Robert K.

Indianapolis, IN

"Cosy Chalet in Gatlinburg"

We really enjoyed this cabin. Unfortunately, H. Sandy left us with rainy cold weather so we could not take advantage of the walk to the main strip. Very cosy. There is a wood burning fireplace here

…

but a few fake logs would have been easier to manage. Spa was wonderful.

+ Read More

Carrie

Auxvasse, Missouri

"Wonderful Vacation Stay"

Great location - close walk to downtown Gatlinburg and a short drive into the park. Check-in was smooth and great customer service. The Chalet was beautiful, cozy and comfortable. We loved the balcony with the creek below!

Kim

Charlotte, NC

"on our honeymoon"

Our stay was nice. The directions were confusing in getting to our cabin. The cabin was nice for the price.

Aishwarya

Alcoa, TN

"Nice place to stay in Gatlinburg"

Nice place to stay in Gatlinburg, I already commented on your facebook.

Chance W.

Summerville, SC

"Creekside Chalet"

We enjoyed our stay. The staff responded to all of our concerns, in a prompt professional manner. The location was convenient to downtown Gatlinburg and the hot tub was excellent. I may choose a more remote location next time.

Brian

Abingdon, VA

"Great Location Perfect for A Couple!"

After looking for a location for months that was in walking distance to Gatlinburg this was perfect. From the bubbling hot tub to the deck where we enjoyed our morning cup of coffee this was just what

…

we needed. We loved being able to park and not move our truck unless we wanted to. Much of the time we walked everywhere. Elk Springs was great!

+ Read More

Troy

St. Paul, MN

"Enjoyed our stay"

The cabin was great and we enjoyed our stay. The Wi-Fi internet did not function and this was the only problem we encountered with the cabin, everything else was fantastic.

Fred

Oakland, CA

"very comfortable cabin near downtown Gatlinburg"

Overall a lovely and comfortable cabin, with the soothing sounds of Baskin Creek right by the front door. Basically one large open space, studio style, not counting the tiny downstairs entrance hall.

…


Very comfortable bed; well maintained. Kitchen on the basic side (no dishwasher, limited utensils/pans. No really comfortable dining area (one high table with uncomfortable bar chairs in kitchen, low coffee table in living room area). Very convenient to all Gatlinburg destinations, and near the entrance to Great Smoky National Park.

+ Read More

David

Indianapolis, IN

"Fantastic Studio Cabin"

I rented the cabin for my wife's 26th birthday and she wasn't disappointed. We were only able to stay a few days but enjoyed every minute. We'll be back.

Roman

St Louis, MO

"Creekside Chalet Review"

The cabin had no frying pan, which is not a huge deal, but if you planed on fixing breakfast, bacon and eggs would be hard to prepare! Overall the cabin was fine and a nice experience.

Ryan L.

Green Bay, WI

"Creekside Chalet"

Stayed the last week of March at Creekside Chalet. Everything was as desribed. Will stay with creekside again.

Christina C.

Pompano Beach, Florida

"More than what we expected! "

It was a great cabin. We loved our stay, we were close to everything and really liked the way we felt like home in the cabin. Thanks we will be back again next year.

Amy T.

Chickafaw, AL

"Great Vacation!"

This was a very cute, clean and great place to stay, just make sure you are looking for something small. My husband, 6-year old son and I all stayed and it is a nice place for a small family. I wouldn

…

't recommend it for any larger families or groups. We thought my son would be fine on the sleeper sofa, however, once we got there, we discovered the sleeper sofa was downstairs with two outside doors with questionable locks. So we let him sleep on the couch upstairs to be closer to us. We loved being able to walk to downtown Gatlinburg! You are really close to your neighbors though and they didn't seem to care that renters were next door. They threw a very loud party one night and started a large fire between the two houses. Overall, we had a very pleasant stay!

+ Read More

Manager Response:

Glad you enjoyed your stay! Creekside is a great cabin with an awesome proximity to downtown. It's definitely not a great cabin if you are looking to sleep more than 4 people, we agree! Glad you enjoyed your stay and remember you get 10% off any future stays as a repeat visitor.
Load More Reviews