Amenities:
Full Kitchen

Gas Grill

Hot Tub

Iron / Ironing Board

Parking

Pet Friendly

Theater Room

Washer/Dryer

WIFI
One of our best value cabins, Cowboy Way features 3 bedrooms including a queen over queen bunk room that will sleep 4 kids (or 2 adults on the lower bunk). This true log cabin also features a home theater with 9 foot theater screen and surround sound system.
Cabin Bedrooms Layout
Main Level King Suite

King Bed
Sleeps 2
Upper Level Queen Suite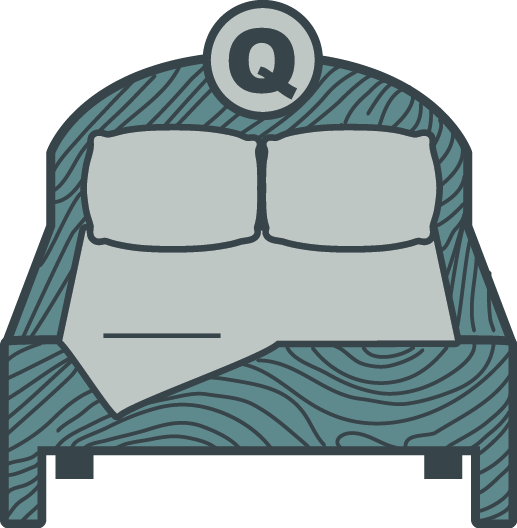 Queen Bed
Sleeps 2
Lower Level Bunk Room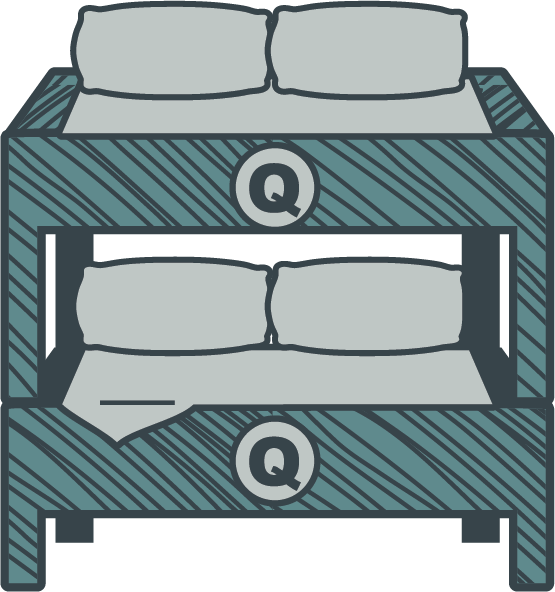 Queen Bunk
Sleeps 4
Main Level Sleeper Sofa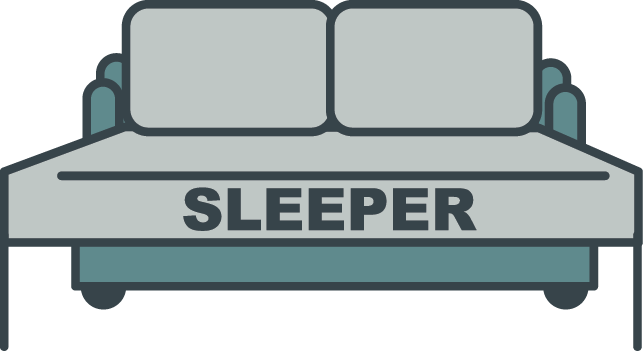 Queen Sleeper
Sleeps 2
Full Description
There is flat parking and only 1 step to enter into the log cabin in Gatlinburg. Enter into the living area with gas fireplace and leather sleeper sofa. There is kitchen with breakfast bar, dining area and access to the wrap around covered deck with a view of the mountains from the back portion of the deck. The gas grill for grilling steaks and burgers is just out the kitchen door. A master suite with king bed and full bath finish the first floor. You can admire the woodwork in this true stacked log cabin by looking up and seeing the vaulted ceilings and beam work up into the loft area.

Head upstairs to the loft where you can shoot a game of pool or watch TV. A full queen bedroom with jacuzzi tub and full bath offers privacy for a second couple. Head downstairs to the Theater area where you'll find a 9 foot theater screen and surround sound system to gather with family and friends to watch a movie. A second sleeper sofa is located in the den area in the lower level.

Finally, a lower level bedroom with a queen over queen bunk can accommodate up to four children and perhaps 2 adults on the lower bunk. A full bath with shower adjoins the bonus room.

Enjoy the convenience and safety of being in Elk Springs Resort where you'll have gentle grades, flat parking and gas lit roads. You are only 8 minutes from downtown Gatlinburg and just 5 minutes to a major Grocery Store.

A stack washer and dryer is included in this unit for your convenience.
Pet Friendly
Home Theater w/9' Screen
Hot Tub
Pool Table
Jacuzzi Tub
FREE High Speed Wireless Internet
Gas Fireplace
6 Rocking Chairs
5 TV's
3 DVD & VCR Combos Players
1 King Suite
1 Queen Suite
1 Queen over Queen Bunk
Main Level Sleeper Sofa
Washer/Dryer
Gas Grill
Calendar
Click your dates below to check in and check out
Available
Check In Only
Check Out Only
Selected
Unavailable
Photo Gallery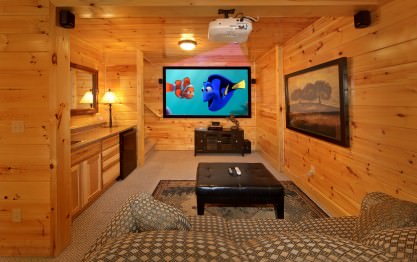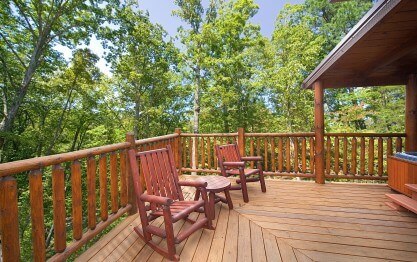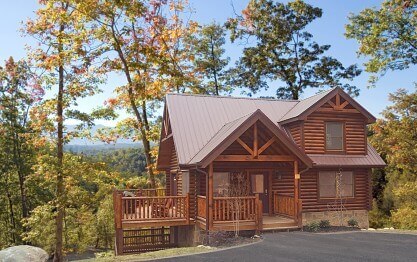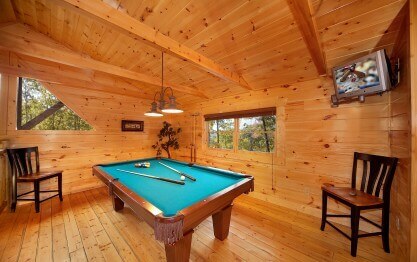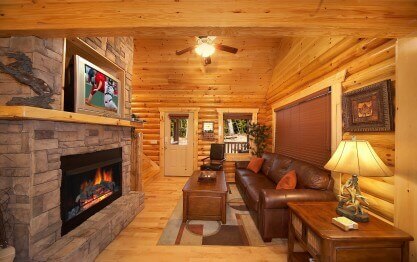 See All Photos
Reviews
Nicole J.

Smyrna, Tennessee

"Excellent place, excellent stay!"

Staff was very helpful, my dad got lost on the way in and they talked him in on a Friday evening. Cabin was clean and wonderful. Plenty of room for all and the dogs felt right at home.

Manager Response:

Thank you for your kind review, Nicole. We are happy that your family and your fur-babies enjoyed your stay. We hope you will vising us again during your next trip to The Great Smoky Mountains.

Mario R.

Brierfield, AL

"Awesome Stay!"

I enjoyed my stay with family and friends. Will definitely stay again first chance I get.

Manager Response:

Thank you for the amazing 5-star review, Mario. It is our pleasure to offer you a beautiful cabin getaway experience to share with family and friends. When you are ready to book your next stay, be sure to mention that you are a repeat guest and you will receive a 10% discount off your next booking.

Ronald

Boiling Springs, SC

"Gaitlinburg getaway cabin"

A very nice location in a quiet area. Close to Gatlinburg, but away from the traffic and noise. There was plenty of room in this cabin for 7 people - no one was cramped for space. We would definitely return!

Manager Response:

We are delighted to hear your stay was exceptional, Ronald! We would consider it an honor for you to stay with us again. Please keep in mind, as a returning guest you will enjoy 10% off all future stays. Hurry back, new memories are waiting to be made!

Margarita S.

Kissimmee, FL

"Friend's Vacations"

Great and beautiful place!! We enjoyed a lot with some friends!! Thanks for everything!!

Manager Response:

Thank you for allowing us to be a part of such a wonderful vacation, Margarita! Cowboy Way is the perfect cabin to enjoy a relaxing get-away. We hope you and your friends will make plans to come back and visit us often!

Blake J.

Indianapolis, IN

"Cowboy Way Weekend Getaway"

The cabin was incredibly clean and well-kept. Location was perfectly secluded but close to stores, restaurants, etc. Elk Springs was one of the finest resorts I've ever stayed in and my party was extr

…

emely impressed. We will absolutely be returning many times.

+ Read More

Manager Response:

We are happy to hear Cowboy Way exceeded your expectations, Blake! We certainly agree, Elk Springs Resort has the perfect location. It is close to downtown, but feels like it is a million miles away. It is the perfect area to relax and enjoy all that nature has to offer. We hope you will come back and see us as often as you can!

Jeff

Murfreesboro, TN

"Nice place to stay. "

This was a great home to stay in. We enjoyed just getting away from Nashville for the weekend. The only thing I would suggest is adding cable to the theater. Football playoffs would have been great to watch downstairs.

Manager Response:

Thank you for your business and your 5-star review, Jeff! We appreciate your feedback very much. Most of our theaters are only set up to play DVD's due to the confusion it would create for our guests to switch the system from TV to DVD operation. We have tried this in the past with a couple of our systems and it just creates an enormous amount of calls for our maintenance guys to go to the cabins to rewire the system or hook the cables/HDMI up properly. We look forward to having you as a repeat guest and hope you will consider another stay with us in the future.

Nohelia L.

Fort Campbell, Kentucky

"Peaceful getaway "

The location of Cowboy way was perfect! The cabin was perfect. Everything was exactly what we were hoping for. Just a few minutes away from all the fun and food. We will definitely go back!

Manager Response:

We appreciate your business and wonderful 5 star review. We look forward to having you back for a future stay. Please take advantage of your 10% repeat guest discount at the time of your next booking!

Alyssa

Loves Park, IL

"Cowboy way cabin"

The cabin was absolutely amazing and everything I could of imagined. We enjoyed our stay and wish we could of stayed longer.

Manager Response:

Thank you for the 5-star review Alyssa! It is our pleasure to provide you with a luxury cabin to enjoy time away from the hustle and bustle of everyday life. We do hope you will visit us again during your next trip to The Great Smoky Mountains. Hurry back, more memories are waiting to be made.

Shiela

Waynesboro, MS

"Awesome Family Vacation"

The cabin was great! Enough room for the whole family including the family dog.

Manager Response:

Thank you for allowing us to be a part of your wonderful family vacation! We are delighted that you enjoyed your stay in The Great Smoky Mountains. We would consider it an honor if you join us again during your next visit. Please keep in mind, as a returning guest you will enjoy 10% off all future bookings!

Sagnelli D.

Stockbridge, GA

"Cowboy Way"

We were in town to celebrate our sons Grafutaion and had booked the cabin along with another one to accommodate family. The cabin was great for what we needed. We would definitely stay there again!

Camilla R.

Atlanta, GA

"Simply Awesome"

This was super nice. We really enjoyed our stay. The cabin was in an amazing location we got beautiful view of the trees with snow on them. The space was perfect. It is nice for girls or guys weekend out or family time.

Richard E.

Weston, FL

"So sad to leave!"

This is our second stay at Elk Springs. We have a really hard time on check out day! The sign at the entrance to the property "Warning! You May Never Want to Leave" is very appropriate. The property is beautiful - such a perfect retreat.

Julie

Chesterland, Ohio

"Excellent "

The cabin was looking curly and the location excellent.

Kenneth M.

New Smyrna Beach, FL

"Family get away"

Cowboy Way cabin at Elk Springs Resort was a perfect place to relax and enjoy the Gatlinberg area. We were there with our adult son and daughter and three of our grandchildren. It is a very quiet co

…

mmunity and pet friendly. Just the type of plAce we were looking for to enjoy quality time together. It is a place we would definitely return.

+ Read More

Jennifer

Parrottsville, TN

"Wonderful Weekend Getaway"

We had a great time at the cabin. Everything was exactly as described. The view was beautiful. Fully stocked with everything you could need. Don't forget to buy ice when you go to the ice maker, but everything else is at your fingertips!!

Deborah

Pottsville, PA - Pennsylvania

"Gatlinburg vacation"

Cabin was beautiful and clean. Great location for our daily adventures. Would definitely stay at Elk Springs Resort cabins again

Kenny S.

Cold Spring, KY

"Everything we were looking for........"

Close to everything yet far enough away. The cabin has three different living levels allowing each part of the family their own time/space if needed.

Steve

Saginaw, MI

"Cowboy Way"

Loved the cabin! Had a great stay and we'll be back again.

Cherise F.

Charlotte, North Carolina

"Awesome Stay in Cowboy Way!!!"

This was by far th best vacation rental !!totally exceeded our expectations! Hope to make it back!!

Greg P.

Laurel Hill, FL

"A good December get away"

Great location, 5 to 15 minutes from everything, yet far enough away to relax.

Joan J.

Franklin, TN

"Really nice cabin"

Cabin was exactly the way it was described, we found it to be a great place to stay while in Gatlinburg.

Kellie F.

Nashville, TN

"Loved! Will Return SOON!!"

I was always skeptical buying a vacation from Groupon but I am SO glad I did! Our trip was amazing! The staff at Elk Springs Resort was wonderful even though we never saw them in person! Everything wa

…

s e-mail and telephone but they were so quick to respond and so very friendly and sent me e-mails with updated payment info, etc to keep me in the loop at all times. No hidden fees ever! It was all laid out for me before I even booked it! The cabin was beautiful and the weather was amazing! The cabin was clean and just as described. Elk Springs Resort sent an e-mail with alternative directions due to traffic and we are so glad they did because the traffic in Pigeon Forge and Gatlinburg was crazy! On Sunday before our checkout I was already looking up other cabins and available dates to come back! We loved it that much!! My only complaint would be the projector screen in the media room. There is no cable tv or an HDMI connection for us to plug anything in. So all we could do was put DVDs in. We really wanted to watch football but couldn't. (If there is cable or an HDMI and we just completely didn't see it- im sorry!) Other than that, I recommend this cabin and resort to everyone! Thank you Elk Springs Resort for a great stay!!!!

+ Read More

Maura F.

Maryville, TN

"Cowboy Way"

Great place, a little disappointed with the 'theater' in that we couldn't watch TV on it (only DVDs) but other than that it was GREAT!

Sam S.

West Chester, Ohio

"October Getaway"

Our trip to Elk Springs was amazing last year! We'd love to come back some day!

Bob H.

Indianapolis, In

"Cowboy Way"

I shall return.

Emma

Spring Valley, CA

"Everything that we hoped for.... and more."

The cabin was beautiful. Close enough to Gatlinburg to make it easy to visit, but far enough away to make it peaceful. Very clean. Very safe. And this property was pet friendly too. Everything we need

…

ed for a relaxing stay... Just wish we could have stayed longer.

+ Read More

John K.

Wauconda, IL

"FIRST TRIP TO THE SMOKY MOUNTAINS"

IT WAS VERY PRETTY, HAD A WONDERFUL VIEW WONDERFUL FOR THE KIDS. VERY CLEAN A PRETTY CABIN, EVERYTHING WAS ORGANIZED AND THERE WAS A LOT OF FUN STUFF TO DO, WE HAD FUN.YOU SHOULD GO THERE SOMETIME

Neal

St Henry, OH

"Great location, great cabin!"

We loved the location - it was easy to find, close to Food City, and Gatlinburg was only 5-6 minutes away. The resort was well taken care of, and the cabin was very comfortable, as were the beds. Wish

…

we had a better "mountain view," but the location was peaceful even though other cabins were close by. We would stay at Elk Springs again. And a special thanks to Katie in taking our reservations - she was wonderful!

+ Read More

Jackie

Mckenzie, TN

"Good Christmas Reunion"

We can to meet family member from across the south. The cabin was great, with all the space and untisel we needed for Christmas Dinner. The only complaint I would have was that we arrived Christmas Ev

…

e, was that there was no decrations for the season. Thank goodness we had some with us with a child expecting Santa to leave gifts under the tree.

+ Read More

Valerie

Hixson, Tennessee

"Great first family vacation"

This was our first family vacation. We all had a great time. The cabin was great! We had me, my husband, our 2 kids, dog, and my parents; and we all had plenty of room. Loved the big screen to watch movies. Would love to stay here again sometime!

Caroline E.

Greeneville, tn

"Always happy "

This was the third year we have rented a cabin from elksprings. We have stayed in knotty and nice, almost heaven, black jack, and cowboy way. Every cabin was perfect we love staying there and it has b

…

ecome a November tradition for my family and I. I would recommend staying at any of the cabins they are all unique in their own way. They are secluded but at the same time only a short drive to downtown gatlinburg. It's a relaxing experience and everyone should go at least once and check out the amazing cabins they have.

+ Read More

Rama B.

Atlanta, GA

"We had a great stay at Elk Springs!"

We hade a toilet leak the night of Thanksgiving and the property superviser came right away and fixed it.

The kitchen was a little short of glasses, wine glasses etc considering it is suppossed to

…

sleep mor than 10 people.
But the property manager took care of that as soon as we called.
Overall, I would recommend you highly.

+ Read More

Diane C.

Racine, WI

"Our First Visit to the Smoky Mountains"

We had a fabulous first time stay at the cabin. We were thrilled to have the fire going when we arrived as it was cool and nasty outside. Absolutely thrilled that it was CLEAN, had plenty of hot water

…

, and everything worked properly. I might suggest that you have on hand a few condiments, at least salt and pepper. A few chocolates to greet us would be an appreciated touch as we didn't bring any wine. Hopefully, we may be back some day!

+ Read More

Robert E.

White Lake, MI

"Can't wait for the next vacation!"

We were all very much impressed with the cabin. It was very clean and comfortable. Made you feel like you were at home. I loved the set up. The only thing that I would complain about would be the pool

…

table location. I would move that to the basement. No room to play. But other then that it was awesome! The bedrooms were very comfortable. The showers were hot, even when more then 2 showers were going at a time. Really liked the idea that it had a washer and dryer included in the unit. Made it easier to pack light for clothing. We will be back next year! Thanks for such a great vacation!

+ Read More

Karen H.

Lebanon, TN

"Wish we could have stayed longer !"

Great property.......easy check-in and check-out!!! Beautiful cabins.......booked again in December of 2012 for a longer period of time.

Kenneth

Elkridge, MD

"Great spot"

Very peaceful, clean, and close to everything.

Deetti R.

Charlotte, NC

"Vacation"

Best.....cabin stay was relaxing.

Eric

Pleasanton, CA

"The LOVE Reunion"

Kudos to your associate Marty Rogers. Her professionalism and eagerness to assist our family with reunion reservations spanned over a year. We greatly appreciated Marty's patience and willingness to

…

answer all questions to the best of her ability. She continued to return calls in a timely manner. We need more "Martys" working with the public on vacation reservations! Thank You.

+ Read More

Travis

New Sharon, Iowa

"the great cowboy way!"

We wanted a relaxing family vacation and the cowboy way was just the place to make that happen! Great location, quiet, and relaxing. Our kids loved the pool table, movie theater and the hot tub! We of

…

ten suggested to go to town, but they hated to leave the house!!!

+ Read More

Jeremy

New Albany, IN

"Quillo - Cowboy Way"

Overall we loved the cabin and our stay there was great. Reservations, check-in/out and all our experiences with the staff were first rate. The theater room is awesome and the photos don't do it justi

…

ce. The property is minutes away from the arts & crafts stores, grocery/liquor stores, and only a short drive to downtown Gatlinburg. A few things to point out for future guests with kids... First, the property right outside the cabin is beautiful, but not safe for children to play. There is a large, steep hill behind the cabin that leads into a valley, and we had to keep our kids away from the sides of the cabin. The front area is pretty small and close to the street, so we mostly kept the kiddos inside or on the deck. However, the staff pointed us to a great park nearby (Mill Park) that was great when our little ones needed a place to run. Second, these types of cabins are difficult to sound-proof, so all noises carry through almost the entire place (from the basement to the 2nd level). It wasn't a major hindrance, but be prepared to hear every footstep and noise throughout. Third, the cabin can sleep about a dozen people (including using the pull-out couches), but the dining table won't hold that many. We put the kids around the table and sat in the living room or on the deck. Third, the bunk room is essentially a set of double bunks, a closet and a tv (the bunk fills most of the room so the kids didn't play in there). Finally, there is a second deck outside the basement that would make a great play area for smaller kids. Again, this cabin is great and the staff are super friendly. I would recommend it to friends for sure.

+ Read More

Michael

Franklin, TN

Douglas M.

Goodlettsville, TN

"Fum family getaway"

We were looking for a different place to stay in the Gatlinburg area that was pet friendly and we believe this is the one. Cowboy Way was beautiful inside and out and in a terrific location. The onl

…

y negative was the cabin furniture needed a good dusting along with the wooden window blinds.

+ Read More

Ben

Indianapolis, IN

"Peace and Quiet"

This is the second time we stayed at Elk Springs resort and will continue to do so. They have many sizes of cabins and offer a variety of indoor activities (pool table, darts, large movie screen and

…

fully equipped kitchen). This cabin had 2 outdoor decks for relaxing.

+ Read More

Jacquita

Luther, OK

"Cowboy Way a Good Way To go"

The cabin was beautiful and the location was fantastic. A few small things were found but they did not hanper the stay. There was only a broken hand can opener, one burner on the stove did not work

…

and there were several places where something sticky was still on the floor. The furniture is beginning to show wear and is a bit uncomfortable but I loved it there and will plan another trip back in the future.

+ Read More

Ricky S.

Knoxville, TN

"great cabin"

every thing we wanted, elk springs cabins are a very professional company

Michelle E.

Phil Campbell, Alabama

"Family Fun"

My family and I had a wonderful stress free vavation....I would recommend this property to anyone.

James

Spartanburg, SC

"Elk Springs Fall 2011"

The trip was pleasant. We had nice weather and a great stay on the property. I would recommend these cabins to anyone staying in the Gatlinburg area.

Robert

Sarasota, FL

"Cabin stay"

Great luxury cabin. Close to everything. Our ATT service didn't work at the cabin, so without a land line, felt a little weird, but that's no fault of the property.

Carol P.

Bellaire, OH

"Very Pleased"

First trip to the Smokies for our family. Cowboy Way was perfect for the 6 of us. Don't have to bring anything but your clothes and a beach towel for the wonderful hot tub. Would have liked just a lit

…

tle more storage space in the kitchen. What you see
on line is exactly what you get. Had to call office to have them come to light the pilot light on the fireplace but they came within a hour. Plenty to do and see. Highly recommend the one lane nature trail starting at light #8. We even had a 4 am visit from
a bear right outside our bedroom window. Could not have picked a better company or cabin for our first visit.

+ Read More

Ruthann G.

Rockville, MD

"Great Cabin!"

We loved Cowboy Way! Great family time. Just wish it was a little closer to home. We'd definantely recommend Elk Springs.
Load More Reviews