Amenities:
Full Kitchen
Gas Grill
Honeymoon
Hot Tub
Iron / Ironing Board
Parking
Washer/Dryer
WIFI
Experience the 18 foot rain tower shower in this romantic honeymoon cabin. Looking for a special getaway? Chalet D'Amour - "The Chalet of Love" should be at the top of your list. This cabin features a guest bedroom with queen over queen bunks in case you need to bring the kids!
Cabin Bedrooms Layout
Master Suite

King Bed
Sleeps 2
Bunk Room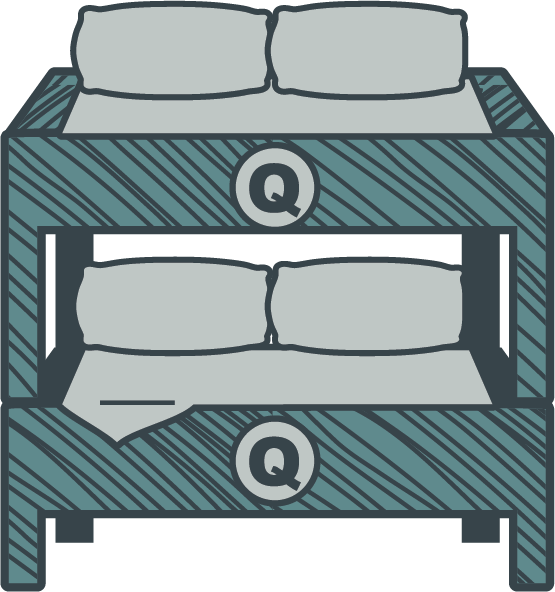 Queen Bunk
Sleeps 4
Living Room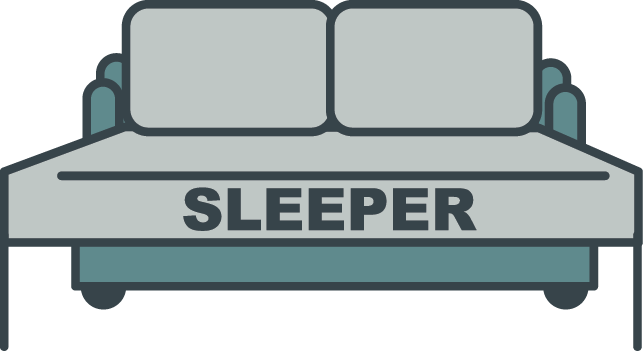 Queen Sleeper
Sleeps 2
Full Description
This is definitely our most popular 2 bedroom cabin floor plan, the two story 28 foot windows are the exclamation point as you enter for the first time. The main floor offers a fully equipped kitchen with cherry cabinets and stainless steel appliances. A larger kitchen than you would find in a typical 2 bedroom Gatlinburg cabin, Chalet D'Amour offers plenty of space including a dining area with table and breakfast bar. A stainless steel gas grill is off the front deck.

Take a peek over the railing - downstairs the fun begins. The game room includes a pool table, foosball table, wet bar, two comfy chairs and a fireplace. Also on this level you will access your balcony facing the valley - the hot tub is just waiting for you after a long day in the Great Smoky Mountains Park.

Enter into the fantasy master suite with where beautiful furnishings surround the king bed, a jacuzzi tub and the 18 foot rain shower.

The guest bedroom features queen bunk beds - so much fun for the kids! An adjacent bathroom includes a tub/shower combination accessible from the game room also. Every attention to detail can be found in Chalet D'Amour!

A stack washer and dryer is included for your convenience.
18 Foot Rain Tower Shower
Hot Tub
Jacuzzi Tub
Hot Tub
Wireless Internet
Pool Table
Foosball Table
** Xbox is not included (as pictured)
Free High Speed Wireless Internet
1 Gas Fireplace
4 Rocking Chairs
4 TV's
4 DVD Players
Washer/Dryer
Gas Grill
Calendar
Click your dates below to check in and check out
Available
Check In Only
Check Out Only
Selected
Unavailable
Photo Gallery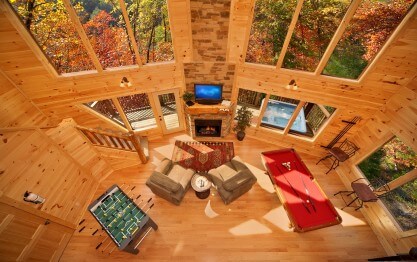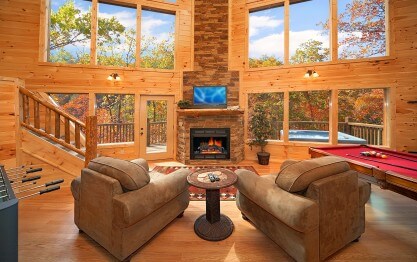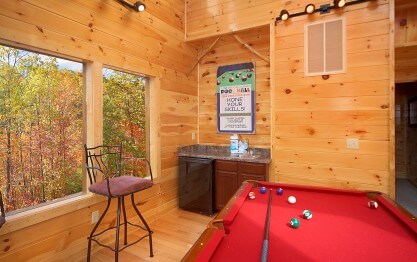 See All Photos
Reviews
Shirley R.

Aiken, SC

"Great location, awesome cabin!"

We had a wonderful stay at Chalet D'Amour! The cabin is centrally located to all the sights. Loved the 18 foot rain shower! Highly recommend.

Manager Response:

Thank you so much for your review. We are elated that you enjoyed your stay at Chalet D'Amour! Please come back and visit with us again!

Brian

Sellersburg, IN

"Fantastic!"

The cabin was beautiful! Great location...close enough to everything but far enough away form the traffic and noise. The cabin was very private and clean. We would stay again. I really appreciate t

…

he great communication through email, text, and phone calls. Great experience!

+ Read More

Manager Response:

Thank you for your 5-Star review, Brian! We enjoyed having you as our guest and hope you will consider making us part of a new tradition when visiting Gatlinburg.

Michael M.

Greenwich, OH

"Anniversary Getaway"

Gorgeous Cabin that was well maintained. Great experience and would definately recommend to friends and family. We also loved the 18 foot rain shower.

Stephen P.

Fayetteville, NC

"amazing wedding getaway"

me and my family loved coming to tn to visit this cabin i booked it so that i could marry my best friend and thats exactly what we did on sept 30 2016 at the cabin was a great experience that will last in memory for a lifetime thabk you!

Manager Response:

Thank you for allowing us to be a part of such a wonderful celebration, Stephen! Congratulations! We love to hear about the special memories that are made while staying with us. We wish you a lifetime of happiness and hope you will consider making Elk Springs Resort part of your anniversary plans for many years to come.

Dustin D.

Covington, LA

"Elk Springs Resort is Highly Recommended. Thank you."

Great Experience for my Family. Top Notch.

Penny S.

Decatur, IN

"Great Vacation Stay"

Enjoyable vacation. My family and I loved the cabin experience. We can't wait to return. This was our first time to Gatlinburg. We enjoyed the peace and quiet of the cabin over the hustle of the city

…

of Gatlinburg. Going into the Smoky Mountains was great, we hiked to Chimney Tops. We would like to return to Elk Springs Resort next year!

+ Read More

Ghadeer I.

1570 Burns Ct , OH

"It was a great experience "

This resort is amaising. definitely will come again and recommended for others.
Clean, quite,and relaxed place.

Manager Response:

Thank you for your kind review, Ghadeer! We are happy to hear that you had an amazing time. With so many cabins to choose from on the resort, we can certainly make each trip a new adventure. Please let us know when you are ready to start planning your next vacation. We hope to see you soon!

Jason

Dayton, OH

"Chalet D'Amour"

Very happy with this cabin. Went for Spring Break and brought the kids. The kids loved the queen sized bunk beds!

Laretha P.

New Kent, VA

"Thanksgiving retreat!"

We really enjoyed our stay, the shower is magnificent!

Manager Response:

Thank you for your positive feedback! We are pleased that you enjoyed your stay and loved the tower shower too!

Margaret

Smyrna, TN

"great weekend girls trip!!"

This cabin was excellent. Our blender was leaking and maintenance brought us another one pronto! Great service and a beautiful cabil.

Carolyn

Matthews, NC

"Beyond our expectations"

The cabin was amazing! Everything you could want or need was there for us! Just a peaceful setting! Very close to all of the major attractions!

Manager Response:

We are very pleased that you chose Elk Springs Resort as your cabin vacation destination, Carolyn! It is our pleasure to provide you with a stay that exceeded your expectations. We hope you return again soon to breathe in some more fresh mountain air!

Guangyu Q.

Norcross, GA

"Great Cabin"

Great cabin.excellent service.Kithen,bedroom,bathroom,everything is good.
I hope come again,and I had recommend my friend choice here (He plan go to great smoking mountain at autumn.
Thank again.

Manager Response:

Thank you so much for a 5-star review! We always enjoy hearing from our guests and appreciate you recommending us to your friend. The fall colors in the mountains are simply amazing!

Michael F.

Louisville, KY

"Amazing 2 bedroom Romantic Cabin - 18 Foot Rain Tower Shower"

Awesome cabin had a wonderful time can't wait to stay there again.

Manager Response:

Thank you for your review Michael. We are pleased that you enjoyed everything about your cabin stay, especially the tower shower! Hurry back to see us soon!

Tara

Lithonia, GA

"Great relaxation"

As Always, Elk Springs delivers. It was nice to have a weekend excursion and enjoy some time away from the bustle.

Youssef A.

St Louis, MO

"Good and clean place. Well equipped. Wooded area without biew."

Nice getaway . Relaxing. Close tow gatlinburg.easy check in and out.

Lorena

Calumet City, IL

"Best Experience"

We loved our stay!

Melissa

Durham, NC

"Fabulous"

It was great- easy to check in- they called to check on us. THe cabin was perfect out kids Loved it!! Would definitely stay again.

Michelle P.

Ball Ground, GA

"Chateau d'amore was awesome"

I have nothing bad to say we had a wonderful time from start to finish the cabin was clean beautiful and a joy to Stay in. We will definitely come back.

David H.

Georgetown, KY

"A great vacation!"

My family and I really enjoyed our stay at Chalet D' Amour!

W Daniel S.

Morristown, TN

"Chalet d amore snowed in"

We got snowed in and had to stay a little longer but it was the best place to get snowed in at. Hot tub worked excellent and was clean. The showers were all clean and the rain shower was awesome! We want one! I want to come stay again.

Ramfery

Fishers, IN

"MLK 3 day getaway! "

Beautiful and extremely clean cabin, I highly recommend it! We will come back again but will choose a different cabin with a better view of the mountains. I absolutely loved the no fuss check-in, just

…

go to your cabin, press the code to open the door and enjoy. AMAZING STAFF too!!

+ Read More

Michael

Thompsons Station, TN

"Chalet D'Amour meets expectations!"

We were really impressed with the professionalism and courtesy of the employees at the property. They were on top of everything! A fantastic trip for our family. Definitely will come back!!

Adella

Mountain View, AR

"Relaxing getaway. "

Beautiful log cabin with all the charm of Gatlinburg minutes away. Great kitchen, clean throughout and its amazing that we never ran out of hot water while filling up that giant heart bathtub. Little

…

confusing finding the cabin. But worth it once we got there. We will definitely be staying there again on our next trip to Gatlinburg.

+ Read More

Nick

Ponchatoula, LA

"Family of five Thanksgiving vacation "

It was a wonderful place to stay for our family of five! We will definitely be back!

Deborah G.

Clarksville, TN

"Second Honeymoon"

If you haven't experienced renting a cabin, I highly recommend it and do so through Elk Springs, property management personnel are very professional and nice. The cabins have everything you need and a

…

re beautiful. We are already planning our trip back. No more motels or hotels for us. To the folks at Elk Springs thanks for making our second honeymoon one we'll remember for a long time.

+ Read More

Abdullrahman

Beavercreek, Ohio

"Best vacation ever!!!"

I think my title is enough....

Brad

Clarkston, MI

"Wonderful Family Vacation"

We thoroughly enjoyed our stay at Elk Springs. The cabin experience was relaxing and inviting. The cabins are close to the downtown action yet not encumbered by the crowds and traffic. Easy access

…

to the arts and crafts section of Gatlinburg. Staff was courteous and helpful. We will definitely be back.

+ Read More

Gene S.

Frankfort, IL

"Fun in the Smokies!"

We really enjoyed our stay at Chalet D"Amour! There was plenty of room for all 6 of us. We had everything we could have wanted in our cabin. The only thing we didn't have was a bear sighting. We w

…

ere all looking forward to seeing a bear from a distance. We would definitely come back again.

+ Read More

Paul

Newtown, PA

"Perfect home for a small family"

Home was meticulously maintained and decorated. It was perfect for our family of four and we enjoyed all of the amenities it had to offer.

Heather B.

Lexington, KY

"Home Sweet Home "

This was our 2nd visit to Chalet d'amour and once again, we did not want to leave! My fiancÚ and I have celebrated our last 2 anniversaries there and both times have been phenomenal! It's like being

…

right at home in the mountains. If you are looking for a sweet getaway, like being at home, this chalet is the one!

+ Read More

Mary Ann S.

Gruet-laager, TN

"Relaxation Getaway"

The cabin was very nice. It would have been nice if we had access to a pool or some on site activities for kids. Also, other properties offered attraction discounts and free tickets that was not available at this resort.

Anthony J.

Columbus, OH

Annette O.

Lake Spivey, GA

"LOVE, LOVE, LOVE"

We will come back here. The cabins are perfect and are exactly what they say they are. It is a must see.

Jeff J.

Westerville, OH

"You could stay at the cabin all weekend"

The kids were happier at the cabin than down on the strip. They had a wonderful time and we did too. Look forward to coming back.

Sheldon

Lithonia, GA

"Nice Cozy Cabin"

This is a great cabin about 6 miles from the main strip in Gatlinburg. It has plenty of space and nice amenities. There were however no scenic views based on the cabins location.

Todd M.

Richmond, KY

"A+ Great Stay"

One of the best places we have stayed! Lovely cabin and view. It felt very private and Elk Springs did an outstanding job! We called for a simple maintenance issue and help arrived within 10 minutes! A+

Robert B.

Nicholasville, KY

"Top Shelf"

Awesome property, beautiful inside and out.

AJ S.

Richmond, Ky

"Incredible Experience Will Return"

I am looking to plan a trip in the spring and in the fall. The experience was awesome the night life was fun as was the shops and day life.

Angela W.

Ocean Springs, MS

"Loved it!"

Very nice, romantic cabin! We loved our experience there!

Lena

Belleville, IL

"Didn't Want to Leave"

The Cabin was breath-taking from the moment we walked in the door. I would not change a thing about the cabin. We did have to call maintenance because the pilot light kept going out on the fireplace,

…

but even that service was quick and efficient. I will definetly be coming back in the future and will be bringing the whole family! Thank you for the experience!

+ Read More

Erika H.

Orlando, Florida

"Perfect getaway"

I am so pleased with everything about my stay at Elksprings resort. The cabin was beautiful just like the photographs, the area was convenient and private at the same time, the cabin was clean and com

…

fortable and the staff very responsive and professional. I would recommend this place to everyone and will definitely be returning. The entire experience was more than I expected and I was thoroughly satisfied.

+ Read More

Sunny T.

Hoover, AL

"a wonderful stay"

We had an absolutely wonderful stay at the chalet d amour! We loved the cabin and everything about Gatlinburg!

Troy M.

Canal Winchester, Ohio

"Great Cabin"

Chalet D'Amour was a great cabin! Very clean with a fun layout. We will come back to this cabin agian next year.

Wenting H.

Atlanta, GA

"Great Cabin"

Nice, clean cabin with professional management team. I really enjoy this experience and would like to go again

Kurt

Coventry, RI

"Loved the Cabin"

We had a great time. The cabin was really nice. The only issue we had was the rain shower in our cabin was scorching hot. But everything else was great. Very clean and updated.

Myrletta B.

Noblesville, Indiana

"Quiet getaway"

We enjoyed our cabin quite a bit. There are a few things that we didn't like just because of our own personal needs. Chalet D'Amour was updated, clean, quiet and the best part is the world's best show

…

er!!! I wish we could have taken that back home with us! We would have enjoyed more of a view and a more private master bath, but other than that....fantastic! I would recommend.

+ Read More

Heather B.

Lexington, KY

"Heaven on Earth"

If you are interested in a place gives you that "wow factor," but still feels like home, then Chalet D'Amour awaits YOU!!!! My fiance' and I stayed for 2 nights and definitely wanted to stay much much

…

longer! The cabin felt just like "home" and was very clean & spacious! We will MOST DEFINITELY be back for a week next time!!! Also, the 2nd bedroom had bunk beds, perfect for the kids! ; )

+ Read More

Kayla H.

London, AR

"Amazing honeymoon vacation!"

We LOVED everything about the cabin and Gatlinburg! We couldn't have asked for anything better! Thank you so much for such a wonderful experience! We will be back for another trip soon!!

Anton

Solon, Ohio

"Loved our spring break at Chalet D'Amour"

Really enjoyed our 2013 Spring break at Elk Springs Resort. Cabin was great, and even beat our high expectations. Definitely recommend this for families, we stayed with our 3 children and we all loved it.

Nancy A.

Miami, FL

"Peace in the woods. "

It was amazing, although it was only for two days. We made the best of it. The cabin was amazing, better than my own home. Will definitely return, this time for more days.
Load More Reviews