Amenities:
Full Kitchen
Honeymoon
Hot Tub
Iron / Ironing Board
Parking
Washer/Dryer
WIFI
Enjoy mountain views from your great room, your decks or your hot tub! Spectacular mountain views, fabulous seclusion, and surrounded by trees ? this cabin is truly a "hideaway"! Enter on the main level and be dazzled by the two story windows with views of the mountains. Beautifully furnished with your comfort as the focus, the living room seating surrounds the gas fireplace. Note the 55 inch flat screen television with Blu Ray DVD for ultimate relaxation after a day of hiking.
Cabin Bedrooms Layout
Main Level - Bedroom 1

King Bed
Sleeps 2
Main Level - Great Room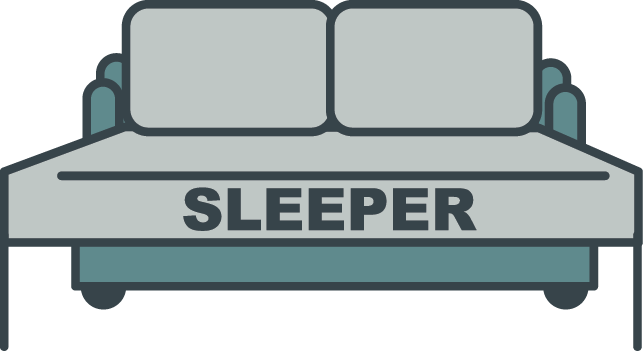 Queen Sleeper
Sleeps 2
Upper Level - Bedroom 2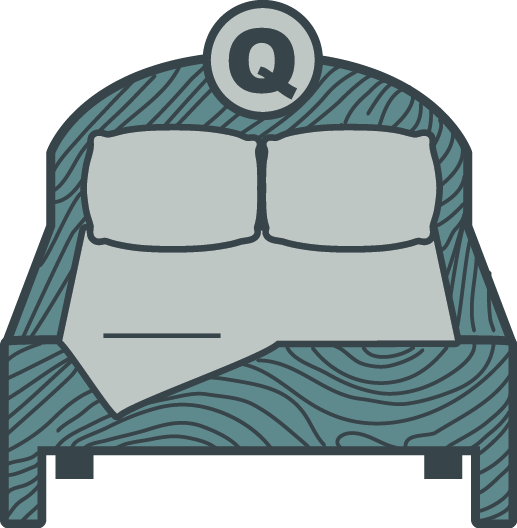 Queen Bed
Sleeps 2
Full Description
The open floor plan of this Gatlinburg cabin rental leads to the fully equipped kitchen with breakfast bar for casual seating. The dining table accommodates up to 6. A gas grill is also located on the deck just off the kitchen for your convenience.

End the day on the covered deck in your hot tub or say good night to the starry skies on the porch swing. Retire to the master suite with king bed and jacuzzi tub and shower. The second bedroom is furnished with a queen bed including an adjacent full bath with shower.

Enjoy a game of pool in the loft area that also has a double futon for a little extra sleeping capacity.

Cajun Hideaway has access to 3 outdoor pools a short distance away in neighboring cabin communities. You will find paved parking and a small grassy area for little people to play. You will be able to share stories about this great "Hideaway" discovery ? we invite you to come and spend some time with us at Cajun Hideaway and Elk Springs Resort!
*** This Cabin is 20 minutes from Elk Springs Resort
55" TV with Blu Ray
Views of Mt. LeConte
Secluded
Hot Tub
Jacuzzi Tub
Pool Table
FREE High Speed Wireless Internet
Fireplace
4 TV's
4 DVD Players
Washer/Dryer
Gas Grill
Calendar
Click your dates below to check in and check out
Available
Check In Only
Check Out Only
Selected
Unavailable
Photo Gallery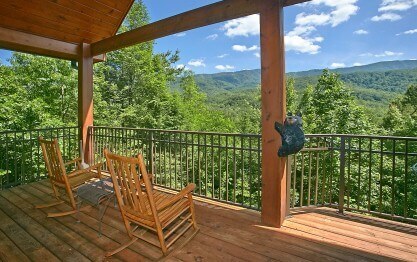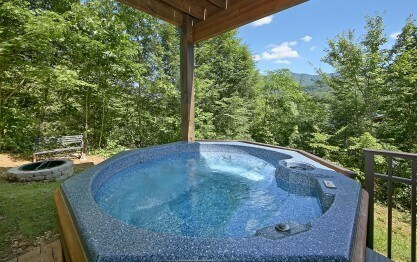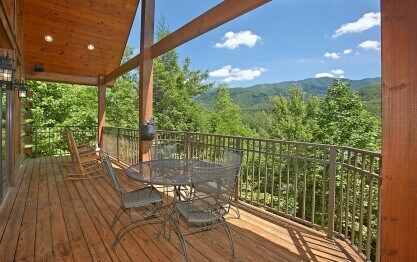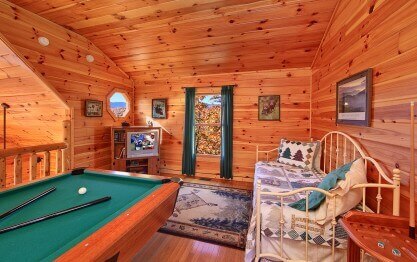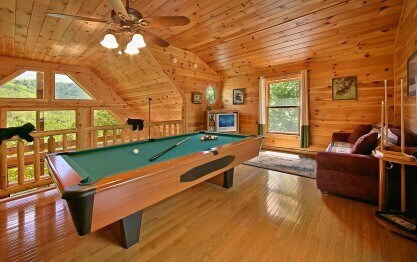 See All Photos
Reviews
Sherry

Lancaster, OH

"Anniversary Getaway"

My husband and I are planning to visit again in the fall of 2018. Will rent a bigger cabin from Elk Springs and bring the kids. That says a lot about our experience. I was pleased with the service

…

we received and the cabin met our expectations.

+ Read More

Manager Response:

Thank you for allowing us to be a part of such a wonderful celebration, Sherry! We are excited to hear you enjoyed your visit to our beautiful Great Smoky Mountains. We would consider it an honor for you to come back and stay with us again! Please keep in mind, as a returning guest you will enjoy 10% off all future stays. Hurry back, your next adventure awaits!

Amy S.

Pace, FL

"Cajun Hideaway"

We had a wonderful experience during out stay at the Cajun Hideaway cabin. Everything was perfect, and the process of check in/out made things very simple for us. The cabin was impeccably clean and

…

loaded with EVERYTHING we could need for a perfect stay! We will definitely be returning!

+ Read More

Manager Response:

Your review is music to our ears, Amy! We love to hear that we exceeded your expectations. It sounds like many wonderful memories were made during your stay. We hope you will consider making Elk Springs Resort part of a new tradition when visiting Gatlinburg. Please keep in mind, as a returning guest you will enjoy 10% off all future stays. We hope to see you soon!

Barbara G.

Nutley, NJ

"Simply Wonderful!"

If you are looking for the perfect place to get away from it all, yet still have all the conveniences of home....you've found the perfect place. This cabin has it all! With the included starter supply

…

of laundry & dishwasher cleaner, paper towels, toilet tissue, soap, etc., there is little you need to bring from home! Just bring your belongings & food from the grocery store (6 miles away) and you're all set. If you are a coffee lover like me, bring your own coffee & some flat bottom filters & you're all set! The cabin is charming & so nicely decorated! I slept like a bear! Hint: if you want to sleep in...close the bathroom door in the master bedroom to cut back on the morning light you get from the frosted glass window and your room will stay completely dark for an extended rest! Of course, I couldn't write a review without mentioning the unbelievable view. My morning coffee view will never be the same!

+ Read More

Benjamin T.

Jesup, IA

"Cajun Hideaway"

We stayed in Cajun Hideaway for 3 nights during our honeymoon vacation. We loved it! We enjoyed it so much that we booked another 2 nights in a nearby cabin with the same company!

Manager Response:

Thank you for allowing us to be a part of such a wonderful celebration, Benjamin! We wish you a lifetime of happiness and bliss. We hope you will consider making Elk Springs Resort part of your anniversary plans for years to come. Please keep in mind, as a returning guest you will enjoy 10% off all future stays. Hurry back, new memories are waiting to be made!

James

Henrico, VA

"Beautiful Stay in the Great Smoky Mountains"

Perfect

Manager Response:

Thank you for your 5-Star review, James! We are thrilled to hear your stay was exceptional. We hope you will consider staying with us again during your next visit to Gatlinburg. We hope to see you soon!

James

Savannah, GA

"Alicia's vacation"

Relaxing and comfortable! Beautiful view and an overall awesome experience!

Manager Response:

Thank you for your kind review, James! We are delighted to hear you were able to find the relaxation you were looking for. We certainly agree, Cajun Hideaway is the perfect cabin to enjoy the peace and tranquility of nature, while making you feel like you are at home from the first moment you walk through the door. It is certain to become your own personal paradise while visiting the Great Smoky Mountains. We hope you will come back and stay with us again during your next visit to Gatlinburg. Hurry back!

Thomas M.

Davenport, FL

"Great experience"

It was a very pleasant experience. We want to return.

Rupanjali

Collegeville, PA

"Heaven on earth "

Simply clean, crisp and unforgettable!

Manager Response:

We are excited to hear your stay was exceptional! We certainly agree, Cajun Hideaway is truly heaven on earth. We hope you will consider making Elk Springs Resort a part of a new tradition when visiting Gatlinburg. We hope to see you soon!

Jaydev

Philadelphia, PA

"Paradise in Gatlinburg (and TN and USA)"

Amazing place to stay!
Great amenities!
Is a cliche, but still have to echo - only complaint - should have planned a longer stay

Manager Response:

Thank you for your outstanding review! It sounds like great memories were made. We hope you will take the opportunity to come back and stay with us as often as your schedule allows. We hope to see you soon!

Christopher T.

Grosse Pointe Farms, MI

"Amazing Mountainside Cabin"

Cajun Hideaway was a perfect location for our family. Our two boys (ages 4 and 1) completely enjoyed the ample space inside the cabin and on the balcony. The well stocked kitchen provided all our ne

…

eds to cook our breakfasts/dinners. The location was great- beautiful views of the Smoky's, secluded feel in the mountains, close enough to the National Park and Gatlinburg. Nice layout (2 bedrooms on lowest floor, kitchen/living room on main floor, pool table in loft). We plan on returning.

+ Read More

Manager Response:

Thank you for your wonderful review, Christopher! We love to hear that you and your family had such a great visit. We agree, Cajun Hideaway is an exceptional, family friendly cabin that will make you feel right at home. It's in the perfect location to enjoy all of the attractions, as well as all that the National Park has to offer. The views are absolutely breathtaking! We hope you will consider making Elk Springs Resort part of a new tradition when visiting Gatlinburg. Come back and see us soon!

Nick

Newport, KY

"An Amazing Stay at Cajun Hideaway"

Our experience was amazing. The cabin was exactly as advertised, and the views were better than expected. The cabin was far enough from the hustle and bustle of the city to have silence but close enou

…

gh that it was a quick car ride to Pigeon Forge and hiking in Gatlinburg. I would recommend this stay to anyone looking for a quick getaway from everyday life. Thank you Elk Springs for a great stay.

+ Read More

Manager Response:

Thank you for your kind review. We are happy to hear you enjoyed your stay with us. We have many cabins to choose from in this location. We look forward to your return visit.

Berrik B.

White Hall, AR

"Relaxing Honeymoon Getaway"

Great place for a quiet, relaxing honeymoon. The cabin was great. Wonderful view of the mountains from the back porches. Fairly secluded and private, yet close enough to highway and Gatlinburg for goi

…

ng out. The only drawback was that the road to the cabin is so narrow, winding, & steep. Although it was cleared of ice & snow, it still felt kind of dangerous since there's not guardrails and very steep dropoffs within inches of the edge of the road.

+ Read More

Ashley K.

Bloomington, IN

"Amazing view, great location, very clean!"

We stayed for our honeymoon and it was fantastic. Perfect time with the foliage changing colors! It's not too far from downtown Gatlinburg, and was easy to find with the directions given. All the kitc

…

hen supplies you could need to cook with. The only negative thing - which we did not report - was there was no propane tank for the grill. We would definitely stay there again, even for a friends vacation as there was enough room for more than 2 people. I recommend going hiking over going into downtown Gatlinburg and Pigeon Forge. The cabin was a nice way to relax after a long day out sight-seeing.

+ Read More

Manager Response:

Thank you for the 5 star review, Ashley. We are honored that you chose one of our luxury cabins as your honeymoon destination. Our customer service department can quickly be reached by phone and we would have welcomed the opportunity to have maintenance address your gas grill issue while you were our guests. We are pleased to hear that you enjoyed your stay and hope you will come back to celebrate your wedding anniversaries with us in the years to come. Congratulations and Best Wishes from all of us here at Elk Springs Resort!

Samantha W.

Oologah, OK

"Well worth it! "

Cajun Hideaway is exactly what I needed for a couple days. Will definitely be back.

Manager Response:

Thank you Samantha for the 5-star review! It sounds like you made the perfect choice for a much needed cabin retreat.

Ritesh T.

Mountain House, CA

"Great place to stay"

Beautiful clean and scenic

David D.

Clinton Township, MI

"Cajun Hideaway- Secluded With A Breathtaking View"

The cabin felt relaxing and peaceful. We enjoyed the picture perfect mountain view every day in the rocking chairs! The pool table and the hot tub were big hits with our girls. And Elk Springs courtes

…

y policy of another resorts outdoor pools, just a mile down the road, were considered hidden gems!

+ Read More

Manager Response:

We appreciate your positive feedback and are pleased that you enjoyed your stay at Elk Springs Resort! We hope you are already making plans to come stay with us again. Since you enjoyed the use of the outdoor pools, why not treat yourself to one of our luxury pool cabins on a future stay and enjoy having the pool all to yourself? Just mention that you are a repeat guest and get an automatic 10% discount when you book a future stay with us!

Eddie W.

Florence, MS

"vacation "

Fantastic. Beautiful cabin and views. This is our 2nd time in cajun hideaway and it's been great both times.

Lisa

Huntington, WV

"A Great Retreat"

My husband and I stayed at Cajun Hideaway for 4 nights and wish we could have stayed longer! We love visiting The Smokies! We got married in Gatlinburg last year so returning this year to celebrate ou

…

r 1 year anniversary was very special to us. This was the 2nd time we stayed at one of Elk Springs Resort's cabins and we were very pleased. The best part about this cabin was the view! It was so peaceful looking out the windows and gazing upon the mountains. The only "bad" thing about this cabin was that the hot tub was on the bottom floor and not on the main deck with the living room, kitchen, dining room, etc. This cabin is near other cabins, but is still private. Specifically, it is located off of highway 321 so it is near enough to Gatlinburg to be convenient, but far enough away that you don't have to worry about all the congestion and traffic. Lastly, the customer service at Elk Springs Resort is phenomenal as well! We accidentally left behind a Redbox movie and they said they would return it for us without any issue!

+ Read More

Deanna

Atlanta, Georgia

"Enjoyed our stay!"

The cabin was in excellent condition and very clean! They provided everyday essentials like hand soap, dish soap, paper towels, cookware and was like home away from home. The view was breathtaking! S

…

howers had great water pressure too. The only thing I would comment on is that we did not see sheets for the pullout sofa in the loft.

+ Read More

Justin

Dunedin, FL

"Cajun Hideaway"

Excellent cabin site, very clean, excellent amenities and condition. Enjoyed the trip from start to finish. Great hikes, hot-tub, comfortable bed, unbeatable.

Chris H.

Memphis, TN

"Great location to spend a rainy week!"

Cajun Hideaway was all that we expected! The location is very good with a wonderful view. The cabin was clean as expected. The checkin and checkout process was really quite easy and we had no diffi

…

culties even with a rather late arrival time.

This unit is located on a circle drive along with several other cabins (managed by various companies). You can see a few other cabins from the deck, but they are far enough away to still feel rather remote and private.

We were planning to spend a lot of time as a family watching movies and playing games so the rain that we experienced didn't change those plans at all. The entertainment center equipment in Cajun Hideaway is top notch and we enjoyed lots of movies together with a view of the mountains right out of the window.

The kitchen is well stocked with all of the essential cooking gear and there is a gas grill out on the deck (but not on the covered part of the deck so it was a bit hard to grill in the rain).

The two bedrooms and main two baths are downstairs but there is a half bath just off of the living room.

The girls enjoyed the hot tub but it is on the lower deck where the view is a bit more restricted compared to the main deck.

The parking area is excellent and flat, but there is a rather steep drive up to the cabin.

We'll likely come back to Cajun Hideaway again rather than look for a new cabin. It was really top notch!

+ Read More

James S.

Douglasville, Georgia

"Cajun Hideaway"

We enjoyed our three night stay in Cajun Hideaway.

The cabin was clean, furnished very well and everything worked as it should. We love coming to this area in February in hopes of seeing a little

…

snow. It snowed all three nights we were there. On our day of departure the maintenance firm had our road plowed so we could get down the mountain safely.

The Elk Springs Resort management was very professional, check in and out was the easiest we have experienced.

+ Read More

Gerald P.

Bloomington, IN

"Thank You"

We experienced a power outage, snow & ice, delays on the cabin, frozen water lines, folks going off the road and blocking the passage to the cabin. For all the trouble, the folks at ElkSprings did ev

…

erything in their power so we could have a fantastic time and we DID!!! We had military friends flying in from Texas. They had an amazing time at Cajun Hideaway. It was a truly great adventure and wonderful cabin. I had to give a 4 star on cleanliness only because the hot tub couldn't be cleaned due to frozen lines.

+ Read More

Christina K.

Mishawaka, IN

"Pretty secluded and great view - just what we had asked for"

We had a wonderful time staying in Cajun Hideaway. This was our second time staying with Elk Springs. This cabin is farther out from town, but feels much more secluded than being right on the resort,

…

and the views were amazing even on the dreariest of days - one day we were able to watch the snow accumulating on the mountaintops across the way. There are still a couple of cabins in site, but situated so you don't feel like you are on top of one another. I would agree with previous reviews; if you have never been there, it is definitely best to arrive in the daylight. The surround sound system was a nice touch. The only two negatives were that the hot tub is down on the lower floor and on the opposite end of the deck from the door (only a slight inconvenience making that walk (run) when it was 20 degrees outside). We wished there was a door closer to the grill. That was just being picky though and it was colder when we stayed. Probably wouldn't have thought much about it if we had stayed in the warmer months. We would definitely stay here again and recommend it to our friends.

+ Read More

Robert

Seminole, FL

"Heaven on Earth"

Fantastic View,
Great Hideaway,
Very relaxing,
in a fantastic home you don't want to leave.

Cynthia

Fulton, MS

"The TRIP!!!"

My husband, me, and another couple planned this trip last March! We girls had been counting the weeks!!! We were so excited! We left early on Nov. 2 with the guys following later. While we were e

…

ating lunch in Chattanooga, Tn....I recieved a call from Elk Springs informing me that due to an unexpected snow and power outage.....our cabin would not be ready. My heart sank... But the sweetest voice assured me that we would have a cabin and that she would emai, me directions to it. Michelle had made my day!!! She had reserved a 5 bedroom cabin....wow!!! We got into the car and headed to Gatlinburg...BUT BEFORE we arrived in Townsend.....Michelle called and said everything had worked out....our original cabin would be ready! Oh boy, we were thrilled and then I recieved another call....cannot remember her name but she was from Mississippi like us and knew where we were from! What wonderful people Elk Springs has!!!! Absolutely would recommend them to all and our cabin was marvelous!!! We stayed at Cajun Hideaway......everything was perfect!!! The four of us are planning another trip next year and are hoping another couple will come along!!! Just as soon as we know......I am emailing Elk Springs!!!!!

+ Read More

Beth C.

Knoxville, TN

"Loved it!"

We loved the cabin, location, and especially the view!

Larysa

Bradenton, FL

"Cajun Hideaway "

Very easy and pleasant booking. The cabin has a remote location which gives you a feel of privacy. You cannot beat the view. It's just breathtaking. Cabin was very spacious, clean and cozy. I would re

…

commend the kitchen upgrade (however everything was working). We would definitely recommend this cabin.

+ Read More

Cindy H.

Wesson, MS

"Great cabin with beautiful mountain view! "

We had a wonderful time. The cabin was beautiful and the mountain views amazing. . The kitchen had everything we needed, hot tub was relaxing, and we really enjoyed the surround sound.

Michelle P.

Chesapeake, Virginia

"Nice break from reality"

If you want a view from your cabin, then no others will beat this one! All you see is the great mountains in front of you. Even when you are in the den/kitchen, you can see that great view. It was a great escape from reality.

Kyle W.

Warsaw, IN

"Cajun Beauty"

The cabin is everything you expect and more!

John T.

Lady Lake, FL

"Smoky Mountain Retreat"

Exceptional experience.

Michael G.

Montville, NJ

"From the cities of New Jersey to the mountains of Tennessee"

Words cant capture the Cajun Hideaway cabin. We were like little kids in a candy store. We spent the first 45 minutes running through the cabin in awe and appreciation. Then we stepped outside to the

…

deck. All 4 of us - quiet- thrilled- overwhelmed- the Smokey Mountains! Thank you for a vacation experience we will never forget.

+ Read More

Pete

Valparaiso, IN

"Relaxing Getaway"

Absolutely loved our stay there! It was exactly what we needed for a couple days! The cabin was very clean and had a great main floor layout that was open with serene views. Property management compan

…

y was very helpful. Felt safe with the security doors. Just a heads up cell service is a little choppy and don't rely on GPS.

+ Read More

ruben l.

fredericksburg, va

"We really like the cabin"

The place was more than expected.... you will like all the amenities and the view from the deck is amazing !!! we are already planning our next visit to Gatlinburg and staying at the facilities.

Michelle S.

Clinton Township, mi

"immaculate cajun hideaway"

The cabin was immaculate, location was amazing, we had a wonderful time just soaking in the views inside and out. We went ziplining at Climbworks less than 5 minutes from the cabin which was also amaz

…

ing! So many things to do so close by made the trip memorable. very highly recommended!

+ Read More

Tance

Youngsville, LA

"Great trip"

My family and I had a wonderful time. We have full intensions on taking another trip.

Tom D.

Huntersville, NC

"Review"

Great cabin, private location. Excellent features - Hot tub, pool table, great space, nice views. Takes about 20 minutes to get into town, so better for folks looking for seclusion. Really enjoyed our stay and will be back.

Dwayne M.

Grand Rapids, MI

"Great Family Vacation Stay"

This was my family's first trip to Gatlinburg and we could not have asked for a better location to stay. Beautiful setting and views, isolated enough from heavy tourist traffic but close enough to ac

…

cess the many day trip activities that Gatlinburg and the Smokey Mountains have to offer. Any support needs for the cabin (and we did not really have any) was a quick phone call away. Would highly recommend this cabin and Elk Springs Resort to anyone traveling in the Gatlinburg area.

+ Read More

Noora L.

Charlotte, NC

"LOVE these cabins!"

This was our second time staying at an Elk Springs Resort cabin, and it was just as wonderful as the first. I have already recommended these cabins to all my friends, and plan to visit again! The pict

…

ures are a very accurate representation of what you get.

+ Read More

Melissa

Humboldt, TN

"Cajun Hideaway"

This is a cute little cabin for a quiet get away. The only problem we had was the hot tub was not heating up like we though it should. I spoke to the managment company about it and they had a hot tub

…

repairman out to the cabin within a couple hours and by the time we made it back from Gatlinburg that night, the hot tub was ready to be enjoyed.

+ Read More

Paul R.

New Market, TN

"Perfect!! "

We were worried that with the snow coming in we wouldn't be able to make it to the cabin. Thankfully they had treated the road to the cabin & it was easy to get there. The view was absolutely amazing!

…

! The cabin was spotless. You can tell it has been taken good care of. The bed was so comfortable! The kitchen has everything you would need or want for your stay! The jacuzzi & hot tub were the perfect touch & the fireplaces add to the romantic feel of the cabin. We will definitely stay here again & we can't wait until next time!!

+ Read More

Ishpreet C.

Louisville, KY

"A grade"

Great experience...

Brian H.

Savannah, GA

"Thanksgiving Snow "

This was the First time The wife and I rented a cabin, been looking for bout 3-4 yrs. to rent one thanksgiving week. well we finely did it. and guess what it SNOWED that weekend. awesome. It really wa

…

s breath taking. The Cabin was a real surprise. Not knowing what to really expect, booking something on the internet is kinda scary. My fears were put to rest. The Cabin Was awesome really a gem. The bed sleep well. . There were plenty of room For the Four of us. The View was amazing. We didn't use the amenities for we was in town most of the Day. But they were there. Pool Table, Hot Tub ( Nice an warm we checked )Videos need to be updated. We Will definitely be booking again with Elk Springs Resort. It Was a Wonderful Thanksgiving & Birthday weekend. Stop Procrastinating and go ahead an book with elk springs you'll Love It.

+ Read More

Dana M.

Findlay, Ohio

"Vacation in the Smokies"

Very quiet and relaxing, very nice cabin.

Tiffany B.

Seymour, IN

"The cabin was such a retreat away but close enough to downtown "

We all enjoyed our stay. The cabin was beautiful and the nature around us was breathtaking. We were able to cook meals there and relax but we also were close enough to downtown gatlinburg that we did

…

shopping and dining there too. We have already said we want to make this an annual trip and hopefully lucky enough to book Cajun Getaway again

+ Read More

John

Mt. Prospect, IL

"Anniversary Getaway "

I would highly recommend a getaway in the Cajun Hideaway. Look forward to coming back soon with the family.

Pavitra T.

Charlotte, NC

"Very nice Stay"

Very nice Stay, want to come again.

Debbie M.

Essex, ON

"great stay"

cabin had everything we needed and more.
Always a good experience dealing with Elk Springs.


Donald V.

Manassas, VA

"Wonderful location"

This is the 2nd time using Elk Springs Resort. They have been excellent both times and both properties were exceptional. I highly recommend them for a relaxing adventure.
Load More Reviews