Amenities:
Full Kitchen

Gas Grill

Hot Tub

Iron / Ironing Board

Parking

Theater Room

Washer/Dryer

WIFI
If you want to enjoy the beauty of Smoky Mountains while watching the big game on a theater screen? Look no further than Buckwild! This three bedroom cabin is perfectly nestled in a remote area of the resort with an amazing mountain view. Buckwild features a home theater system with 8 foot theater screen! Escape to the private deck high up off the loft where you can sit under a covered roof and enjoy the mountain views. If buckwild is available, we recommend booking it to take advantage of these unique amenities.
Cabin Bedrooms Layout
Master Suite 1

King Bed
Sleeps 2
Master Suite 2

King Bed
Sleeps 2
Master Suite 3

King Bed
Sleeps 2
Loft Sitting Area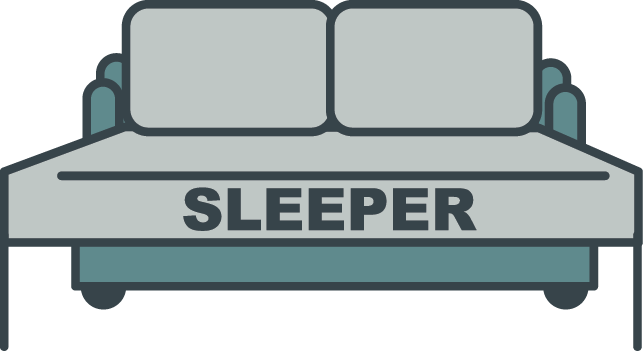 Queen Sleeper
Sleeps 2
Game Room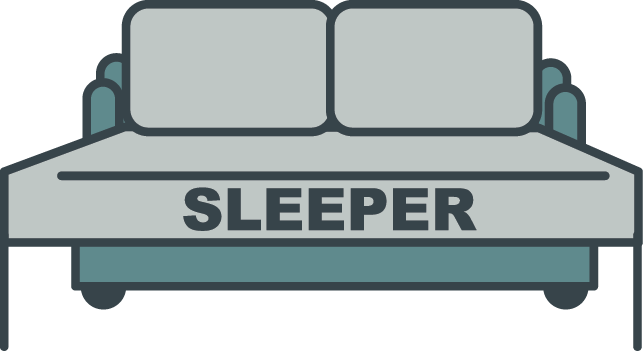 Queen Sleeper
Sleeps 2
Full Description
Want to get away to a Gatlinburg cabin rental that offers views, quiet sitting areas, a home theater room, pool table, arcade game with over 100 games - and 3 separate gathering areas on three separate levels? Buckwild is a visitor favorite for all these reasons.

Enter on the main level with large stocked kitchen, dining area and breakfast bar. The adjoining great room with 28 foot faulted ceiling, wall of glass and gas fireplace is a perfect place to gather on the upgraded leather seating. A master suite with full bath is tucked away on first floor just beyond the kitchen area.

Head upstairs to the loft sitting area with TV, private covered deck and additional master suite with king sized bed private bath. You'll admire the beams and woodwork in the steep pitched ceiling.

Head downstairs to the game room with pool table and 8 foot theater screen. Enjoy a free game on the Arcade legends with over 100 games to choose from. A third master suite with full jacuzzi bath and plenty of room to spread out.

The mid level deck features a hot tub and gas grill. A stack washer and dryer and free wireless internet are included for your convenience. Free local and long distance calling.
Theater Screen with 8 Foot Screen & Surround Sound
Arcade Legends Stand Up Arcade Game with 100 Games
Hot Tub
Pool Table
Jacuzzi Tub
Free High Speed Wireless Internet
3 King Sized Beds
3 Full Baths
1 Jacuzzi
2 Gas Fireplaces
6 Rocking Chairs
6 TV's
6 DVD Players
Washer/Dryer
Gas Grill

Calendar
Click your dates below to check in and check out
Available
Check In Only
Check Out Only
Selected
Unavailable
Photo Gallery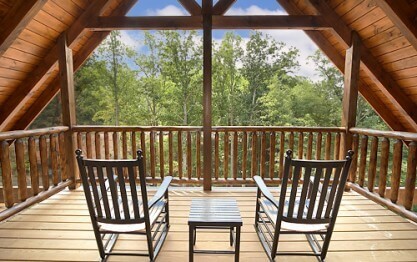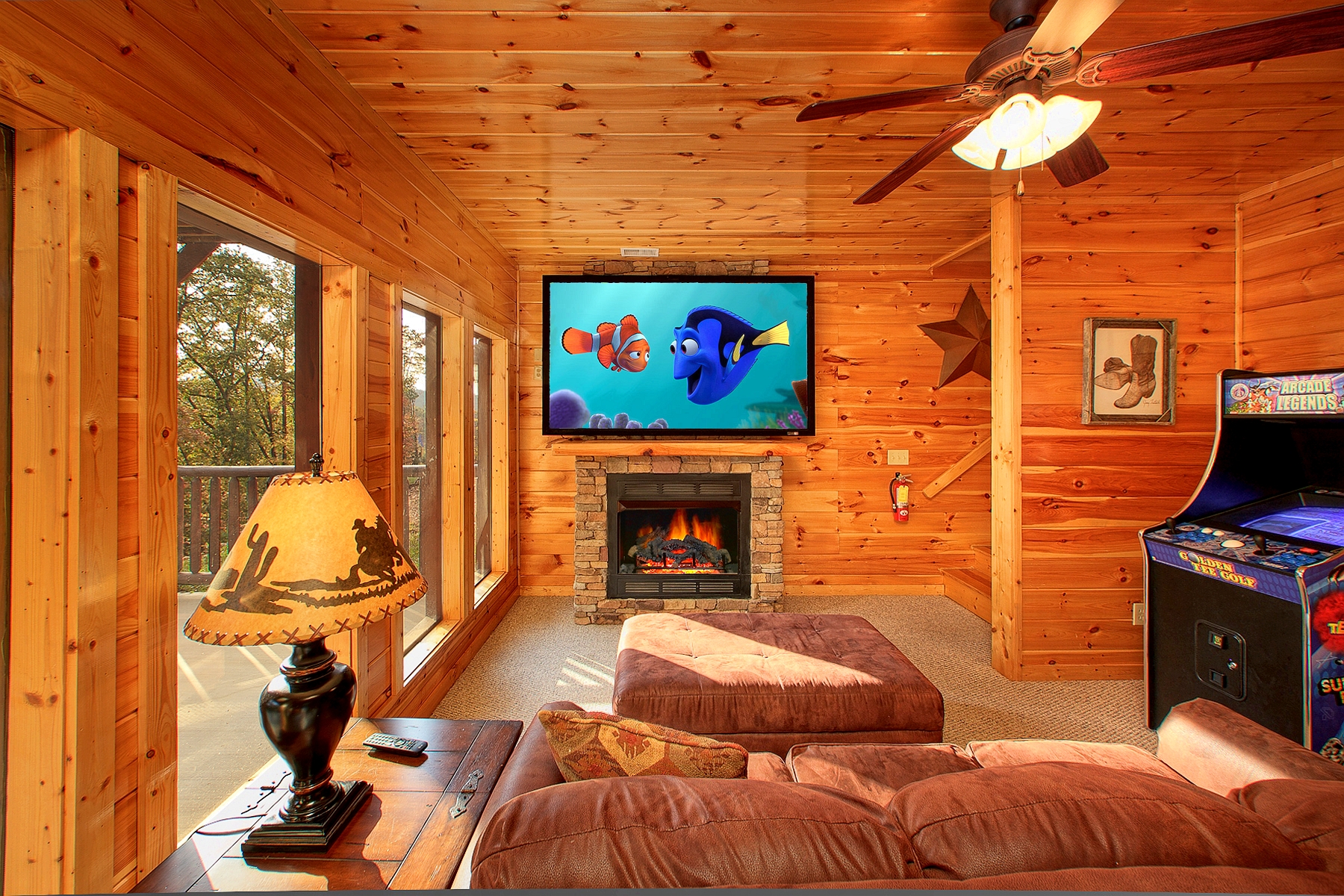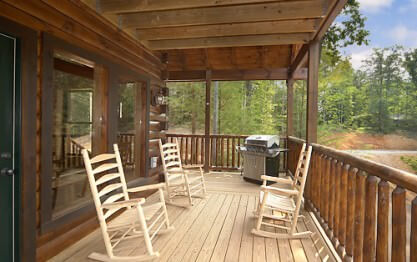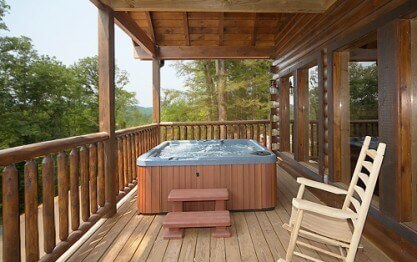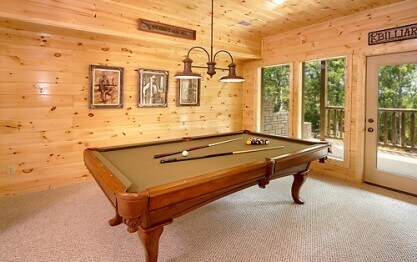 See All Photos
Reviews
Tiffany D.

Indianapolis, IN

"Peaceful and Relaxing"

My experience was amazing the cabin was better then what I imagine. There was plenty of space for everyone in my party. Beds were very comfortable and cabin was very clean. We will be going back my family really enjoyed it!

Manager Response:

Thank you for the 5 star review, Tiffany. We are pleased to hear that you had a wonderful experience with your family. We hope to see you again soon. Be sure to mention that you are a repeat guest at the time of your next booking and you will receive an automatic 10% discount.

David D.

Decatur, GA

"Wonderful Cabin in Peaceful Setting"

This cabin is the great escape for a 3-day weekend (or more-day weekend). It has everything you need for entertaining a group of 12. The setting is perfect, well-secluded, yet only minutes from downto

…

wn Gatlinburg and the Smoky Mountains. Our group had a blast, as we went into downtown Gatlinburg on Saturday, and then did a super day-hike in the Smokies on Sunday. We couldn't have asked for a better set-up. The cabin is clean, well-appointed, and comfortable. It is a perfect spot and we hope to return sooner rather than later.

+ Read More

Manager Response:

Thank you for allowing us to be a part of such a wonderful get-away, David! We certainly agree! Buckwild is the perfect cabin to enjoy easy access to all our area has to offer. We would consider it an honor for you to stay with us again. Please keep in mind, as a returning guest you will enjoy 10% off all future stays. Hurry back, your next adventure awaits!

Vanesha P.

Columbia, SC

"Where Unforgettable Memories Are Born"

My friends and I couldn't have asked for a better place to just relax and celebrate a friend's birthday in the mountains. The place was gorgeous, comfortable, and cozy. The fireplaces were just what t

…

he doctor ordered after coming out of the jacuzzi or enjoying the fresh crisp air early in the morning or late in the afternoon. There was an issue with the fireplace (or perhaps we didn't know how to work it) but maintenance responded within 20 minutes. The layout of the house was perfect, giving everyone enough privacy but not so much space that you feel seperated or disconnected. How dare I not mention the neighborhood and community. The neighbors and folks in town were AWESOME!!! They were all so welcoming and helpful. We were so close to everything- shops, galleries, shopping, outdoor activities,and etc.! Oh yeah, dont forget to go moonshine tasting!!!! Nothing but great memories and fun times at this place. We will return in January!

+ Read More

Manager Response:

Thank you for allowing us to be a part of such a special get-away, Vanesha! We are excited to hear you enjoyed so many of the amenities at Buckwild. This cabin was certainly built to entertain! Thank you for reaching out to us when you were having an issue with the fireplace. We welcome the opportunity to assist you during your stay. We want each stay with us to be exceptional. We hope you will consider making Elk Springs Resort your new home away from home when visiting Gatlinburg. Please keep in mind, as a returning guest you will enjoy 10% off all future stays. Hurry back, new memories are waiting to be made!

Latania L.

Alpharetta, GA

Manager Response:

Thank you for your kind review! We are thrilled to hear you had a great stay. Please come back and stay with us again soon!

Patrice S.

Naperville, IL

"Great family get-away!"

This cabin and surrounding area provided a great escape for our family. We enjoyed that it wasn't on the main strip in Gatlinburg, yet close enough to allow us to travel to each of the activities we c

…

hose throughout the week. Loved having a washing machine (family of 6) and kitchen area to make a few meals each day and offer snacks. (P.S. Enjoyed hiking chimney tops, horseback riding--saw bear, white water rafting and zip lining, plus having some quality downtime--lots to do!).

+ Read More

Manager Response:

We are thrilled you and your family had an exceptional stay, Patrice! It sounds like you chose the perfect cabin to enjoy some quality time with your family. We hope you will make plans to come back and see us again as often as you can. Hurry back, your next adventure awaits!

Kunal R.

Pittsburgh, PA

"Buckwild - a little bit of everything"

We had a great time at Buckwild cabin. Highlights included the hot tub and deck, video arcade game, pool table, air hockey table - all of which got plenty of use. The proximity to the GSM was perfect

…

and being away from the Gatlinburg strip was clutch. The Elk Ridge community was nice - you never feel too close to your neighbors. The rental experience was easy and the cabin was well kept.

+ Read More

Manager Response:

Thank you for your kind review, Kunal! We are happy to hear your stay was exceptional. We enjoyed having you as our guest and hope you will make plans to stay with us again!

Roshni

Plano, TX

"Elk Springs is awesome"

We stayed at the buckwild cabin for 3 nights. The cabin was beautiful, cozy and welcoming. We had a great time there. We wish we had seen some bears though :)

Manager Response:

We are delighted to hear you enjoyed your stay, Roshni! We are sorry to hear you did not see any bears while you were here. We would like to recommend visiting Cades Cove during your next visit. Please keep in mind, if you do come in contact with bears as they wander freely in their natural habitat, always stay at a safe distance and do not feed any of the local wildlife as this is strictly prohibited. We hope you will come back and stay with us again during your next visit to Gatlinburg. We hope to see you again soon!

Andrea

Tinley Park, IL

"Perfect Family Vacation"

Stayed in "buckwild" cabin with our 5 kids. We all had a fantastic time and would definitely come back again :-)

Manager Response:

Thank you for allowing us to be a part of such a wonderful family vacation, Andrea! We are happy to hear you and your family had a great time. Buckwild is the perfect, family friendly cabin that is in the perfect location to enjoy all that our area has to offer. We hope you and your family will make plans to come back and see us during your next visit to Gatlinburg.

Lawrence R.

Oak Lawn, IL

"cabin review"

The cabin was everything we were told. Very clean,up to date. the staff was very professional and helpful. Judy at the office was great and made sure our stay went as smooth as possible .I would reco

…

mmend this to all my friends. thanks for a great time

+ Read More

Manager Response:

Thank you for your kind review, Lawrence! We strive to ensure that each and every visit to Gatlinburg is exceptional. It sounds like we succeeded! We provide 24/7 guest assistance during your stay to ensure that you are spoiled from start to finish. Thank you for acknowledging Judy, she certainly loves assisting our guests. We hope you will consider staying with us during your next visit to Gatlinburg.

Howard

Detroit, MI

"The Best Stay in Gatlinburg thus far!!"

This is my 3rd time visiting Gatlinburg, but my family's 1st. I've tried different cabin rental companies each stay, and Elk Springs by far, is the best I've had. Our cabin was "Buckwild", and it was

…

perfect for us. The layout was great, and everyone had their own comfortable space. Very clean, beautiful views, and the staff was VERY courteous, making sure we had all we needed, and that we were comfortable. Great job! I look forward to utilizing Elk Springs on future trips!!

+ Read More

Manager Response:

Thank you so much for this wonderful review. Our customers satisfaction is our number one goal here at Elk Springs! We do hope that you have made plans to stay with us again in 2017! If not, give us a call! We look forward to hearing from you!

Vickie

Natchitoches, LA

"Pre-Thanksgiving Vaca"

Our family of 8 adults and 2 toddlers thoroughly enjoyed staying at Buckwild. The view was gorgeous and we especially liked the separation (privacy) from other cabins. There was plenty of parking for 3 vehicles. We hope to return next year.

Manager Response:

Vickie, thank you for the positive review and for sharing your experience with us. We value your business and offer our repeat guests a 10% discount off future stays. We look forward to having you back again next year!

Lauren

Cincinnati, OH

Manager Response:

Thank you for your feedback Lauren. We are pleased that you enjoyed your stay.

Charles C.

Roselle, IL

"Amazing Time"

We did a trip with some close friends and 3 kids 2 and under and it was great. The cabin is amazing and has everything you need. Plenty of room and tons of amenities. It was clean and well-maintained,

…

only a couple minor things that needed to be fixed. The owner and manager were checking in before, during, and after to make sure we were set with everything. I would totally recommend and will plan on coming back very soon. We did mostly hiking and it is beautiful. We also checked out the downtown area and it is very nice. Grocery store only 10 minutes away. We had a wonderful stay and will be back!

+ Read More

Manager Response:

Sharing a trip with friends and small children can be stressful. We are glad to hear that your trip exceeded your expectations! We make sure our cabins are well stocked, cleaned and maintained to provide you with a home away from home experience. It sounds like you all made an excellent choice with this cabin and the resorts' close proximity to all the local attractions and area amenities.

Guy J.

Brandon, Mississippi

"Comfort in the Smokies"

On arrival, we found everything to our liking Super easy check-in only requiring a phone call. Secluded, but still very close to it all Near the Glades arts and crafts area Very comfortable Will rent from Elk Springs again!

Manager Response:

Thanks for another 5 star review from a satisfied guest! We are very pleased to hear that everything was to your liking. We look forward to having you back for a visit in the near future!

Barbara D.

Blairsville, GA

"Family vacation!"

This wa sour first family vacation after our sons marriage to a wonderful girl. Our plan was to go to the beach but with the dates we all could attend, the mountains was where we changed our plan too.

…

.. What a wonderful experience !! From the moment I called, until the end of our stay, it was nothing but wonderful. Early mornings sitting on a choice of covered porches, eating meals around a table large enough for all six of us, playing games, sitting in the hot tub, taking walks or just a good nights sleep, it was great! They even called to make sure we had everything we needed and our experience was good????


+ Read More

Manager Response:

We are glad you enjoyed your stay. Don't forget that you can receive 10% off a future stay as a repeat guest.

Danielle V.

Ellenton, FL

"Buckwild Beauty"

We had a wonderful time. We are looking to make this an annual tradition. We are also looking forward to the new cabins being built!

Bridgette B.

Summerville, SC

"Best vacation ever"

It was a great vacation experience.

Evelyn

Clearwater, FL

"Family Winter Vacation"

Great Groupon purchase and a wonderful 4-night stay in the Buckwild 3-bedroom cabin. Snow on the first morning was icing on the cake! Our cabin was less than 10 minutes from downtown Gatlinburg wher

…

e we enjoyed the sights and, best of all, snow tubing at Ober. About 20 minutes in another direction was Foxfire Mtn. where we did some light hiking on a chilly but beautiful TN morning. The cabin was beautiful...3 stories with 3 bedrooms & 3 bathrooms, a great kitchen and lots of room to relax. Our 4-yr-old grandson thought we were in a tree house! The Elk Springs staff was always helpful, from the time of booking until we checked out. Definitely plan to make another visit to Elk Springs Resort.

+ Read More

Bobby A.

Odessa, FL

"ELK SPRINGS ROCKS AGAIN!!!"

This is our 5 year staying with ELK SPRINGS and we will be back.We stayed at Buckwild for 10 days and did not want to leave!! We have stayed at a different cabin from ELK SPRINGS every time and have n

…

o issues.All of there cabins are spotless and very well maintained.I even try to look for issues and can't find anything wrong.The cabins are always spotless and everything in working order.Buckwild had plenty of room for the kids to stay busy.We loved the Theater room it was so cozy.The views from Buckwild are breath taking.Buckwild is more private then the other cabins near by(not on top of each other).Check in and check out was awesome we never had to go to any office,they call you with a door code and on check out they just tell you to lock up and have a safe trip home.They even called us to see if we needed anything after we were there for the day.Our family is already getting ready to book our next trip to ELK SPRINGS.Keep it up Elk Springs!!!!!!!!!

+ Read More

Joseph S.

Marlton, NJ

"Buckwild Cabin"

10 Stars.

Daoguo Z.

West Lafayette, IN

"Better than expected"

It was much bigger and cleaner than anticipated. We had a great time. The check-in and check-out was smooth and easy as well.

Christy B.

Hebron, KY

"What a Great Stay!"

Despite it being a rainy weekend we had such an enjoyable trip. The accomodations were great, clean, and welcoming.

Mattie M.

Noblesville, IN

"Pure relaxzation"

I stayed at Buckwild cabin and had two other couples with me, we loved the cabin except for a few renovations it looked like the owner was working on but all in all it was great and the location was e

…

xcellent. I will definetly return to the cabins I'm working on putting together another trip for adults only and experience all the love that is for me. Thanks Elk Springs Love Y'all.

+ Read More

Justin

Clarksville, TN

"Buck wild on the 4th of July"

The cabin was very clean and ready to go for us a few hours early. It truly was a great experience and allowed for a more relaxing vacation.

Constance G.

High Point, NC

"Family Fun Getaway"

This was our first experience statying with Elk Sping Resort. The staff was professional adn check in was a breeze. The cabin was wonderful, clean and lots of things to do from palying pool to relaxin

…

g in the jacuzzi. My family and I really enjoyed our stay and plan on using Elk Spring for future bookings.

+ Read More

Melissa R.

Lafayette Hill, Pennsylvania

"Great getaway "

We spent 2 nights in the Buckwild cabin and had a great time. The kids had a blast with the arcade game, pool table, air hockey table and of course the hot tub. There was plenty of space to hang out. We'll be back again!

Kathleen H.

Fortson, GA

"Nice & private cabin"

very nice cabin (just missing the view of the surrounding mtns)

Charles H.

Greenville, SC

"Fun times in the mountains "

it was a very nice experience. We enjoy playing pool and watching movies on the projector screen. I would definitely refer Elk Springs Resort to those who have never been. It was really refreshing to

…

wake up and look out your door to the view of the mountains. We hope to come back in the fall for an even longer vacation.

+ Read More

Kelly S.

Louisville, KY

"Beautiful Upscale Property"

Beautiful, clean, secluded, and comfortable. Very spacious, great kitchen, and nice hot tub. Easy to find and close to downtown Gatlinburg. We would definitely book with Elk Springs again!

Susan

Mandeville, La

"PERFECT MOUNTAIN GETAWAY"

We will definitely be back to Elks Spring. The Buckwild cabin was perfect-very clean, plenty to do, and great mountain view. Kids loved the arcade game and air hockey. Bed was very comfortable. Kitch

…

en well stocked with everything needed for cooking. This cabin was in great location in Elks Spring, not too close to other cabins and high enough for a great view of the mountains but without a scary drive. The downtown area was only minutes away and an easy drive to store and sites. The whole rental process was a breeze. We loved our experience and highly recommend this cabin and Elks Spring.

+ Read More

Charles T.

Charleston, SC

"Weekend Adventure"

We had 4 adults and 4 toddlers and the cabin was great for all. There was plenty of room and activities there in the cabin. There aren't many activities for toddlers in Gatlinburg so the cabin was critical.

Peggy L.

Goodlettsville, TN

"Christmas in the Smokies"

My family and I stayed at Buckwild in the resort. The cabin was beautiful, had ample room for 3 families and my grandchildren throughgly enjoyed the arcade game, pool table, and hot tub (grandchildre

…

n called it their hot pool). I would recommend more closet space in the cabin as the first level did not have a closet at all and more dresser space as their was not a dress or chest in two of the bedrooms. Overall, a wonderful trip was had by all and would highly recommend this cabin. Thank you.

+ Read More

Fran A.

St. Marys, GA

"Great Place"

There were a few maintenance problems when we first arrived. Called the
property management, they responded very quickly and resolved the problems
immediately. The cabin had very nice amenities and we enjoyed everything.

Chase W.

Knoxville, TN

"Great Experience at Elk Springs Resort"

We had a great stay at Buckwild at Elk Springs Resort. Our cabin had been damaged by water prior to our arrival. The staff and owners at Elk Springs Resort were very professional and helpful in provid

…

ing a remedy to the problem. In particular, Patrick was very helpful. We have stayed at Elk Springs Resort before, and we hope to continue staying at the resort during future trips to the area because of their wonderful cabins, great property/location, and excellent customer service.

+ Read More

Theresa

Springfield, IL

"Absolutely loved it!"

Everything we expected it to be! Went there for a girls weekend and had a blast. We cannot wait to go back!

Linda

Cameron Park, CA

"Great Property"

Very comfortable. Enjoyed the separate living spaces. Just the right distance from other properties.

Mattie J.

Rochester, NY

"home away from home."

loved the way the sleeping area is set up. loved the decks on each level the view is amazing!

Wanda C.

Harrisburg, OH

"THE COX , HARTMAN ,AND PRICE FAMILY"

our vacation was great very nice cabin plan on coming again

Ivan

Platte City, MO

"Perfect for a family reunion"

We had a wonderful 6 night stay at the Buckwild property. The cabin was extremely clean and smelled like new upon entering. The kitchen was stocked with everything you need to cook, there is plenty o

…

f privacy for each family, and we look forward to going back in the future.

+ Read More

Anthony

Burlington, ON

"Great place"

we will be back next year

Pam C.

Louisville, Ky

"Will definitely stay again!"

Wonderful place to stay. When we called maintenance about a hot tub issue, they were there within 10 minutes to assist! Love Buckwild as it seems to be the most private of the properties.

Michael

Hollywood, FL

"Better than expected"

We had never been to Tennessee before and this was our first experience with a cabin. From the instant we walked into our cabin, BUCKWILD, we felt so much at home. The photos online didn't exaggerat

…

e the cabin. We ran into a couple maintenance issues and there were handled post haste and without question. From the reservation agent to the checkout process, we could not have asked for a better experience and will plan on returning again. Don't hesitate to complete your plans if you are considering this experience.

+ Read More

John C.

Hiram, GA

"Buckwild Stay"

Overall stay was perfect, the cabin was in great condition with the exception of the video games not working. Had a wonderful time and can't wait to return.

Bradley

Galax, VA

"Wonderful Cabin"

Great visit. Will Definitely stay at the same cabin next winter.

Kim A.

Mooresville, NC

"Girls Weekend"

We had a great girls weekend in Gatlinburg. Enjoyed our stay at Buckwild. In the heart of the Artist community but close enough to town. Everything you need is close by. Ate at a great place about 3 minutes called Three Jimmy's. Would stay again!!

Bill M.

,

"Great Stay"

I wish we would have had the rest of the family with us...but then again I did get to play with all the games myself, and I did not have to fight for the pool table, air hockey or the air jet bath tub. We will go again.

Yasmany

Miami, FL

"Wonderful vacation!!!!"

Great

Matt

Brighton, MI

"Great stay in Buckwild!"

We have always driven through Tennessee on our way to Florida. Last September we made a last minute reservation to actually spend time in Tennessee and found Buckwild at Elk Springs Resort. The check

…

in process was easy and smooth and the cabin was awesome! We were torn between sight seeing and hanging out in our cabin because the cabin was so comfortable and nicely decorated. While in the cabin we felt miles away from civilization but we were still only minutes away from the grocery store and a few restaurants and only a few more minutes from downtown Gatlinburg. Everything was in excellent working condition including the water pressure! We can't wait to get back again and we hope that Buckwild is available.

+ Read More

Gary B.

Maryville, IL

"fall 2012"

very nice cabin enjoyed it very much. the only thing ican say towards improving the stay was needed more towels per bedroom thats about it great cabin and experience will be back again thank you Gary l Burton

Cynthia

Dunlap, IL

"Buckwild"

Wonderful property! We hated to leave!
Load More Reviews