Amenities:
Full Kitchen
Gas Grill
Honeymoon
Hot Tub
Iron / Ironing Board
Washer/Dryer
WIFI
Maybe the best hot tub view in the resort! Beary Cozy well describes how you will feel in this cabin after spending the day in the Great Smoky Mountains National Park or all the other Gatlinburg and Pigeon Forge attractions just a short distance from Elk Springs. Come home to Beary Cozy, maybe stopping first in the Arts and Crafts Community, and then enjoy some time on the balcony - what to do first? - maybe the hot tub, maybe dinner on the gas grill.
Cabin Bedrooms Layout
Great Room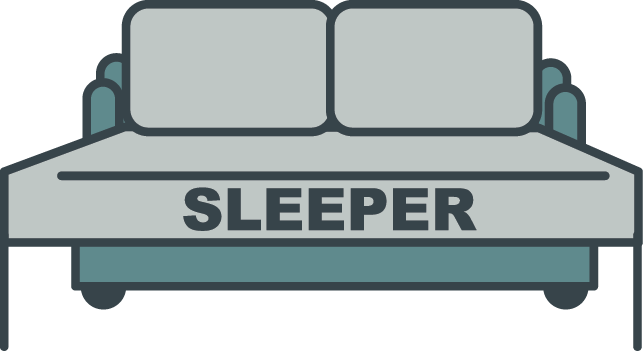 Queen Sleeper
Sleeps 2
Master Suite 1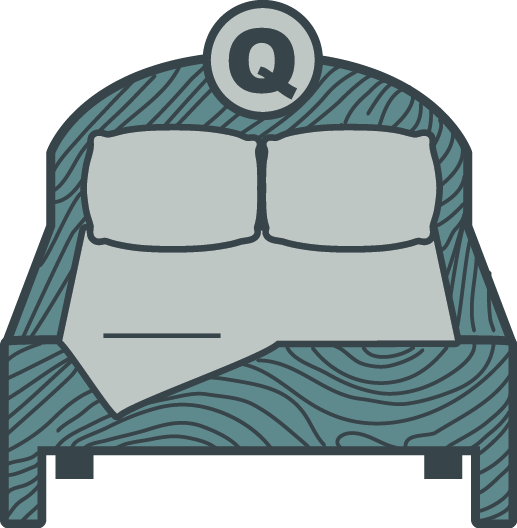 Queen Bed
Sleeps 2
Master Suite 2

King Bed
Sleeps 2
Full Description
A chalet floor plan, Beary Cozy offers vaulted ceilings and a center fireplace with floor to ceiling glass on either side. Enjoy a beautiful view of the valley and meadow below. You can spread out on the comfortable sofa and enjoy a fire in the gas fireplace or watch TV on a flat screen TV.

Your stainless steel kitchen is fully equipped for cooking and dining - all the pots and pans you will need and small appliances too are provided. A stainless steel gas grill is located just out the door on the deck. Enjoy your coffee each morning on the balcony - there's nothing like it! A convenient breakfast bar or table and 6 chairs offer comfortable dining options.

The main level includes a queen master suite beautifully furnished and a full bath with a tub/shower combination is located off the bedroom hallway.

The upper level features a king bedroom master suite with an attached private bath with tub/shower combination. Shoot a game of pool in the loft game room with flat screen TV and pool table for your enjoyment - there is room for everyone in Beary Cozy!

Finally, head out to the deck where you will find your own hot tub with wonderful view of the valley. What a perfect way to end a day of hiking or Shopping!

Free wireless internet and a washer/dryer are provided for your convenience.

Hot Tub
Pool Table
Free High Speed Wireless Internet
Gas Fireplace
2 Rocking Chairs
4 TV's
4 DVD Players
Washer/Dryer
Gas Grill
Deck Overlooking Valley
Vaulted Ceilings
Flat Parking
No Steps into unit
20 Minutes to Dollywood
8 Minutes to Downtown Gatlinburg
5 Minutes to Greenbrier Entrance to National Park
Calendar
Click your dates below to check in and check out
Available
Check In Only
Check Out Only
Selected
Unavailable
Photo Gallery
See All Photos
Reviews
Mary T.

Dahlonega, GA

"Nice and Quiet"

We were looking for a place to allow us to be together with our son and is family but that was not just two hotel rooms. The cabin was a wonderful place that allowed the 2 year old to be "rowdy" with

…

out having to worry about upsetting neighbors. It was perfect for our needs.

+ Read More

Manager Response:

Thank you for allowing us to be a part of such a special family get-away. We are happy to hear you enjoyed your visit with us. We specialize in providing cabins that every member of your family can enjoy. We want you to feel at home while staying with us. We hope you will consider making Elk Springs Resort a part of a new tradition when visiting our Great Smoky Mountains. We hope to see you soon!

Brittany W.

Stone Mountain, GA

"Very pleasant stay . "

A perfect girls trip location.


Manager Response:

We certainly agree, Brittany! Elk Springs Resort is the ideal location for a girl's weekend. It is an easy 10 minute drive to downtown Gatlinburg. While it is close to all the attractions, it is far enough from town to enjoy the peace and quiet. We offer a great selection of cabins to choose from in this location. We hope you will consider staying with us during your next visit to our Great Smoky Mountains.

Ruth H.

Sebastopol, CA

"Great vacation spot"

My husband and I stayed at Beary Cozy cabin for four days in April 2016 and had a wonderful time.

The cabin is very comfortable and close to everything we wanted to do in Gatlinburg and Pigeon For

…

ge. We would rent that cabin again.
Check in and out were so easy!

+ Read More

Manager Response:

Elk Springs Resort is the perfect location to enjoy all that our area offers. It is convenient to downtown Gatlinburg and Pigeon Forge, however, far enough away from the hustle and bustle to feel like you are a million miles away. It sounds like you found your perfect cabin! We hope you will consider returning to Beary Cozy time and again. Please keep in mind, as a returning guest you will enjoy 10% off all future stays. Come back and see us soon!

Jaclyn D.

Metairie, Louisiana

"Great Getaway"

My husband and I took this trip as a weekend escape for his birthday. It was quite a drive coming from New Orleans, but as soon as we got to the cabin we were ecstatic. The cabin was clean and cozy. O

…

n our first night, we went out to dinner. The cabin was close to everything we could have wanted: restaurants, gas station, the store, and the entrance to the national park for hiking. We hiked on our second day, and it was great to come back to a relaxing hot tub and a kitchen that had everything we needed to prepare a great dinner without venturing out again. We loved everything about our accommodations. Thanks for making our vacation great!

+ Read More

Manager Response:

Thank you for allowing us to be a part of such a special celebration! Our goal is to provide luxurious cabins that you will enjoy coming home to. It sounds like you had the perfect get-away. Please contact us when you are ready to start planning your next vacation. Our returning guests enjoy 10% off all future stays. Your next Smoky Mountain adventure awaits you!

Paul C.

Kennesaw, GA

"Epic Stay"

The experience was amazing. The cabin was exactly how it looked in the picture no hidden truths. I would recommend anyone that is looking for a nice resort for a quick get away.

Manager Response:

Our best compliment is a recommendation from one of our guests. We thank you for that honor. We are happy to hear that your stay was exceptional at Beary Cozy. We hope you will consider staying with Elk Springs Resort during your next visit to our Great Smoky Mountains.

Christina W.

Harleysville, PA

"Beary Cozy Cabin"

Nice house and hot tub was great. All amenities were there. Not super luxurious, but very comfortable and clean. TVs could use an upgrade. View is nice, not as secluded as it appears in picture.

Zeting

Savannah, GA

"Great cabin"

That's Awesome here .

Susan Z.

Maineville, OH

"Great time!"

We chose Elk Springs after my son had stayed in one of the cabins with friends earlier in the year! Beary Cozy was a great choice for us. Beautiful Cabin with a great view. Was very clean, other than

…

the issue I told the office about with our dishwasher and dishes in it when we arrived. We had trouble getting the fireplace going and they quickly sent someone to help! My family enjoyed every minute of our stay, the hot tub and the pool table were a plus!

+ Read More

Lisa N.

Westfield, IN

"Girls weekend away"

Our girls weekend away was great. The hot tub was great. I cooked both nights & the kitchen was very spacious to cook in. It was nice being open to everyone chatting in the livingroom. I wish the

…

table had been a little bigger, the 4 of us really couldn't all eat at the table or play cards. I was impressed with the kitchen supplies that were there. The fireplace made it feel very cozy and we used it all the time. The cabin was clean & well stocked. The only complaint would be that the bed in the downstairs bedroom was supposed to be a queen, but it seemed to only be a full. Our overall stay was great & we plan on returning again next year.

+ Read More

Mike

Plaquemine, LA

"Great time in the Smokies"

Great experience at a beautiful cabin.

Lora U.

Birmingham, AL

"Very satisfied!"

We spent out Thanksgiving holiday at Elk Springs resort. My family and I had a wonderful stay in "Beary Cozy". We decided to return back again in 2 years. The check in and out was really easy. Everyth

…

ing we needed was so close. I highly recommend the Elk Spring Resor cabin rental.

+ Read More

Manager Response:

Thank you for your 5 star review. We are pleased that your Thanksgiving holiday was wonderful and your cabin rental experience was a positive one. We look forward to your return visit.

Landon

Clanton, AL

"honeymoon "

GReat Experience, Loved Everything Aboit Elk Springs! Only Suggestion, Make The Names On The Cabins A Bit Larger. We Arrived After Sundown And It Was Very Difficuly To Find Our Cabin That First night

Manager Response:

Thank you for your feedback, Landon. We are working on improvements to make it less difficult to find your cabin after dark. We apologize for your troubles and didn't realize this was an issue with some of our guests until recently. We are pleased that you chose one of our cabins to celebrate your honeymoon in and we hope you will come back to celebrate wedding anniversaries with us for many years to come. Congratulations and best wishes from all of us here at Elk Springs Resort.

Rebecca G.

Wilmington, DE - Delaware

"Great surprise birthday trip"

I booked this as a 40th birthday surprise trip for my husband. It was awesome!

Manager Response:

What a great surprise, Rebecca! I can't think of a better way to celebrate a birthday than a cabin getaway in The Smokies! We are pleased to hear that everything was awesome. We appreciate your business and hope you will consider a future stay with us.

Candice W.

Columbus, GA

"Going Back & Bringing More People!"

My new husband and I spent our honeymoon there in a 2 bedroom cabin. We LOVED the hot tub and pool table. Everything was clean and orderly. We were never disturbed by neighbors, which was our main con

…

cern. While the cabins are relatively close together, they are situated so that we felt completely secluded, even when outside on our roofed deck. Oh, and the view is awesome! We never had issues with the lock on our door, and the hot tub was very clean.

+ Read More

Manager Response:

Candice, Congratulations to you and your husband. We are pleased that you chose one of our luxury cabins to spend your honeymoon in. We hope you will make it a point to return to celebrate your future wedding anniversaries with us. Please remember to mention that you have previously stayed with us and you will receive 10% off your next stay! Best Wishes from all of us here at Elk Springs Resort for many happy years together!

Lori

Chardon, OH

"Beary Cozy Cabin - Gatlinburg Vacation"

My family stayed at the Beary Cozy Cabin the week of 9/7. The cabin is comfortable and contains all the amenities advertised. The staff is professional and called to see if we needed anything during

…

our stay.
The National Park is the "Gem" of the area. The vistas are beautiful and local people are very friendly.

+ Read More

Manager Response:

Thank you for your kind review Lori! We are very pleased that you enjoyed this lovely cabin and amenities. Be sure to hurry back to make more Smoky Mountain memories soon!

LaToya

East St. Louis, IL

"Great Experience "

Some friends and I stayed at the Beary Cozy which was perfect for us. I loved the fact that it was kind of secluded. The weather was excellent as we enjoyed the hot tub on the deck. I wished there was

…

a dart board but other than that no complaints. Everything was cool and I loved it.

+ Read More

Manager Response:

Thank you for the review LaToya. While we weren't able to offer you a dart board in this particular cabin, we do have them in others. We are glad that the weather cooperated and you were able to enjoy a nice Smoky Mountain getaway.

Thomas

Lebanon, Ohio

"Elk Springs Exquisit"

Very much enjoyed our stay at Elk Springs Resort cabin. The cabin was beautiful and very clean. My 11-year old daughter was in heaven. Thanks to Elk Springs for a great vacation!!

Manager Response:

We are happy that Beary Cozy provided you with a great vacation experience. We greatly appreciate your 5-star review Thomas. Hope to have you back again in the near future!

Cherie A.

Lockport, LA

"Spring Break 2015"

I can not say enough about the pleasant experience we had during our stay in Beary Cozy!! The cabin was extremely clean, which is very important to me!!! It was quiet and the view was amazing! I would definitely stay here again!!

Michael O.

Blue Island, IL

"Beary Cozy Cabin"

Wonderful Time. Great Time. Perfect for the 4 of us.

Lieyu

Markham, Ontario

"a good stay"

It is one of the best experience I have for staying in cabins. The Beary Cozy is nice, comfortable, with great view. I would like to come again to the smoky mountain area just for staying in the cabin.

Walter C.

Roanoke, Virginia

"beary cozy review"

Very delight and peasant stay. Will use elk springs for our next stay in Gatlinburg.

Audrey G.

Pickens, SC

"Beary Cozy Cabin Retreat"

We had an awesome view of a field below our Beary Cozy cabin to view any wildlife that may come walking thru. It was such a peaceful time since there was very little traffic in the area and also othe

…

r cabins were far enough away that you heard very little noise. So different from other resort cabins we had stayed in previously. We also liked the location of Elk Springs Resort, you could be downtown Gatlinburg in just a few minutes or in the arts/crafts area in less than 2 miles. We definitely will be returning to Elk Springs Resort.

+ Read More

Zalan

Windsor, ON

"Beary Cozy"

Fantastic. Beautiful cabin in great location.

Kuihua

Raleigh, NC

"Nice place"

My son like it very much.I think it's a very nice cabin

Crystal B.

Baton Rouge, LA

"relaxing"

Everything was easy & worry free. From booking to check in. My favorite thing regarding booking is that I did not have to go to another location to receive keys.

MaryKay

Plainfield, IL

"Great for family reunions"

Great cabin, beautiful resort. There is no pool or park for the kids,wish there was,

Drew S.

Saint Charles, Illinois

"beautiful property"

I can honestly say the pictures dont do the cabins justice. It was absolutely beautiful, cabin was spotless when we came in, everything worked it was amazing my wife and I couldnt have asked for anyt

…

hing more. We will be coming back and staying here again!

+ Read More

Gerald T.

Lapeer, MI

"Gerry & Kristin Thomas Wedding"

Renting this cabin was the best thing we could have done. We were so happy with the professionalism and quality of not only our cabin but the property and staff as a whole. All of our guests who staye

…

d in neighboring cabins raved about their stay, and we all look forward to coming back soon. Thanks Elk Springs for helping create memories that will last a lifetime!

+ Read More

Lena

Mason, OH

"Excellent experience"

Great cabin. Great resort. Great management. Great maintenance (when needed). No complaints.

Keith

Cabot, AR

"Excellent Place"

Great loaction / Great accomodations / Great experience!!! We will return here.

Tony J.

Macon, Ga

"Honeymoon"

We had an amazing time

Kenneth

Alabaster, AL

"Beary Cozy Cabin"

Great cabin! Ed (maintainence man, so he said) was wonderful. He should be Elk Springs #1 PR person for turning a weekend starting off badly, for a tried, grumpy couple, into two very satisfied custo

…

mers. We arrived after dark to the cabin I reserved that was not located on the Elk Springs Resort property. Door code was wrong and we could not get in. Left message at rental office... Cell service was non-existent at cabin, so we went back to vehicle and tried again. Decided to leave and find location where cell service picked up better. Backing out, our vehicle got stuck in mud! So, not only were we locked out of cabin, but we couldn't leave with vehicle stuck in mud and no cell service! However, Ed had gotten one of our messages and came to the property. He let us in and called a tow to get us out. After getting in cabin, we were not happy with unmade bed and zero view. Ed immediatley said, after we got the car unstuck, he would show us cabins on the Elk Springs Resort property that he thought we would like. He took us to Beary Cozy, checked us in and left us to enjoy the rest of our weekend stay. Congratulations to Elk Springs for having Ed on your team!
Thanks,
Ken & Sondra

+ Read More

Deborah

Middletown, OH

"Perfect R & R"

Along with our friends, we were in great need for some getaway R&R and our experience in "Beary Cozy" provided the perfect mini-vacation. The cabin was beautiful, and the location was perfect. We will be back!

Jessica B.

St Petersburg , Fl

"Weekend Getaway"

I stayed at Beary Cozy with a group of girlfriends over the weekend. Our heat was broke the first night but they were very responsive when we called the next morning and had it working quickly. The ca

…

bin was clean & well maintained. We would definitely do this again.

+ Read More

Andrew

Naperville, Illinois

"Gorgeous, Secluded house"

My wife and I loved our stay at Beary Cozy. We never felt like the neighbors were too close, and we could sit in the hot tub and relax without feeling too close to anyone. We enjoyed cooking on the

…

natural-gas grill, and made many-a-fire to warm up at night. The pool table was great fun as well.
We were disappointed to find there were absolutely no cooking ingredients other than salt and pepper, so we had to buy cooking spray in order to make anything. We also had to buy more TP and laundry soap, because 1 is not enough.

Overall, we loved our stay, and would definitely consider bringing more family next time.

+ Read More

Kathryn L.

Cincinnati, OH

"An amazing weekend!"

We loved our cabin, we loved the location, and we really felt at home as soon as we walked in. We only wish we had more time to stay! We will absolutely be coming back!

Patrick V.

Mooresville, NC

"Bear Cozy"

My family had a great stay.

Toni

Durham, NC

"Wonderful Place"

I'm not a mountain or wilderness kind of person but this property was wonderful. If I go back to Tennessee, I'd go back only to visit this cabin.

Stephen

Oxford, MI

"Very Cozy Beary Cozy"

This was our 4th trip to the Gatlinburg area in the past 3 years, but the first time at Elk Springs resort. We prefer this location or one in Wears valley, because it is easier/quicker to get to the

…

National Park for hiking compared to the Pigeon Forge/Sevierville area. The cabin was very nice, and perfect for our party of 5 (but I'm quite certain it could comfortably accommodate an additional person). The kitchen was well equipped (with the exception of a garbage disposal). There were only a few minor issues, which weren't significant enough to report until the day we left (e.g. the towel bar in one of the bathrooms was loose). All of the Cabins in Elk Springs resort looked in great condition. The check-in/check-out was extremely easy. The staff was great, and the cabin was very clean. I would highly recommend (and consider them again for my next stay) Elk Springs resort.

+ Read More

Wes C.

Lees Summit, MO

"2013 Kittens"

Great place to stay with our kids. Close but still out of the way.

Anthony E.

Columbus, MI

"awesome"

Excellent time the cabin was very nice.

Lance E.

Fishers, IN

"Spring Break Fun!!!"

This was my first time staying at Elk Springs Cabins and overall had a much better experience than the cabins I have stayed in the other parts of Gatlinburg/Pigeon Forge. I would definately recommend!!

Nancy

Wixom, MI

"Great cabin"

The cabin was much nicer than we expected. Clean and up to date appliances. Overall it was a great place to vacation.

Raul J.

Cocoa, FL

"Excellent Stay!!!"

Picture perfect, couldn't have been better. Will return!!!!

John

Chesapeake, Virginia

"Exactly what we wanted"

Perfect winter retreat. Enjoyed hanging out and playing pool and games in the cabin as much as the convenience to attractions in Gatlinburg and Pigeon Forge.

Shelvie A.

Huntsville, AL

"Beary Cozy was Beary Wonderful!!"

We had a wonderful time. The cabin was very nice, and we had a pretty view. We really enjoyed the hot tub and the pool table. Nice place to stay for a family of 4-5. Very convenient to Gatlinburg.

…

Only bad thing was the entrance into cabin. I'm disabled and it was hard walking up and down the steep entrance way. Thank you!!

+ Read More

Justin M.

Pollock, LA

"Cozy Valley View"

The cabin was the perfect size to hold my family and in-laws with a great view of the valley to boot. All the comforts of home were included and we paid less for them than we would have staying at a nice hotel!

PJ

Coloma, MI

"The Perfect Honeymoon! "

We stayed in Beary Cozy and the entire week we stayed was incredible! The cabin was clean, cozy, and had everything that we needed to accommodate our stay perfectly. We highly recommend Elk Springs Re

…

sort to others and know that cabins are safe, beautiful AND clean. The cabins look the same in real life as they do in the pictures! We enjoyed our honeymoon in our cabin and are planning to go back soon!

+ Read More

Darrin A.

Concord, NH

"Need more pans please"

Loved the cabin. You need more frying pans and baking pans! Thanks

Jeffrey

Pulaski, WI

"A Great Trip"

The cabin was exactly what the management claimed it would be. Very clean and comfortable. We would definitely come again.
Load More Reviews