Amenities:
Full Kitchen
Gas Grill
Honeymoon
Hot Tub
Iron / Ironing Board
Mountain View
Parking
Washer/Dryer
WIFI
No other mountain views will be remembered as well as the screened in porch and hot tub views of Mount LeConte that you will have in Bearfoot Memories - and this is just the beginning. What can be better than rocking away on the screened in porch when the stars come out! And just take that mountain view and starry sky inside with you! - that's right - the two story wall of windows keeps your attention whether inside or out.
Cabin Bedrooms Layout
Main Level - Bedroom 1

King Bed
Sleeps 2
Main Level - Bedroom 2

King Bed
Sleeps 2
Loft Game Room - Futon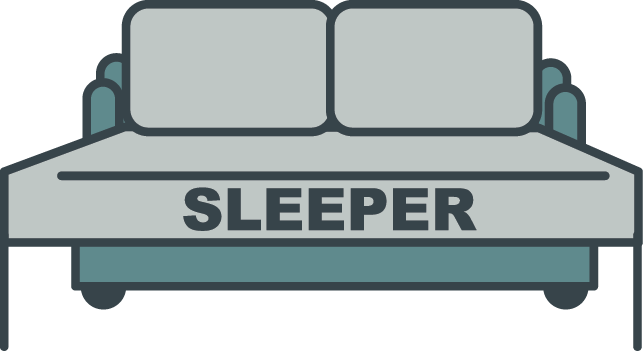 Queen Sleeper
Sleeps 2
Full Description
A gas grill the covered deck create easy mountain dining with table and chairs nearby so you can watch the sunset and enjoy your meal outside.

On the main level you will find two master king suites each with a Jacuzzi tub and shower complemented with beautiful and comfortable furnishings including 32" HDTV's with blu-ray DVD players.. A fully equipped kitchen with a table for 6 guests provides an indoor dining option too - with the open floor plan, even the cook can see those mountains too!

Comfortable couches and mountain accessories are gathered around the gas fireplace with the signature windows and mountain views still in place. Watch TV on the 55" HDTV with blu-ray surround sound system.

Ready for fun? Upstairs in the loft area you will find the pool table, another cafe table and chairs for late night snacks, 27" flat screen TV with DVD and VCR, and of course, a second gas fireplace. A few extra people along for the fun? - invite them to stay a night or two - the futon opens to become queen sized and very comfortable.

And just when you thought it couldn't get any better, Bearfoot Memories has access to three outdoor swimming pools for your pleasure and convenience. Nearby is a state of the art zip lining adventure.

Just a short drive into downtown Gatlinburg, and all the attractions are waiting for you, and of course, our national treasure - the main entrance to the Great Smoky Mountains. Our most secluded cabin, Bearfoot Memories, will fill your dreams forever!
This Property is located 10 minutes from Elk Springs Resort!
Access and Privileges to 3 swimming pools and 2 tennis courts nearby
Views of Mt. LeConte
Secluded
2 Master Suites with Jacuzzi Tubs
Hot Tub
Jacuzzi Tub
Pool Table
2 Rockers
Covered Deck
Free High Speed Wireless Internet
2 Fireplaces
Amazing Views of the Smoky Mountains
55" HDTV with Bluray surround sound system
32" HDTV's with Bluray in each master suite
27" Flat Screen TV in loft with DVD and VCR
Washer/Dryer
Gas Grill
Food and Grocery Delivery Available
20 Minutes to Pigeon Forge
Calendar
Click your dates below to check in and check out
Available
Check In Only
Check Out Only
Selected
Unavailable
Photo Gallery
See All Photos
Reviews
Jennifer

Vineland, NJ

"Best vacation ever!!! "

Great...easy...most beautiful views...good location...great cabin!

Dena

Washington, MO

"Incredible Vacation"

Family Getaway

Abigail

Columbus, OH

"Five Stars"

Amazing views, perfect location, clean and comfortable cabin. Exactly as pictured.

Manager Response:

Thank you for your 5-Star review, Abigail! We are thrilled to hear you and your family enjoyed your visit. We certainly agree, Bearfoot Memories is the perfect cabin to relax and unwind from the stresses of everyday life. We hope you will come back and stay with us again soon!

Frances B.

Marissa, IL

"Could not have been better!"

Everything was as described and the view was amazing. The whole house was clean and beautifully decorated as well as had everything we needed.

Manager Response:

Thank you for your 5-Star review, Frances! We are happy to hear Bearfoot Memories exceeded your expectations. We hope you will take the opportunity to come back and visit with us as often as you can.

Nancy S.

Maurepas, LA

"Absolutely the best!!"

I have never been to the smokey mountains after a lot of research I decided to go with Elk Springs and the cabin was Bearfoot Memories. I was so amazed at the cabin, the privacy, and the view. It was

…

absolutely the best. The location is wonderful and you are close to the grocery store and downtown gatlinburg. Everyone was so nice and helpful. I can't wait to go back and I will definitely be using Elk Springs again.

+ Read More

Manager Response:

How exciting! We are happy to hear your first visit to our area was such a success. We specialize in providing exceptional cabins with top-notch modern amenities. With so many cabins to choose from, we are sure to make each visit with us a new adventure. We hope you will take the opportunity to come back and stay with us as often as you can.

Elissa R.

Buchanan, MI

"We can't wait to go back!"

The cabin was very easy to find, and the cabin was ready early so we were able to get in before the actual check-in time. The cabin was beautiful and clean. All of the pictures of the views of the mou

…

ntains are accurate; it's gorgeous. Every morning we would drink our coffee in the hot tub while looking at the beautiful view. The day after we arrived an Elk Springs staff member called us to make sure we had everything we needed. The location was great; about a 15 minute drive to downtown Gatlinburg. The beds, jacuzzi tubs, pool table, fireplaces, TVs, and everything else about the cabin made us never want to go home! We are booking the same cabin for next year; we love this place!!

+ Read More

Manager Response:

The pictures could never truly reflect the view from this cabin, it is absolutely breathtaking. We are happy to hear that so many wonderful memories were made during your stay. It sounds like you have found the perfect cabin! Beautiful views, great location, and top-notch amenities; this cabin has everything you could want and more! We hope to become part on a new annual tradition that will last for many years to come. Your next Smoky Mountain adventure awaits you!

Cody R.

Harrod, OH

"Bearfoot Memories"

We had a wonderful time on our vacation! In fact, the cabin was so nice that we found ourselves staying there in the evenings, cooking and relaxing, instead of going out. It was a great place to stay.

Manager Response:

We truly enjoy hearing such a wonderful review! Thank you for letting us be a part of a great get-away. Please keep in mind, as a returning guest you will receive 10% off all future stays.

David B.

Jacksonville, Florida

"Honeymoon at "Heaven on Earth""

My new wife and I selected this cabin for our special occasion out of multiple cabin choices based on the pictures online. THIS CABIN DID NOT DISSAPPOINT! We had our wedding in Pigeon Forge and want

…

ed a somewhat private cabin for our honeymoon. The views were amazing, the privacy was exactly what we wanted. (It is not in the resort) The wall of windows offered views 24/7. Far enough out to not be in the traffic of downtown and close enough to get there easily. I will definitely be back to this cabin soon. My new "HOME AWAY FROM HOME".

+ Read More

Claudia

,

"Bearfoot Memories"

I stayed at Bearfoot Memories for two nights in February. For the most part, the pictures looked just like the cabin. It was beautiful, clean, close to downtown and the view was breathtaking. The prop

…

erty manager was very attentive, although, I had no issues or complaints. Downtown Gatlinburg was right down the road. It was a very interesting town. I would suggest the moonshine tasting and snow tubing. I would probably want to come back when the weather's warmer to see everything in bloom. I would definitely recommend Bearfoot Memories.

+ Read More

Cheryl

Port Colburn, ON

"Paradise in the Smokies!"

Probably the most relaxing vacation we've ever had. The cabin was extraordinary...extremely clean and beautifully decorated. The view from the deck was better than expected. I've already recommended this cabin to many friends.

Manager Response:

We love to hear such wonderful reviews! We are happy to hear we were able to exceed your expectations. The views from Bearfoot Memories are absolutely breathtaking. We hope to become your new home away from home for future visits to Gatlinburg.

Jorge C.

Naples, FL

"Awesome Cabin!"

This was our first time staying in a cabin up North (we're from Florida) and we loved it. The cabin had amazing mountain views, as described. It was updated, clean, modern. We had no issues at all. Th

…

e Elk Springs Resort staff was always very nice and courteous and we did speak on the phone. Loved our family vacation and looking forward on visiting again.

+ Read More

David

San Antonio, tx

"Relaxing"

Like home. Loved the view and bed was nice.

Manager Response:

Thank you for the great review David! We are very pleased to hear that you enjoyed a nice relaxing cabin getaway as well as some amazing views. We look forward to having you back again, so be sure to take advantage of a 10% repeat guest discount on your next booking.

Aubrey

Buckner, MO

"Amazing View"

The cabin was very nice with an amazing view! Getting to the cabin was a challenge (22 hair pin curves) but it was so worth it! Doing business with Elk Springs Resort was awesome. Everything they sai

…

d they would do...they did. Had one issue with the door code but contacted the resort and it was resolved within 10 minutes. I would definitely stay at this cabin or others managed by Elk Springs Resort again.

+ Read More

Manager Response:

Thank you for your review Aubrey. The only way to reach this cabin, to take advantage of the amazing views, is by driving up the mountain. Unfortunately, this also involves some sharp curves along the way. The good news is, we haven't lost a guest yet! We are so pleased that you enjoyed the cabin and we look forward to your return visit.

Don

Brownstown, MI

"A Spectacular view of the Smokies!"

Cabin was very nice and very clean. Lots of living space. The view is Beautiful. Bedrooms are large and beds are comfortable. Nice touch with jacuzzi tubs. The hot tub was wonderful. Star gazing is fa

…

ntastic. The loft had a pool table, flat screen tv, couch and lounge chair. Very nice location. Close yet far away. Drive time to Smokie Mts. National Park 1/2hr. Whitewater rafting on Pigeon River 1/2hr. Can't go wrong with this property if you enjoy peace and quiet.

+ Read More

Manager Response:

Thank you for your review Don. We are pleased to hear that the cabin, the location, the amenities and the view were all you had hoped for! Be sure to mention you have stayed with us before and receive 10% off your next booking. We hope you hurry back to make some more Smoky Mtn. memories soon!

Belinda

Hopkins, MI

"Great Cabin with an incredible view"

The view was even better than the website showed. Loved Elk Springs check in process. Close to Gatlinburg, Pigeon Forge and the park but far enough out to be secluded/private. Very clean and everyt

…

hing was in good working order. Kids loved the pool table and the hot tub on the deck. Great vacation!

+ Read More

Manager Response:

Another 5-star review from a satisfied guest! Thank you for taking the time to provide us with some great feedback Belinda! What a treat when you find out the cabin and view exceed your expectations! We are glad the kids enjoyed the amenities the cabin had to offer as well. We hope you and your family come back to make more memories in the Smoky Mountains soon!

Brandi

Waxahachie, TX

"Great vacation!!"

We had a great time. Wonderful views. Wished for a sofa sleeper. Had two 13 year olds. One slept on couch and one on the futon.

Michael K.

Crowley, TX

"Bearfoot Memories 07-2015"

Our family stayed at Bearfoot Memories from 07-19-2015 thru 07-25-2015. The cabin was very nice and spacious with two full bedrooms with king beds and separate bathrooms. The gameroom upstairs was a

…

nice getaway as well (needs an updated TV though). The location was perfect for us. About 15 minutes east of Gatlinburg and nicely secluded. The grocery store (Food Lion) was about 10 minutes away. There are a few things that need updating/fixed. The hot tub would only get a few of the jets going as one of the knobs that affects the jet flow was broken off. The charcoal grill just needs to be replaced. It is rusted out and actually dangerous. The gas grill was perfectly fine to use though and we did. It think the deck needs to have some new nails and be restained. As far as the inside, really just replace a few of the bulbs that were out and maybe add a few kitchen items such as cookies sheets and a knife sharpener. The cabin was very clean when we arrived. Overall experience was very good and would give it a 4.5 out of 5.

+ Read More

David G.

Lewisville, TX

"Happiness at Bearfoot Memories"

Our stay at Bearfoot Memories was wonderful. The cabin was extremely nice and the view unbelievable. The cabin is very nicely furnished with everything you can think of and then some more. We went

…

to relax and see the area and it was perfect. We used the hot tub, bar-b-que grill, pool table and even read a couple of books in the small library. It is about 7-8 miles outside of town just far enough to be away but close enough to go back when exploring and going to the park. We plan on returning next year to explore more.

+ Read More

Rodney E.

Plainfield, IN

"Great view at Bearfoot Memories"

This cabin has a great view of the mountains. This was our 4th time to rent through Elk Springs Resort and they have always treated us well. We enjoy staying east of Gatlinburg for the views. Our s

…

tays have been for a family of 5 and for 2 of us in the past. This time we had a group of 4 and it was once again the right size and accommodations for us.

+ Read More

Steve &.

Titusville, FL

"Fabulous! "

We had a great time!!!! The cabin was absolutely beautiful. It was so beautifully decorated and extremely clean (and we are picky). The views were amazing and the secluded location was perfect. We en

…

joyed our trip so much, we will tell our friends and definitely come back! The staff was so friendly and accommodating. We loved this cabin!

+ Read More

Sandra A.

Mankato, MN

"Great Smokey Vacation"

We had such a great time and the cabin was perfect.

James S.

Spring, TX

"Truley Bearfoot Memories"

My wife and I have always wanted to rent a cabin in the mountains. We have traveled to many parts of the world to do specific things. I fretted many evenings on the internet looking at the amenities a

…

t the hundreds of properties in the area. Bearfoot Memories WAS the RIGHT choice. From the wide pine interiors and Alpine looking exterior to the not covered hot tub and the charcoal grill (it also had a gas grill). It was absolutely what I thought staying in a cabin in the Smokies should be. Everything was perfect. Although they had satellite tv, wifi, and phones mostly I left them off and sat on the porch and had coffee in the mornings and wine in the evenings. This is the view I was looking for. I could go on and on since we stayed almost a week but it would be more of the same. I can't speak for any other properties in the area (I KNOW there are more beautiful properties) but for us THIS WAS IT !!!!!!

+ Read More

Cindy H.

Jackson, TN

"Reflection and Quiet Time"

We love staying at Bearfoot Memories and decided a few years ago to make this an annual trip.

mary b.

cayce, SC

"beautiful view"

Overall a beautiful property.

Noora L.

Charlotte, NC

"Picture-perfect Stay at Bearfoot Memories"

Amazing stay! The cabin was even better than in the pictures, clean, and all around wonderful. This was our 3rd time staying at an Elk Springs Resort cabin, and while they have all been great, this was our favorite cabin.

Barbara P.

Savannah, Tx

"Fabulous vacation!"

We enjoyed a 6 night stay in this beautiful cabin. It is exactly as pictured and the view is breathtaking. Check-in/out was very easy. We definitely plan on returning to this cabin as I can't imagine a more beautiful place to stay.

Jennifer N.

Poland, OH

"Relaxing Vacation!!!"

We have stayed in this cabin twice now and love the seclusion it offers! When you need to get away from it all, it is the place that offers it!This cabin is close to downtown Gatlinburg and all the am

…

enities it offers, but far enough away to be in the serene beauty it offers in a few short minutes. We love it!!

+ Read More

Diane H.

New Castle, PA

"Wonderful Vacation"

This was our second stay in Bearfoot Memories. We adore this little cabin and it's breathtaking view. We highly recommend it!

Linda

London, Ontario

"Our vacation to Gatlinburg"

Our vacation was awesome. We loved the cabin Bearfoot Memories it was everything we say in the pictures and more. We never expected to say in such luxury in a cabin it was like it was our own private

…

cabin. We would not hesitate to book again and I am not sure any other cabin would compare to it. The view in the day as well as at night was breathe taking. We found lots of things to do and Gatlinburg it's self took us 2 days to walk the streets and I am not sure we even saw everything. If we plan another visit there is still lots to see and do. We would recommend this trip and Elk Springs to anyone. Thanks for making our vacation the best

+ Read More

Wendy

Bay City, MI

"We couldn't ask for anything more! We will be back!"

We absolutely loved the Bearfoot Memories cabin! We rent a cabin in Gatlinburg every year and we finally found the perfect cabin! There is no way to describe how beautiful the views are. We felt like

…

we were constantly looking at a post card (inside & outside the cabin). The drive up/down to the cabin was my biggest worry and it was so easy to get to - well paved/maintained and the neighborhood is very very nice. The cabin was spotless and beautiful - it felt like home. You can see the mountains from just about every room. We would take the kids into town and we all just wanted to get back to the cabin to relax in the hot tub, grill and play pool. We will be back for sure!

+ Read More

Jennifer C.

Menomonee Falls, WI

"Perfect!"

We took a family vacation to celebrate two birthdays. Cabin was perfect! Very clean and well stocked. Amazing view. Close to downtown but far enough away from hustle and bustle. Highly recommend!

Stephanie W.

Jupiter, FL

"Very Nice!!!!!!!"

Quiet, beautiful, and very relaxing. Cabins were out of town which is nice. They are well stocked with all of the features needed for a carefree stay. All needs were taken care of immediately. Jer

…

emy was awesome. All you have to do is show up and start enjoying.

+ Read More

Aimee C.

Glastonbury, CT

"Bearfoot Memories Vacation Review"

Fantastic stay with absolutely gorgeous views in a beautiful, private cabin that had everything we needed. The property managers were very friendly and thoughtful and checked in with us during our st

…

ay to ensure we were satisfied. This was like a home away from home in the Great Smoky Mountains!

+ Read More

Lynn

Pensacola, Fl

"Mountain Adventures"

Wonderful! Outstanding!! The Elk Springs management was spot on!! Thanks, we WILL be back!!!!

Michelle H.

Big Pool, Maryland

"Amazing View"

This was our 3rd time to the Smoky's. This was our first time staying in the Bearfoot Memories Cabin. The view was totally amazing. We stayed at one of the Elk Springs cabins before on the same roa

…

d but the view from this cabin was totally awesome.

+ Read More

Judy R.

Youngstown, OH

"Escaping Reality"

My cousin and I had a wonderful long weekend. We enjoyed the cabin location, the hot tub,and the fact that everything was included and upscale(for a cabin). We had a wonderful experience. We loved

…

the arts & crafts trail, the Wild Plum Tea Room, and just relaxing on the deck enjoying nature.

+ Read More

Carissa G.

Martinsburg, WV

"Awesome View!!"

We were extremely pleased with what we paid for in this rental! We were leery with the pictures looking over photo shopped, however, they don't do the place justice! We thoroughly enjoyed our stay, a

…

nd appreciated coming into a place that just felt like home.

+ Read More

Eric R.

Brusly, LA

"A Honeymoon I will never forget!"

My wife and I were awe struck when we first walked into the cabin. We were just not ready for it. We absolutely loved it up there and would not hesitate in the future to plan another stay in one of

…

your cabins. Thanks for everything. My favorite thing was watching television with my wife cuddled up next to me with the fire going. It doesn't get any better than that. Thanks again guys! We loved it.

+ Read More

Tim C.

Saint Elmo, IL

"Best Cabin in the World!"

The cabin was perfect! Very clean, well stocked, all the little things were done. Easy check in process. And the view was amazing! We spent as much time in the cabin as we did seeing the sites and dow

…

ntown. It felt like a home away from home but stress free! We will stay there again, the kids are already asking me when we are going back! Thank you Elk Springs Resort, you are top notch! A+++++

+ Read More

Sheridan C.

Gainesville, GA

"We didn't want to leave."

My fiancÚ and I didn't want to leave and already booked out next stay! This cabin is absolutely amazing. It was just what we needed to escape from reality for awhile on a mini- vacation. I would and d

…

o recommend this cabin and company to friends and family. Can't wait to be back at bear foot memories!!

+ Read More

Craig

Humphrey, NE

"Bearfoot memories"

Absolutely perfect. Well worth the money.

Janis C.

Indianapolis, IN

"Everything was perfect"

Cabin was excellent in all aspects... Great location .. Clean..beautiful view.. Would definitely stay there again!

Christy L.

Marion, Illinois

"Our Amazingly Splendiforous cabin"

We had a fabulous time at Bearfoot Memories. The cabin was even better than we ever could have imagined. The living area with big screen TV and fireplace and comfy couches was so cozy. It was a great

…

area for watching movies and playing games. We had a blast playing pool in the loft. The bedrooms were very spacious and the beds were so comfortable. The Jacuzzi tubs were a real treat. The kitchen was well equipped and perfect for dining in. Having a washer and dryer was so helpful. The deck and hot tub were incredible. We spent many hours out there. The directions made the cabin very easy to find. We loved the privacy. This far exceeded our expectations....we could not have asked for anything better! Thanks Elk Springs for providing such a relaxing home away from home for our vacation.

+ Read More

Rebecca

Atlanta, GA

"Bearfoot Memories was absolutely perfect"

Living in the city we wanted a quick weekend getaway and Bearfoot Memories was perfect. The view was breathtaking and the cabin was lovely, super clean, and cozy. We accidentally locked ourselves out

…

of the cabin on our first night around 8pm but we were able to get ahold of the staff and were back inside within 15 minutes. They were super helpful and we look forward to visiting this cabin again.

+ Read More

Robert C.

Greencastle, PA

"Dream Week"

Loved our time at Bearfoot Memories. We wanted to have a getaway that was very low key and relaxing and that is exactly what our stay was. We spent a fair amount of time at the cabin enjoying the peac

…

e and quiet and comfortable atmosphere. We did not want to leave when our time was up, have recommended to others that this is a great little getaway.

+ Read More

Mandi

Angola, LA

"Awesome!"

Cannot wait to go back, we had a blast, this cabin is so relaxing, the hottub, the fire place and pool table were our favorite! Not to mention the view, it's breathtaking. Checking in and out was ea

…

sy and very convienient. We will be returning! No complaints at all

+ Read More

Paul J.

Humble, TX

"Exceptional Stay"

This cabin, the view, and the experience exceeded our expectations on every level. It was clean, with all modern amenities including breathtaking views from the deck and hot tub at night. It was one

…

of the most enjoyable vacation rentals I've every made.

+ Read More

Ashleigh

Hayes, VA

"Great Cabin!"

We loved our stay at Bearfoot Memories. The cabin was in great shape, had amazing views from the deck and was a good distance from town. We enjoyed the seclusion of the cabin but we were still close t

…

o the attractions in Gatlinburg. Satellite tv and wifi was available. Property was kept in good condition. Overall we had a very relaxing vacation and hope to return again!

+ Read More

Nancy G.

Columbia, TN

"Secluded Paradise"

We went for privacy, relaxation and views of the Smokey Mountains. We found everything we were looking for and then some! Would definitely rent this cabin again. Six days were not enough. Next time we'll stay 2 weeks!

Denise A.

Miamisburg, oh

"Second Time This Year"

This is the second time this year we have stayed at this exact cabin and if we had the time, would stay again during winter. We love everything about it and have recommended to many of our friends.
Load More Reviews