Amenities:
Full Kitchen

Gas Grill

Hot Tub

Iron / Ironing Board

Parking

Theater Room

Washer/Dryer

WIFI
Many new upgrades! This spacious 4 bedroom cabin offers a peaceful setting, massive decks on 3 levels complete with outdoor fireplace, a hot tub and lots of seating. Inside - foosball, a Home theater System and Arcade Game featuring 60 classic games has just been added!
Cabin Bedrooms Layout
Upper Level - Bedroom 1

King Bed
Sleeps 2
Upper Level - Bedroom 2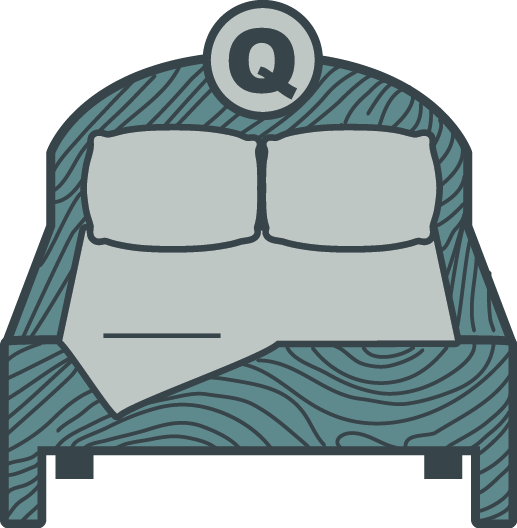 Queen Bed
Sleeps 2
Upper Level - Bedroom 3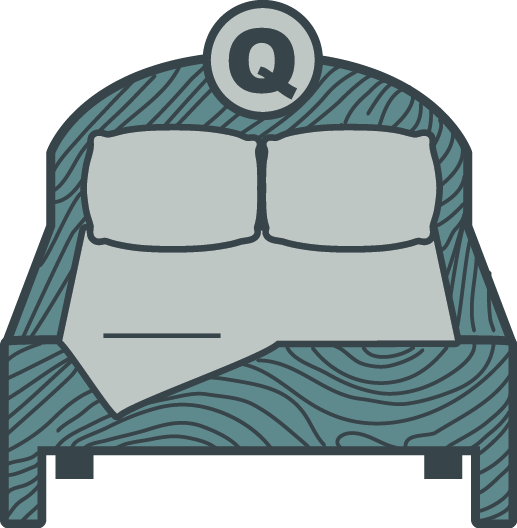 Queen Bed
Sleeps 2
Lower Level - Bedroom 4

King Bed
Sleeps 2
Lower Level - Game Room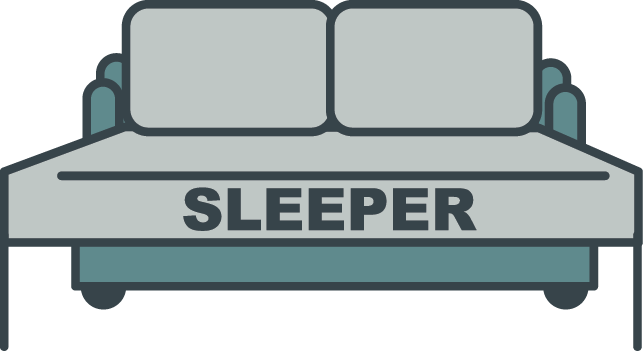 Queen Sleeper
Sleeps 2
Main Level - Great Room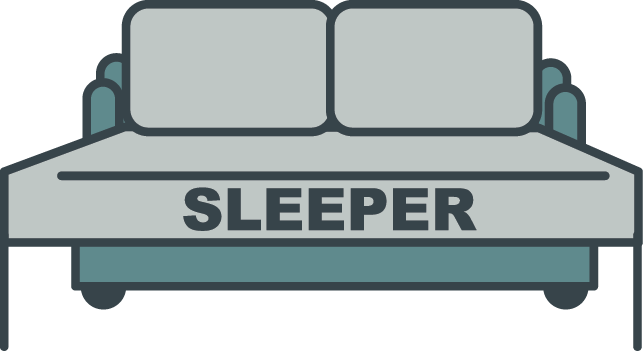 Queen Sleeper
Sleeps 2
Full Description
Take pleasure in the peacefulness of the Great Smoky Mountains from this 4 bedroom luxury cabin. Inside, revel in the 3 spacious levels of living that provide plentiful space to spread out and relax. Some of the many ***NEW UPGRADES*** a Home Theater System with 9 foot theater screen as well as stand up arcade game featuring 60 classic games to enhance your stay at Bear Cub Lodge. Upstairs, get a rush of adrenalin in the separate gaming area complete with an flat screen TV.

The rec room boasts a regulation size pool table and foosball table that will offer hours of friendly competition. Experience the 1980's through PacMan, Dig Dug, Burger Time and 57 other classic favorites on the arcade game - but leave the quarters at home, it's all free!

Conveniently located in the heart of Gatlinburg's Arts & Crafts Community in one of Trip Advisors top ranked Resorts, just minutes from downtown Gatlinburg and Pigeon Forge. Other amenities in this cabin include a gas grill, hot tub, 6 TV's, home theater, 6 DVD players, pool table, arcade game, wrap around decks, a gas outdoor fireplace, plenty of outdoor seating, enormous kitchen and dining area, and so much more! Come experience the best the Smokies has to offer!
Home Theater with 9 Foot Screen
Surround Sound
Standup Arcade Game with 60 classic games including PacMan
Hot Tub
Pool Table
Foosball Table
2 Sleeper Sofas
Upper Level King Master Suite
2 Upper Level Queen Suites
Lower Level King Master Suite
Outdoor Fireplace
Outdoor Table with seating for 6
FREE High Speed Wireless Internet
FREE Local and Long Distance Calling
3 Gas Fireplaces
10 Rocking Chairs
Rocking Love Seat
6 TV's
5 DVD Players
Washer/Dryer
Gas Grill
Wrap Around Decks
8 Dining Chairs, 4 Barstools
Upgraded Appliances
Flat Screen TV's
On Site Maintenance
On Site Housekeeping
Stocked Kitchen
Comfortable Seating for 12
Calendar
Click your dates below to check in and check out
Available
Check In Only
Check Out Only
Selected
Unavailable
Photo Gallery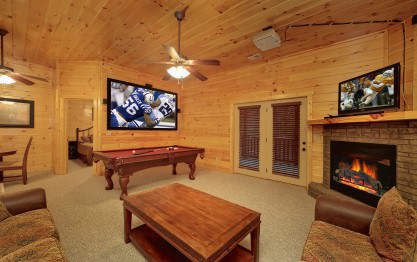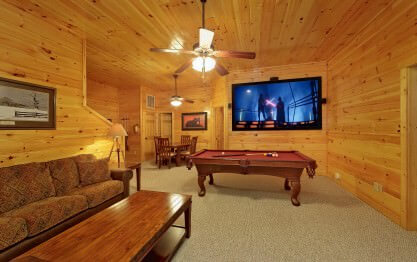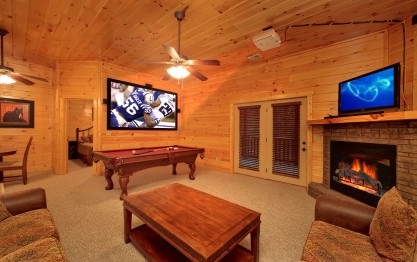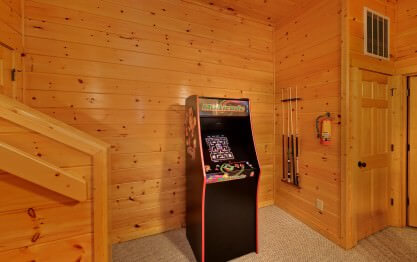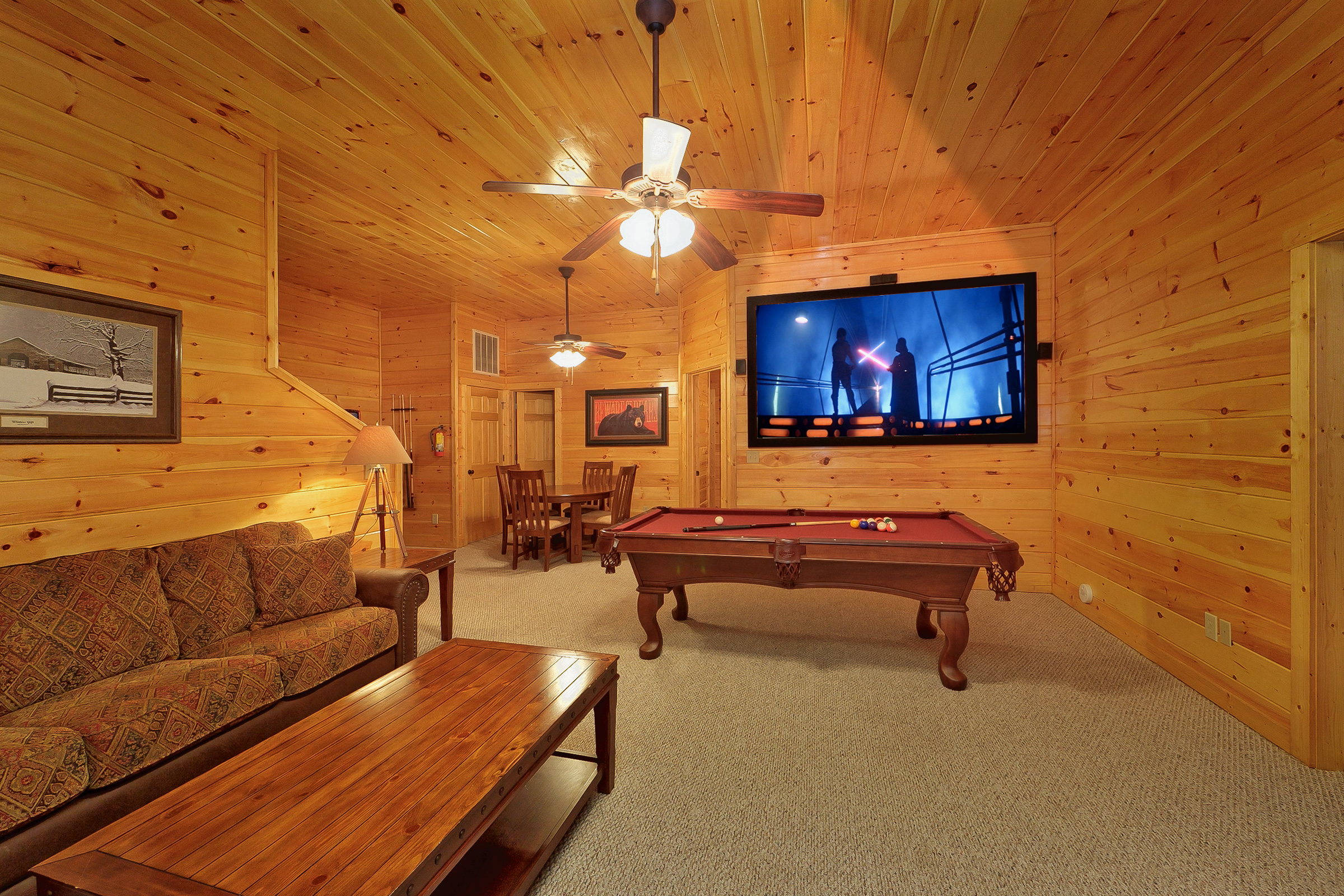 See All Photos
Reviews
Joseph C.

Three Rivers, MI

"We had a great time"

We came here to stay for a wedding that we had there at the cabin with family and had a wonderful stay.

Ashley

Mesquite, TX

"Can't wait to come back!"

Staying at Bear Club Lodge for 5 days was amazing. I stayed in the master bedroom downstairs. Plenty of room, towels and pillows. The hot tub was a nice way to unwind from hiking. Overall, very satisfied and cannot wait to return.

Manager Response:

We certainly appreciate your kind review and feedback regarding your recent stay. Customer satisfaction is very important to us and we are pleased to hear you were very satisfied with your stay and we look forward to your return.

Nishant K.

Troy, MI

"Excellant Place To Stay"

Nice and clean with all the amenties

Manager Response:

We appreciate your business and wonderful 5 star review. We look forward to having you back for a future stay. Please take advantage of your 10% repeat guest discount at the time of your next booking!

Diane S.

Lakeland, FL

"Awesome time!"

When we arrived the cabin was beautiful. Loved all the separation for the different areas expecially the game room. We can't wait to come back next year this is a permanent vacation spot

Manager Response:

Thank you for your wonderful review, Diane! We love to hear how much you enjoyed your stay. We would consider it an honor for you to stay with us again. Please keep in mind, as a returning guest you will enjoy 10% off all future stays. We hope to see you soon!

Ainsley J.

Griffin, GA

"Love it will be coming back againg "

I really love it will be coming back

Manager Response:

Thank you so much for your review. We do hope your return to stay again at Elk Springs Resort.

Emily

,

"great family getaway spot"

We really enjoyed our stay in the Elk Springs Resort. The location was perfect and easy to find. The fireplace outside was beautiful and the cabin was a perfect size. We will definitely be returning.

Manager Response:

Thank you so much for taking time to review Elk Springs Resort! Customer satisfaction is our number one goal and we are so happy that you enjoyed your stay. We look forward to having you as a return guest!

Jeanette

Iva, SC

"Super Accommodations!"

We had never rented a cabin before, so this was a new experience for us. It was wonderful! Our cabin was roomy and very comfortable, as well as very clean and well-maintained. Customer service chec

…

ked on us to make sure everything was as it should be. We loved it. This was a family vacation and we will definitely recommend this resort to others.

+ Read More

Manager Response:

Our goal is excellent customer service and a wonderful all around experience at Elk Springs Resort! We are so happy that you had a great stay. Thank you for taking time to review Bear Cub Lodge. We hope that your family will get to stay with us again in the future!

Barbara

Bone Gap, IL

"Great Weekend "

Great cabin Our second stay at this cabin
Clean well equipted would recommend

Manager Response:

We are delighted to hear you had an exceptional stay, Barbara! It sounds like you found your perfect cabin. We hope you will make plans to come back and visit with us often. Hurry back, your next adventure awaits!

Danelle J.

Lansing, MI

"Vacation 2016"

This is our second time staying at Elks Springs Resort, and had a great time. Staying at the Bear Cub Lodge was an awesome experience. Everything matches the photos seen on the website. The check-in a

…

nd check-out process was easy, and the staff is always friendly and professional! Will definitely be back next year!!

+ Read More

Manager Response:

Thank you for your kind review, Danelle! We are happy to hear your stay was exceptional. We enjoyed having you as our guest and hope you will make plans to stay with us again!

Amy M.

Georgetown, KY

"Elk Springs Resort Bear Cub Lodge 2day escape vacation"

We just were looking for a 2 day getaway form work and the stresses of everyday lives. Elk Springs Resort provided this escape for us. I was a bit nervous about booking all by phone and email given I

…

am definitely not tech savvy but,from the get go,the representative Daniel ,I think , set me at ease. The cabin was wonderful. Everything was clean and we had use of all the amenities...the hot tub, fireplaces ,pool table , arcade games, foosball table. The beds were comfortable and bathrooms were accommodating. We all enjoyed our stay and our stay at Bear Cub Lodge provided us the 2-day escape we needed.

+ Read More

Manager Response:

Thanks so much for your review! Are you ready to escape to the mountains again? Give us a call and get booked! We hope to hear from you!

Kara

Nicholasville, KY

"Perfect Weekend Getaway"

Our family has visited multiple Elk Spring Resort cabins and have never been dissatisfied. This cabin was at a great location and parking was a plus. We visit again and will recommend to family and friends.

Manager Response:

Thank you for your kind review, Kara! We are happy to hear that you and your family had a great stay with us. We believe in providing family friendly cabins that you will enjoy coming back to time and again. We hope to see you soon!

Dre'Anna

Charlotte, NC

"Getaway"

I had a great experience. Can't wait to come back

Manager Response:

We love to hear from yet another satisfied guest that enjoyed the best cabin experience we have to offer. Thank you for sharing your 5-star review with us. Customer satisfaction is our number one priority and your feedback lets us know we are doing a great job providing our guests with a perfect mountain getaway. We hope you are already considering a future stay with Elk Springs Resort!

Debbie V.

Caruthersville, MO

"Fun In The Snow"

We had a great time such a beautiful Cabin. Staff was so nice and helpful. We brought our children and grandchildren for my son's 30th birthday!! It snowed that day and we had so much fun. We will d

…

efinitely come back and would recommend the Bear Cub Lodge to anyone.

+ Read More

Manager Response:

What beautiful memories it sounds like your family made! We are glad your family was able to enjoy the snow during your stay. We would love to be a part of many vacations as wonderful as this one in the future!

Jocelyn G.

Douglasville , Ga

"Loved it"

When I first walked in, I fell in love with the place! I loved it, rooms are big it's beautiful inside.

Manager Response:

Thank you for your 5-star review and for sharing your guest experience with us. It's easy to fall in love with our cabins. They are amazing and give you that home away from home feeling. Please come and see us again.

Darrell K.

Piedmont, SC

"Keller family get together "

This was the best Groupon purchase ever. Every thing was just as shown on the site. Very quiet. We will be return in the future.

Barbara R.

Bone Gap, IL

"Great Getaway"

We were very pleased with Bear Cub cabin. Very clean, perfect for our group of 10. Kitchen was well stocked, we did not need the extra things we brought.

Directions were good. Location to attra

…

ctions was good. We will be back! Would recommend.

+ Read More

Allean

Hampton, VA

"2015 Family Reunion"

We rented 4 cabins for our family reunion. I stayed in Bear Cub Lodge. It was absolutely lovely, very comfortable, with a lot of wonderful amenities.

Manager Response:

Allean, thank you for letting us know that everything was perfect in all 4 cabins that you rented from Elk Springs Resort for your 2015 Family Reunion. Knowing we provided you with the best experience you could have hoped for, lets us know that we are doing our job and doing it well.

Julio L.

Gatlinburg, TN

"Good"

Fantastic thanks we love it nice place

Manager Response:

Thank you for your kind review! We take pride in our 5 star rating and appreciate guests like you letting us know we are doing a great job!

Jerrica

Olive Branch, MS

"Wonderful Cabin! "

The cabin was spacious, clean and everything we needed for our stay was included with the rental. The only thing that was a bit of a bummer was that we could not use the projector to play movies from

…

our phone. There was a DVD player so we just ended up renting redbox movies from the local grocery store. Other than this hiccup, everything was great!

+ Read More

Sagnelli D.

Stockbridge, GA

"Bear Cub Lodge"

We rented the cabin in celebration of our sons College graduation. Everything in the cabin was very extremely nice. We initially had a problem with the air but within 5 minutes of calling, Shane came

…

to the rescue. Phenomenal customer service. We will definitely visit again!

+ Read More

Chelsea W.

Indianapolis, IN

"Best vacay!!!"

The cabin was fantastic. Very clean and spacious.The scenery was beautiful. Me and my family had a great. We will be back next year

Laura

Dayton, OH

"Perfect Cabin"

The cabin was perfect and bigger than I expected. Very clean and neat and can't say enough about the game room with our 5 boys! They were in heaven and still can't stop talking about it. Such a fun tr

…

ip and loved our visits to Pigeon Forge and Gatlinburg!

+ Read More

Gloria B.

Miami, FL

"Great Times"

My Family and I had a great time. Enjoyed every minute and didn't want to leave.

Andrea W.

Augusta, GA

"very nice"

We enjoyed our stay. The cabin was roomy and perfect for our couples vacay.

Joye S.

Atlanta, GA

"Bear cub cabin"

We had a great time! The foosball table, arcade and billiards table were fun to fill in time between activities. The theater was also nice, not to mention the hot tub and fireplaces! The beds were com

…

fortable and the location to Ober Gatlinburg was perfect. Thank you!

+ Read More

Laurene H.

Decatur, Georgia

"Best Birthday Ever"

I visited the Elks Springs Resort - Bear Cub Lodge with my wonderful husband and three of the best couples in Atlanta! We had a truly fabulous time. The resort was inviting and accommodating and our l

…

odge had great ammenities. We were blessed with snow which made the place look like a winter wonderland. A special thanks to the maintenance staff for being very responsive and going so far as to check in with us just to make sure all our power, heat and water was working despite the stormy weather. Also, I was very grateful for the directions with traffic avoidance. They came in super handy and ensured that our vacation got off to a great start without angst from being stuff in rush hour traffic!! Can't wait for my next visit.

+ Read More

Ashley T.

Lowell, IN

"Awesome Place to Stay! "

It was better than the pictures! The cabin was very clean, the staff was amazing and my birthday weekend was great because of this cabin. It was located close to downtown. It only took us about 5 mins to get there.

Wayne

Birchwood, TN

"We highly recommend Elk Springs Resort!"

Our family had a Wonderful Christmas Vacation at Bear Cub Lodge. Lots of space, very clean and the staff was very nice. Close to everything we wanted to do. Thank You very much for everything!

Arline

Columbia, SC

"CLATIC Explores Gatlinburg, TN"

The cabin was very comfortable, clean, well laid out for an enjoyable experience

Kellie W.

Marietta, GA

"Great R&R"

My vacation to Elk Springs was a excellent getaway . The Bear Cub Lodge was a wonderful cabin. It was very clean and comfortable. I didn't want to leave when it came time to check-out. I would definit

…

ely visit again it is a vacation spot to come back to.

+ Read More

Jarred

Dennison, IL

"Can't wait to come back!! "

Beyond beauiful cabin. If you're looking for a place to get a way for a while, this is it! We loved it! And there is so much to do in Gatlinburg which isn't much of a drive.

Thomas

Findlay, OH

"Family Fun"

Loved the cabin. Everything was clean and the furniture was comfortable. Good location.

Wanda R.

Noblesville, IN

"Perfect for Families"

We had our children and grandkids meet us at the cabin. Plenty to enjoy for all ages pool table, hot tub, games. We had a wonderful time.

Demetrie T.

Mableton, GA

"Annual Event"

This location will become an annual event! Enjoyed everything about the cabin..

Charles

Houghton Lake, MI

"Family get together"

As our family is scattered in several states, this was a way to get everyone together. We met for two days and everyone had an excellent time. We could have used several more days. The only minor faul

…

ts that we found were squeaking doors in the bed rooms and not enough lights in the kitchen.

+ Read More

Sheryle B.

WATERFORD, MI

"Benning family vacation 2014"

This was our first time renting a cabin for a vacation. Also our first time staying in the mountains. Our ages went from four years old to sixty six. Every one of us enjoyed our stay. We all used the

…

hot tub at various times. The gas grill was used and each of the fireplaces! What a beautiful cabin. Having three separate decks and three levels was perfect! We will be back, even with my fear of heights!

+ Read More

Thomas M.

zuehl, TX

"awesome trip"

family was happy with cabin andit was everthg that website said it would be loved it all

Daniel

Miami, FL

"Great Stay"

Everything was great, available earlier than expected, extremely clean. Definitely worth it.

Jeremy S.

Charleston, TN

"bear cub lodge"

Very nice property. We had a great time. Very clean. Wish the cabins were not so close together. I would recommend and stay again.

Sharon

Fort Walton Beach, FL

"It was the best family vacation we have every done "

We enjoyed everything thing about the cabin and it snowed while we were there over thanksgiving it was the icing in the cake my grandchildren had never seen snow it was great. . We will be booking aga

…

in your next year this time we are going to try Christmas

+ Read More

Wayne

Abingdon, VA

"Awesome Property"

Excellent property. Would recommend it highly and plan to book it again.

Erica S.

Rock Hill, SC

"Greatest Mountain Experience Ever"

This cabin was beautiful and cozy and very luxurious! ! We had four

Couples and had plenty of room. The men enjoed the game room playing pool while the women cooked and hung out in the kitchen t

…

he first night. We all ate at the dining table for each meal. The fireplaces put out so much heat we had to cut them off at times!!! However was great lying in front of the fireplace while watching a movie on the big screen. Down stairs 3rd level bedroom was cooler than the rest of the cabin..once the timer on the fireplace cut off it became cold for my fiance and I..You may want to think about other heating alternatives for down stairs..The 2nd night we hung out downtown and rode the skylift and ate at Bubba Gump Shrimp Co which was fantastic! ! Overall we enjoyed our stay but did not like the idea of checkout time being at 10am...12 maybe?? I would recommend this cabin to anyone!!!

+ Read More

Jeff N.

Georgetown, Kentucky

"Exceeded Expectations"

We stayed at Bear Cub Lodge and the pictures on the site were good but the cabin exceeded our expectations. The cabin was spotless, everything from the hot tub to the video game machine to the wi-fi

…

worked with no issues. Management was very responsive and easy to work with - we got in our cabin 3 hours early on check-in day with no issues. We'll only consider Elk Springs for our next Gatlinburg stay.

+ Read More

Michael T.

Mason, OH

"Great Getaway"

Fantastic family retreat, everything was perfect. When not in town, you can relax and enjoy all the pleasures of home right at your cabin.

Philip

Mount olive, Alabama

"Perfect!"

Family thoroughly enjoyed this property. Can't wait to do it again! Wish the theater screen was configured for television also.

Edward

Jacksonville, FL

"GSM Vacation"

Our stay at Bear Cub Lodge was just as advertised. It was a great location.
The check in and check out were very efficient. There were no surprises.


Willie

Dalvell, SC

"WONDERFUL!"

THE CABIN WAS BEAUTIFUL!! IT WAS VERY CLEAN AND IN A SECLUDED LOCATION BUT NOT FAR FROM ATTRACTIONS! THE CABIN CAME EQUIPT WITH EVERYTHING WE NEEDED! WE WILL DEF BE BACK AGAIN!

Kristin P.

Huntley, IL

"Family of 6 Vacation"

We LOVE Elk Springs Resort. This is our 2nd stay. Bear Cub Lodge was great. My kids ages 19,14,11,7 loved the pool table, arcade game and foosball table. As well as the outdoor fireplace and rocking c

…

hairs. Mom and Dad liked that we were close to store, entrance to the mountians and the Art and Craft district. Downside - NO MOUNTAIN VIEWS - very wooded. Also no bathroom on main floor. Excellent vacation I am sure we will go back agian.

+ Read More

Keith C.

Appex, NC

"Great location, and wonderful Cabins"

This makes the 3rd time that I have stayed in your resort. The first 2 times were with some of my biker friends(4 day trip with the guys). This time I wanted to show my family what I enjoy so much a

…

bout the area. They had a wonderful time and were captivated by the beauty. They were a little nervous about the roads, but that is to be expected in the mountains considering my extended family is from the flat coastal areas of N.C.. I am in the process of attempting to get some of my biker brotheren to do our annual M109 riders meet there. The biggest concern would be enough level parking for the bikers. I am sure some will stay there and we will be calling to make reservation probably around the end of December or early January. Either way, I will be seeing you again soon.

+ Read More

Pauline C.

Piedmont, MO

"Great Vacation in Gatlinburg, TN"

Everyone was pleased with the accomadations, we
couldn't have chosen a better place, I really enjoyed the hot tub, after walking so much, seeing the sights. I would recommend your place to anyone who is planning a trip to Gatlinburg.
Load More Reviews