Amenities:
Charcoal Grill

Full Kitchen

Hot Tub

Iron / Ironing Board

Mountain View

Parking

Washer/Dryer

WIFI
An amazing cabin with incredible mountain views. 3 Full bedrooms and 3 full baths each on their own floor with 3 separate gathering areas. Your group will enjoy spreading out so the kids can play all day in the game room and the adults can congregate and relax in the great room. Your party will enjoy the mountain views from the great room, loft and covered deck. An open dining room and kitchen area is fully equipped to prepare in cabin meals with plenty of seating for your party. The cabin is just 10 minutes from the fun and an extra 10 to the Great Smoky Mountains National Park.
Cabin Bedrooms Layout
Loft Queen Suite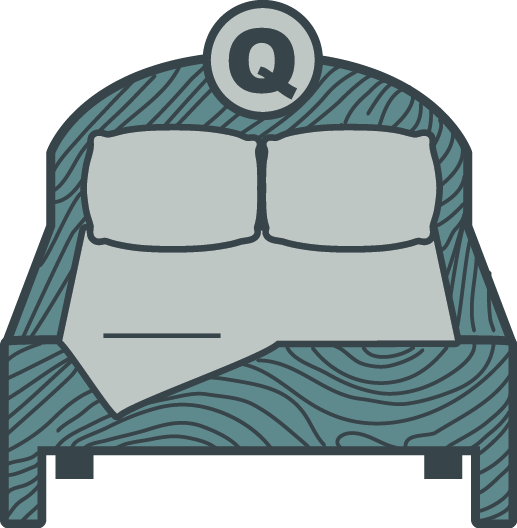 Queen Bed
Sleeps 2
Loft Crows Nest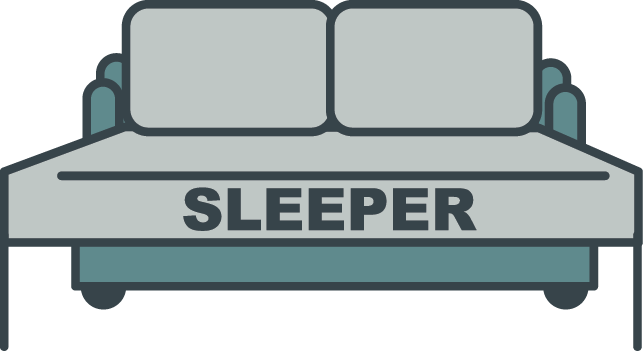 Queen Sleeper
Sleeps 2
ML King Suite

King Bed
Sleeps 2
Great Room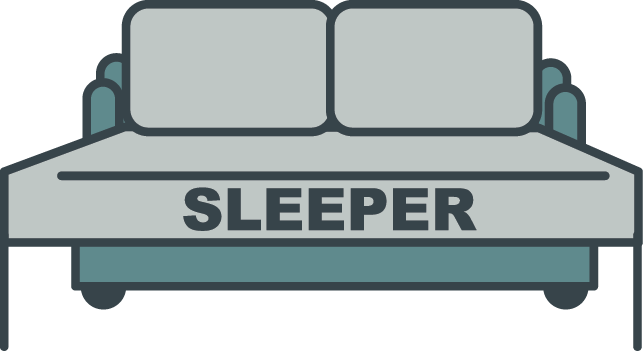 Queen Sleeper
Sleeps 2
LL Queen Suite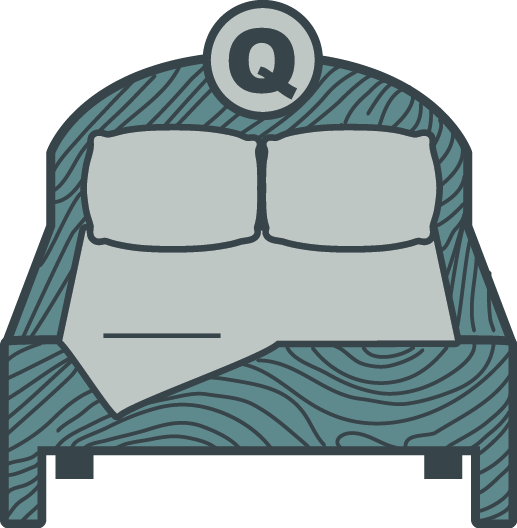 Queen Bed
Sleeps 2
Full Description

*** This property is located 28 minutes from the Main Elk Springs Resort Property in Sevierville on the edge of Pigeon Forge close to Gatlinburg. The cabin is 10 minutes to the heart of Pigeon Forge and 20 minutes to Downtown Gatlinburg
Incredible Mountain Views
1 King Bed in King Suite with Jacuzzi Tub
2 Queen Beds
1 Sleeper in Great Room
1 futon sleeper in Loft Crows Nest
Hot Tub on Covered Deck
Air Hockey
Pool Table
FREE WIFI
HD Satellite Directv
Washer/Dryer
Fireplace (Electric)
Charcoal Grill
25 Minutes to the Arts and Crafts Community
25 Minutes to Downtown Gatlinburg
10 Minutes to Pigeon Forge
15 Minutes to Dollywood
15 Minutes to Gatlinburg Golf Course
10 Minutes to the Food City Grocery Store and Pharmacy
25 Minutes to the Great Smoky Mountain National Park Main Entrance
35 Minutes to Ober Gatlinburg Ski Area
10 Minutes to Ziplining
Calendar
Click your dates below to check in and check out
Available
Check In Only
Check Out Only
Selected
Unavailable
Photo Gallery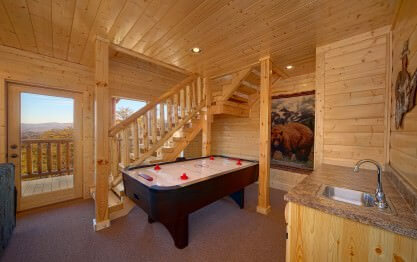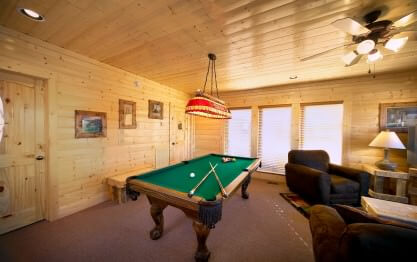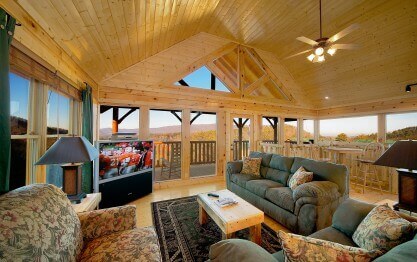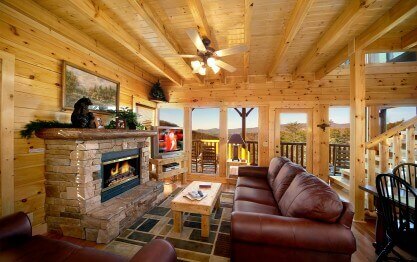 See All Photos
Reviews
Carrie D.

Dayton, OH

"Awesome Views and AWESOME cabin!"

I was a bit nervous as to what to expect renting a cabin just based on online pictures. I had done my research but felt no way would it be as good as what I was finding online. But this cabin exceed

…

ed my expectations! From the minute walked in (a/c was on, smelled clean & new, bright & open) I knew we made a great decision to rent here. The location was great and for this cabin didn't feel we were on top of our neighbors. The only criticism is the air hockey table didn't work too well, but otherwise, it was perfect. Completely well equipped with all we needed and then some. Thank you, we will be back!

+ Read More

Manager Response:

Thank you for your 5-Star review, Carrie! We are delighted to hear we exceeded your expectations. Customer satisfaction is very important to us and we strive to make sure every guest has nothing but an amazing vacation! We appreciate your business and look forward to your return stay with us!

Gordon

Midland, MI

"Spring break"

Very nice, kids enjoyed the cabin, plenty of space

Manager Response:

Thank you for your wonderful review, Gordon! We are delighted you and your family enjoyed your visit. We hope you will make plans to come back again during summer break!

Bernard G J.

West Columbia, SC

"Rented Awesome Views cabin"

First time vacationing in Pigeon Forge area. Too much to see for a weekend vacation. Hope to come back in 2017 and will book a cabin thru Elk Springs Resort. They where very professional and made you feel welcome.

Manager Response:

Thank you for your 5-Star review, Bernard! We love to hear how much you enjoyed your stay. We would consider it an honor for you to come back and stay with us again. Please keep in mind, as a returning guest you will enjoy 10% off all future stays.

Amit

Collierville, TN

"Great Cabin"

Great lodge, spacious, clean and great views

Manager Response:

Thank you for your kind review, Amit! We are pleased to hear we exceeded your expectations. We hope you will consider making Elk Springs Resort part of a new tradition when visiting our beautiful Great Smoky Mountains!

Teresa

Greenville, SC

"Family Getaway"

Wonderful Family Vacation

Manager Response:

We are happy to hear you and your family had a wonderful stay, Teresa! We hope you will make plans to come back and visit with us again often.

Ryan O.

La Harpe, IL

"Outstanding Stay!"

My family I, including my parents who I haven't vacationed with since the 6th grade, came to Great Smoky Mountains for the first time. While there is definitely an abundance to do in the area, it was

…

always such a blessing to be able to return to our Awesome Views cabin which always felt like home. The check-in/check-out process was a breeze, and the location was outstanding. I will definitely be making this trip again and will use Elk Springs Resort as my choice for accommodations. Highly Recommended!

+ Read More

Manager Response:

Thank you for allowing us to be a part of such a special family gathering. We are happy to hear you and your family felt at home during your visit. We take pride in offering luxury cabins that will make you feel welcome from the moment you walk through the door. We hope you will make plans to come back and stay with us again as often as you can. Hurry back, the mountains are calling!

Robert

Savannah, GA

"Truly Awesome Views!"

Excellent location close to Pigeon Forge, Gatlinburg & Smokey Mtn. Loved amenities of cabin & having 3 decks. Great kitchen & clean bathrooms. Very comfortable beds also. Easy check in with keyless locks. Would love to visit again!

Manager Response:

Thank you for your kind review, Robert! We are happy to hear your stay was exceptional. We enjoyed having you as our guest and hope you will make plans to stay with us again!

Charles

Paris, TN

"Enjoyed the stay"

We really enjoyed the stay. Awesome view indeed. The pictures and description did not mention the cabin was in a development. That did not bother us.

Manager Response:

We appreciate your business and wonderful review, Charles. We look forward to having you back for a future stay. Please take advantage of your 10% repeat guest discount at the time of your next booking!

Jessica

Runnemede, NJ

"Awesome views"

Everything about the stay was amazing. Staff called to check in and make sure everything was going smoothly, and the cabin was beautiful.

Manager Response:

Thank you for your business and for the wonderful 5 star review Jessica! It is our pleasure to provide you with a positive cabin rental experience along with excellent customer service. We look forward to your next stay with Elk Springs Resort!

Richard S.

Streetsboro, OH

"With an Amazing View"

I didn't want to leave! The cabin itself was fantastic; it was clean, fairly well stocked and the overall surroundings were very well maintained. The staff were always pleasant and professional. I wo

…

uld love to come back and plan on it. It's a great place to get a bunch of friends/family together.

+ Read More

Manager Response:

Thank you for your review Richard. We hear quite often that our guests don't want to leave. That only means that you are having a great time and we are doing our best to provide you with a place to enjoy! We do offer even larger cabins, so feel free to bring more friends and family on your return trip!

Michael R.

Handley, WV

"A great place to stay!"

My family of 7 stayed in the cabin Awesome Views for 4 nights and we had an amazing time. Plenty of room, kids loved the game room and it was very peaceful. The view from cabin is amazing and we were

…

close to attractions also. We are planning to stay next year too. Elk Springs Resort staff was very pleasant and welcoming so we definitely recommend renting a cabin from them!

+ Read More

Manager Response:

We are delighted to hear you enjoyed your visit! It's a beautiful day here in The Great Smoky Mountains and the perfect time to start thinking about a return trip to Gatlinburg. Please keep in mind, as a returning guest you will enjoy 10% off all future stays. We hope to see you soon!

Suzanne

Covington, KY

"July 2015 "

Overall very nice.

Manager Response:

Thank you for your recent stay at Elk Springs Resort. We are pleased that you had a nice time. Consider upgrading to a larger cabin on your next stay. All of our repeat guests receive a 10% discount on a future stay!

Di

Bloomington, IN

"Awesome view, awesome cabin"

We had a great time in the cabin. The view was really awesome.

Manager Response:

Sounds like the name is quite fitting for this cabin as you noted the view was awesome at Awesome Views! Thank you for being our guests and for taking the time to give us some wonderful feedback. We hope you are already planning your next vacation with us. We love repeat guests, so please be sure to take advantage of the 10% discount we offer!

Martin F.

Cleveland, TN

"Pigeon Forge Summer Fun"

Had another great trip. Check in and check out was very easy and painless.
Rental staff called to ask if everything was good with the cabin just after we checked in and also called after we checked out to say thanks. Was a very good experience.

Kristie W.

Norwood, Ohio

"Awesome views but no bear sightings"

I loved it. We stayed at two different cabins and loved both. Any issues that arose were quickly taken care of by their wonderful staff. We will be returning next year and again choosing elk springs. The whole family was happy.

Yichao

Pittsburgh, PA

"Enjoy the stay!"

The awesome view cabin is a very nice place, the same as pictures shown on their website. It has everything you need there. The balcony on each floor faces to mountains.

Regina B.

Indianapolis, IN

"Awesome Views is the bomb"

Awesome views was so nice and relaxing. The property was nice just like the pictures. I loved my stay!!!

Michele M.

Hattiesburg, Mississippi

"A great stay"

What a wonderful Thanksgiving vacation! This is our second year staying at an Elks Springs Resort cabin, this year at Awesome Views and loved it. We will definitely be back again next year.
Load More Reviews