Amenities:
Full Kitchen

Gas Grill

Hot Tub

Iron / Ironing Board

Mountain View

Parking

Theater Room

Washer/Dryer

WIFI
Having the opportunity to stay in Amazing Views Retreat, a secluded cabin minutes from Gatlinburg, is something special. A BRAND NEW estate home that normally would be sold to high end clients will be in our rental program for a limited time. If it's available to book we suggest locking this cabin in if you have the chance. Not a typical cabin, this Gatlinburg Cabin rental features 5 bedrooms, amazing views, a home theater, video game, hot tub and luxury furnishings surrounded by amazing custom craftsmanship. Enjoy a peaceful view of the smokies while relaxing in the great room. Or gather with friends and prepare a meal in the upscale kitchen.
Cabin Bedrooms Layout
Main Level - Bedroom 1

King Bed
Sleeps 2
Upper Level - Bedroom 2

King Bed
Sleeps 2
Lower Level - Bedroom 3

King Bed
Sleeps 2
Lower Level - Bedroom 4

King Bed
Sleeps 2
Lower Level - Bedroom 5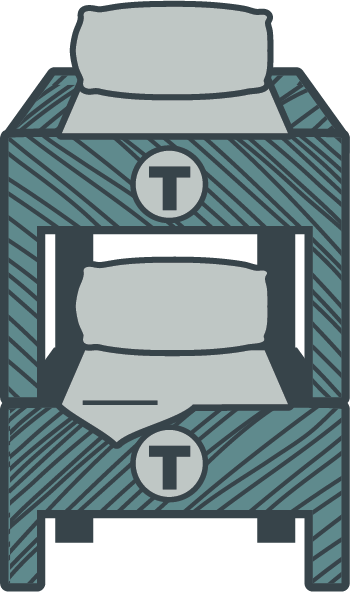 Single Bunk
Sleeps 2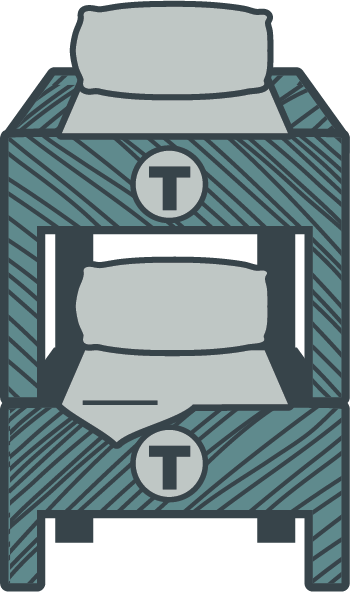 Single Bunk
Sleeps 2
Lower Level - Game Room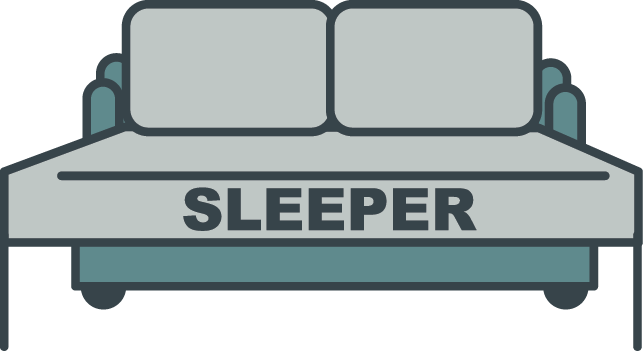 Queen Sleeper
Sleeps 2
Full Description
Perfect for a large group or family reunion, this large cabin offers plenty of space to spread out for privacy, peace and quiet as well as large open gathering spaces for a large get together. Enjoy amazing views of the mountains through the 28 foot wall of glass in the great room as you relax on brand new leather furniture in front of your gas fireplace with custom hearth. There is plenty of space for dining and for cooking in the large, spacious and fully equipped open dream kitchen with upgraded cabinetry and granite counter tops.

When not relaxing in the loft reading area or in the great room, the downstairs features a game room with big screen TV and pool table. Gather and enjoy a movie in your own private theater room with 12 foot theater screen and HD projector with surround sound and leather seating. Watch TV in high def in the theater room including your favorite football game. No one will want to leave the cabin!

This cabin includes 3 spacious king master suites each with a full bath. 2 additional bedrooms with adjoining bath include a bunk room with 2 twin bunks and a separate bedroom with King sized bed.

Gas Grill, Hot Tub and Free wireless internet are standard amenities.


This Property is located 20 Minutes from Elk Springs Resort.
*** Brand New ***
Private and Secluded
Theater Room with 12' Screen and Surround Sound
Amazing Panoramic Mountain Views
Gas Fireplace
4 Kings
2 Twin Bunks
Sleeper Sofa
Hot Tub
1 Jacuzzi Tub
Gas Grill
Free High Speed Wireless Internet
Covered Decks
6 TV's
6 DVD Players
Washer/Dryer
Plenty of Flat and level parking
Fully Stocked Kitchen
Custom Estate Home with Beams and Vaulted Ceilings
3 Levels

Calendar
Click your dates below to check in and check out
Available
Check In Only
Check Out Only
Selected
Unavailable
Photo Gallery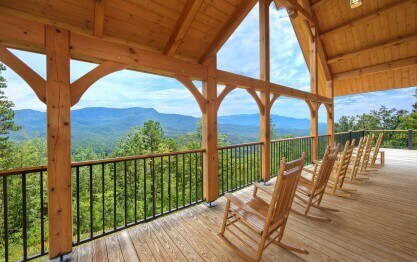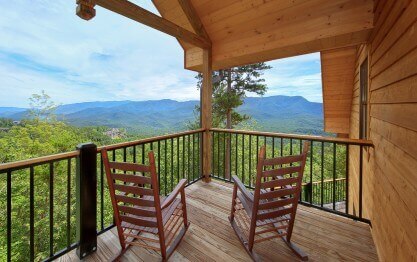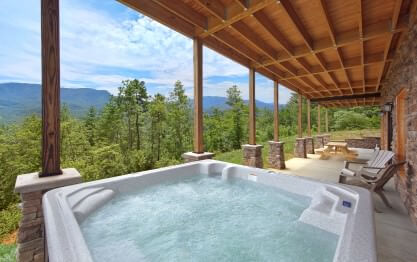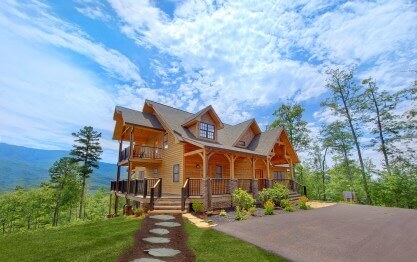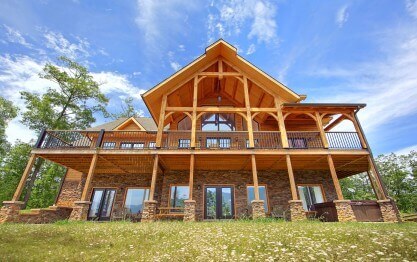 See All Photos
Reviews
Shyneta B.

Bennettsville, SC

"AMAZING"

COUPLES RETREAT FOR ME AND MY HUSBANDS ANNNIVERSARY LOVED EVERY MINUTE OF IT. IT WAS JUST LIKE THE PICTURES AND THE VIEW WAS AMAZING. THE OWNERS WAS KIND AND HELPFUL. REALLY ENJOYED WILL REVISIT AGAIN.

Manager Response:

Thank you for allowing us to be a part of such a memorable weekend, Shyneta! We are happy to hear your couples' retreat was a success. We enjoyed having you as our guest and hope you will consider making Elk Springs Resort part of your anniversary plans for many years to come! Please keep in mind, as a returning guest you will enjoy 10% off all future stays.

Christy S.

Brentwood, TN

"Sweet 16"

Celebrated my daughter's 16th bday weekend here and it was perfect in every way! Plenty of space for kids and adults!

Manager Response:

Thank you for allowing us to be a part of such a memorable celebration, Christy! We love to hear stories such as yours. We hope you will consider making us a part of many family celebrations in the future!

Chris A.

Columbia, SC

Manager Response:

Wow! Thank you for allowing us to be a part of such an amazing vacation, Chris! We are happy to hear we exceeded your expectations. We enjoyed having you as our guest and hope you will make plans to visit often. Please keep in mind, as a returning guest you will enjoy 10% off all future stays. Hurry back, new memories are waiting to be made!

Terry B.

Powell, TN

"Great experience, had no issues at all!"

We rented this cabin at the end of February 2017 and had a blast. Had no issues at all with anything. Everything was very clean and organized when we got there, and everything worked as expected. Woul

…

d highly recommend to anyone interested in the cabin, best experience I've had.

+ Read More

Manager Response:

Thank you for taking the time to share your wonderful experience with us, Terry! We are delighted to hear you enjoyed your stay. We enjoyed having you as our guest and hope you will consider making Elk Springs Resort part of a new tradition when visiting Gatlinburg.

Ryanna

Nashville, TN

"Heaven Away From Home"

The views were simply breathtaking and the home was extremely spacious, almost over accommodating for our group. We spent so much time enjoying each other in the common room that we hardly had time to

…

enjoy the extra amenities like the theater room. This place doesn't disappoint.

+ Read More

Manager Response:

Thank you for your kind words, Ryanna! We love to hear how much you enjoyed your stay. It sounds like many wonderful memories were made! We hope you will consider staying with us again during your next visit to Gatlinburg.

Corlis

Southaven, MS

"The Great Escape"

As we ventured up the mountain, we were unsure what awaited our family! In true Elk Springs' style, we were amazed and excited to see the Amazing Views Cabin! It was spacious, well equipped, and a spe

…

ctacular retreat for our group of 13! The kitchen was well stocked! The theater put us to sleep on several occasions! Just being there was peaceful and tranquil! A great escape!

+ Read More

Manager Response:

Thank you for your 5-Star review, Corlis! We love to hear how much you enjoyed your stay. We enjoyed having you and your family as our guests and hope you will consider staying with us again during your next visit to Gatlinburg. Please keep in mind, as a returning guest you will enjoy 10% off all future stays. Hurry back, new memories are waiting to be made!

Shanti C.

Atlanta, GA

"what an amazing views"

Awesome cabins, truly amazing

Manager Response:

We are delighted to hear you enjoyed your visit! Spring is around the corner. It's a nice time to start thinking about a return trip to Gatlinburg. We hope to see you again soon!

Rachel B.

Antioch, TN

"Wedding Retreat"

My fiance (at the time) and I rented several cabins from Elk Springs for our large families to enjoy the beautiful and majestic views of the mountains as they came to celebrate our wedding! They were

…

extremely impressed with the attention to detail, cleanliness, and most of all the views from the cabin that Elk Springs offers! Thank you Elk Springs for spoiling our families and giving them a mini vacation.

+ Read More

Manager Response:

Thanks for your review! We would love to spoil you again! We hope you can make plans for another trip to visit this year!

Cheryl

Mount Pleasant, SC

"Nature's Beauty"

very good

Manager Response:

We are pleased that you enjoyed the beautiful surroundings of the Great Smoky Mountains on your visit last year. We are currently running an awesome Groupon promotion. Please consider booking another stay with us!

Yolanda M.

Marietta, GA

"It was all we hoped for..."

Beautiful cabin with really amazing views wherever you look. It was exactly as described, secluded, very clean and well maintained. My family spent Christmas at this wonderful cabin and everyone enjoy

…

ed themselves immensely. The customer service was outstanding, we planned to grill for dinner and realized the propane tank was out, notified management and we had another propane tank in less than 30 minutes...dinner saved! I would highly recommend Amazing Views Retreat, my family would definitely stay here again.

+ Read More

Manager Response:

Thank you for the 5- Star review, Yolanda! We are happy you chose to stay with us for your Christmas celebration. We pride ourselves in providing exceptional cabins and service. We are here to assist you with every aspect of your stay. We are happy to hear we exceeded your expectations when you needed assistance. Please do not hesitate to call us if there is ever a need during your stay. We have on-site housekeeping and maintenance, as well as 24/7 assistance. Please contact us if we can assist you in making this an annual event. Come back and see us soon!

Dianne G.

Saint Louis, MO

"Great time!"

The cabin was secluded with a great view and there was so much to do inside the cabin and stay entertained even on a rainy!

Manager Response:

We are happy to hear you enjoyed your stay, Dianne. We hope you will make plans to visit again soon. Please keep in mind, as a returning guest you will enjoy 10% off all future stays.

Robert

North Lewisburg, OH

"Amazing Views...Awesome Experience!"

We chose Amazing Views Retreat for our daughter and son-in-law's wedding ceremony. The retreat was absolutely perfect for our family...and was beyond our expectations! The views from the multiple deck

…

s were beyond amazing and served as a spectacular backdrop for the wedding! We loved the privacy of the location, as well as the close proximity to attractions, stores and restaurants. Thank you!!!

+ Read More

Manager Response:

We are honored that you chose one of our luxury cabins for such a special event! We are pleased that your cabin selection and rental experience exceeded your expectations. The Fall colors were stunning this year and I am certain you have some great photos with this spectacular backdrop! Congratulations to your family and to the happy couple! We would love to have you back again as repeat guests!

Veronica T.

Indianapolis, Indiana

"best birthday ever"

We had a wonderful time. It was way more then we expected, the views were spectacular and the grounds were so peaceful.

Manager Response:

Thank you Veronica! I can't think of a better place for a birthday celebration! We are happy to hear that everything was better than expected and hope you will return again one day.

Justin

Dunedin, FL

"Amazing Views Retreat, repeat customer."

Excellent cabin, perfect stay. This management company has repeatedly delivered for us. Aside from the well groomed, amenity rich cabin they handle hiccups professionally as well. The outdoor propa

…

ne grill was not performing well (burner elements were corroded and needed replacing) and I complained about it. That same afternoon a new grill showed up. Presto! Thanks, Elk Springs, for another good vacation.

+ Read More

Manager Response:

Thank you for the 5-star review Justin. We are pleased to hear that you enjoyed another excellent cabin stay with Elk Springs Resort and that we quickly responded to and remedied your gas grill issue. We hope you will continue vacationing with us in the future!

Kevin G.

Fishers, IN

"Epic guys weekend!"

We had 11 high school and college buddies get together. The cabin was secluded, great for a campfire, awesome kitchen and main room, great views to grill and hang out on the balcony....overall such a

…

great venue. And it is just down the road from a nice golf course! Elk Springs Resort's customer service was excellent as well.

+ Read More

Manager Response:

Thank you Kevin for the great review! I am sure it was great having a nice place to gather together and catch up on old times. We hope you will recommend us to others and come back for another stay soon!

Johanna A.

Osage, IA

"A Family Vacation to Remember"

My family and I had a wonderful time in the Amazing Views cabin at your resort. Your ad photos were spot on! The view is simply incredible. The cabin was clean and welcoming. It was spacious enough fo

…

r both adults and kids (10 of us) to have our own space for awhile. We thoroughly enjoyed the hot tub, the arcade, and billiard table. Highlight was a large bear emerging from the underbrush in the backyard responding to our grandson's taped animal distressed calls. WOW! A full moon made it perfect. We have memories to last a lifetime!

+ Read More

Manager Response:

Thank you Johanna! It sounds like you made the perfect cabin choice for your family to enjoy an incredible vacation! I am sure the bear sighting is something everyone will remember for years to come! When you are ready to book your next cabin vacation, mention that you are a repeat guest and receive a 10% discount off your future stay!

Melissa L.

Ooltewah, TN

"Gorgeous views! Beautiful cabin!"

The name of the cabin "Amazing View Retreat" is appropriately named. The views are stunning! Amazing property in a great, convenient location. It felt like home away from home. Will definitely visit a

…

gain. Elk Springs Resort made the whole process effortless.

+ Read More

Leanne D.

Munster, IN

"Awesome Spring Break"

We had a wonderful time at the Amazing Views Retreat. Perfect for two or even three families to share, the views are the best, and the house is amazing. The only problem was that the kids didn't want

…

to leave! We look forward to making this an annual destination for our family.

+ Read More

Tashia

Converse, TX

"Definitely an Amazing View!"

We went there for my sister's 30th bday and we loved the cabin! Plenty of space and it was equipped with everything we needed. We played crud with the pool table and even jumped in the hot tub in 18

…

degree weather. We're planning on coming back next Summer.

+ Read More

Tim R.

Naples, FL

"Awesome Stay"

We were three families and staying together. All of us were amazed at how nice the place was and the view was probably top 1% in Gatlinberg. The management company was really great as well!

Shanshan

CINCINNATI, Ohio

"Money Cannot Buy Amazing Experience"

We have 11 people to spend a weekend at the cabin. the view was awesome, overlooking the great smoky mountain. The house was design very modern and friendly. The Kitchen is well equipped. Easy to find, and easy to go to anywhere.

Ronald C.

Knoxville, TN

"Family Retreat"

It was the very BEST. Thanks for everything

Samantha J.

Madison, TN

"Wonderful weekend getaway"

We all enjoyed it. And Laura and misty are great!

William

High Point, NC

"Couples Retreat"

great full of adventure.. we really liked the book left in the livingroom where other guest gave details on their vacations and recomeneded nice excursions

Troy

Albany, GA

"Great Family Getaway!"

Amazing Views Retreat lived up to its name. The cabin is perched on the mountain side with amazing views of the surrounding mountain range. In addition, there was plenty of privacy from nearby cabins

…

and enough space in the cabin for our large family to kick back and relax and enjoy each other's company. I would highly recommend this cabin!

+ Read More

Roger W.

Eldorado, IL

"The Great Vacation Get a Way"

We enjoyed the property, it was very spacious, beautiful woodwork, enjoyed sitting out on the covered porch. The mattress was very comfortable. Lots of extra blankets if needed. I wish we had spent

…

more time at the home and less time fighting traffic in Pigeon Forge. Overall we had a great time.

+ Read More

Will J.

Hendersonville, TN

"Small things make a difference..."

First I'd like to say this property is phenomenal. My family go to the smokies frequently and stay at a variety of cabins and I don't think there is one better than this at any price. The combinatio

…

n of the view, space, and upscale amenities make this retreat a steal. Some small things kept me from giving this 5 stars. The ice maker not functioning properly was not that big of a deal. Smaller things like only 2 trash bags for the kitchen, one roll of toilet paper per bathroom, etc were bigger deals for us. I didn't expect to have waste time making an extra trip to a grocery store for a whole package of garbage bags and toilet paper for 3 nights stay in a place this high end. If I was staying a week I may be able to understand, but if you are staying more than one night be sure to pack those items and bring them. The place was immaculately clean and some terrific memories were made here. I would stay again.

+ Read More

Isidoro R.

Miami, FL

"Beautiful Cabin, excellent views, would highly recommend."

Great time, planning another trip for fall of 2014.

Rebekah F.

London, KY

"Beautiful view and beautiful cabin"

Amazing Views cabin provided us with an awesome family christmas. We travel every year from GA, AL and KY to meet for a family christmas and this is by far the best cabin we have stayed at yet. Very b

…

ig and provided plenty of room for 12 people. The kitchen was very big and spacious and made our big family meals more easy to cook. Little disappointed they don't put up a tree for christmas, but we were able to pack one in the car and threw it up. The drive to the cabin was a little scary. Spun tires on the hills in just the rainy wet roads. On the morning of our 5k it was sleeting and it made us all too scared to try and drive it at 5 am so we missed our race. That was a bummer! Other then that we had a blast in this cabin from eating tons of food, to watching movies in the theater room, to having donkey kong competitions on the arcade.

+ Read More

Shelly

Galena, OH

"Amazing Views!!! "

The view from the deck of this property is amazing! My family and I enjoyed our stay at the Amazing Views Retreat. The media room was a hit with the kids, the large kitchen was easy to cook in, and w

…

e all loved the huge windows and views. The property is private and convient to a grocery store and activities. We would definately recommend this property to friends and family.

+ Read More

Mark D.

Lebanon, TN

"Wonderful Smoky Mountain Getaway"

The property is situated on a beautiful mountain side on the north edge of the Natl Park; peaceful, very private, spectacular view (better view than Gatlinburg or Pigeon Forge). Cabin was spacious, we

…

ll designed, with many modern conveniences including a great theater room!

+ Read More

Karen S.

Pana, IL

"Amazing Views Retreat is ....amazing!"

Beautiful view and super nice, upscale house. The express check-in was great....Elk Springs gives the door code and a visit to their office is not necessary. There is a good sized area for parking

…

several cars. We didn't have internet service when we arrived and were unable to get any channels on the TV downstairs. After a call to the office, a quick response was made by Jeremy, a very nice young man, who replaced the modem. Internet worked the remainder of the week, although a bit slow. The owner of the cabin also showed up to fix the TV and also spent some time talking with our group.

The cabin furnishings are upscale and the kitchen is very well stocked for a group. I've read other reviews which mentioned the ice maker in the frig works sometimes and not others. Same story for us. It would be nice with a house that large if there was a larger frig.

We did get to watch a bear in the yard below the deck on 2 occasions. Great week!

I would definitely rent this lovely house again and recommend it highly.

+ Read More

Evelyn S.

Gainsville, GA

"Fantastic Amazing Views"

We had a fantastic time at the cabin. My grandchildren loved the theater and even slept in the chairs that lay flat one night. It was very spacious and extremely clean.

Debbie

Crown Point, IN

"Parents 50th Anniversary trip"

The cabin was fantastic and we would definitely recommend this resort. We had a few minors issues but all were resolved immediately. The views from this cabin were awesome. The game room and theatr

…

e room were a big hit with the teens and young adults.

+ Read More

Laura O.

Wheelersburg, OH

"Amazing Views!"

Beautiful view! Best vacation rentals in the area.

Loren

Sutton, NE

"A Beautiful Stay in the Smokey Mountains"

We thoroughly enjoyed everything about our rental property. We would love to come back soon!

Melissa C.

Portland, TN

"(Mostly) Wonderful Experience at the Amazing Views Retreat"

This was our second stay at the Amazing Views Retreat, and we fully intend to stay there again in the future. We truly love the house and the experience. My one sour note was the Internet connection

…

. The house does have a DSL Internet connection, as described on the website, but the actual connection is HORRIBLE. I work from home and, thus, usually have to work while on vacation, as I did this time around. If I was able to maintain a connection for longer than 10 minutes, I considered that a success, and that's just unacceptable. I was late submitting the final grades for a college English course that I teach because the Internet connection crapped out for most of the hour before the grades were due. I couldn't maintain a connection long enough to submit anything. Obviously, that's disappointing. For most people, a poor high-speed Internet connection might not be a big deal while on vacation, but I'm sure it must matter to a few people other than me. Other than that, we couldn't have been happier with the management or owner, who had to come to the house to fix an air conditioning problem, which he did the same morning we called Elk Springs to notify them of the issue. The views from the decks are not to be believed, and the house, as a whole, is just incredibly roomy and comfortable. Love, love, love it!

+ Read More

Felecia

N Augusta, SC

"Words Can't Describe"

Words can't describe how my family and I enjoyed Amazing Views. Yes its WAYYYYYY up, but its gorgeous. The bedrooms were very nice and comfy, the kitchen was very spacious and had every cooking pot/ut

…

ensil you could ever need. The movie room was exceptional....i fell asleep in there a couple of nights. The only problem that I did have was the washer machine is very slow in washing clothes...other than that I give the stay a 100! We will be back!

+ Read More

Shanti

Atlanta, GA

"Truly is amazing "

We love this cabin so much. This is our 2 year coming ...I really feel in love you...

Stacy L.

Evansville, IN

"wonderful stay! perfect!"

We highly recommend this property. There isn't one thing that we would have changed about our stay!

Justin S.

Libertyvile, IL

"Awesome.."

Clean, beautiful, well maintained.... worth every penny!!!

Mohamed H.

Lenoir City, TN

"Great place, great stay"

We had a great time and look forward to staying with you again

Anita H.

Holts Summit, Missouri

"Beautiful!"

We absolutely loved our stay. The cabin was everything we hoped it would be. It was wonderful sitting on the deck drinking coffee and looking into the mountains. We can't wait to return.

Todd

Bowling Green, KY

"Awesome."

Had a wonderful experience. Will come again?

The Stinsons.

Gayle E.

Six Mile, SC

"Can't wait to book my next stay! "

We were all blown away by the view - truly amazing! Only thing that could have made it better was to have a functional fireplace.

Sharon S.

Blissfield, MI

"Great Cabin for 50th Anniversary"

We were taken back when we walked in the door. This cabin is beautiful. So open and views were amazing!! Kitchen was great to work in. Thank you for making our 50th wedding anniversary a beautiful mem

…

ory we will never forget. Will book again with Elk Springs. Management was very professional and easy to work with. Thanks again.

+ Read More

Sharon

Edmonton, KY

"Amazing Views First Rate"

Beautiful cabin. Luxurious furnishings and first rate rental. Would be my choice again.

Melissa C.

Portland, TN

"Truly Amazing Views and House!"

The house and remarkable mountain views were truly spectacular. The resort provided us with directions for a "back" way to get to the house, and we utilized them in order to avoid the Pigeon Forge tra

…

ffic--very helpful and easy! I plan to rent the house again in the future, several times, if possible. Not necessarily the best house for people with mobility problems (elderly or children younger than 3-4 years old) because of the steps, but that's true of most multi-level homes. The house was generally clean, but the light fixtures and stove top and floors under furniture needed to be cleaned. There were also a few dead bugs behind doors in the downstairs bedrooms. Basically, the dusting and vacuuming needs to be a little more thorough every few weeks (much like my own house). Also, there were several burned-out light bulbs, inside and outside. These are minor complaints, though. We had a wonderful, wonderful time!

+ Read More

Ashley

Clarksburg, OH

"Amazing Views"

The view really was amazing. We had a small issue with the washing machine but maintenance had it fixed the same day. We actually had our wedding reception at the cabin and it turned out wonderful! It was truly an Amazing experience.

Rich

Cary, IL

"Terrific time, great place!"

Great family vacation that we would love to do again!
Load More Reviews