Amenities:
Full Kitchen

Gas Grill

Hot Tub

Iron / Ironing Board

Mountain View

Parking

Sauna

Theater Room

Washer/Dryer

WIFI
Almost Heaven - It truly is just that! Sit and relax in your hot tub at the highest point in Elk Springs Resort and enjoy the views of Mt. LeConte from this unique location. A ramp with no steps leads to the entry of the main level, and from the first step inside of this stunning Gatlinburg cabin you will see a 20 foot wall of floor to ceiling windows. View the live webcam atop Almost Heaven at: Gatlinburg Webcam
Cabin Bedrooms Layout
Master Suite 1

King Bed
Sleeps 2
Master Suite 2

King Bed
Sleeps 2
Master Suite 3

King Bed
Sleeps 2
Bunk Room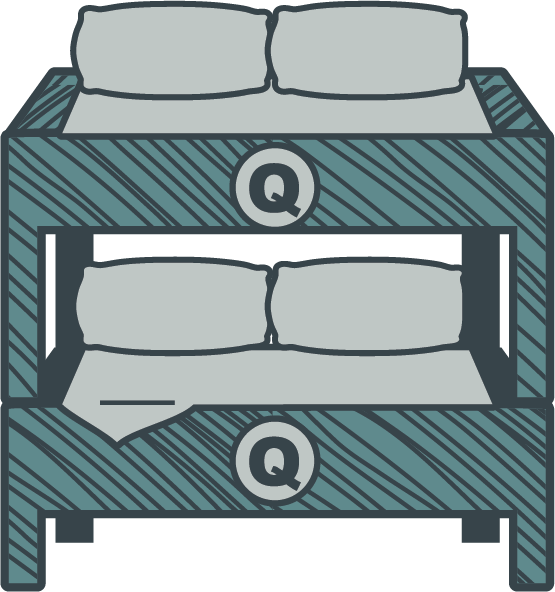 Queen Bunk
Sleeps 4
Loft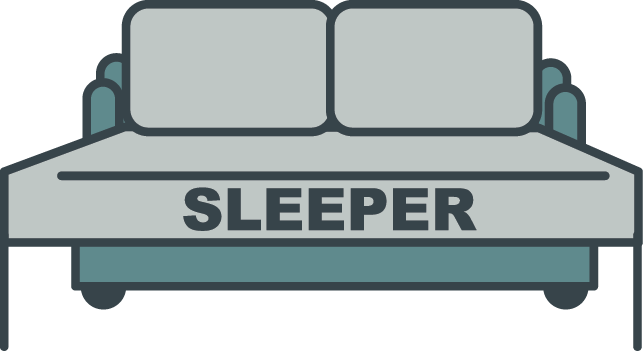 Queen Sleeper
Sleeps 2
Full Description
Entering on the main level there is a fully stocked kitchen with breakfast bar, cherry cabinetry and stainless steel appliances including an ice maker, coffee maker and microwave. The dining area comfortably seats 8 guests. Relax after a day of hiking with the family and enjoy a view of Mt. LeConte in the adjoining living room on luxury leather furnishings. Our fully equipped kitchen makes it so simple to enjoy cooking, so relax at the cabin during dinner hour. The sunset hour awaits you.

Enjoy the recreation of the pool table and air hockey table, or relax in the indoor sauna on the lower level. The hot tub is on the deck just outside. The 9' screen in the theater room is another great addition to this 4 bedroom cabin. Find privacy in the 3 king bedrooms and 1 queen over queen bunk bedroom. The main level King master suite has romantic décor complemented by the adjoining bathroom's heart shaped jacuzzi, shower stall and double sinks. The upstairs King has a jack and Jill bathroom with a Jacuzzi bath and shower combination with double sinks. You can find a couch in the loft for some quiet reading time.

The lower level King bedroom and additional sleeper sofa have a full bath with a shower, so there?s privacy and convenience for all guests. When you wake up each morning, keep an eye out for the beautiful birds in the trees that surround the cabin from the dramatic windows or from the multi-level decks. Breathe in the fresh air and views and enjoy the furnishings and ambience or this luxury cabin. Heaven never looked so good. For your convenience, a utility room with side by side washer and dryer is available and there is a half bathroom on the main level.


Theater Room With 9' Screen
Hot Tub
Sauna Room
2 Jacuzzi Tubs
Incredible Mountain Views
Pool Table
Air Hockey
Wet Bar
Free High Speed Wireless Internet
Gas Fireplace
8 Rocking Chairs
6 TV's
6 DVD Players
Washer/Dryer
Gas Grill
3 Levels
3 King Master Suites
1 Bunk Room
1/2 Bath on Main Level
8 Minutes to Downtown Gatlinburg
Calendar
Click your dates below to check in and check out
Available
Check In Only
Check Out Only
Selected
Unavailable
Photo Gallery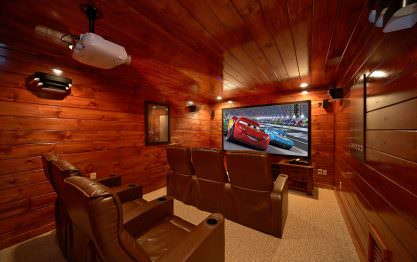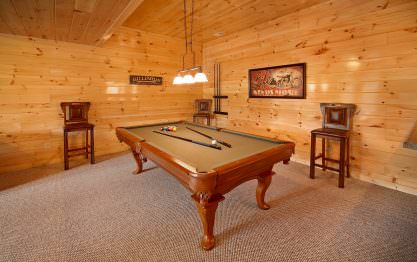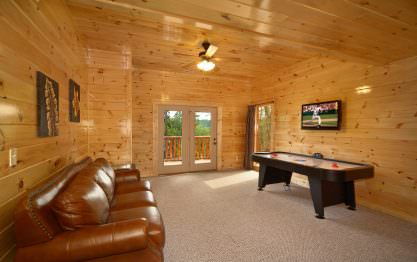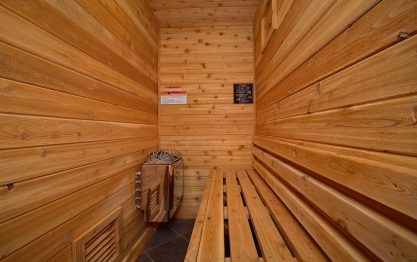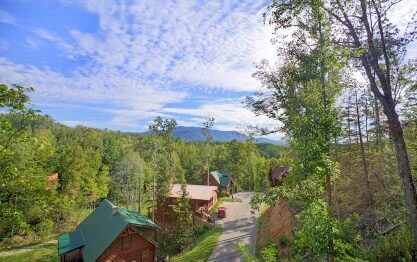 See All Photos
Reviews
Yulieska G.

Hollywood, FL

"Amazing Cabin"

We stayed in Almost Heaven for a weekend and our family was in love with this cabin beautiful view. Plenty of space for a big family simply amazing....

Manager Response:

Thank you for taking the time to share your wonderful experience with us, Yulieska! We are delighted to hear you and your family enjoyed your stay. We hope you will make plans to come back and visit us often!

Pamela S.

Savannah, GA

"Out Gatlinburg Vacation "

We had a glorious time! The cabin was just the way it was represented on the video online. The views from the deck were breathtaking! We plan to return next year, hopefully to the same cabin. It was a

…

lso convient to downtown and had a grocery store nearby.

+ Read More

Manager Response:

We enjoyed having you as our guest, Pamela! It sounds like many wonderful memories were made during your stay. We would consider it an honor for you to come back and stay with us again. Hurry back, your next adventure awaits!

Richard

Cordova, TN

"GREAT STAY"

EVERYTHING WAS GREAT

Manager Response:

Thank you for your kind review, Richard! We are excited to hear you had an exceptional stay. We hope you will make plans to come back and stay with us as often as your schedule allows. Please come back and see us soon!

Daniel B.

Lawrenceville, GA

"Very Good!"

That's exactly what I was just looking for.

Manager Response:

Thank you for your business! We hope you will continue to enjoy Elk Springs Resort's cabins for many years to come! We are running a great Groupon promotion right now. Feel free to check it out and book your 2017 vacation with us!

Randal M.

Oak Ridge, NC

"Another Wonderful Experience"

From the reservation to leaving, we had another wonderful time at Elk Springs. Our cabin was available early and exactly as promised. It is a pleasure to work with a group of people who always delive

…

r what they say. We look forward to our next visit.

+ Read More

Manager Response:

Randal, we appreciate your kind review. Your experience is a testimony of the excellent customer service we provide here at Elk Springs Resort. We value your feedback and are pleased to have repeat guests like you who enjoy staying in our luxury cabins. We look forward to your return!

Scott W.

,

"Definitely Heaven!"

Cabin was incredible. Everything was completely ready for us. The grill knobs had been burned out by a previous guest at our cabin. I notified management and there was a brand new grill waiting for us

…

when we got back to the cabin. Above and beyond service! I would recommend Elk Springs to ANYONE.

+ Read More

Manager Response:

Thank you for the 5 star review, Scott! It is our pleasure to provide you with an incredible cabin experience. We apologize for the problem with the gas grill and thank you for allowing us the opportunity to replace the grill while you were our guest. Customer satisfaction is very important to us and your feedback helps us to improve our services. We appreciate your business and would love to have you back for another stay soon!

Laura P.

Boca Raton, FL

"Best Cabin EVER!!! Yes Almost Heaven"

This was our 1st cabin experience. There are no words that I can use to explain how our family feels about our vacation there. Everything was Perfect. Kids did not want to go home loved the cabin more

…

than the sight seeing. Location was top notch. The cleaness and furniture was truly amazing. This will be our future vacation again next time 2016 Christmas!

+ Read More

Richard S.

Cordova, TN

"RICHARD S."

ABSOLUTELY WONDERFUL.

Manager Response:

We love to get wonderful reviews from guests who thoroughly enjoyed their stay with us. Thank you for choosing Elk Springs Resort for your vacation destination. Hurry back for another stay in the near future!

Esther

Avon, IN

"Outstanding retreat!"

Beautiful cabin and beautiful view! Had 6 kids with my husband and I (each of our 3 brought a friend) and there was plenty of room. Kids loved the pool table and theatre room. Would stay again!

Karl

Livingston, LA

"The View was Awesome."

This is a very nice cabin. The view is amazing. We had a great time. Property is maintained very well. Elk Springs has great customer service. They work with you. We had only one maintenance issue but

…

was resolved quickly. Thank You Elk Springs and the employees. This is the best place to stay!

+ Read More

Julie C.

Indianapolis, IN

"Almost Heaven Review"

Almost Heaven was the perfect place for friends to gather to celebrate our 40th wedding anniversary. This was our second stay at Elk Springs Resort and once again we found the cabin clean and well ap

…

pointed with everything needed for a perfect vacation. In fact the experience was so perfect we ended up extending our stay. When anyone says they are going to Gatlinburg I always recommend Elk Springs Resort.

+ Read More

Cheryl G.

Smyrna, GA

"Epic stay at Elks Resort (Almost Heaven)"

Our stay at Almost Heaven Elk Springs resort was absolutely wonderful the staff was even better the cabin that we first rented the heat went out and before we even left Atlanta the elk springs resort

…

staff had already called us and upgraded us to a larger cabin. Cabin was clean cozy and fully loaded.

+ Read More

Trisha

Spartanburg, SC

"Wonderful Stay!"

We had a wonderful time at the cabin Almost Heaven. My family and I could have spent the entire time in the cabin with nothing else planned and had a great time. The cabin was very clean and the custo

…

mer service was superb. I was contacted several times before and during my stay to make sure that everything was satisfactory. I would definitely recommend Elk Springs Resort Cabin Rentals to anyone looking to vacation in the area.

+ Read More

Rataba

Charlotte, NC

"My great relaxing vacation !!!!"

I really had a wonderful experience at the Elk Springs cabin! The cabin was everything I hoped it would be and more! The cabin was clean and fully equipped to furnish all of my and guest needs! I definitely will be returning back soon!!!

McCallie

Chattanooga, TN

Carol T.

Apache Junction, AZ

"Paradise"

The accommodations were wonderful. Simply the most beautiful vacation place we have ever been too

Tammy D.

Moorhead, MN

"Amazingly awesome stay at Almost Heaven"

My family of 6 recently stayed at Almost Heaven. I was extremely impressed with how beautiful the large cabin was. We had so much fun hanging out in the outdoor hot tub, playing pool and air hockey

…

, taking a sauna and watching movies in the home theatre room. The cabin was so roomy but so well decorated and furnished that you felt so relaxed and comfortable. We saved a lot of money on not having to eat out for 4 days because I enjoyed cooking in the cabin and the kitchen was very well equipped. The view from both the decks were amazing. We all sat out there one evening drinking wine and watching a thunderstorm roll over Mt. Laconte. The drive up to our cabin was a beautiful. Loved how the resort was laid out. I would highly recommend Elk Springs resort and especially the cabin, Almost Heaven.

+ Read More

William J.

Alexandria, tn

"awesome"

the cabin is very nice and the view was amazing.

Nikki B.

Trenton, TN

"Loved it!"

This cabin was simply a delight.

Jessica H.

Piedmont, MO

"Almost Heaven"

This cabin was very clean and spacious. The kids enjoyed the air hockey, pool table, and theater. The cabin was located very close to downtown Gatlinburg. The staff was helpful and friendly. Checki

…

ng in and out was simple. We will definitely stay at Elk Springs Resort again.

+ Read More

Richard S.

Cordova, TN

"ALMOST HEAVEN"

VERY GOOD

Ernest M.

LILBURN, Georgia

"Best Location on the Property"

Loved the location, on top of the hill overlooking the property with the mountains in the background. Great cabin with superb amenities, it was just right for our party of 11.

Corrie W.

,

"Fantastic resort!!"

These cabins are amazing!! We will go to Elk Springs again and again!!

Brittany D.

Indianapolis, IN

"A Taste of Heaven"

Our stay at Almost Heaven was great. The view was breathtaking. The experience was peaceful. We would definitely visit again!

Lynn V.

Grand Rapids, MI

"Sit Back and Relax"

Love, love, loved our stay at Elk Springs! We felt like we were in a cabin but with all the comforts of home! And we loved having a pool table and air hockey right there as well as the home theatre. Awesome!!!

Yolanda R.

Goodlettsville, TN

"A Stay to Remember"

My family had a beautiful time at Almost Heaven. The cabin not only lived up to its name, it also exceeded our expectations. The staff was extremely responsive to our requests. For example, I call

…

ed with a question about the theater room projector and asked for a return phone call. Instead of just retuning my call, the facilities guy showed up within minutes. He answered all of our questions and made sure everything was up and running for our movie night. Finally, we are forever grateful to the staff for finding and returning my Grandfather's retirement ring!

+ Read More

Carla C.

Rogers, AK

"It was heaven!"

We had a wonderful family time. A trip we all will remember!!

Keyana W.

Cincinnati, Ohio

"Great weekend getaway"

This was my first time to Gatlinburg and I had an awesome time! The cabin was beautiful and spacious. I wish we could've stayed longer!!

Diane J.

Spring, TX

"WONDERFUL PLACE FOR A FAMILY GATHERING"

We just took our first 'adult family vacation'. We had three adult couples and two preschoolers...this cabin was PERFECT for our group -- the top floor was great for the family of four.

The locati

…

on was an easy 10 minutes from town, a quick ride to the only grocery store in the area (way too far to get your regular supplies from Walmart). Trolley stop was also close by but the 'run times' are not very helpful during spring break week -- we saw them all over the place during the weekend when crowds were up.
The cabin property was soooo nice and well maintained. Being one of the higher cabins, we could look down the hill and see a view not everyone could see -- many of the cabins have unique roof colors.
We had one maintenance problem and we were taken care of within two hours.
If we are lucky enough to do this again, we will CERTAINLY make our plans with ELK SPRINGS RESORTS.

+ Read More

Mary Ann C.

Vonore, TN

"Winter vacation with friends"

Great Winter get away AWESOME views great times with friends

Terry J.

Memphis, TN

"almost heaven"

we have stayed in a cabin for 14 years. first time with elk springs. LOVED THE CABIN. we will be back.

Jason K.

Knoxville, TN

"2nd year in a row...same wonderful experience!"

We come to Gatlinburg every winter...but never stay at the same place twice. That changed this we chose to stay at the same cabin as last year due to the great experience. The cabins are the best i

…

n the Smokies for sure. The staff, whether working with me on reservations and cost, or the seamless check-in process, or just checking to make sure our stay was going well...was absolutely wonderful! We'll be back next year for sure!

+ Read More

Domonique

Charleston, SC

"Perfect"

I couldn't have found a better place to vacation. The cabin location and and apperance was breathtaking!

Alexander

Knoxville, TN

"Great weekend in a great cabin!"

Had a great long weekend catching up with some friends. The cabin is in a great location, just outside of the crowds of Gatlinburg, but easy enough to make it into town if you need anything or want t

…

o do some sightseeing. There were 8 of us total (4 adults and 4 kids) and the accommodations worked out pretty much perfectly. I hope that we are able to return sometime soon.

+ Read More

Chris

Tunnel Hill, GA

"Great Cabin!"

Very clean, very roomy! Would surely stay here again!

Dana I.

Woodstock, GA

"Perfect!!"

We had a wonderful family renunion. Our home was called Almost Heaven, it could not have been named more appropriately. We hiked, played games, watched movies in our very own movie theatre, we relax

…

ed in our very own hot tub. The scenary from our house was spectacular!!!

+ Read More

Pamela P.

Humbolt, TN

"Almost Heaven"

We loved the cabin... it is great for families and youth groups. The only issue is noise. You can hear the bedroom below due to the flooring also being the ceiling.

Michelle

Houston, TX

"picture perfect"

Magnificent views, beautiful quiet resort, perfect location for arts and crafts lovers. Loved the express check-in and check-out, no need to go to the office.

Rachel

McHenry, IL

"Awesome cabin! "

Awesome cabin! Best view in resort! Super clean! Close to everything. Definitely will come again.

Robert

Murfreesboro, TN

"Great cabin!!"

The view is awesome from this cabin! We had 7 guests, plenty of space for everyone! Highly recommend this cabin and Elk Springs!

David

Scarborough, Tobago

"Awesome!!!"

The cabin is perfectly located not too far from anything but secluded enough to make you feel like you are away from it all. The view is amazing from dawn to dusk and at night with the stars it is tr

…

uly awesome. I have no complaints about Almost Heaven and Gatlinburg has so much to offer. Wish we had decided to spend longer. According to my 7 year old "this is awesome so why do we have to leave?"

+ Read More

Chelle P.

Ft Lauderdale, FL

"Just like HEAVEN"

I LOVE LOVE LOVE my stay at the Elk spring resort. I will visit again!!!!


Rudolf

Miami, FL

"Great Stay"

Cozy and super comfortable. Great spaces for our teenage kids. Close to Gatlinburg but far enough from the hustle and bustle. We loved it and will return!

Jurgen K.

Tampa, Fl

"Great Escape"

We had a great time. This was a family bonding experience including 6 adults and our little 3 year old grandson. He loved the stairs, so constantly he was up and down.The cabin was as advertised, very

…

spacious and with a name of
" Almost Haven", I think it was the highest cabin in that development.
Thank you for making our stay very special.

+ Read More

Brian E.

Lacon, IL

"Almost Heaven was beautiful!"

The cabin was beautiful,the location was great with a nice view. Everything was clean and in good shape. We didn't have any problems at all with the cabin. I would recommend this cabin to my friends and family.

David P.

Ava, NY

"It really was Almost Heaven!!"

Had a great time at the cabin!! Cabin and view was awsome! Hope to return!! Thanks!

Bertina J.

Louisville, Kentucky

"AWSOME GETAWAY SPOT..."

Will be returing , dont wait BOOK Your Stay now

Susan

Knoxville, TN

"High School "

For the most part we had a great experience. There were a few things broken (one of the chairs in the Media Room) and the kitchen could have had more dish towels and other utensils but these were min

…

or things. We loved the location in the arts community and closeness to both Pigeon Forge and Gatlinburg. The gravel road up to the cabin was steep and after it rained was slippery, but the view from the top was spectacular. Overall a great time was had by all.

+ Read More

Shay

Centerville, OH

"Nice vacation in Smoky mountain"

The Cabin we got was great, and well cleaned.
The Theather is great but a maintainance is recomended as at least one Sofa is broken.
A great place to spend a nice weekend.

Manager Response:

We have repaired the sofa, we do apologize for the inconvenience. Should you have a maintenance issue during your stay please feel free to call us as we have maintenance on site.

Suzanne

Mason, Ohio

"Nice cabin in a great location."

All was well except for the check-in process. We were told we would be called (via cell phone) the code to get into the cabin by 3:00pm. However, we were never called. I called twice at 3:00 and 4:

…

00 and left messages and never received a phone call back. We were on our way to the rental office when the people we were with called the number and finally spoke to someone to get our code for the door. It was a bit frustrating that no one ever did call me to let me know our code.

+ Read More

Manager Response:

Hi Suzanne, it's very important that we get your mobile number that we request when you book your reservation. We also request it again just in case when we send our reservation confirmations and pre check in notifications. We had your home number on file so perhaps this caused the confusion as we left several messages on your home voicemail. We do apologize for the inconvenience and are glad this only slightly delayed you.
Load More Reviews