Amenities:
Charcoal Grill

Full Kitchen

Honeymoon

Hot Tub

Iron / Ironing Board

Mountain View

Parking

Washer/Dryer

WIFI
Your cabin search ends right now! You have found the perfect 1 bedroom cabin in all of the Smoky Mountains.

Living, Dinning, Kitchen, Gaming, and Sleeping areas enjoy expansive, unobstructed views of the Smoky Mountains and Mt LeConte. The cabin was built to showcase these views while providing top notch conveniences and comfort. Legacy Mountain Resort also has it own zip line vendor on site!

Above The Mist nails it with the perfect combination of views, best location and great amenities.

And if you want to bring the family along there is a queen sleeper sofa and an extra full bathroom with shower.
Cabin Bedrooms Layout
Master Suite

King Bed
Sleeps 2
Great Room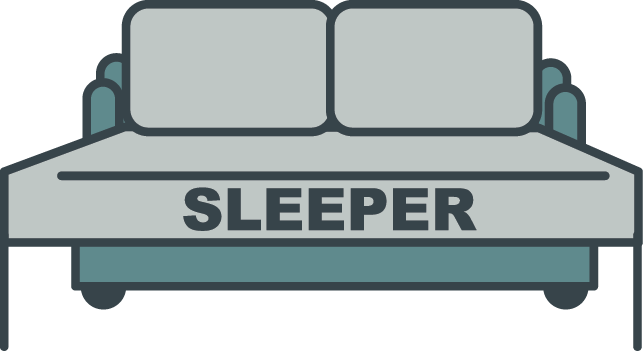 Queen Sleeper
Sleeps 2
Full Description
As you arrive at the cabin you will be amazed by the incredible mountain views from just about every room within the cabin. You'll wake up to mountain views from your king suite with full bathroom, Jacuzzi tub and shower.

As you make your way to the deck for your morning coffee, again, you'll pat yourself on the back for the great decision you made in choosing this cabin. You can then either hit the road to one of the great breakfast spots nearby or maybe make breakfast in your fully equipped kitchen with dining area.

Spend the day at the National Park (main entrance is just 20 minutes away) or maybe go have some fun at Dollywood just 8 minutes down the road. Feeling more sophisticated? The Arts and Crafts Community with over 100 artisan shops is just 8 minutes the other direction.

When the day of fun is over you can shoot a game of pool at the cabin, relax on the leather furniture with cable TV and free WIFI or even better relax and soothe yourself after your full day in the 100 degree hot tub. Perfect! Congratulate yourself on a decision well made.

This cabin also includes a washer/dryer for your convenience.
*** This Cabin is located 15 Minutes from Elk Springs Resort ***
Incredible Mountain Views
Zip Line Vendor On Site
Pool Table
1 King Bed
Jacuzzi Tub
1 Queen Sleeper Sofa
2 Full Baths
Fireplace (Electric)
Charcoal Grill
Free WIFI
Full Kitchen
Washer/Dryer
8 Minutes to Dollywood
10 Minutes to Pigeon Forge
15 Minutes to Outlet Malls
15 Minutes to Downtown Gatlinburg
20 Minutes to National Park
10 Minutes to Grocery Store and Pharmacy
Calendar
Click your dates below to check in and check out
Available
Check In Only
Check Out Only
Selected
Unavailable
Photo Gallery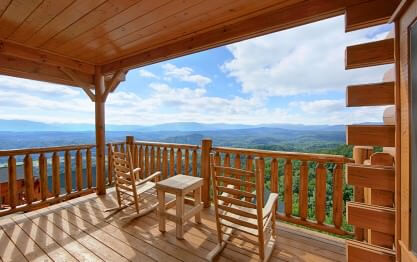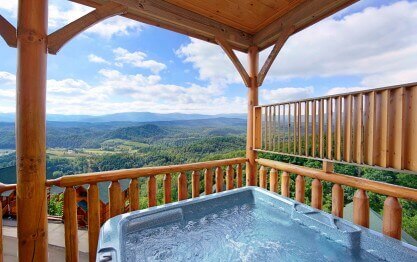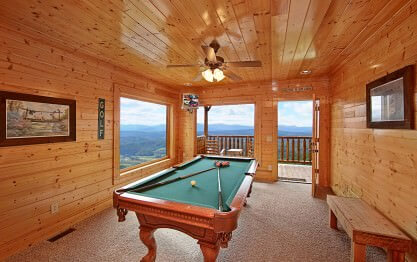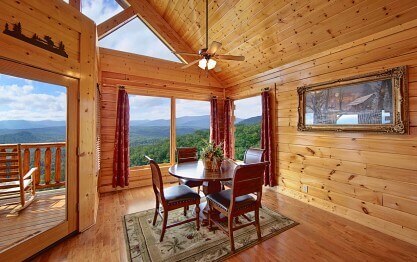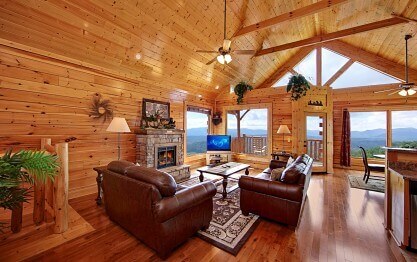 See All Photos
Reviews
Patricia A.

Apollo Beach, FL

"best vacation ever"

Excellent vacation and excellent cabin with views, this is actually our second year staying in above the mist and we will definitely be back next year and definitely would recommend this cabin.

Manager Response:

Thank you for your business, Patricia. We are pleased to hear from our repeat guests who returned for another 5-star stay with us! The views from Legacy Mountain are amazing and make for some beautiful photo ops. We look forward to your return next year!

Warren

Brandon, FL

"An amazing weekend getaway in the Great Smokey Mountains "

From pulling up to the cabin (#73 Above the Mist) to our first glance into the spacious cabin everything was above expectations!! The cabin was very clean and provided all of the basic essentials need

…

ed and more. Upstairs showcased a full living room, dining room, kitchen, and full bath. With a mini Christmas tree to tis the season!! Down stairs included a master suite (bathroom included a spa tub and shower), gaming area (pool table and tv), and a laundry room!! And lets not forget the balconys with such an amazing view on both floors which is why the beautiful cabin is named Above the Mist literally breathtaking (the hot tub and rocking chairs made us feel like we were on top of the world) :) WE WILL BE BACK, NEXT TIME WITH THE ENTIRE FAMILY!!

+ Read More

Manager Response:

We are elated to hear we exceeded your expectations! Above the Mist is certainly an exceptional cabin. The views you will experience upon walking through the door are among the best offered in our area! We enjoyed having you as our guest and hope you will make plans to come back and visit us often. Please keep in mind, as a returning guest you will enjoy 10% off all future stays. We hope to see you again soon!

Jane S.

Cincinnati, OH

"Honeymoon "

Best experience ever!! The cabin was beautiful and the view took my breath away every morning!

Manager Response:

Thank you for your review and congratulations on your nuptials! We are elated that your enjoyed your stay. ?Life is not measured by the number of breaths we take, but by the moments that take our breath away.?- Maya Angelou

Ashok K.

Charlotte, NC

"As advertised!"

I wanted to visit smokies during peak fall colors time and started looking for cabins around the area. After rigorous search, I decided to book this cabin even though it was slightly above my budget,

…

purely based on the photos and reviews. Check in was pretty easy as they send the door code via sms and we drove directly to the cabin. The cabin was very clean and beautiful as advertised. The views were spectacular with mist and fall colors. Will stay again next time.

+ Read More

Manager Response:

Thank you for your review. We are so happy that you could come stay during the beautiful fall season! Please come visit us again!

Ebony

Charlotte, NC

"Perfect Bliss, Above The Mist!"

I cannot put into words how wonderful this cabin wa . My fiance and I fell in love once we opened the door. The pictures do not do this spectacular cabin justice. You will have to visit to experience it's true beauty.

Manager Response:

Thank you Ebony for your review. We are so happy you enjoyed your stay at "Above the Mist". We hope that you and you fiancÚ return for future vacations to Elk Springs Resort. The Great Smoky Mountains is the perfect place to Honeymoon, celebrate Anniversaries, or to just come and relax! We look forward to having you as our guest again.

Jessica G.

Stevenson, AL

"Above the mist"

The cabin was clean, spacious, and decorated nicely. We will be renting with you guys again for sure!!

Manager Response:

Thank you for your wonderful review, Jessica! You certainly chose the perfect cabin. The views you will experience once you walk through the door are truly breathtaking. We enjoyed having you as our guest and hope you will come back and stay with us often. Please keep in mind, as a returning guest you will enjoy 10% off all future stays.

Christopher C.

Newark, OH

"Excellent Experience!"

We were certainly wowed as soon as we walked in. Unit was very clean and included all the needed items for our stay. We will be back soon!

Manager Response:

Thank you for your wonderful review, Christopher! We are delighted to hear you enjoyed your stay. We enjoyed having you as our guest and hope you will make plans to stay with us again!

Leyaini

Miami, FL

"Amazing! "

My husband and I had an amazing time during our recent stay at above the mist. If you are looking for breathtaking views, relaxation and solitude, this is the place to go. We will definitely be back! Thanks elk spring!

Manager Response:

We are excited to hear you had such a great time, Leyaini! We certainly agree, the view you will experience at Above the Mist is truly breathtaking. We would consider it an honor for you to come back and stay with us again. Hurry back, your next adventure awaits!

Jonathan W.

Atlanta, GA

"Absolutely Amazing!!"

This was a clean, luxury filled cabin. Just the right amount of spaces for what we needed. The view was unbelievable and the way that Elk Springs sets up each cabin you feel its your space. Will definitely come again.

Manager Response:

We love to hear how much you enjoyed your visit, Jonathan! We want you to feel as if you've just stepped into your own personal paradise each time you stay with us. The views you will experience at Above the Mist are absolutely breathtaking! We would consider it an honor for you to come back and stay with us again. Please keep in mind, as a returning guest you will enjoy 10% off all future stays. We hope to see you soon!

Michael S.

Niles, OH

"Just left and ready to come back!!!"

The stay was great the cabin was great the view was great!!! Amazing time and recommend everyone to stay you wont regret it!!

Manager Response:

Thank you for allowing us to be a part of such a special celebration, Michael! We are delighted to hear your anniversary trip was a success. We hope you will consider making Elk Springs Resort part of your anniversary plans for many years to come. Please keep in mind, as a returning guest you will enjoy 10% off all future stays. Hurry back, new memories are waiting to be made!

Leslie

Belmont, NC

"Absolutely Breathtaking!"

The pictures honestly do not do this cabin justice! We booked this cabin because we wanted breathtaking views of the mountains. We were absolutely amazed with the views from every window and balcony!

…

If you are looking for a cabin with spectacular views, look no further. The cabin was neat, clean and spacious. You will not be disappointed!!

+ Read More

Kaitlyn E.

Minerva, OH

"Great vacation!"

Everything about our stay was amazing. The house looks just like the pictures, everything was very clean, would stay there again.

Rene B.

Durham, NC

"Best cabin experience ever!!!!"

We checked in on 7/8/2016, and I was a little skeptical about staying in a cabin versus a hotel, but I'm glad I picked the cabin. The cabin was beautiful and very clean. The views were spectacular, an

…

d the customer service was amazing. I will definitely be rebooking here!

+ Read More

Kurt E.

Kettering, OH

"Above the Mist"

Awesome view and amenities!

Manager Response:

Thank you for your wonderful review, Kurt! It sounds like you chose the perfect cabin. We certainly agree, the views at Above the Mist are absolutely breathtaking! We hope you will take the opportunity to come back and visit with us as often as you can.

Stephen G.

Sylvania, OH

"Very peaceful"

Terrific in all aspects. A great change from typical motel chains.

Manager Response:

Thank you for the kind review, Stephen! We love to hear your stay with us was exceptional. We hope you will consider making Elk Springs Resort a part of a new tradition when visiting Pigeon Forge. Come back and see us soon!

Ashley

St. Charles, MI

"My Amazing Vacation"

My stay at Above the mist was one of the best vacations. Spectacular views of the Mountains. Great size cabin, loved the kitchen. Plan to go back in the fall!

Manager Response:

Wow! It sounds like you found the perfect cabin, Ashley. We are thrilled to hear you had such an amazing stay. We hope you will consider staying at Above the Mist during your next visit to Pigeon Forge. We would love for you to come back and visit us as often as you can. Your next adventure awaits!

Cindy A.

Hanna City, IL

"weekend getaway"

cabin was beautiful, clean & well cared for

Manager Response:

We are happy to hear that you had an exceptional stay, Cindy! You certainly chose the perfect cabin for a weekend get-away. The views are truly breathtaking! We hope you will consider making Elk Springs Resort part of a new tradition when returning to our Great Smoky Mountains. Come back and see us soon!

Johnny L.

Oak Grove, KY

"#73 Above the Mist"

Everything about our stay at this cabin was outstanding!!! We were very impressed. Couldn't have enjoyed our weekend get away any other way. Thanks for making our stay so perfect. We will be returning in the future!!

Manager Response:

Thank you for your 5-Star review, Johnny! We appreciate you giving us the opportunity of being a part of such a wonderful get-away. Please come back and see us next time you are visiting the Great Smoky Mountains. Your next adventure awaits you!

Jesse

Woodruff, SC

"Great cabin, great views"

Cabin had great views. Very clean and well kept. Loved the kitchen and living area with the big tv and nice couches. Would stay again.

Manager Response:

The pictures could never truly reflect the views at this cabin, they are absolutely breathtaking! You certainly chose the perfect cabin for your get-away. We are happy to hear that you enjoyed your stay with us. We hope you will consider returning to Above the Mist during your next visit to our beautiful Great Smoky Mountains.

Charles T.

Santa Rosa Beach, FL

"Fantastic view"

Property was clean and had a great view.

Manager Response:

We are delighted to hear you enjoyed your visit! Spring is around the corner. It's a nice time to start thinking about a return trip to Gatlinburg. We hope to see you again soon!

Latoya K.

Raleigh, NC

"Elevated Rest"

I was truly leery of the pictures on this website, bc we have all experienced some misleading information on vacation sites..but Above the Mist was a true dream come. I feel in love instantly. My over

…

all experience was amazing from the time at the resort from the time spent in Gatlinburg. ..please don't hesitate with booking this resort...I will be back..just a small request however please throughly inspect the hot tub, I did see and experienced issues with that but overall my stay was amazing!!!

+ Read More

Manager Response:

We appreciate your review! We hope that you plan to join us again!

Matthew

Yorktown, VA

"Perfect getaway"

Absolutely amazing! Fantastic views, clean cabin, and awesome customer service. By far the best vacation we have had. Loved it and can't wait to come back again.

Manager Response:

Thank you for your wonderful review. We are happy to hear you enjoyed your recent stay. We hope you will have the opportunity to visit our beautiful Smoky Mountains soon.

Rita

Lakeland, FL

"Awesome Experience!"

We absolutely loved it. The cabin looked exactly like the pictures we saw online. The directions were easy to follow. The staff was very informative and checked in with us to make sure everything w

…

as okay. It was an awesome experience. We will definitely do it again!

+ Read More

Manager Response:

Thank you for the kind review, Rita! We appreciate your business and look forward to your return stay with Elk Springs Resort!

Kayla P.

Midwest city, Ok

"Above the Mist"

The cabin was amazing!! Everything I wanted and a fantastic trip.

Manager Response:

Thank you for sharing your cabin getaway experience with us, Kayla. We love to hear from yet another satisfied guest with a 5-star experience! The views from Legacy Mountain where Above The Mist is located, is nothing short of breathtaking. We hope you will consider a return trip to the mountains and take advantage of your 10% repeat guest discount!

Diana K.

Monroe, OH

"LOVE LOVE LOVE"

It was fantastic! Thank you for making our experience unforgettable! We didny go anywhere, with such a view, we didn't want to leave our cabin. We would definitely come back!

Manager Response:

Thank you for sharing such a wonderful review. We strive to provide vacation get-aways that will be filled with memories that will last for years to come. We are happy that we exceeded your expectations. The views from Above the Mist are absolutely breathtaking! We hope you will consider staying with us again in the near future.

Robyn M.

South Beloit, IL

"STUNNING!!"

It was absolutely perfect! The cabin was just as pictured.

Julie J.

Nashville, TN

"Great"

Great experience and I would stay again and again..

Manager Response:

Thank you for the nice review and for sharing your experience with us. We look forward to having you as our guest in the future.

Lucy-Jayne

Chattanooga, TN

"The perfect getaway!!!"

I can't say enough good things about this place. We stayed in 'Above the Mist' at the beginning of November and it was gorgeous. The view was breathtaking and the cabin itself was clean, cozy and the

…

perfect size for two of us. One of our favorite things was the hot tub out on the balcony! So romantic and relaxing looking out over the valley and the mountains in the distance:) These cabins would be perfect for honeymoon couples, anniversary, a 'just because' vacation and for families!! We're already planning our next visit!!

+ Read More

Rachel A.

Brownsville, TN

"Everything was great!!!"

The cabin was beautiful and very clean! It was super easy to get to. They views where amazing and we definitely did not want to leave!!! :-) it was by the far the best experience I have ever had and I

…

have rented cabins from different companies every time and have been to the gatlinburg, pigeon forge, Sevierville area 10 times!

+ Read More

Manager Response:

Rachel, we greatly appreciate the 5 star review. The views from Legacy Mountain are stunning and the Fall colors are just starting to peak out. The colors are sure to last well into November this year. It is nice to know that you found the perfect cabin rental experience you were looking for after trying other cabin companies in the area. I think your excitement says it all and I am sure you will be a repeat guest of Elk Springs Resort. We do offer a 10% discount off your next booking!

Dawn F.

Bergenfield, NJ

"Best honeymoon ever!!!"

The cabin was absolutely beautiful!!! Everything was clean and well stocked. The view actually brought tears to my eyes. The pictures on your website don't do it justice. I fell in love with Tennes

…

ee. We will definitly be returning!! The only complaint we had was the hot tub was not working and we were not told but that's ok we had a blast anyway!!!

+ Read More

Manager Response:

Thank you for your review Dawn! What a great place to spend a honeymoon! We are sorry about the hot tub. It appears that the breaker kept blowing and after further investigation, it had a bad motor that needed replacing. We had to schedule a vendor to fix it and the motor had to be ordered. Congratulations to the happy couple and we hope you will consider celebrating your future wedding anniversaries with us!

LaToya C.

Nashville, TN

"Beautiful Cabin"

The cabin exceeded my expectations. It was very clean and spacious for a one bedroom. The view was great. Since it is located in a resort, it is not secluded but we still had privacy. The only issue t

…

hat we had was with the hot tub. It stopped working while we were in it. I called the maintenance line and they were willing to send someone out but dinner it was almost midnight, I declined.

+ Read More

Manager Response:

Thank you for the review LaToya. We apologize that you had an issue with the hot tub, but we appreciate you bringing the problem to our attention so we could get it fixed for the next guest. There was some type of power surge in the area that caused the breaker to trip, so it was an easy fix. We hope you come back to enjoy some more spectacular views of the Great Smoky Mountains soon.

Gerard

Bay Village, OH

"Above the Mist"

The property was in very good condition. Checkin was easy. I was not surprised at all. Everything promised was delivered. The location is about a 15 minute drive to Pigeon Forge and Dollywood. Golf co

…

urse is also 10-15 minutes away. Zip lining on the property which I did use and it was great. Only critique is light. Increase wattage for bulbs in bathrooms.

+ Read More

Manager Response:

Thank you for letting us know that you enjoyed your cabin stay, as well as the ziplining facility on the property. It is our pleasure to provide you with a luxury cabin getaway. We will be sure to check the lighting in the bathrooms and improve it as needed. Customer feedback is always appreciated to bring attention to small details such as this. We hope you will book a future stay with us and take advantage of your 10% repeat visitor discount.

Bridget

Oak Forest, IL

"Exceeded our expectations ! "

This was one of the best vacations I have taken. The pictures do not even do the cabin justice. From beginning to end I was in awe with the view. I felt like I was living in a post card. The cabin was

…

wonderful. I will definitely be planning a second trip in the future .

+ Read More

Manager Response:

Thank you Bridget! It sounds like you picked the perfect cabin to enjoy a vacation getaway in! We are pleased to hear that you already want to come back. You do receive a 10% discount on your next booking just for being a repeat guest!

Laura H.

Shelbyville, TN

"above the mist"

It was amazing and the view was breathtaken

Manager Response:

Thank you for choosing Elk Springs Resort and for the positive feedback. We are happy that you enjoyed your cabin stay and the amazing views it provided!

Rachel W.

Washington, DC

"Above the Mists was a cut above"

It was perfect! The cabin looked like the photos. We had fun playing pool and the kitchen was nicely stocked for an avid cook. The couch is impossible to get upfrom, as it's so comfy.

Forrest R.

Woodward, OK

"Fantastic experience"

Great price and fantastic customer service. They really do care about your stay and make sure your stay is a good one. Checking in and out was fast and convenient.

Pam F.

Huber Heighs, OH

"Great Time "

We had a great time loved the cabin felt great to wake-up and seeing the mountains and the blue sky we would love to come back in 2016 if we can get the same price if so please let me know or

Th

…

ank you so very much I have told all my friends at Wright Patterson AFB to check you guys out

Pam Fogt

+ Read More

Steve O.

Sibley, Iowa

"Beautiful getaway"

Very nice. Great cabins. Great views. Nice place to relax and view the scenery. Lots of places to see and things to do close by.

Eric O.

LaVergne, TN

"The perfect getaway "

The cabin and it's view were second to none.


Regina

Mountville, PA

"Relaxing experience in the smokies"

Our stay was absolutely wonderful. The cabin was spotless, the area was quiet and the view was amazing. When booking the cabin, the staff was very helpful and answered all of my questions. When we arr

…

ived, we noticed out hot tub was not heating properly. We called maintenance and they had someone out to look at the issue almost immediately. They were very prompt resolving the only (minor) issue we had. I would recommend Elk Springs to anyone looking for a great experience in the smokies.

+ Read More

Kelsey H.

Grove City, Ohio

"Above the Mist"

It was my boyfriend and I's second vacation with elk springs and we were blown away again. The cabins just keep getting better and better. It was such an amazing and relaxing vacation! We love staying through Elk Springs!

Nick

Newport, KY

"Above the Mist was above the rest"

My trip was outstanding. The staff was reliable and easy to work with. The cabin itself was clean, comfy, and a must stay. I hope to stay with elk creek in the future.

Dylan M.

Indianapolis, IN

"Above the mist"

It was great. Very clean and well kept. The view was incredible. It was very spacious as well. I had a great experience there and loved everything about the place. I will definitely be going there again.

Robert K.

Crossville, TN

"A Great Getaway!"

My wife and I had a great time in our cabin! We were celebrating our 20th wedding anniversary in the city where we honeymooned. The staff was helpful and the cabin was very clean. It was very close

…

to Pigeon Forge and Gatlinburg. We will be back again.

+ Read More

Chris S.

Louisville, KY

"Private Getaway"

We had a wonderful time, grilled out every night, enjoyed the hot tub, loved the spacious accommodations. In a nut shell, it is well worth it in every sense of the word and it was nicely managed by Elk Springs.

Steve

New Market, AL

"Above The Mist"

We absolutely loved it. The view was great and the cabin was very clean. We were very pleased. The front desk was very helpful with our one request.

Jill

Union Bridge, MD

"Above the Mist Rental"

The property was closer to neighboring cabins than we thought it was going to be based off the photos on the website. It was our honeymoon and despite seclusion, we enjoyed the cabin. The view is outs

…

tanding and the place was extremely clean and had everything we needed especially in the kitchen to cook with. We enjoyed our stay. Staff was amazing from the start.

+ Read More

Brian J.

Houston, Texas

"Brian Jones Review"

I was very impressed! Great stay.

Jacob M.

Merryville, LA

"Great place to stay!"

We got to our cabin and it was just as described, absolutely beautiful, The view was amazing. The cabin was very clean and well kept. Everything was just wonderful. Will stay with Elk Springs Resort a

…

gain. A+ cabin rental company. costumer support was very friendly as well. The only thing I might say negative about our stay was that the pictures were slightly deceiving as to how many neighbors you have. Expect lots of cabins relatively close to you.

+ Read More

Amber

Norwood, OH

"relaxing family friendly location"

We loved out cabin it was quiet and clean and came stocked with everything but food and drinks which wasn't a problem because the grocery was right down the street. The only thing we missed was having

…

a pool to use. But the drive to gatlinburg was very close and the mountain view from our cabin was extraordinarily beautiful. The mist every morning was a sight to see! We will be using Elk springs resort again. The customer service was great they were friendly and helpful in every aspect and check out was a breeze. Maybe next time we'll get to use the hot tub we were too busy this time :) on a side note the doors to the decks were a bit noisy when opened and the top one seemed to stick but that may have been due to weather.

+ Read More
Load More Reviews