Amenities:
Charcoal Grill
Full Kitchen
Honeymoon
Hot Tub
Iron / Ironing Board
Mountain View
Parking
Washer/Dryer
WIFI
The perfect couples getaway cabin with fantastic views and a great location. Located just 15 minutes from downtown Gatlinburg, 10 Minutes to Pigeon Forge and 8 Minutes to Dollywood you will enjoy the convenience, views and luxury! The right ingredients for the perfect Smoky Mountain vacation.

Living, Dinning, Kitchen, Gaming, and Sleeping areas enjoy expansive, unobstructed views of the Smoky Mountains and Mt LeConte. The cabin was built to showcase these views while providing top notch conveniences and comfort. Legacy Mountain Resort also has it own zip line vendor on site!
Cabin Bedrooms Layout
King Suite

King Bed
Sleeps 2
Great Room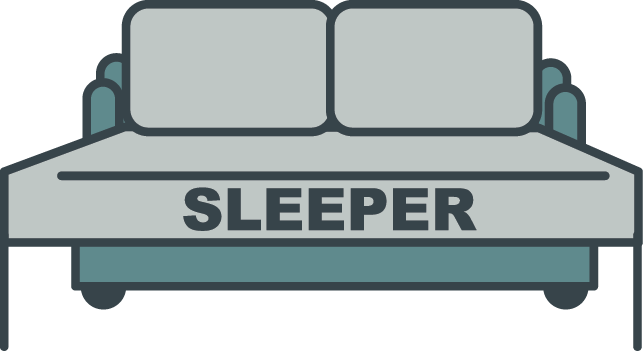 Queen Sleeper
Sleeps 2
Full Description
Enter into the great room and you will be blown away by the views of Mt. LeConte and the great Smoky Mountains. Your fully equipped open kitchen adjoins the great room and includes all the items you will need to prepare in cabin meals. Have meals in the corner dining area with dining table and 4 dining chairs all with views of the mountains.

Relax on the queen sleeper sofa or loveseat and watch cable TV or surf the internet with the mountains in the background. Head out to your covered deck and enjoy a book on a porch rocker. A full bath with stand up shower is upstairs for the guests using the queen sleeper sofa.

Head down to the lower level where you can shoot a game of pool in the gameroom or retire to the master suite with king bed, cable TV and ensuite bathroom with Jacuzzi tub and shower.

Relax after a long day of activities in your covered hot tub, again with views of the mountains! A perfect getaway cabin for couples or even a family of 4.

A washer/dryer is included in this unit for your convenience.
*** This Cabin is located 15 Minutes from Elk Springs Resort ***
Zip Line Vendor On Site
Incredible Mountain Views
Pool Table
1 King Bed
Jacuzzi Tub
1 Queen Sleeper Sofa
2 Full Baths
Fireplace (Electric)
Charcoal Grill
Free WIFI
Full Kitchen
Washer/Dryer
8 Minutes to Dollywood
10 Minutes to Pigeon Forge
15 Minutes to Outlet Malls
15 Minutes to Downtown Gatlinburg
20 Minutes to National Park
10 Minutes to Grocery Store and Pharmacy
Calendar
Click your dates below to check in and check out
Available
Check In Only
Check Out Only
Selected
Unavailable
Photo Gallery
See All Photos
Reviews
Abhishek B.

Davidson, NC

"Weekend Getaway"

Nice place with great view of the mountains.

Marilyn

Dublin, OH

"Loved it!"

We had a wonderful time and it was such a beautiful cabin! The view was fabulous! The weekend went so fast and we only wish we could've stayed even longer! Thank you!

Donna

Johnstown, OH

"Fantastic view"

Our cabin was the perfect getaway. It had amenities of home but fantastic views for a peaceful, relaxing vacation.

Manager Response:

Thank you for your 5-Star review, Donna! We are thrilled to hear you had an exceptional stay. We certainly agree, the views you will experience while staying at this cabin are absolutely breathtaking. We hope you will consider making Above the Clouds your new home away from home when visiting our beautiful Great Smoky Mountains. We hope to see you soon!

Amy

Pana, IL

"Great Experience"

Our cabin was by far the best to stay in!! We stayed in a cabin through a different resort last year and it was terrible!! Our cabin was very clean and we were very comfortable there unlike our previo

…

us experience! We are planning another vacation this fall!

+ Read More

Manager Response:

Thank you for choosing to stay with us, Amy! We are dedicated to providing you with a clean, luxury cabin that will leave you yearning to come back and visit with us again. Please contact us when you are ready to start planning your fall get-away. One of our friendly sales representatives will be happy to assist you in finding the perfect cabin. Keep in mind, as a returning guest you will enjoy 10% off all future stays. We look forward to your next visit!

Guy R.

Orland Park, IL

"Awesome cabin!"

Cabin was perfect! View was unbelievable. Cabin was clean and fresh, like new. More than enough room, furnished great, easily accessed and perfect for our needs. Added an extra night on the front end

…

because we arrived early, and added an extra night on back end because we didn't want to leave. Staff was very helpful. Would recommend these cabins highly and will be coming back.

+ Read More

LeeAnn W.

Canal Winchester, OH

"I'm sad I had to leave! Such a beautiful view! "

The cabin was beautiful, spacious, well kept and very clean. Every thing was in good working condition. It was fully stocked so we could cook in the kitchen. There were bbq tools as well. The bed was

…

comfortable. The VIEW!!!! That view was amazing. It was the first thing we seen and the last thing we seen every day.

+ Read More

Harrison

Clermont, FL

"Stayed Above The Clouds"

The cabin was awesome and the view was spectacular. It was less than 15 minutes from Dollywood, Pigeon Forge and shopping which was very convenient. We had an outstanding time, our sincere thanks to Elk Springs.

Manager Response:

It sounds like you chose the perfect cabin, Harrison! We certainly agree, Above the Clouds is an exceptional cabin. The views are absolutely breathtaking, the amenities are top-notch. Thank you for allowing us to be a part of such a wonderful vacation. We hope you will consider staying with us during your next visit to Pigeon Forge. Please keep in mind, as a returning guest you will enjoy 10% off all future stays. We look forward to your next visit!

Justin M.

Slidell, LA

"Everything as described and more"

This rental was just what we needed for our anniversary. Peace, quiet, and serene atmosphere. Short drive from primary attractions. Couldn't have asked for more. Definitely looking to book in the future and bring our baby girl along!

Manager Response:

We are excited to hear that Above the Clouds exceeded your expectations! Please contact us when you are ready to start planning your next family vacation. We would love to assist you in finding the perfect cabin! Keep in mind, as a returning guest you will enjoy 10% off all future stays.

Katie O.

Peotone, IL

"Beautiful stay "

Wonderful cabins with all the amenities that you could ask for. Perfect view and we found ourselves wishing we could stay there longer! Plenty close to all the towns full of activities.

Manager Response:

Thank you for sharing your experience at Above the Clouds, Katie. The views will attract you to this cabin, the modern amenities inside will keep you coming back. We are pleased to hear that your stay was exceptional. Please let us know when you are ready to start planning your next dream vacation. Please keep in mind, as a returning guest you will enjoy 10% off all future stays. Come back and see us soon!

Matthew

Yorktown, VA

"Great customer service!!"

Thanks so much for accommodating us to stay for an extra night!! We loved this place and can't wait to come back.

Manager Response:

Thank you for your kind review. We look forward to your next visit.

Rachel S.

Poolesville, MD

"Amazing "

first time staying in the cabins and first time in Tennessee. we had an amazing time. cabin was exactly what we expected!! the view was unforgettable. we weren't far from anything so there was so much

…

to do. we will be returning again and bringing more friends with us. total worth every penny!!

+ Read More

Nina

Louisville, KY

"Above the Clouds"

We enjoyed the scenery and the cabin. It was clean, and the surroundings were beautiful. The people booking our stay were very helpful before, during and after our stay.

Kris

Ellerslie, GA

"Above The Clouds Unit 75"

Very Nice, We had a great time. The unit was very clean and had everything you would expect and more. VERY NICE

Charles W.

Fayetteville, GA

"Above the Clouds"

Great cabin to relax and enjoy the mountains. Very clean and the location is near all the attractions. Will definitely stay here again.

Tracy W.

Louisburg, NC

"HEAVEN!"

I took my wife here for her birthday/ our anniversary. It was amazing! The cabin was everything and more from what the pics showed. The only thing that I can say negative is that the couches were a li

…

ttle worned but that was ok because the overall cabin is "HEAVEN" We will be returning for a longer stay with our kids. I give Elk Springs thumbs up they were aweome from start to finish. They called us about a hour after we checked in and asked if we needed anything. I was happy because my wife was happy....normally my wife would spray down the bed when we stay places and we stay in very nice places we get away but I couldn't belive it she said that she didn't have to use her spray. The cabin was well maintained we had everything we needed there. If you are wondering about this cabin(above the clouds)you have a winner. Cant wait to return in the summer.

+ Read More

Rita

Orlando, FL

"Amazing place"

This was one of the best vacations we had as a family.
My kids called the cabin home as soon as we got there. The views outside the cabin were breathtaking. I will be going back soon.
Highly recommend the resort!

Umayr A.

Woodridge, IL

"Weekend Getaway"

Amazing!

Dianne

Miramar, FL

"My vacation "

Carpet downstairs needs to be replaced.also the mattress in the pull out couch needs to be replaced

Rachel T.

Grand Haven, MI

"Our first time there"

The cabin is very beautiful (like all of the others) with a fantastic view. The staff is very accommodating & sent someone right out when our dvd player didn't work. The tv though has horrible sound &

…

makes talking in movies somewhat hard to understand. The sofa & love seat need to be replaced, they have no support & are very uncomfortable to sit on for very long. We took the mattress out of the sofa/hideabed & laid it on the floor w/ a "topper" which we were very glad that we brought along. It would be nice if a comfortable chair, side table & sm. lamp could possible be set in the corner of the basement for early risers that have no where to go if there's guests using the hideabed. Otherwise, we loved it, loved the view & hope to come back. We traveled there from MI and stayed here 3 nights, added on 1 more night & moved for the 4th night to 'above the mist' which we liked better. Same layout just a few nicer details (& tv for evening movies).

+ Read More

Carissa M.

Lafayette, IN

"Above the clouds getaway "

My husband and I stayed at Elk Springs Resort cabins on Legacy Mountain for our honeymoon. We loved the place, the cabin, the stay. It was a perfect way to relax and celebrate!

Manager Response:

Carissa, we are honored that you chose one of our luxury cabins as your honeymoon vacation destination! The Fall colors were amazing this year and the views from Legacy Mountain were stunning! We hope you will consider future anniversary celebrations with us. Congratulations and Best Wishes from all of us at Elk Springs Resort!

Terrell S.

West Columbia, SC

"A KINGDOM IN ITS OWN RITE"

Our experience in the mountains was second to none. It made us feel like royalty. Telling you about does a great injustice for one must experience this kingdom for themselves---NO DISAPPOINTMENT!!!

Manager Response:

Thank you for the 5 star review Terrell! We are pleased that you found the cabin stay exceeded your expectations. We hope you will return again soon.

Matt A.

Bartlett, TN

"Relaxing good time"

Loved the cabin and the company who rents it they were very nice and even called to check on our stay. Great location as well.

Manager Response:

Matt, we are pleased to hear that you found the cabin and customer service to be top-notch! Above the Clouds is centrally located between Pigeon Forge and Gatlinburg allowing you to enjoy all the attractions within a short drive. We hope you will come back for another cabin stay very soon!

Andrew

Walkersville, MD

"Above the Clouds"

This was a great place to stay. It was clean, well maintained, and when we did have an issue with a clogged kitchen sink, we called at 10pm and someone was out to fix it in 30 minutes. That was pretty impressive.

Judi

Asheboro, NC

"Cozy Cabin Retreat"

Our vacation in the cabin "Above the Clouds" was absolutely wonderful! The cabin is simply amazing from the moment you walk through the door! It is very beautiful and clean with all of the comforts of

…

home and the views are incredible! It was a very enjoyable and relaxing stay!
The check in/out process was very simple and the staff at Elk Springs called to make sure we found things in good order, which meant a lot to us! The hardest part was having to leave. We'll definitely return for another stay and highly recommend this resort property. Thank you, Elk Springs! -The Godfreys (NC)

+ Read More

Manager Response:

Thank you Judi. Your review lets us know that we are meeting our guests' expectations! We hope you make plans to come back and stay soon. Fall is a perfect time to come and enjoy all of the beautiful colors from a cabin with an amazing view!

Theodore M.

Flint, TX

"Very Nice"

I really do not have anything negative to say.

Everything was as advertised and expected. I guess if I had any complaint, we had to remake the bed as the sheets were put on wrong and came undone w

…

hen we laid down. Pretty minor. Thanks for a awesome property.

+ Read More

James K.

Taylorsville, GA

"RELAXING"

It was ready before arrival and it was very clean and plesent. We did not spend much time in cabin due to running around visiting all the things to do up in gatlinburg and pigeon forge.

Manager Response:

Thank you for your great review of Elk Springs Resort! We are pleased you enjoyed your stay. I'm sure you are already making plans to return, so be sure to take advantage of your 10% repeat guest discount!

Dawn C.

Three Rivers, MI

"Superb"

My husband and I had a wonderful stay. The cabin was top notch, very clean and well appointed. We will be back again

Robert S.

Rock Hill, SC

"A great place"

My family enjoyed themselves and the cabin was the best vacation spot we had ever stayed.

Carl

Lehighton, PA

"Nice cabin with the best views"

We rented this cabin for a few days for our honeymoon and we enjoyed it so much! The cabin was very clean and the views were spectacular! I think any cabin you rent from Elk Springs will have a good view!! We can't wait to come back!

Donald

Clinton Township, MI

"We Were Over the Top in Above the Clouds!!"

Left us wanting for nothing! I only wish we could purchase this cabin and call it home! We were so pleased!! Beautiful, beautiful place. Can't wait to book again and start planning our next trip! The

…

location was far enough from the hustle and bustle, but close enough to get to the National Park everyday and Gatlinburg too, though we came for the nature aspect. The only thing I'd like to see would be a couple of stools or chairs in the rec area and a couple of hooks for towels or a bathrobe in the bathroom off the bedroom.

+ Read More

Robert H.

Selma, North Carolina

"May Experience "

Beautiful location and view from cabin deck. Very nice cabin w/ upgrades not expected in a rental cabin.

Pedro M.

Morovis, PR

"our unforgettable vacation"

My kids said their best vacation ever! No more words than those

Michael

Louisville, KY

"Elk Springs Resort"

Great experience. Great service, beautiful views, very clean luxury cabin. We will come back for sure.

Christopher M.

Taylorsville, Kentucky

"b'day getaway"

Very good!!!

Gina T.

St. Louis, MO

"Breathtaking"

The view was amazing and enjoyed the bonus of snow and relaxation . Definitely will return and spread the word about a small piece of heaven in the mountain

Christopher P.

Neptune, NJ

"Amazing View"

We have stayed with Elk Springs 3 times now and this was the first time we stayed so high up the mountain. We stayed durring the ice storm of February 2015 which was a fluke thing and from what I unde

…

rstand Tennessee doesn't experience much and it was tough getting down the mountain for a few days but there was I better view in this world. Other than the weather our stay again was great! I highly recommend if you are looking for a well maintained cabin in Tennessee you stay with Elk Springs. We love them!

+ Read More

Ricky P.

Vestavia Hills, AL

Rodger

Liberty, MO

"Excellent Accommodations"

Great view. Close to Zip-Line. Hot Tub was hot. Should have booked more time. We will be back soon.

Mark S.

Durham, NC

"Beautiful home"

Didn't stay long, but the house itself was great. An hour later for checkout would have been better - 10:00 is kind of early.

Steven E.

Spring Valley, oh

"It's what the Dr. ordered"

Upon walking through the front door the view was breathe taking. The scene was even more inviting with a cup of coffee and the warmth of the fire. It was a little cool for the hot tub but you can us

…

e the nice jacuzzi tub. The only complaint is we didn't want to leave.

+ Read More

Denton

Ozark, AL

"A little piece of heaven on earth."

The cabin was beautiful, nicely decorated and very clean. The property was well maintained and manicured. It was stocked with everything that was promised. The staff was very friendly and made sure th

…

at we had everything we needed upon check in. The views from the cabin were amazing. It was very relaxing and had a quiet atmosphere. All of the other guests there were considerate of each other. The location was just of the beaten path, but still close enough to town to be able to go everyday and do something different. We would stay here again without hesitation.

+ Read More

Kimberlee

Huger, SC

"Funtastic"

My husband and I had a fantastic time for a short weekend , we will be back!

Hans

Mechanicsville, MD

"Long Weekend"

Great cabin in a fantastic location.

Jasmine

Lithia Springs, GA

"Loved it!!"

Absolutely loved my stay here!! It was a peaceful getaway!!

David

Biggsville, Illinois

"Above the Clouds was Heavenly!"

Our photographs can not match the depth of our view we had from our cabin. Everything was beautiful. We were looking for a quiet and scenic destination and we found it. It was just as it appeared o

…

n the internet. The furnishings, layout of the cabin, and amenities were excellent. We have already shared our positive experience with others.

+ Read More

Jessica

Springfield, Ohio

"Above The Clouds"

The cabin was perfect, the view was amazing. We will definitely be back!

Lisa Michelle B.

Lebanon, KY

"Anniversary get a way"

Absolutely loved it in this cabin. Cabin had a great view of the mountains, great over all great time. Cabin was clean and very home feeling.

Kyle K.

Beavercreek, OH

"Fantastic stay"

We had such a great stay for our 5th anniversary. The scenery was gorgeous, very clean cabin and the necessary amenities. Very happy and would definitely stay again!

Gelsey F.

Columbia, TN

"Wonderful weekend get away!"

Very pleased!!! Wish we could have stayed longer....thanks for your time and a wonderful experience!
Load More Reviews