Amenities:
Gas Grill
Hot Tub
Washer/Dryer
WIFI
A perfect getaway for 2 couples, a Honeymoon or even a family with 2-4 kids (2 bedroom, lower level futon and 3 full baths). Enjoy time with your group in the screened in porch outside or inside in the Great Room with gas fireplace and 46" TV. Head downstairs to the game room for a game of pool or darts.

Relax outside in the 100 degree hot tub after a long day of hiking or shopping.

Only 1 step down to enter the cabin. Handicap Friendly.
Cabin Bedrooms Layout
Game Room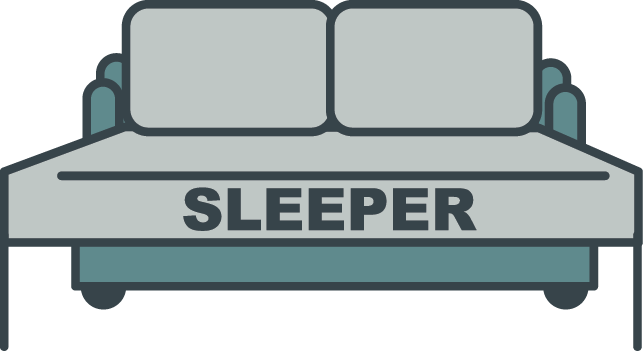 Queen Sleeper
Sleeps 2
Master Suite 1

King Bed
Sleeps 2
Master Suite 2

King Bed
Sleeps 2
Full Description
Only 1 step down from the parking area to the entry. While not fully ADA compliant this cabin is handicap friendly. Enter on the main level into the great room with gas fireplace and comfortable seating for 6. The open fully equipped kitchen and dining room adjoin the great room. You can prepare in cabin meals with all the items you'll need for your stay including coffee maker, blender, mixer, toaster, pots, pans and utensils. There are 4 dining seats for your party.

Enjoy your morning coffee on the deck off the great room with table and chairs or perhaps head upstairs and across the catwalk to the upper level deck. The upstairs features a king suite with upgraded mattress and linens, 32" TV, Jacuzzi Tub and full bath with stand up shower.

The main level also features a master king suite with upgraded mattress and linens, 32" TV, Jacuzzi Tub and full bath with stand up shower.

Ready for some fun? Head down to the game room with 37" TV, pool table, dart board and board game table. A kitchenette and wet bar as well as game table will add to the fun. A futon bed that sleeps 2 children and extra full bath is available in the game room when you need extra room to sleep. Just outside is the screened in and covered porch with 100 degree Hot tub as well dining table and chairs. Perfect place to play a game of cards with the family and friends.

A washer/dryer as well as free WIFI and long distance calling is included.

*** This Property is Located 5 Minutes from The Main Elk Springs Resort Property ***
1 Step Down to Entry
Handicap friendly
Hot Tub
Rockers on Deck
Pool Table
Dart Board
Game Table
Covered Screened in Porch
2 King suites with Jacuzzi tubs
3 Full Baths with showers
Queen size futon sleeper in Game Room
32" TV's in Each Bedroom
46" TV in Great Room
37" TV in Game Room
4 DVD Players
Comfortable seating for 6
Gas Fireplace
Free WIFI
Free Local and Long Distance
Washer/Dryer
Ironing Board / Iron
10 Minutes to Downtown
15 Minutes to Dollywood
20 Minutes to the National Park
8 Minutes to Major Grocery Store & Pharmacy
15 Minutes to 2 Golf Courses
Calendar
Click your dates below to check in and check out
Available
Check In Only
Check Out Only
Selected
Unavailable
Photo Gallery
See All Photos
Reviews
Crystal M.

Cincinnati, OH

"Cozy Getwaway"

My family and I really enjoyed our stay at A Secret Hideaway. Looks just like the photos. When we arrived we noticed the living room TV and the Gas Fireplace was not working. I couldn't get a signal

…

at the cabin, but as soon as we went down to get a bite to eat, they were calling me to ask was everything ok. I told them about the TV and Fireplace, they sent maintenance their immediately and it was taken care of. We will definitely be staying at another one of your cabins in the near future. My family and I loved it. Thank you.

+ Read More

Bailee

,

"Secret Hideaway "

Pictures very accurate. Great location, away from attractions. Comfy-cozy. Would stay here again!

Manager Response:

We are happy to hear you enjoyed your stay at A Secret Hideaway, Bailee! We would consider it an honor for you to come back and visit with us again. Please keep in mind, as a returning guest you will enjoy 10% off all future stays. Hurry back!

John G.

Owens Cross Roads, AL

"Nice get away"

Cabin was like it says a secret retreat!
3rd time staying with elk springs and we will be back.

Manager Response:

Thank you for your 5-Star review, John. Our best compliment is a return visit, thank you! We hope you will make plans to come back and visit with us as often as your schedule allows. Hurry back, wonderful memories are waiting to be made!

Mark S.

Naperville, IL

"Outstanding Cabin Vacation: We'll Be Back"

We can't say enough good things about A Secret Hideaway. Its an outstanding cabin that looks virtually brand new and has all the amenities that we needed. It is in a great location up in the hills a

…

way from the commercial areas. We really enjoyed the hot tub, pool table, and just hanging around the cabin. The reservation, check-in and check-out process was fully automated and went flawlessly. Our group was 2 adults and 2 kids, 9 & 12, and everybody had an awesome time. We will definitely stay here again.

+ Read More

Manager Response:

Your review is music to our ears! We are delighted to hear you and your family enjoyed your stay. We agree, A Secret Hideaway is an exceptional cabin with a variety of top-notch amenities. We hope you will consider making Elk Springs Resort a part of a new tradition when visiting our beautiful Great Smoky Mountains.

Rebecca P.

Bridgeview, IL

"Adults Only Getaway "

Excellent!

Manager Response:

We are pleased to hear your adults only get-away was a success, Rebecca! We hope you will take the opportunity to come back and visit with us again soon.

Dale

Goodlettsville, TN

"Peaceful getaway "

The cabin was very clean and well stocked with everything we needed. The bedrooms were spacious and beds very comfortable. Loved the game room area and hot tub!

Nice flatscreen tvs in all areas! T

…

he decks were great for morning coffee and evening cocktails!
Would definitely recommend this cabin!

+ Read More

Morgan T.

Cincinnati, OH

"Fun and quiet"

The directions that were given were so detailed and useful especially since we arrived at night and it was hard to see the signs. The beds were so comfortable we wanted to take them home. This place

…

was so comfortable and peaceful. We looked forward to coming back every night and turning on the fireplace. The location compared to getting to town is very ideal!

+ Read More

Jay H.

Bradenton, FL

Jodi

North Fort Myers, FL

"A Secret Hideaway"

Phenomenal! The cabin was ready prior to arrival and before check-in. The property manager who contacted us with our code was incredibly polite and helpful. The cabin was immaculately clean, cozy a

…

nd felt just like home! There were plenty of linens, towels and supplies. Our family had more fun playing pool and darts and relaxing by the fire than we did venturing out in Gatlinburg (which was still fun!). Best Christmas vacation ever!

+ Read More

Richard

Amelia, OH

"Great Getaway"

Very nice cabin. My wife and I stayed for a week. We liked the privacy of the hot tub and the option to choose the bedroom. It wasn't as secluded as the marketing tag line implies, but it was still pl

…

easantly located. Elk Springs was very accommodating. We'll likely use them again.

+ Read More

JaQuay

Saint Petersburg, FL

"incredible "

It was just what we needed for a girls trip. All that we had to pick up was for and everything else was provided for us.

Manager Response:

We appreciate the 5 star review and are pleased that you had a great time on your girl's trip! We hope you will make it an annual tradition. We love repeat guests and offer a 10% discount off your next stay.

Robert

Kansas City, MO

"Bob"

We enjoyed our visit.

Charles H.

Dallas, TX

"Better than we could ever hope for"

The cabin was wonderful. Clean and comfortable. A little difficult to find but we got there. We came in late one evening after dark and got lost in the neighborhood and took half an hour to finally f

…

ind home. We could not have ask for anything to have been better as far as the cabin was concerned. The kitchen had everything we needed.

+ Read More

Manager Response:

Thank you for your 5 star review, Charles. Our customer service staff is just a phone call away and ready to assist you with driving directions or any concerns you have. We are sorry that you had to spend a little extra time finding the cabin, but it sounds like it was worth the trouble. We are pleased that you had a wonderful stay and hope you will come back again soon.

Wendy P.

Prestonsburg, Ky

"Great place to stay"

This cabin is off the beaten path. It makes a very tranquil vacation. The cabin is perfect for a family to build lasting memories. The beds were very comfortable and we had plenty of towels. I recommend this cabin to others!

Manager Response:

Wendy, we know how important it is to not only have a nice place to getaway to, but to also be able to get a restful night's sleep. We are pleased that enjoyed everything about your cabin rental experience. It is our pleasure to provide you with a 5 star vacation! We sincerely appreciate your review.

Juliel

Oxford, MI

"The grays and vangoethems getaway weekend"

Beautiful setting, very clean and well stocked.

Manager Response:

Thank you Juliel! We are so happy that you enjoyed your stay!

Hatim A.

Tampa, Fl

"An amaing place"

I had this cabin for 5 days. it was a beautiful and very clean place. I'm going to go back again. I give a strong recommended for it.

Tom B.

Dayton, OH

"Secret Hideaway"

We really enjoyed our stay at A Secret Hideaway. The cabin was well decorated and we had plenty of space and the beds were VERY comfortable. Elk Springs Mgmt checked on us the first day, needed a lig

…

ht bulb and it was changed within an hour! Everyone was so pleasant to work with. Again, the cabin was great, nice location and very peaceful.

+ Read More

Claudio F.

Anderson, SC

"WEDDING ANNIV W/CHILDREN"

Simply magnificent ! Beautiful cabin, no complaints. Better than what we imagined, as a person who grew up in NYC,this felt like a piece of heaven on earth.

Debra B.

Delaware, OH

"Secret Hideaway"

Nice cabin but needs some repairs. We were disappointed that we couldn't use the hot tub. The temp was never warm enough to get into the tub. We tried multiple times to warm it up but it was never

…

warm enough. The dishwasher didn't clean dishes very well. We had to re-wash. Beautiful cabin but we'd choose a different place to stay based upon the disappoinent of the hot tub.

+ Read More

Sally

Lexington, KY

"Exceeded expectations "

The cabin was perfect for what we needed. Very clean and comfortable. Our kids loved the pool table and hot tub. Conveniently located between Gatlinburg and Pigeon Forge and not far from grocery. The

…

drive up can be a little intimidating if you're not accustomed to narrow roads. We had a great stay.

+ Read More

Brett H.

Denham Springs, LA

"one last trip"

Fantastic

Tonia

Onslow, IA

"Gatlinburg Vacation"

Great

Jeff L.

Louisville, Ky

"My 40th B-day get away"

This was the perfect get away for us and was in the perfect location. Up in the mountains and right between Pigeon Forge and Gatlinburg. So your able to get to either location fairly easy (depending o

…

n traffic). If you stay @ this cabin during the winter months, I'd recommend you have 4-wheel drive, there are some pretty steep climbs. Overall we had a great time! Highly recommend this cabin

+ Read More

Julia S.

Jupiter, FL

"A Secret Hideaway was great"

Nice, clean, cozy cabin. No complaints, except maybe need a few more utensils like bar tools and maybe matches for the grill, perhaps.

We were particularly thrilled to see a bear family walk by one evening:)

Melissa

Marbury, AL

"One of Our Best Vacations"

We had been very disappointed by a previous cabin rental not through Elk Springs so I was very hesitant to stay in another one. I knew a cabin would be great if it was clean! Elk Springs did not dis

…

appoint. We were very pleased and comfortable in Secret Hideaway, so much that my kids didn't even want to leave. We will be staying again.....next time with out 10%.

+ Read More

Brandi

Lake St. Louis, MO

"A Secret Hideaway"

The cabin was beautiful and very well kept. When we had any issues or questions at all, the management company quickly responded to messages and assisted with the planning of our recreational activiti

…

es when we needed help. The binder that was provided in the cabin listed delivery places, which were helpful, but I would suggest contacting the cab companies that were listed to make sure that they know exactly where the cabins are located, as we were unable to give them adequate directions to reach us. Otherwise, it was a great experience.

+ Read More

Deniece

Fisherville, KY

"Weekend getaway"

Fun filled mountaintop adventure. We wish it had been longer. Our 6 year old cried as we left and said he wanted to buy it and live there every day.

Alexander

Huntersville, NC

"Nice house for a family or a couple"

It was not bad. Enjoyed the pool table and darts.


Kizzy B.

,

"Newbie to Tennessee"

This was my first visit to Tennessee and I must say it is a beautiful state. I love the cabin and dealing with the representatives of Elk Springs Resort. They made sure that I had knowledge of the are

…

a and cabin. My only concern was driving up and down the steep curvy roads to the cabin. This was our first time driving in the mountains and it was really scary the first couple of times. But overall this was a great experience!!!

+ Read More

Aubrey

Columbus, OH

"Great Getaway!"

The property was fantastic! Check in was so easy and the location was great!GPS was difficult because of the sharp turns but Google Maps on iPhone worked perfectly.

Kathleen P.

Parkersburg, IL

"Great Weekend"

We had a great time.

Sonja J.

Nolensville, TN

"A Real Secret Hideaway"

This cabin is tucked nicely just off of the road. "Secret" is a very good description as we almost drove right past it.
Load More Reviews