Amenities:
Full Kitchen

Gas Grill

Honeymoon

Hot Tub

Iron / Ironing Board

Parking

Washer/Dryer

WIFI
Looking for the WOW Factor? A Desire Fullfilled at Elk Springs Resort in Gatlinburg delivers. You will be awed upon entry into this unique cabin favorited by honeymooners and those looking for a romantic getaway. Enter into a 28 foot wall of glass with center fireplace. Entertain with pool table, foosball, hot tub. Relax with 2 sitting areas and 3 fireplaces. Retire to the fantasy suite with jacuzzi tub and famous 18 foot rain tower shower.
Cabin Bedrooms Layout
Lower Level - Master Suite

King Bed
Sleeps 2
Lower Level - Bunk Room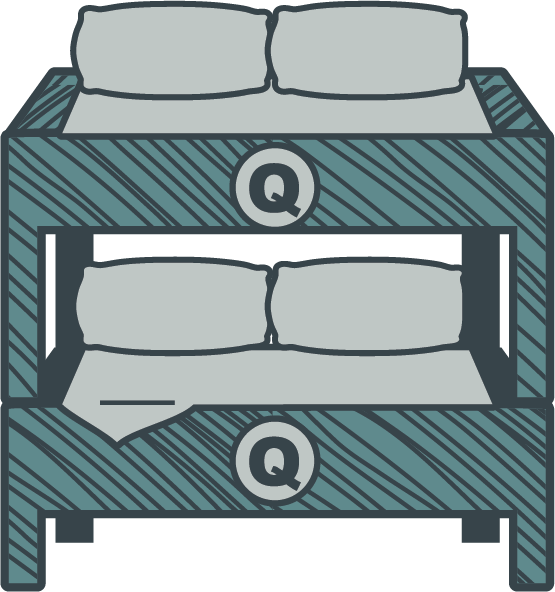 Queen Bunk
Sleeps 4
Main Level - Great Room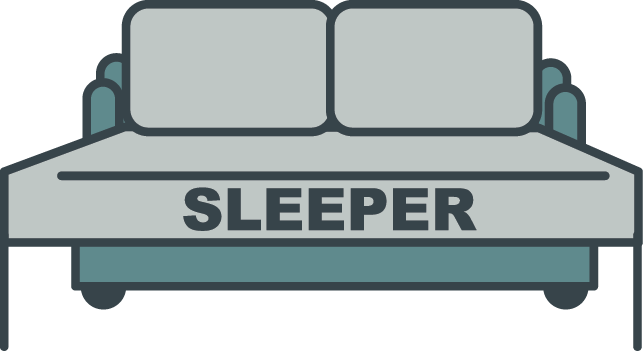 Queen Sleeper
Sleeps 2
Full Description
Truly deceiving! What appears to be an average cabin from the exterior entry, you walk into the cabin and are amazed at the wide open and dramatic 28 foot wall of glass. It's a 1500 sqft cabin that feels like 3000 sqft. Not your traditional 2 bedroom, the cabin has a large kitchen with plenty of space for storage and working while preparing meals in this Gatlinburg Cabin. You won't bump into anyone. Just outside the kitchen is a stainless steel gas grill for your convenience.

An adjoining dining area and breakfast bar as well as a separate living room, fireplace and flat screen TV finish out the entry level. You can stretch out on the leather queen sleeper sofa or kick back in the rocking chair and read a book.

Gather in the game room for a game of pool or foosball, or sit with your someone special in the love seat in front of the 28 foot gas center fireplace. The deck with hot tub awaits just outside the back door.

After a day in the park or in Gatlinburg, retire to the fantasy suite in your rental cabin with jacuzzi tub and now famous 18 foot rain tower shower. With a tank less hot water heater you will never run out of hot water. Just at the end of the king sized bed with upgraded mattress and bedding is a fireplace, flat screen TV and DVD player.

A second suite with full bath includes a queen over queen bunk bed that is perfect for the kids or can sleep 2 adults on the lower bunk.

For your convenience, FREE wireless internet and a washer / dryer are included.

Book it if you have a chance, this cabin is not often available!
18 Foot Rain Tower Shower
Hot Tub
3 Fireplaces
Pool Table
Foosball Table
FREE High Speed Wireless Internet
Jacuzzi Tub
4 Rocking Chairs
4 Flat Screen TV's
4 DVD Players
Washer/Dryer
Gas Grill
Full Kitchen
Stainless Steel Appliances
Free Local and Long Distance Calls
Ceiling Fans
Comfortable seating for 6
1 King Sized Bed
1 Queen over Queen Bunk
1 Queen Sleeper Sofa
Calendar
Click your dates below to check in and check out
Available
Check In Only
Check Out Only
Selected
Unavailable
Photo Gallery
See All Photos
Reviews
Alexandra P.

Nashville, TN

"A Desire Fulfilled"

Absolutely wonderful experience! Everything was clean and so much to do!

Manager Response:

Thank you for your 5-Star review, Alexandra! We are delighted to hear we exceeded your expectations. We enjoyed having you as our guest and hope you will make plans to come back often. Please keep in mind, as a returning guest you will enjoy 10% off all future stays. Hurry back, new memories are waiting to be made!

Andrew N.

Madison, MS

"Great getaway "

Very nice layout to the cabin. Well stocked and had everything we needed.

Manager Response:

Thank you for your kind words, Andrew! We are excited to hear you enjoyed your stay. We hope you will make plans to come back and visit us often!

Garrett S.

Waynesboro, VA

"Garrett's Review"

I really enjoyed my stay and would return in the future. I also enjoyed the amenities that came along with the cabin. Price is a little on the high side but was worth the expense.

Manager Response:

Thank you for your business and positive feedback, Garrett. We are pleased to see that you enjoyed a 5-star stay at Elk Springs Resort. Our prices are competitive with other local cabin rental agencies. Please consider the fact that you were in close proximity to downtown Gatlinburg, the Shops at the Glades and didn't have to drive up winding mountain roads to reach your cabin when taking costs into consideration. The resort property itself offers a safe atmosphere to enjoy a hike around the paved road throughout the property while enjoying the peacefulness of being away from the busy tourist areas. We look forward to having you back soon!

Joseph S.

Springfield, KY

"Relaxing weekend "

Very relaxing and nice quiet cabin would rent again

Manager Response:

Thank you for your review. We are so happy that you enjoyed your stay with Elk Springs Resort. Please come back and visit again.

Shelina

Bristow, VA

"Fantastic Family Getaway"

Absolutely wonderful visit! Private and quiet resort area. The cabin had everything we needed from games to kitchen supplies. We will be making another (longer) stay in the future!

Manager Response:

Thank you for your wonderful review, Shelina! We are delighted to hear your stay was exceptional. We enjoyed having you as our guest and hope you will make plans to stay with us again!

Sandra

Christiana, TN

"A Desire Fulfilled"

We loved our stay in A desire fulfilled. This was our first time staying in a cabin and we were pleasantly surprised. We definitely recommend staying at A Desire Fulfilled

Manager Response:

Thank you for trusting Elk Springs Resort with your first cabin experience. We are happy to hear you loved your stay. We appreciate your recommendation, that is the best compliment we can receive! We hope you will make plans to come back and visit with us again.

Jeffrey

Valparaiso, IN

"Well needed Respite"

Very enjoyable time with my girlfriend and kids and my son and his family. I'd come back again for a longer stay

Manager Response:

We are excited to hear you and your family had such a wonderful time, Jeffrey! It sounds like great memories were made. We would love for you to come back and visit with us again! Please keep in mind, as a returning guest you will enjoy 10% off all future stays. We hope to see you soon!

Jennifer

Navarre, Ohio

"Best Vacation Yet!"

We stayed at A Desire Fulfilled...Super clean, everything you need! Rain shower is thee best!

Manager Response:

Thank you so much for your review! The rain showers are amazing! We hope that you can come back again real soon! The mountains are calling! Give us a call and we will get you booked again!

Russell

Stevensville, MI

"Beautiful cabin in a perfect location!"

Our trip to the Great Smoky Mountains could not have been more perfect! From the weather to the many different activities for both the kids and the adults, we never ran out of things to do! The best p

…

art of the vacation, by far, was the time we spent reconnecting as a family in our beautiful cabin! It was the perfect size for our family, was clean and tastefully decorated. We had everything we needed! The kitchen was stocked with dishes, serving pieces, and even plastic ware for storing leftovers. The hot tub was clean, private, and in a perfect location on the deck. We loved everything about our cabin experience!

+ Read More

Manager Response:

We pride ourselves in offering cabins with top-notch amenities that ensure hours of enjoyment, as well as memories that will last a lifetime. We are pleased to hear that we succeeded in helping to make this a vacation to remember. We hope that you will consider making this an annual event. Please contact us when you are ready to start planning your next get-away. Keep in mind, as a returning guest you will receive 10% off all future stays!

Angela T.

Franklin, IN

"Gatlinburg Getaway"

We rented for a weekend over Spring Break and absolutely loved it! Gorgeous cabin and very clean. We will go back!

Manager Response:

Thank you for your 5-Star review, Angela! We appreciate the opportunity to exceed your expectations. We are happy to hear that you enjoyed A Desire Fulfilled, it is truly an amazing cabin. Please let us know when you are ready to start planning your next get-away. Keep in mind, returning guests enjoy a 10% discount on all future stays. We hope you can come back and see us soon!

Joshalind B.

Riverview, Fl

"Spring break getaway "

The cabin was absolutely beautiful, immaculately kept, and in a great location! We were able to have an amazing stay with all the comforts of home plus a few extra perks!

Manager Response:

Thanks for this great review! Spring will be here before you know it! We hope that you will come stay with us again this year!

Don E.

Mandeville, Louisiana

"Very pleasurable stay"

Was a great, clean cabin with lots of space and in a great area. Pool/Foosball tables were in great shape, beds were nice. Only complaint would be the heating is not equalized (upstairs vs. downstairs

…

). For example, bottom floor is comfortable, top floor is too hot, etc. Would definitely stay again and recommend.

+ Read More

Manager Response:

Thank you for your kind review, Don. We recommend keeping the ceiling fans going throughout your stay to keep the air circulating. Sometimes, it is necessary to close a vent or two off in the upper level to make the temperature more tolerable. For future reference, Customer Service is available to troubleshoot any issues you may have over the phone. If they aren't able to assist you, they will dispatch a maintenance tech to personally come to the cabin within 30 minutes to fix the problem for you. We hope you will consider a future stay with us. Our repeat guests receive a 10% discount off all future stays!

Adena G.

Maplesville, AL

"New Years vacation"

Perfect

Manager Response:

We appreciate your wonderful review! We hope you will consider allowing Elk Springs Resort to become a New Year's tradition for many years to come. Please keep in mind, as a returning guest you will receive 10% off all future stays.

Jennifer H.

Apollo Beach, FL

"White Christmas "

We had a great stay in our cabin in the woods. It snowed while we were there and the location of the cabin on the mountain wad ideal to enjoy the snow falling.

Deborah

Jacksonville, FL

"Very Happy Campers!!"

Our family had a really great time. We loved that the code to get into the cabin was simply given to you by phone the day of check in, so no waiting, and the staff called the next day make sure we we

…

re happy with everything. The cabin was very clean and equipped with everything we needed to enjoy all our meals. The beds were super comfortable, and the shower was amazing!! Our kids loved the game tables and we all enjoyed sitting in the hot tub. Checking out was also very easy and quick. Would definitely stay here again!!

+ Read More

Manager Response:

Thank you for the 5 star review Deborah! It sounds like you picked the perfect cabin for you and your family to enjoy all of the amenities. It is our pleasure to provide you with a home away from home experience. We look forward to your return visit to make more memories in the Great Smoky Mountains!

Colin B.

Alpharetta, GA

"Great Cabin"

Relaxing time and our kids had a blast. Beautiful area and definitely worth it! Cabin was clean and very nice.

Manager Response:

Thank you for the 5-star review Colin! It is our pleasure to provide you and your family with a luxury cabin getaway. It sounds like it was the perfect choice for some Smoky Mountain memory making.

Candice T.

Armada, MI

"A Desire fullfilled "

We stayed for a week, we were very impressed overall with the cabin. Follow recommended guidelines as far as what to bring for longer stays. Would definitely return again!!

Manager Response:

Thank you Candice. We send out several emails prior to your arrival advising you of what is provided and it is important to follow these guidelines like you stated. However, our resort property is located just a short driving distance to several of the local stores in the event you need to go out for any last-minute purchases. We are pleased that you were impressed with your cabin rental experience and hope you will be a returning guest year after year!

Andy

Bournemouth, Dorsett

"We loved our stay at Elk Springs"

We researched long and hard before we settled on Elk Springs and our cabin. We feel it has the perfect balance between privacy and location support. Close to everything you need with just a 10 minute

…

drive for shopping and attractions you can really get away for a few days and relax.

+ Read More

Manager Response:

Thanks for the very nice review Andy. We are glad that the time and effort you spent researching and finding Elk Springs Resort was well worth it! We are always pleased to hear that we were able to make your vacation a memorable one.

Cyma

Mason, OH

"it was an incredible experience especially for us city folks"

This cabin was seriously tucked in but what a surprise it was!! my oh my! hot tub, waterfall shower, it was equipped with all the modern conveniences, We had a great time with family.

Victor L.

Orange Park, FL

"Great stay"

I cannot say enough about how wonderful our vacation was. The response to issues was prompt and the cabin had great amenities. I would reccomend this vacation location to anyone seeking a restful getaway.

Chelsey S.

Simpsonville, SC

"way beyond our expectations!"

We were very impressed with the cabin and the staff at Elk Springs! It exceeded far beyond our expectations. It was clean and spacious. The location was 20 mins to Gatlinburg and 15 mins to pigeon for

…

ge. We can't wait to go back! It was a weekend of great memories!

+ Read More

Joseph E.

Russellville, AR

"Great Vacation"

We had a great time at the cabin. We took our 17 year old child and she brought a friend. They loved the hot tub, foosball, and pool table. We enjoyed all of those and the large shower. One day we jus

…

t stayed in the cabin to enjoy it and the local area. One of the best things about the cabin was its location to the town.

+ Read More

Carrita

Hudsonville, MI

"Great Vacation!"

We enjoyed our time is this beautiful home. We would highly recommend it.

Mahesh G.

Jones Creek, GA

Tom H.

Cincinnati, OH

"GREAT PLACE and GREAT LOCATION!!"

Had a great time! Perfect distance from town! Cabin is great! Shower is a luxury!

Sandia

Raleigh, NC

"Great place!!"

Wonderful cabin with great amenities!! Will definitely stay again!!

John B.

Birmingham, AL

"Great Winter Weekend!"

Our family of 6 spent a long weekend at A Desire Fulfilled and had a fantastic time. The cabin was great, just as we had hoped. It was somewhat secluded, but not too far from Downtown Gatlinburg. The whole family had a great time.

Donald

Saint Louis, Missouri

"Better than expected! "

We were called early and allowed to check in. The check in process was simple and straightforward. We were pleased that the location was not downtown but close enough for a quick drive and very close

…

to Smoky Mountain National Park. The cabin we stayed in was above and beyond our expectation. Everything was immaculate, clean, and well thought out. We LOVED the hot tub and the rain shower. WI-Fi worked well the entire time, although our phones did not get service downstairs in the cabin, only upstairs. That was fine with us as we wanted to go unplugged for a weekend! Kitchen was well stocked, bed were comfy, and everything was in tip top shape! Thanks for a wonderful weekend!

+ Read More

Maggie

Jupiter, FL

"New Years in the Mountains "

A Desire Fulfilled was a beautiful place to stay. It was just far enough away from the downtown and very peaceful. The staff was wonderful and easy to reach at any time. I would recommend Elk Springs properties!

Sherrie

Grapevine, TX

"A desire fulfilled"

My desire was fulfulled when I rented the cabin for a quiet relaxing vacation. I wanted to get back to nature, view the beautiful fall leaves and enjoy the outdoors. I was happy with my decision to rent this cabin and recommend it to others.

Marc S.

Fort Pierce, FL

"Awesome Trip"

We were delighted with our cabin and the cleanliness of it. It was very clean and the hot tub was awesome. We could not have asked for anything better except a few more days. The property managemen

…

t company was very helpful and efficient in our booking and arrival. We would definitely stay here again.

+ Read More

Del

Lenzburg, Illinois

"Great weekend"

Great place to stay very secluded beautiful cabin&surroundings no hassle signin.

O'nika

Cincinnati, OH

James N.

Northbrook, IL

"Fun Vacation"

We stayed at A Desire Fulfilled for a family of 4. It was a good size, the pictures make the cabin look larger. The rain shower is amazing and everything was clean and in good condition. View was j

…

ust of trees but nice. Located next to a cabin next door and one across the way, but had a privacy screen for the hot tub. Tricky to navigate the windy roads but fun after you get used to it. Convenient location as we spent a lot of time in the Smoky Mtns, Gatlinburg and Pigeon Forge. Lots of driving, about half and hour to an hour to most places. Did not spend a lot of time in the cabin but it was nice to come back to soak in the hot tub at night and have privacy and all the amenities needed to relax and unwind after a long day of play.

+ Read More

Tom

Cameron, MO

"A Vacation to be Remembered"

A truely wonderful experience!! My wife and I and our children all loved the cabin!! We wouldnt change a thing!! Thank You!!

Josiah C.

Glendale, MO

"A great place to stay"

We loved this cabin, the location, the setup, just about everything about it.

Randal M.

Oak Ridge, NC

"Excellent Once again."

From reservation to check-out, the experience was simple and quick. We were called at noon for a 3:00 pm check-in, providing us with our lock code and informing us the cabin was ready for us to occup

…

y. Check out was simple, I told the cleaning crew who was at another cabin that we were leaving and they handled it.

Cabin was exactly as presented. The bed in the master bedroom is very good, much better than is usually the case for a rental. The shower is incredible.

Both bedrooms are downstairs, so if someone has difficulty with steps, this might not be a good layout for them. The TV in the master bedroom is small, but we never turned on any of the 3 sets anyway. Hottub was ready for our use.

Elk Springs will certainly be our first contact the next time we are in the area.

+ Read More

Ryan V.

Lawrenceville, GA

"Great place to stay."

You won't be disappointed with Elk Springs Resort. Cabins are stunning. I highly recommend this place.

Steve H.

Riverview, FL

"Hosford"

5's all the way around we were very please. If there was a down side it would have only been the guest room. With the queen size bunk beds there is barely room in there to get dressed. But since we

…

did not have any other guest it did not affect us in any way.

+ Read More

Jamie

Gainsville, FL

"Love Elk Springs Resort!!"

My husband and I stayed at one of the cabins for our honeymoon and loved every minute of it. The cabin was beautiful and looked exactly like the pictures online. We are already planning a trip back!

Danyelle P.

Indianapolis, IN

"A DESIRE TRULY FULFILLED"

cabin was just as described, I will recommend to anyone.

Christopher C.

Dickson, TN

"Didn't want to leave"

My only complaint.... I wish I could have stayed longer!

Sandra

Brookfield, WI

"Family Time with all the Bells & Whistles!"

Check in was wonderful--got a call on my cell phone hours before check in saying it was ready early and giving me key code. Place was convenient to National Park, downtown, and decent grocery. Kids

…

had a ball with fooseball, pool table, and our own hot tub. Shower a fun bonus! Only negative is the fireplace in master is a fake, but you have two other beautiful gas fireplaces, so it wasn't missed. Elksprings pricier than I would usually pay, but for all the extras, it was kind of worth it! Enjoyed living in my dream cabin for 4 nights very much!

+ Read More

Anthony C.

South Point, OH

"Nice get away"

Very nice cabin, very clean and well maintained. I would rent there again .

Julie

ARCADIA, IN

"A Desire Fulfilled"

Fabulous cabin with everything you need. Very clean and comfortable. Quiet location with shops and grocery a short drive away. Our family of 4 had lots of room to relax. We spent more time in the cab

…

in than we would have a hotel. This is definitely the way to visit the Smokies!

+ Read More

April

Pike Road, AL

"Perfect Vacation "

This cabin was so cozy and perfect for my husband and I to get away for the weekend. I'm already planning my next trip for a bigger cabin with more family!!

Jaime G.

Charlotte, NC

"romantic weekend"

It was my first experience to the mountains and I loved it. It was suppose to be just a getaway, but it felt like a honeymoon. Plenty of fishing and great restaurants. The resort was quiet and I didn't want to leave.

Jeff T.

Gastonia, NC

"Romantic weekend"

Nice place overall. Hot tub too hot for my taste (104). Large bedroom and shower were very comfortable. Will stay again someday. Sadly all parks were shutdown and we could explore the mtn.

Steve C.

Lafayette, LA

"Wonderful Stay"

This was our very first time visiting Gatlingburg.. The cabin was beautiful very clean and perfect size for all six of us.. We felt right at home... Will definitly be back:):)

Alicia

Murphy, TX

"Perfect"

There's not a thing I would have changed. The cabin was perfect for our family of four. Looking forward to visiting again.
Load More Reviews