Ice Skating in Gatlinburg?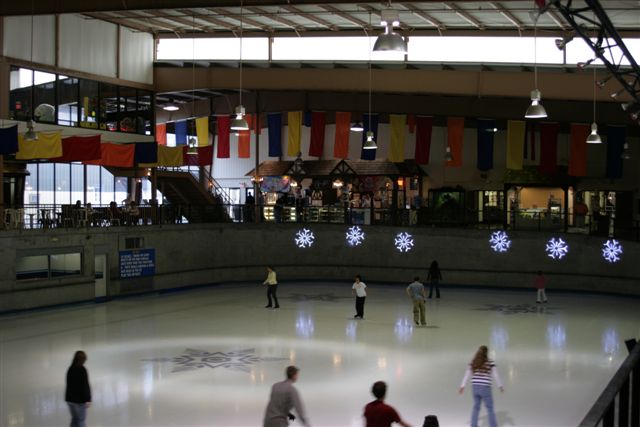 Actually, you can ice skate in Gatlinburg during the middle of August. Why? Because Ober Gatlinburg Ski Resort has an indoor ice rink that is open all year. Located at the end of Ski Mountain Road, Ober Gatlinburg is not only Gatlinburg's ski area but also the final destination for those looking to take a Tram ride from Downtown. Skate rentals are $6 and inlcudes an unlimited skating pass for the day. Every 90 minutes the ice is resurfaced giving those learning how to skate a well deserved break.
The indoor facility at Ober Gatlinburgis also the landing station for the aerialTram and also includes some shops, a fewCafeteria style resturaunts, there's a bear preserve on site, an amazing alpine slide, a childrens play area, water slides, go kart track and an overlook in the parking lot of some of the best views in Gatlinburg.
There are 2 recommended routes to get toOber Gatlinburg fromthe luxury rental cabinsat Elk Springs.
1. Travel intoGatlinburg. Keep to the right along the river and follow River road to Ski Mountain Road (it's the last stoplight before the park). Turn right on Ski Mountain Road and follow it all the way up the hill to the parking lot at Ober Gatlinburg. Parkingis $3 and can be higher during snow season when Ober is open for Snow Skiing.
2. Travel into Gatlinburg and go down the main parkway.When you seethe Tram (not the chairlift) go ahead and park in one of thenearby parking garages. You canpurchase a round trip on the Tramat the mainTram Station.
One way from Elk Springs Luxury Cabin Resort is about 20 minutes to the top of Ski Mountain Rd. Ober Gatlinburg can be reached on the web at www.obergatlinburg.com.