Great Hiking at Newfound Gap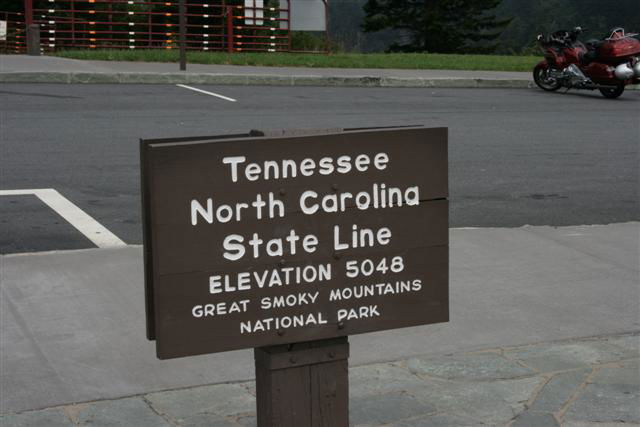 Home of the Rockefeller Memorial, Newfound Gap sits atop a mountain pass located at the Tennessee North Carolina line at almost the center of the Great Smoky Mountain National Park.  At 5048 feet (1539 meters) the Newfound Gap offers equally impressive views of the mountainous terrain in both states.  An intersection point for many hiking trails, including the Appalachian trail, with the memorial and views from the main parking area this stop has something for everyone.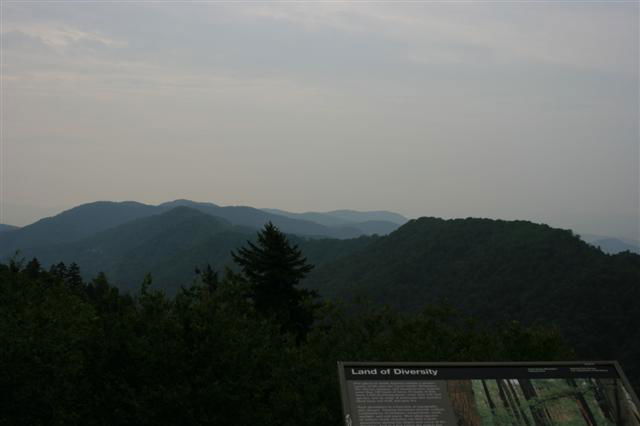 Whether you are looking for a day hike, simply want to see some views, or are looking for a scenic drive through the smokies, you'll quickly realize why so many people visit the Newfound Gap.
For Hikers, Newfound Gap is used as a launching point for hikers and backpackers making their way to the top of Mt. LeConte, the first 3 1/2 miles of trail offer some significant elevation change and some rather difficult hiking.  While the trail is challenging, the views and change in setting are remarkable.  Hikers will go from steep trails up rock like stairs surrounded by huge trees to a mountain top prairie with open meadows and spars trees.  Since the trail is slightly more challenging than others, you won't find many others hiking in the area.  Those you'll see will probably be heading back or in transit from a 2-3 day hike.  Interestingly, however, and despite the difficulty you may see several children, some as young as 5 years old, easily navigating the trail with their parents.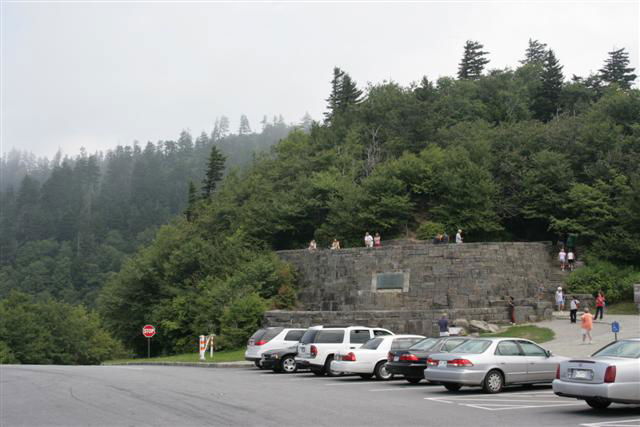 If you are going to day hike, remember to let someone know your hiking plan and when you plan on returning.  It makes sense to check in when you return.  Drink plenty of water, make sure you have some water with you as their are no wells or drinking fountains off the trails.  At the trailhead or parking lot there are drinking fountains and restrooms, but no vending area.  Wear layered clothing, bring a trail map, and it's recommended to bring something to eat.  It is possible that you may see some black bears, so be sure to broadcast your presence when approaching blind spots, keep your distance and be respectful.  Click Here for more details on what to do if you encounter a black bear and for details regarding park rules specific to bear activity in the park.
Newfound Gap is a good 40-45 minutes from Elk Springs Resort depending on the traffic.  It's a great scenic drive through the park with many great places to stop.  It's strongly recommended getting on the road by 9am to beat the traffic through Gatlinburg.  Gatlinburg is typically a late to rise town, so leaving early provides the opportunity to see the park, take a several mile hike and be back to Gatlinburg for a late lunch.  Newfound Gap is about 20-21 miles from Elk Springs Resort Luxury Cabin Rentals in Gatlinburg.  Located on highway 441 throught the middle of the park, you will want to drive through downtown Gatlinburg towards the entrance to the Smoky Mountain National Park following the signs to Cherokee and Newfound Gap.