Springtime Snacks with the Kids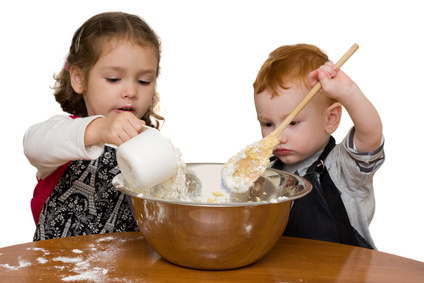 As an adult, I look back on my family vacations with a great fondness. It was a time for my family to be thrown out of our usual routine and share an experience that was different than our everyday lives. More than anything I remember the time I spent with my parents, my grandmother and brother, and it always felt special that my parents made this a priority for our family every year.
Vacations are about quality family time, being together laughing, relaxing and having fun. In my family one way we like to relax and have fun is to cook. When my nieces come to stay with me they always want to cook something, and this feels very special. They enjoy measuring, cracking eggs, being a part of creating something with me. This is an experience I am happy to share with them, and I hope these are memories they will have as they grow older and look back on with delight.
This year on your Smoky Mountain Vacation, take some time to play and cook with the kids. Elk Springs Resort's luxury cabins feature fully equipped kitchens with everything you need to make a meal or these delicious snacks. So read over these recipes with the kids, grab some groceries, and get ready to make some memories. These fun, kid-friendly recipes will have you all laughing and smacking your lips.
Cabin Cooking with Great Kid-Friendly Recipes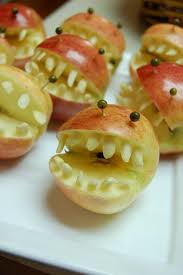 Apple Monster Mouths
2 Apples
peanut butter
candy corn
Directions:
1. Core the apples.
2. Spread a teaspoon of peanut butter on one apple slice
3. Arrange candy corn in alternating directions like teeth
4. Spread 1 teaspoon of peanut butter on second apple slice and press on first apple slice with candy corn teeth to form the "Monster Mouth"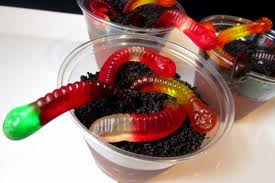 Worms and Dirt
Pre-packaged chocolate pudding cups
2-3 chocolate sandwich cookies (such as Oreos) per pudding cup
gummy worms
pastel sprinkles
Directions:
1. Remove pudding cup covers
2. Let kids help remove frosting from sandwich cookies,
3. Then have them crumble sandwich cookie sides inside a zip-lock bag
4. Kids can then place cookie crumbs as dirt over the pudding, insert gummy worms, and decorate with pastel sprinkles before digging in.
1 bag pretzel rods
1 package milk chocolate chips
Variety of pastel/springtime sprinkles
Wax paper
Directions:
1. Melt the chocolate chips in the microwave for 1 ½ minutes.
2. Stop and stir every 30 seconds.
3. Let kids help dip pretzel sticks into chocolate and use a spoon to help cover 2/3 stick
4. Wipe off excess and help kids decorate quickly with various sprinkles
5. Lay on wax paper to cool completely.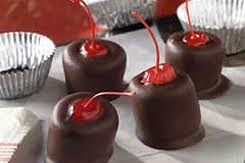 Chocolate Marshmallow Cherry Kisses
16 large marshmallows
16 maraschino cherries
1 package (8 squares) Semi-Sweet chocolate, melted
Directions:
1. Have the kids wash their hands and use their finger to make an indentation in the top of each marshmallow.
2. Insert the cherry, leaving part of the cherry exposed.
3. Using two forks to support bottom and top of marshmallow and cherry dip marshmallow and cherry in the melted chocolate, turning to evenly coat the marshmallow and cherry.
4. Gently shake off excess chocolate and set on a wax paper-covered baking sheet.
5. Place in the refrigerator for 20-30 minutes until chocolate is firm. Then enjoy with the kids!
1 package (8 squares) Semi-Sweet chocolate
1 and 2/3 package (14 total squares) White chocolate, divided
2 cups mini-marshmallows
1 cup crisp rice cereal
1 cup peanuts
¼ cup maraschino red cherries, drained and halved
¼ cup maraschino green cherries, drained and halved
1/3 cup coconut
1 tsp oil
Directions:
1. Microwave all of the semi-sweet chocolate and 8 of the 14 white chocolate in a large microwavable bowl for 1-2 minutes: stir. Microwave for an additional 1 to 2 minutes until all squares are completely melted.
2. Add marshmallows, cereal, and nuts; mix well.
3. Spread onto the bottom of a 12 inch pizza pan sprayed with cooking spray.
4. Let kids help sprinkle coconut over the sweet pizza and dot with cherries.
5. Meanwhile, microwave remaining white chocolate squares (6) on high for 1 minute; stir. Microwave 30 sec. to 1 minute or until chocolate is completely melted.
6. Drizzle over sweet pizza and let stand until firm.
Sweet Pretzels
Canned breadstick dough
Colored sugar
Cinnamon
Directions:
1. Pre-heat oven to break stick package directions. Spray a baking sheet with cooking spray.
2. Let the kids create their favorite pretzel shapes by molding the bread sticks into their own design.
3. Let kids decorate the clover with colored sugar and cinnamon.
4. Bake according to package directions and serve to your lucky little leprechauns.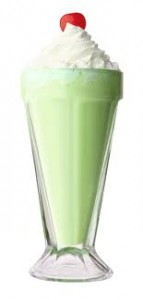 Green Foam Milk Shakes
1 ½ cups mint chocolate chip or pistachio ice cream
1 ½ cups milk
½ cup seltzer or club soda
Directions:
1. Pulse ice cream and milk in a blender to combine.
2. With Blender running pour in seltzer or club soda.
When shake is smooth and foamy pour into 2 chilled glasses and serve immediately.