Spring is the Season of Love in Gatlinburg TN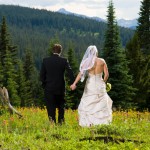 While most people know that Gatlinburg is fantastic for hiking, camping and wildflower excursions they may not know that it is also considered one of the best places to spend your wedding and honeymoon in the South. Beautiful mountain vistas are the perfect backdrop for a spring wedding, pick some local wildflowers to carry down the aisle or place in the groom's lapel. Having an intimate wedding with just a few family and friends? Performing the ceremony at a luxury Gatlinburg cabn rental is a unique and unforgettable way to spend this important day.
In this quaint town there is a thriving wedding industry that offers everything the new couple needs to plan the ceremony, the after party and where to spend the first night as husband and wife. From photographers to caterers, priests and even dress shops for impromptu ceremonies, every piece of the wedding puzzle falls neatly into place here in Gatlinburg. In the marriage-friendly state of Tennessee all you need is a driver's license and your sweetheart to get a different kind of license, the type that will make all of your dreams come true.
When it comes to choosing lodging not just any locale will do for discerning honeymooners, finding the perfect cabin that is as beautiful as their love is an important and fun part of planning the wedding. And there is so much a luxury cabin can offer the new couple! Relax in a hot tub out on the balcony, watch the sun set together, snuggle all day or invite the whole wedding party over to celebrate this momentous occasion. Whatever you can image for your special day can be easily arranged within the Gatlinburg community.
Ask any local and they will tell you with a smile on their face just how romantic their town can be. They probably have seen scores of young couples walking around hand in hand with a moony look on their face, that expression of pure joy that can only be witnessed after a gorgeous mountain wedding. There is something about the crisp Smoky Mountain air that enhances any special occasion, especially the one that will unite two people together for the rest of their lives. Book your Gatlinburg cabin today for this memorable time in your life.