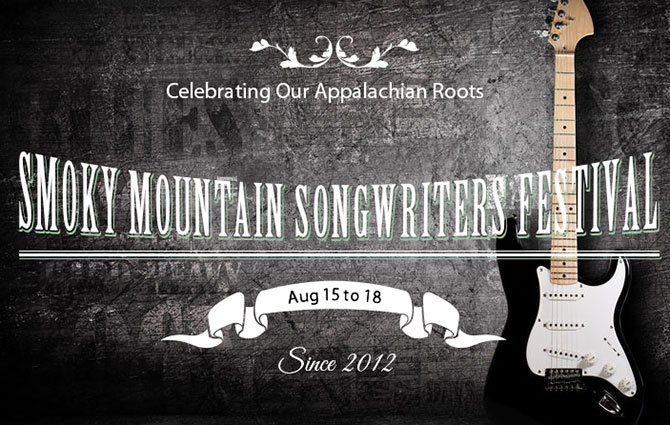 There is a rich tradition of songwriting and music in the state of Tennessee. While most people might be more familiar with Nashville as a songwriting and Country music hub, Eastern Tennessee is also home to many great musicians and songwriters.  After all it is from these Appalachian Mountains that The Carter Family, some of the first country music stars, gathered Appalachian folk songs for recording.
Gatlinburg is proud to continue and contribute to this legacy by hosting the Smoky Mountains Songwriters Festival. Music Lovers, Songwriters, and spectators will converge on downtown Gatlinburg, Tennessee from August 15th through 18th to celebrate this musical heritage at The Smoky Mountains Songwriters Festival (SMSWF).
This special event the City of Gatlinburg is proud to host as they celebrate their "Appalachian Musical Roots." This festival is truly one of kind for the area and seeks to promote songwriters and help their songs be discovered by publishers and producers. Meanwhile, music lovers and the public get to enjoy hearing songwriters perform their hit songs in original form and get to hear the story behind the music.
As Martha Christian Singer/Songwriter and 2013 SMSWF performer notes, "The SMSWF is different than other music festivals because of its fantastic setting. There is no more perfect city [than Gatlinburg], in my opinion to host this festival. With the proximity of venues, volume of visitors and spectacular scenery, it stands alone. Visitors to the Smokies are here to relax and have a good time and great music fits into that with ease."
Annie Robinette, Singer/Songwriter and 2012 SMSWF contestant and winner explains, "The festival celebrates the universal appeal of music in general. But I think the Appalachian roots influence for many of us here makes the event particularly joyful since it's held in the very region where music began for us.  It's like traveling back to your hometown, walking into your grandparents old house, and finding a trunkful of old love letters they'd written to one another ages ago. You rub your fingertips over the fading ink, the you smell the yellowed paper, you read the loving words, and embrace the fact that you are a continuation of this history."
Over thirty hit songwriters who have written hits for such country legends will be performing during the festival. Audience members will hear the stories behind songs recorded by Reba McEntire, Johnny Cash, Keith Urban, Blake Shelton, Jason Aldean, George Strait, Faith Hill, Tanya Tucker, Billy Currington, Billy Ray Cyrus, Montgomery Gentry, Kenny Chesney, Keith Anderson, Alabama and The Oak Ridge Boys, Barbara Striesand and many  more. As Mitch Townley 2013 SMSWF Singer/Songwriter finalist explains, " One of my favorite parts of the festival is [I] love listening to the hit songwriters talk about their songs and perform them."
So, don't miss the chance to hear these song writer's tell their stories and perform in a fun and family friendly environment at different venues across downtown. Songwriters and performers will be set up at different stages located throughout downtown Gatlinburg. Some of the stages are: Hee Haw Stage-Four Seasons Motor Lodge, Hardrock Café and Ripley's Aquarium Plaza. For a full listing of performers, show times and stages visit: http://smswf.com/guide-to-all-festival-events/ .
In addition to live performances by songwriter's the Smoky Mountains Songwriters Festival  includes workshops on the craft of songwriting and premier songwriting contests. New events at this year's festival feature a Gospel Music Show Sunday Morning, a 5K run, and a Band Playoff. Many spontaneous jam sessions also take place throughout the festival and town. So if you are a musician bring your instrument and get ready to play!
.
Festival
Hi
story
Cyndy Montgomery Reeves founded the Smoky Mountains Songwriters Festival after visiting a songwriting festival in Key West.  Cyndy felt strange that such a festival was so removed from the roots of where much music began. As Cyndy describes, "While I attended 16th Annual Key West Songwriter's Festival …I thought to myself… 'A songwriters' festival doesn't belong in Key West, it belongs in the Smoky Mountains where bluegrass, country and old time music originated."
Thus grew Cyndy's impetus to return to the Great Smoky Mountains and start her own songwriting festival. Cyndy  Reeves felt convicted that the home to so many singers, songwriters, and musicians should surely host such a songwriters festival, and she knew Gatlinburg, Tennessee was the perfect spot to host such an event. Upon her return from Key West Cyndy  Reeves met with City of Gatlinburg Special Events Director, George Hawkins, and pitched her idea for The Smoky Mountains Songwriters Festival in Gatlinburg. Hawkins concurred and now The City of Gatlinburg endorses this special event annually in mid- to late August to celebrate their Appalachian Musical Heritage.
The creators of this festival envisioned a place and platform for songwriters to perform their songs, so they could be heard in their original form and to promote songwriters and help their songs become discovered by publishers and the public.
They also sought an event that brought everyone to the table: music lovers, music industry pros, and artists from far and wide. As Singer/Songwriter and SMSWF performer Martha Christian explains, "From New York to Colorado, I was blown away by the caliber of folks that were involved." As Mitch Townley, 2013 SMSWF Singer/Songwriter finalist adds, this festival is also a great networking event for regional songwriters and artists, "One of the benefits of this festival is it has made regional writers aware of other writers in the area and what is going on around us.  I know that several area writers' nights have started as a result of the festival"
.
SMSWF Workshop Series
This year's event will feature seven workshops for paying attendees, two of which will be Publisher Critique Panels. These critique panel sessions will be actual pitch sessions to publishing groups, who will also offer critiques. The panel consists of a variety of experts such as: Writer's Den Music Group, Barbara Cloyd, Play for Publishers Workshops, Eric Hurt, Zavitson Music Group, LeAnn Phelan, ASCAP and Chris Oglesby, and Oglesby Writer Management.
Twenty songwriters selected by the Publisher Critique Panel will be selected to meet one on one with Nashville best Publisher's Sunday morning. The top three critiqued songs will be picked by this panel to receive a $200 commissioned stage spot in the 2014 Smoky Mountains Songwriters Festival.
Other SMSWF workshops include:
"The Music Business" – 3 Day Luncheon Series – Keynote Speaker  Rick Barker,
"How to Write, Demo, and Pitch a Song" with Kim Williams and Larry Shell,
"Increasing Your Chances of Getting A Song Cut" with Marty Dodson,  "Hit Songwriting Master Class" with Clay Mills, and
"Honing The Craft of Songwriting" with two great consultants in the songwriting.
.
Songwriter's Competition
This year over two hundred songs were entered in the SMSWF Songwriters Competiton. Songs were entered  from all over the country from as far away as California, Washington, Texas and New York.
The songwriter finalists will perform their winning songs at the 2013 SMSWF Songwriters Competition Finale and Award Night Performances on Saturday August 17th at the Edgewater Hotel.  As finalist Singer/Songwriter Charlie Katt notes, "For me, at least this year, I am most excited about the competition. It's my first time competing in a songwriting contest. I also look forward to the opportunity to network and see other artists as an aspiring artist myself; I look at concerts as a way to study the masters at work."
Charlie, a member of the Knoxville Songwriters Association, has two songs selected as finalist in the Pop/Rock Category of the songwriter's competition, "Addy May" and "My Name Is Lucas." Charlie garners his inspiration for song writing from many muses.  "It can come from an experience that I've had, that someone else had or sometimes, I look toward movies that I love and find that special, little story in them. Over the years, I've learned to keep my eyes and ears opened, wherever I am, for things that might make a great song."
2012 Overall Top Line winner, Annie Robinette, recalls last year's competition and one of the most enjoyable aspects of the festival for her was, "… being surrounded by extraordinarily talented writers and gracious listeners.  I made some wonderful friends, learned a ton, made valuable connections, and had a total blast. The geographical surroundings are amazing too, and the perfect setting for this celebration."
.
Singer/Songwriter Spotlight:
.
Martha Christian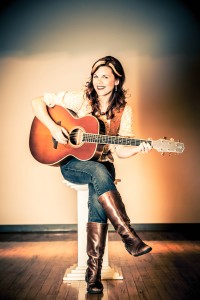 Singer/Songwriter Martha Christian will perform this year at the SMSWF. Martha attended the SMSWF last year. She is a huge fan of the festival, its unique offerings, and what the setting in Gatlinburg provides for the festival.  A prolific songwriter, Martha draws her inspiration for her songs from the world around her. "As a writer, I am always watching and listening. Watching life happen supplies a wealth of inspiration. I have sought to not hold so tightly to my own view of the world that I can't enter in to the views of others. We all see our world through different lenses and speak with unique voices. I try to tell my story as hopefully as I can and I try to hear the stories that wouldn't be heard otherwise and tell them too."
Martha Christian offers advice for newcomer songwriters to the 2013 SMSWF this year: "Find what moves you and write that down with all the most colorful words you can. Then find out a few of the guidelines that make a structurally sound song, then fill that framework with all the emotions and pictures of what moved you. Hold loosely to your first thought and work to make it count…Do the work. Write. Write. Write. And be courageous."
Audience and listener support and participation are a vital part of this festival. Martha reiterates this importance when discussing the interaction between listener and songwriter in the songwriting process. As Martha advises  songwriters, "Many a great thought has been completely lost because it couldn't be understood by the listener.  Seek to love your listener and they'll stay to hear what you were meant to say."
Mitch Townley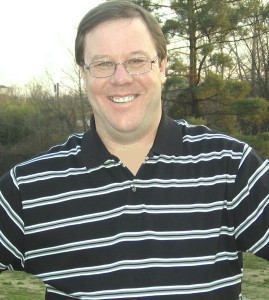 Mitch Townley, a songwriter and children's pastor from Knoxville, is a prolific songwriter. He writes from twelve to sixteen songs per year.  He has had eleven cuts so far in 2013 by indie artists.  Mitch has had five songs selected as SMSWF Song Competition finalists: in the Bluegrass category -"Kickin It Old School"; in the Country category "Numbered," "Get Our Christmas On," and "Keep It Down Home"; and Lyrics Only category "Ever Notice."
Mitch has a lot of tips for aspiring songwriters and artists, "Keep a notebook/list of ideas for titles, lines, hooks.  I try to say things in a unique and fresh way.  Seek out new writers whose writing you appreciate and see if they would consider writing with you.  Focus an equal amount of time on developing relationships with your co-writers as generating a fine song. Write on a regular schedule.  Associate yourself with groups and organizations that can help you get better (NSAI, Songu.com) Write because you love to and have to, not just with the idea of making a lot of money."
Annie Robinette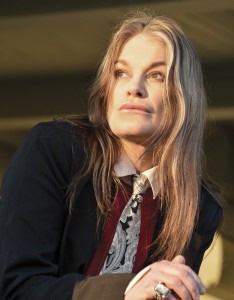 Annie Robinette, is a singer-songwriter who lives in Bristol. Her artistic abilities go beyond just singing, she studied Fine Arts at UNC in Greensboro, studied ballet at a young age, and has modelled in campaigns for Calvin Klein and Levi's. In the 2012 SMSWF her song "Hanging On" won the Pop/Rock/Folk category and for Overall Top Line. She was also a runner up for her song "All I Know" in the Gospel/Inspirational category.
For Annie, "The inception of a song can spring forth from so many sources—something I experience or something I witness others experience. Sometimes an idea comes from a seemingly vacuous phrase I overhear, in which I find some profound meaning. Some ideas just fly out of the ether and smack me in the head. I find that if I can quiet my mind and be sensitive to what goes on around me, there's plenty of fodder out there for a good piece of work."
For those of you thinking of competing next year in the 2014 competition, here's Annie's advice for you, " If you're thinking about competing, you already know you have something valuable to share. So be proud of your creations and put them out there to be evaluated by pros. You might just end up going home with some wonderful awards and accolades, which will fuel your desire to write more."
.
Charlie Katt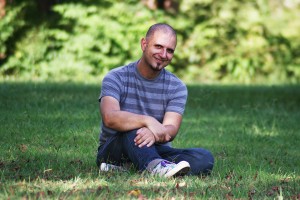 Charlie Katt is a finalist in the competition this year and has been playing piano and singing since the age of 15.  This is his first time participating in the event. He heard about the competition through festival organizer Cyndy Reeves, at an event that he participated in called Out of the Mouths of Babes" held at the Boys and Girls club in Gatlinburg. While he has no formal training, his passion for music and learning is endless; "My songwriting also evolves day by day and has become more and more unique over the years. I feel that I'm learning all the time and that's really what keeps me going!"
.
Runnin' & Strummin' 5K Run/Walk
This year the First Annual Runnin' & Strummin 5K Run/Walk will also be a part of the festival. For those athletes  and fit folks who also love good music and a challenge, this event is a great way to participate in the festival.
Music lovers, athletes and spectators will descend on the streets of downtown Gatlinburg on Saturday, August 17th at 9 am,  ready to compete and support this inaugural event. The Smoky Mountains Songwriters Festival is hosting this event to encourage physical activity and good health, as well as, benefit the Crumley House Brain Injury Rehabilitation Center located in Limestone, Tennessee.
The Crumley House is a special rehabilitation center that provides services to support children and adults who have experienced traumatic brain injuries. This rehabilitation center is the only one of its kind in the southeast. The Crumley House works with brain injury victims not only from the state of Tennessee but victims from all over the United States and even from overseas. They provide services such as speech therapy, occupational therapy, exercise programs, daily living skills, and community re-entry.
The Crumley House is so unique and popular they have outgrown their current facility. They are in the middle of a capital campaign to raise money to add a new wing to their current facility. Participants in and supporters of the Runnin' & Strummin 5K Run/Walk can feel good about helping this dream become a reality for The Crumley House.
.
SMSWF Band Play Off
Also, new to the festival this year is the 2013 Smoky Mountains Songwriters Festival Band Playoff. This competition came about after many request from the 2012 festival to allow bands who write original music to have a chance to compete. Ricki Landers is the SMSWF Band Playoff Co-coordinator along with Lee Mayer of Houla Entertainment.
This part of the competition is specifically designed for bands that write and perform their own original songs. Bands go through a submission and selection process, and those chosen are given the opportunity to perform two songs in the battle of the bands in front of a lineup of music industry folk such as record labels, publishers, booking agents.
Each day the top three bands move on to the next round and get the chance to perform two more songs at the "End of the Day" showcase. The top three bands will receive select prizes on Sunday.
.
A Festival For the Whole Family
.
This year's  Smoky Mountains Songwriters Festival is something not to miss! If you are a music lover, country music fan, or guest to the Smoky Mountain area come out and celebrate the rich musical roots of Tennessee. Prepare yourself for a mystical event as you get to see in person the creation of music in its rawest form as singers, songwriters, and music lovers come together to celebrate the legacy of their "Appalachian Musical Roots!" All you have to do is show up in Downtown Gatlinburg from August 15 – 18, 2013 and enjoy four days of musical bliss. For more information or questions about the festival please contact them at smswf@hotmail.com or call (865)-604-9066.