Hop, Skip and Jump to Gatlinburg for Easter Weekend 2013
Looking for a place to spend the Easter holiday? Look no further than the beautifully majestic Gatlinburg. This year Easter falls on March 31st, which gives you just enough time to pick out your favorite cabin at the Elk Springs Resort. We are gearing up for a busy Easter holiday weekend with guests visiting us from around the country. There is no place quite like Gatlinburg to spend not just Easter but any holiday with family and friends.
Easter Vigil
Besides days of relaxation and time spent with loved ones, you may be wondering what exactly there is to do in Gatlinburg for Easter. If you ask the locals, there is only one place that you should really consider for your holiday weekend: the Easter sunrise service at Ober Gatlinburg. Each year the folks at Ober Gatlinburg hold an Easter service that will take your breathe away. Take a tram to the top of the mountain (on Easter Day the tram is free) and take a seat. While you wait for the service to begin, you will be able to watch the sun rise over all of Gatlinburg, a sight that is definitely camera-worthy. The complimentary tram rides start at 5:45 AM and will run every 15 minutes until the start of the service at 6:30. Since it tends to be a bit chilly in March, be sure to wear warm clothing and bring a blanket to warm cold legs. Once the service has finished, you can opt for a buffet breakfast at the Ober Gatlinburg restaurant. Join locals and travelers alike as they celebrate another beautiful Easter holiday weekend in the Smoky Mountains.
Go on an Easter Egg Hunt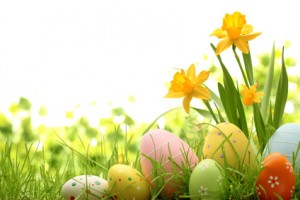 If you are travelling with children then you will not want to miss out on the Easter Egg Hunt! This year the event will be held on March 30th at Mynatt Park. Thanks to the Gatlinburg Community Police Program, the kids of Gatlinburg and visitors can join in on the fun of a classic Easter egg hunt. Children aged 1 to 12 can search for as many eggs as possible starting at noon; there will even be prizes given out during the day! Don't forget to bring an Easter egg basket and your appetite as hot dogs and refreshments. Of course, you can hold your own Easter egg hunt in and around your luxury cabin rental at the Elk Springs Resort. With several families staying at the resort over the holiday weekend, you may find yourself hosting an eggstravaganza!
Easter Arts & Crafts
While you are in town don't forget to stop by the Gatlinburg Convention Center for the annual Great Smoky Easter Arts and Crafts Festival. Each year local artists gather at the convention center to show their best and most exciting wares to the public. All of the pieces shown are for sale, making this a great opportunity to do some shopping for your home or friends and family. Some artists will even be giving live demonstrations of their craft! Everyone in the family from grand-kids to grandmas will find something to enjoy at the show.