Hit the Trails This Summer At the Great Smoky Mountains National Park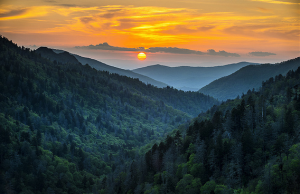 Sure, it may be a little rainy in Gatlinburg this week, but that only means that the trails will be even lusher and greener at the Great Smoky Mountains National Park! July is almost here and this means that hikers from around the country will be traveling to our humble town to experience one of the greatest places in America: the Smoky Mountains National Park. We might be a little biased, but we sure do think that we have one of the prettiest and most impressive national parks in the country. Since Elk Springs Resort is located so close to the GSMNP, our guests love the short drive from their luxury cabin rental to the thousands of acres to explore at our national park.
Choose Your Own Adventure
If you have never been to the National Park, it may seem a bit overwhelming. With so many trails to choose from, you may just decide to stay home and relax in a rocking chair on the porch. However, we recommend that you save the rocking chair for after a long day hiking and exploring our beautiful region of the country! Depending on your skill level, there are trails to accommodate easy walks, wheelchair users, dog lovers, family hikes, even trails to challenge experienced hikers. The easiest way to find a trail that will fit your hiking needs is to visit the "Plan Your Visit"  page of the GSMNP website. It has tons of advice for newbies, families, and advanced hikers alike; choose your own adventure and customize your hike to best suit your skill level.
No matter what your skill level, there are certain things that all hikers need to remember:
During the summer season, bring plenty of water! Even a simple walk can be draining and even dangerous without enough fluids. Bring a few reusable water bottles to fill up at your cabin to ensure that you stay hydrated AND don't leave any garbage behind.
That brings us to the second rule of any national park: leave no trace. Since you will not find garbage cans on hiking trails, it is important to carry all of your trash back with you to the parking site or your cabin. When possible, use reusable water bottles and food containers to ensure that garbage does not litter the trail and become a potential hazard for wildlife.
What should you wear on the trail? Depending on the weather, it is best recommended to wear light clothing for hot summer days. Long pants or shorts with high socks are recommended to protect legs from shrubbery and insect activity.
Even though many parts of the trails are shaded, you should wear sunscreen and bring bug spray just in case.
And we're confident that you will want to carry your camera to capture the stunning images of the mountain. Don't forget to fully charge your batteries,and have room available on your memory card before hitting the trail. You just never know what you will see! You can share pictures with friends, family, and even us here at the Elk Springs Resort to post on our website.
There is so much to do and see during your stay at Elk Springs Resort, plan your next adventure with our other top recommendations for fun activities in our vacation guide.