Gatlinburg Luxury Cabin Rentals are Ideal for Corporate Retreats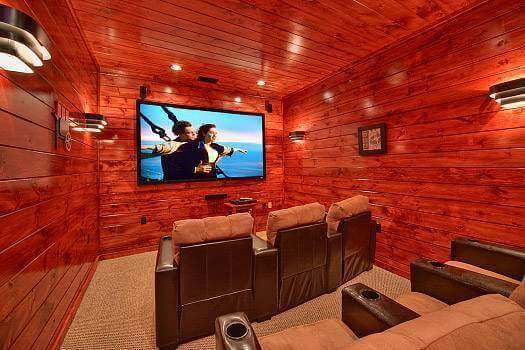 There are a dozen reasons why your employees can benefit from a corporate retreat in Gatlinburg, TN. It promotes team-building and cohesiveness, irons out working relationship wrinkles that can form over time, provides stress-releasing time away from the desk while still working towards a goal, and improves productivity and creativity when you return to work. Winter and Spring is a great time to pull some of your employees out of their rolling chairs, tell them to pack their bags, and inform them of their upcoming retreat in the Great Smoky Mountains.
If your group isn't exactly the kind that looks forward to setting up tents, gathering firewood, and swatting at the remaining bugs of the season, then a luxury cabin rental is exactly what you are looking for. The Elk Springs Resort offers five Gatlinburg Cabins that have five rooms apiece which can hold up to 15 adults. Whether you have a group of 75, 30, or 15, there is plenty of space for everyone to settle in for a long weekend of team-building activities. You can start with an early morning jog around the complex or, even better, trundle into your cars and pop over to the Great Smoky Mountains National Park which is only a short drive from your front door.
Come back to the cabin for a massive lunch, cooked right in the kitchen with all of the utensils and cookware you could need, or out on the gas grill that is easily accessed on the back porch. Hold meetings and access your email with the free and strong wifi access, even catch up on the latest football scores on one of the flat-screen TVs that can be found throughout the cabin. Later on you can head into downtown Gatlinburg for some shopping, wining and dining, even a round of mini-golf if your groups needs to release some hot-headed tension…there is something for everyone in this quaint but happening mountain town.
Feel free to contact us at the main office about setting up a corporate retreat this year, as well as our large-group rates that we offer to groups just like yours. Toll Free 866-550-1795