Bagpipes, Tartans and Highland Dancers-Oh My!-in Gatlinburg this May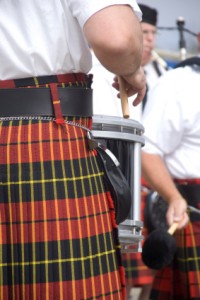 Each May the men and women of Gatlinburg and beyond bring out their tartans and plaids to display proudly at the Gatlinburg Scottish Festival and Games. A fun-filled day that has new surprises in store each year, it is a great way to enjoy the warmer weather heralding the spring season while celebrating the Scottish traditions that are a part of Gatlinburg's history. While at the event, be sure to stay at a Gatlinburg Cabin. An event so large that is has to be spread out over the course of three days you will want to book your luxury cabin rental early to ensure a spot at this year's games.
Starting out on Friday, May 14th at 9:30 AM, kick the weekend off early with a mountain stroll, followed later on by a whiskey tasting, a Parade on the Parkway and the evening's Gala Reception and Banquet. Of course you don't need to attend all three days to have fun at the Scottish Festival; but you will want to after reading on about the rest of the scheduled activities.
The next day starts even earlier when the gates open onto the fields at 8 AM; registration for the individual pipers will begin at the Lowland Gate. For all of those athletes participating in the games come early to avoid standing in line for registration. With events including Manhood Stones, a Dance Competition, Clan Challenge and the Kilted Mile there will be so much to watch and do; even the dogs get to join in the fun, take in one of the border collie shows going on during the day. At night bring a blanket to snuggle up with a loved one or your family during Ceilidh Under the Stars beginning at 7:30 PM.
Although you will most likely be tired from the jam-packed day before drink an extra cup of coffee to get energy for the concluding day of the Scottish Festival and Games. Fans of bagpipes and drums will love the Knoxville group playing at noon; canine fanatics must attend the Scottish Dog Parade& Talent Show; more athletic challenges including Knobby Knees for the lassies only. By the conclusion of the weekend at 4:30 you might just be wearing a kilt of your own and going with some new friends to take down a pint at the local pub.
Easily accessible from your luxury gatlinburg cabin, the games are located off of the main street of Gatlinburg via traffic light #3. For further directions feel free to contact our staff, you might even see some of them there at the games that weekend!