Things to Do in Gatlinburg
Gatlinburg is one of the premier vacation destinations in the southeast, and with 11 million visitors each year there's a reason people keep coming back to vacation here, time and time again. Not only is Gatlinburg nestled in the heart of the stunning and majestic Great Smoky Mountains, this quaint mountain town offers a wealth of attractions and adventures for visitors of all ages.
Vacation Guide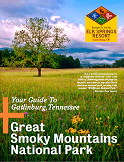 One of the best parts of any vacation is the anticipation, those daydreams of fun and relaxation that keep you going through the grind of a long work week or school day. Our Vacation Guide will not only provide you with the tools to plan your stay, but your anticipation and excitement will continue to grow as you prepare for an unforgettable vacation.
Download our comprehensive guide which is a culmination of expert advice complete with local and tourist favorites; your family will find everything you need to create the vacation of your dreams.
The Great Outdoors
Activities & Attractions
Culture
Seasonal Events