Gatlinburg Golf

For Golf aficionados the Gatlinburg and Great Smoky Mountain area provides a unique challenge and unparalleled setting to play the game. Regional golf courses are replete with the rolling greenways, spectacular mountain views, and specially designed holes not found in other golf courses in the Southeast.
As Bradley Meredith, Assistant Manager at Edwin Watts Golf Shop in Knoxville notes, "Gatlinburg and the Pigeon Forge area great golfing destinations in this part of the country. Obviously the Smoky Mountains provide a beautiful backdrop for any outdoor activity, but what truly makes the region unique is the elevation changes and wonderful climate. To our north and south courses typically play relatively flat. Now that is not to say that the rolling hills in surrounding areas do not provide a challenge but the opportunity to design some truly amazing and challenging holes is all the better with such naturally occurring elevation."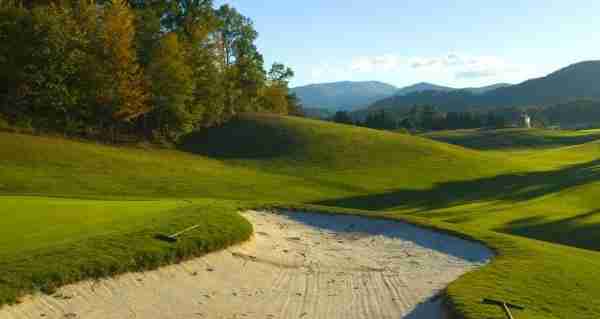 These challenging fairways and emerald greens are sure make an impression on any devoted golfer as he or she tries to conquer these picturesque courses tucked in the folds of the Great Smoky Mountains.
As Meredith continues, "...the scenery is what really sets the courses of the area apart though. With four distinct seasons, golfers are able to truly enjoy all East Tennessee has to offer via breathtaking views. Spring and summer offer the lush greenery and warmth while fall and winter provide serenity and color."
No matter what the season there are plenty of options for golfers visiting the Gatlinburg area. These area courses are highly lauded for their beauty and challenge and consistently voted some of the top golf courses in the South.
Gatlinburg Golf Course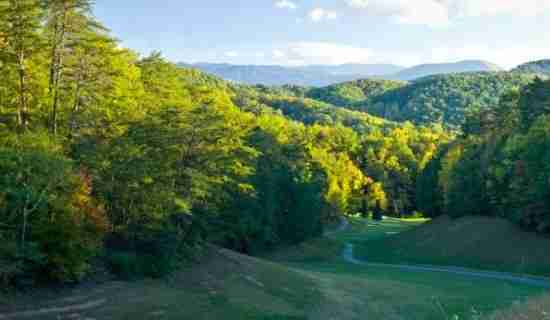 Set against the majestic backdrop of the Great Smoky Mountains, Gatlinburg Golf Course has been voted one of the best municipal courses by Golf Digest. The acclaimed Gatlinburg Golf Course, located just five miles from downtown Gatlinburg, was designed by William B. Langford.
This 18-hole course was uniquely designed course to make the most off the natural scenery, challenging yet picturesque, and this course received major renovations in 1993 and in 2007. Many greens and fairways were rebuilt and reworked for optimal use and beauty.
Noteworthy Holes: Play their legendary #12, affectionately known as "Sky Hi." Its 194 yards in length and drops 200 feet, tee to green, making it one of the most dramatic holes in the country. The #3, 529-yard par 5 we call "Long Lane," and for good reason!
And #17, a 231-yard par 3, offers little in the way of forgiveness. All together, it's 6,281 yards of challenge and fun. Gatlinburg Golf Course is open year round and features a modern clubhouse, a pro shop, and food services.
Green Fees (price includes 18 holes with cart):
June- October & Holidays
Before Noon: $60
Noon to 4 p.m.: $50
After 4 p.m.: $40
9-Hole Fee: $30
April, May & November
Before Noon: $55
After Noon: $45
9-Hole Fee: $30
For more information or to schedule a tee time visit
http://golf.gatlinburg.com/
or call the Pro Shop at (800) 231-4128 or (865) 453-3912.
Bent Creek Golf Course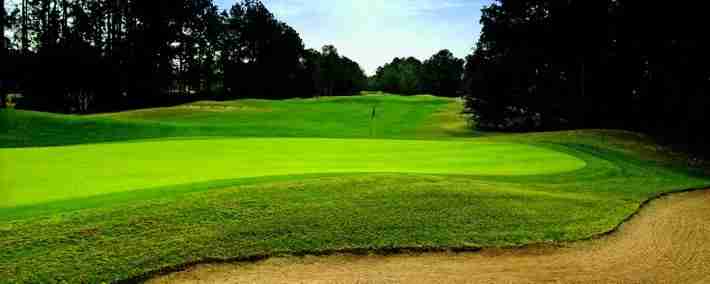 Rated one of the top fifty golf courses in the South by Southern Living Travel Guide, Bent Creek Golf Course, is a must for the devoted golfer.
Opened in 1972, this course was designed by three time Masters and British Open Championship Winner Gary Player. This 18 hole /par 72 course takes advantage of the mountainous landscape with the front 9 holes hugging the valley floor, and the back nine holes challenging golfers along mountainous terrain.
Nestled in the heart of the Great Smoky Mountains, cut with a sparkling mountain stream, Bent Creek Golf Course is renowned for its natural beauty. With a combination of bent grass and Bermuda keeps this lush course is playable year-round.
Bent Creek Golf Course offers many features and amenities such as a Creek Side Grill, Putting Green, Group and Tournament Rates, Full-Service Golf Shop, PGA Staff, and much more.
Green Fees (applicable 7 days a week):
Before Noon: $50.00
Noon until 3:00: $40
After 3:00: $30
Sevierville Golf Club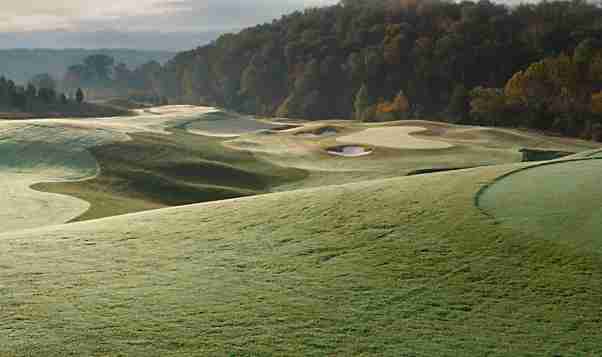 Tucked into the foothills of the Great Smoky Mountains, the Sevierville Golf Club is a favorite golfing spot for locals and visitors alike. This course comes highly recommended by Bradley Meredith, Assistant Manager at Edwin Watts Golf in Knoxville as he states, "Sevierville Golf Club is a great place to take in some amazing views of autumn's foliage up close with the backdrop of the mountain."
This golf club features not one, but two 18-hole, championship courses. The Highlands course is a par 70 course that hugs the rolling foothills of the mountains and encompasses several freshwater ponds. The River, a par 72 course, winds along the scenic Little Pigeon River.
Sevierville Golf Club offers many of the amenities of a private club on a daily fee basis. Such amenities include an extensive driving range with putting tees, a large putting green, and a chipping area; all included to help golf connoisseurs fine tune their skills. The Sevierville Golf Club also features a food and dining services at their own site restaurant. Mulligan's.
In addition, the Sevierville Golf Club offers individual and group lessons for beginning golfers looking to develop their game.
Green Fees (includes carts) April- October:
| | | |
| --- | --- | --- |
| Eighteen Holes | Sun-Thurs. | Fri., Sat., & Holidays |
| Before 1:00 pm | $49.00 | $59.00 (50% off juniors 15 & under) |
| After 1:00pm | $39.00 | $49.00 (50% off juniors 15 & under) |
| After 3:00 pm | $29.00 | $34.00 (50% off juniors 15 & under) |
River Islands Golf Club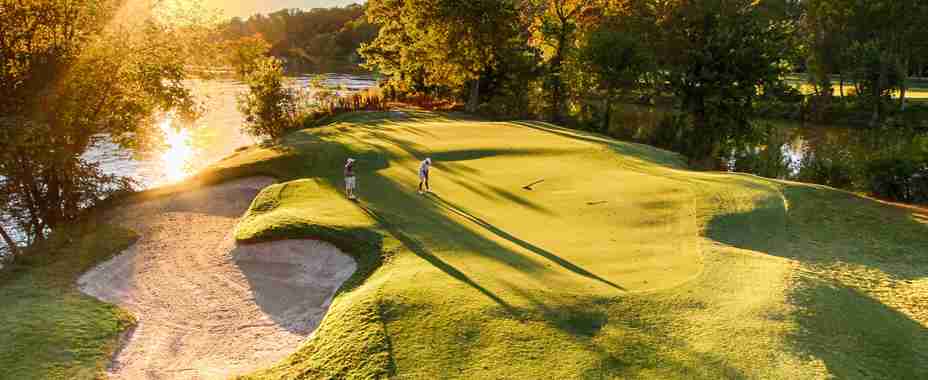 Named as one of the top 10 courses in Tennessee by Golf Digest, River Islands Golf Club is a beautifully designed course located in Kodak Tennessee. Situated between Knoxville and The Great Smoky Mountains, this course is comes highly recommended for its beauty. As Bradley Meredith, Assistant Manager at Edwin Watts Golf in Knoxville notes, "River Islands near Kodak adds the reflective qualities of the river and tributaries to fall colors making it particularly enjoyable this time of year."
Laid out on over one hundred seventy five acres of spectacular scenery, this course has a true links style, Arthur Hills design. The picturesque course takes golfers over rolling hills, sweeping valleys, around sharp bluffs, and along the French Broad River dotted with islands. This course features nine holes along the water, new Miniverde greens, and Zoysia fairways that offer a challenging yet beautiful game for the dedicated golfer. This course also offers a more competitive option with the opportunity to play 7,001 yards from the back tees or for those seeking a more manageable game, 6,300 yards from the regular tees.
River Islands also offers excellent PGA golf instruction for golfers interested in honing their craft with a superb practice facility onsite. In addition, the River Islands Clubhouse serves as a great gathering place for food and fellowship and is a great place to host large golf gatherings, wedding receptions, or special events.
Green Fees:
February Winter Rates
March
Monday-Sunday until 12 PM - $40
Monday-Sunday after 12 PM - $35
Monday-Sunday after 2 PM - $27
April 21st - October 21st
Monday-Sunday until 12 PM - $55
Monday-Sunday after 12 PM - $45
Twilight Special Monday-Sunday after 3 PM - $27
Practice Facility/Range Balls $15 ($5 & $8 buckets)
9 holes after 3 pm $20 walking/ $25 with cart
Area Golf Shops in Gatlinburg

J. Floyds Golf & Guns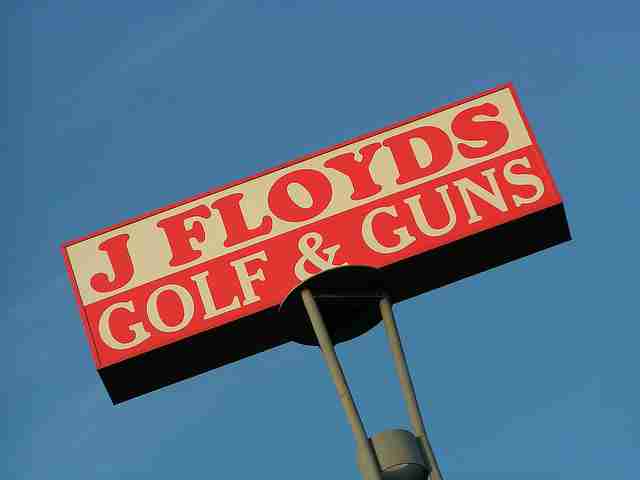 Located in Sevierville, J.Floyds Golf & Guns is a tried and true favorite for golfing equipment and apparel. As owner J. Floyd puts it, "One of the first steps to improving your golf game is to be fitted with the best equipment to suit your personal approach to the game." This local golf shop is convenient and offers a huge variety of golf apparel and accessories.
J. Floyds proudly features one of the largest selections of golf clubs in East Tennessee. Their other products include: golf bags, golf apparel, golf balls, tees, and more. Our golf products are from brands such as TaylorMade, Nike, PING, Callaway, Titleist, Ben Hogan and others.
Located at: 539 Winfield Dunn Parkway Sevierville, Tennessee | (865) 453-5010.
Edwin Watts Golf Shop

Edwin Watts Golf Shops LLC is a premier specialty golf retailer. With over 88 stores across the United States and an extensive online inventory, this golf shop offers some of the best in brand name golf equipment, apparel and accessories. Established in 1968 Edwin Watts Golf Shops LLC has a tried and true reputation for offering superior customer service and a price match guarantee.
Edwin Watts Golf Shops employ only the most highly knowledgeable and experience staff to help customers of all skill levels with lessons, performance fittings, special orders and repair services. As owner and founder Edwin Watts attests, "We have the finest staff a company could ever want. From the mail-order division to our retail stores, our people know the industry and are dedicated to the customer. They're simply the best in the business." Knoxville, Tennessee, just up the road from Gatlinburg is the proud home of an Edwin Watts Golf Shop located at 11360 Parkside Drive. Assistant Manager of the Edwin Watts Golf Shop in Knxoville, Bradley Meredith is a proud part of the Edwin Watts tradition. When gearing up to play in the Gatlinburg area Mr. Meredith recommends, "As far as equipment goes players need to be prepared to use every club in their bag. The varying tee locations and different grass types will offer any player a challenging yet rewarding round. I personally find a rescue club or two come in handy especially from our thick rough!"
Edwin Watts Knoxville store is located at 11360 Parkside Drive Knoxville, Tennessee 37934 | (865) 675-3340.