Gatlinburg Hiking
Situated at the main entrance to the Smoky Mountains, Gatlinburg is the ideal place to stay for visitors and locals alike who love hiking its sundry trails. Whether you are a seasoned pro or a beginning climber there is a trail to suit your skill level and personality. With over 800 miles of trails you might want to try more than just one!
If you are hiking for the first time, there are a few things to keep in mind.

1) Plan your route beforehand and don't stray from it. Bring a map of the area and ask the park
ranger or a local if there are any blockages on that path.

2) Do not go by yourself! Hike in groups of two or more in case there is an emergency.

3) Familiarize yourself with poison ivy and other plants to avoid.

4) Wear boots that offer ankle support. The rough terrain can easily cause injuries or strains.

5) Hike during the daylight hours and on days where the weather is good with clear visibility.

6) Pack light. Bring enough food to last the day and ample water.

Hiking in the Smoky Mountains is a wonderful experience throughout the year. Are you interested in seeing waterfalls? Old-growth forests? Beautiful vistas? Doing some research beforehand is essential to finding the best trail for you. You might want to choose a self-guided tour if this is your first time visiting the Smoky Mountains. Numbered guide posts are linked to leaflets that are available at each masthead, each post guides the hiker to a featured spot or nature point along the path.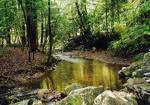 For beginning to moderate hikers, here are a few of our favorite Short Hikes:

Abrams Falls (5 miles): This is a relatively level path until the end where it becomes a bit steep before arriving at the gorgeous Abrams Falls.

Cades Cove Natural Trail (2 miles): This is a very family-friendly trail, don't forget to pick up an informational brochure that explains the history and nature that you will see along the trail.

Clingman's Dome Tower (1 mile): A favorite among families, this is an easy trail that is also wheelchair and stroller friendly.

Gatlinburg Trail (3.8 miles): This is one of the few dog-friendly paths in the park so feel free to bring along your four-legged companion to share in the beauty with. Bicycles are also allowed on this trail.

Grotto Falls (2.4 miles): The only waterfall in the park that you can walk behind, this is close to Gatlinburg and has been a favorite for years.

Rainbow Falls (5.4 miles): This is one of the more difficult trails but well worth the hike as it leads to the highest waterfall in the Smoky Mountains. Don't forget to bring your camera as you will walk by boulders and hemlock forests along the way.

More experienced hikers will enjoy these trails that are generally longer than 6 miles and can easily be comfortable day hikes.

Charles Bunion (8.2 miles): Always wanted to hike the Appalachian Trail? The majority of Charles Bunion goes along the famous trail and offers panoramic views at both the beginning and end of the trail.

Gregory Bald (9 miles): One of the hardest hikes in the Park will take you through old-growth forests and up to 3,000 feet in elevation to the sight of Gregory Bald. Don't forget to take a picture with one of the 8 feet in diameter tulip poplars.

Mt. Sterling (12 miles): This is a slightly more strenuous hike but it will take you through three different types of trees – Spruce Fir, Fraser Fir, and Red Spruce.

Ramsay Cascades (7.5 miles): For waterfall-lovers this is the trail to hike. You will be rewarded by the beautiful site of the 100 foot Ramsay Cascades and old-growth forest.

Shuckstack (6.8 miles): Not the best trail in wet or snowy weather but perfect for clear, sunny days. Hikers will be rewarded by the gorgeous views of Fontana Lake and the Smokies.

Spence Field/Thunderhead (14.4 miles): Starting out at Cades Cove Picnic Grounds this trail brings hikers to Thunderhead Mountain. This is one of the longer trails but a crowd-pleaser, the views at the top are spectacular!

Don't forget to bring a camera on your hike to show family and friends the beautiful sights of the Smoky Mountains! For any additional questions feel free to contact our cabin staff so that we can help you plan your perfect hiking expedition.