Free Gatlinburg Weather Widget For Wordpress
We've developed a FREE weather widget for WordPress. If you have a WordPress powered website in Gatlinburg, this handy little plugin will add great value to your website. It even has a built in webcam image of downtown Gatlinburg so you can actually SEE what the weather looks like in town.
Here's how it looks on your site: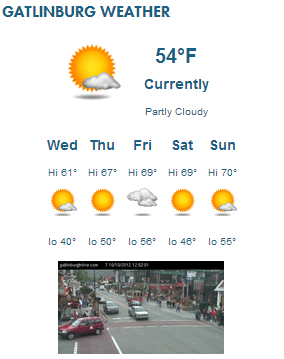 And it's completely customizable

It's super easy to install. Just follow the instructions below.
First, click here to download the FREE plugin files
Next, install!
1) Log in to your WordPress Admin.
2) Mouse over "Plugins" on the left side menu and choose "Add New".
3) In the row of links at the top of the page, choose "Upload".
4) Click the "choose file" button and browse your computer for the zip file.
5) Click install now.
6) Click Activate Plugin.

Next, you will need to add the weather widget to your sidebar. Here's how:
1) Mouse over "Appearance" in the sidebar, and choose "Widgets".
) Grab the "Gatlinburg Weather Widget" from the middle section and drag it over to the sidebar section on the right.
3) Click the little down arrow to edit the settings, and customize to your preference. Any problems or questions, just send us an email and we'll help you out!