Gatlinburg
Gatlinburg is surrounded by the Le Conte and Sugarland Mountains to the south, Cove Mountain to the west, Big Ridge to the northeast, and Grapeyard Ridge to the east. The Little Pigeon river makes it's way from the mountains through the center of downtown. The main Sugarland's entrance to the Great Smoky Mountains National park is a short 2 miles from downtown. Consider Elk Springs Resort for your next visit to the area.
Area History

Gatlinburg is the resort village of choice for thousands of travelers year after year. Learn more about the "land of paradise" and the rich history of our area and find out why our town will keep you coming back for more."
Gatlinburg Vacation Guide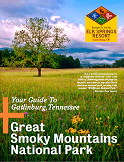 Your vacation experience in Gatlinburg starts here! We've put together experts advice and solicited travelers opinions to bring you the info you need to plan your vacation. From outdoor fun such as hiking, zip=lines, rafting and skiing to amusement parks such as Dollywood and Ripley's Aquarium of the Smokies; you'll have what you need to plan your stay. The vacation guide is free!
View the Vacation Guide

Download Your Free Vacation Guide
Have any questions? Feel free to contact us toll free at 866-550-1795 x2.
Things to Do While on Your Vacation
Over 9 million visitors a year travel to the area to experience the beauty of the Smoky Mountains and all of the fun and exciting things to do in our vibrant city. With Ober Gatlinburg Ski area, there are many activities to do outside of the spring, summer and fall seasons. Visitors can enjoy not only the many outdoor activities available for free in the Great Smoky Mountain National Park, but also many amusement park type activities such as mini golf, go carts, game rooms and kids attractions. Downtown Gatlinburg being the hub of the area, there are walking malls filled with shops and dining options. Or you can venture into the Arts & Crafts community which is a short 8 minute drive from downtown. This area is secluded and quiet compared to downtown, but conveniently only 8 minutes to the faster pace. Click on the links below to discover just some of the fun and exciting things to do during your vacation.

Hiking
Scenic Drives
Area Hiking Trails
Outdoor Activities
In Cabin Massages
Helicopter Tours
Gatlinburg Skiing
Gatlinburg Fishing
Gatlinburg Attractions
Gatlinburg Shows
Area Hiking Trials
Shopping
Malls
Gatlinburg Wine Tastings and Wineries
Events
Golf
Bent Creek Golf Course
Local Attractions
Arcadia Planet Fun Arcade
Fort Fun Arcade
The Salt and Pepper Shaker Museum
Amazing Mirror Maze
Christ in the Smokies Museum and Gardens
Space Needle
Guinness World of Records Museum
Fannie Farkles Arcade
Cooters Place in the Smokies
Hollywood Stars Cars
Guy Michaels Comedy Hypnotist Show
Ripleys Haunted Adventure
Shopping
Historic Arts and Crafts Community
Skiing
Ober Gatlinburg Ski Resort
Ziplines
Ziplines
For a comfortable and affordable stay in Pigeon Forge, see the great selection of
cheap Pigeon Forge cabins
offered with DestinationSeek.com.
Area Activities
Great Smoky Mountains National Park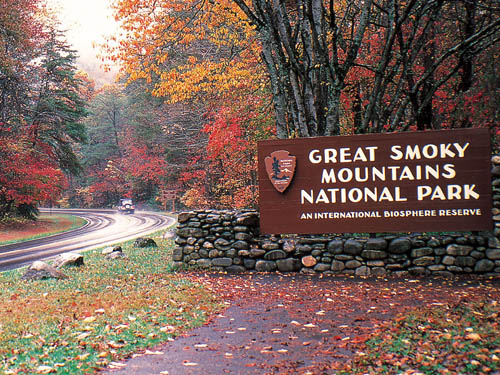 Over 10,000 acres of wilderness and home to more species of flora than anywhere in North America, the Great Smoky mountain national park is the #1 visited park in the USA. Elk Springs Resort borders the foothills parkway section of the park and is only 5 minutes to the Greenbrier entrance, the Little Pigeon River and only 10-15 minutes from the main entrance and Sugarland Visitors center.
Arts and Crafts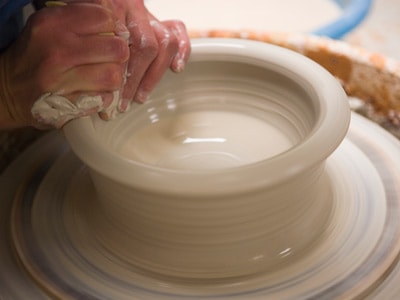 Elk Springs Resort is located at the edge of the Arts and Crafts Community which is comprised of over 100 artisans actively practicing their talents and trades. It's how downtown Gatlinburg gained it's popularity and as the town grew these artisans migrated their shops to the famous "Artists Loop". There are many shops and Cafe`s to explore and enjoy from pottery, to wood carvers to glass blowers.
White Water Rafting and Tubing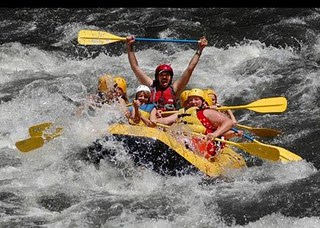 Many outfitters can accommodate varying skill levels of rafters with rapids ranging from class I to class IV. For those looking for a smooth glide down the stream several tubing companies are close by to provide the equipment and transportation.
Zip Lines and Canopy Tours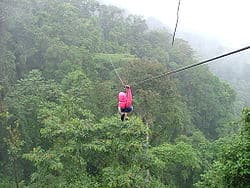 The hottest trend in outdoor adventure activities - try zip lining at 200 feet from tree to tree while experiencing and enjoying the Great Smoky Mountains. Rated the number 1 attraction in Gatlinburg, the Climbworks Canopy tour and zip lines are only 15 minutes from Elk Springs Resort.
Hiking and Horseback Riding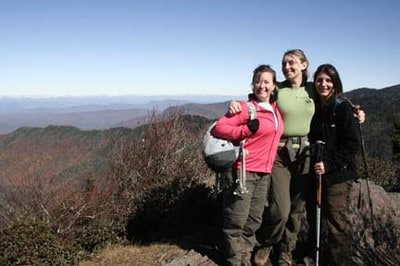 Many outfitters feature horseback riding across varying terrain within minutes of the Resort and most are suitable for all ages. Looking to Hike as opposed to ride? Numerous hiking trails are within minutes of Elk Springs Resort and most are within the Great Smoky Mountains National Park. Whether you want to ascent Mt. LeConte or walk on a leisurely paved trail there are many options. Be sure to check out one of the many waterfall hikes!
Dollywood, Ripley's Believe it Or Not!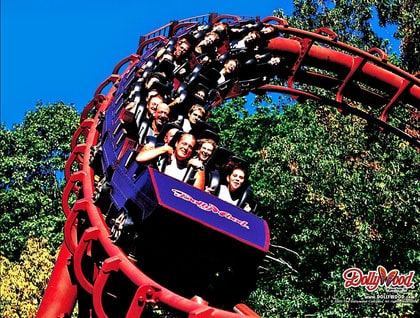 Pigeon Forge is the home to Dolly Parton's famous Dollywood. Carved into a valley it's a major amusement park featuring the world's number 1 ranked wood roller coaster as well as many other theme rides; the park also features many country music venues and traveling entertainers. Adjoining Dollywood is "Splash Country" which is Dollywood's 30 Acre water park. Both parks are only 15 minutes from Elk Springs.
Fishing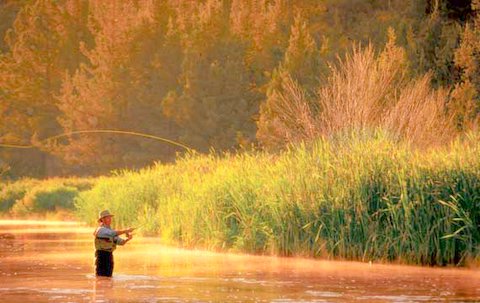 With miles of rivers and streams located inside and outside of the national park there are many fishing options depending on the season. With a hatchery in Gatlinburg the release program provides kids the opportunity for success off the Little Pigeon River during season. Several fly-fishing guides and outfitters are available to assist you on your trip and a 1-3 day license is inexpensive.
Skiing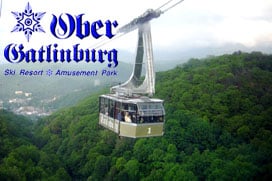 Elk Springs Resort is located about 20-25 minutes from Ober Gatlinburg ski area which is accessible by car or by the aerial tramway from downtown Gatlinburg. It's the longest tram in North America and many say worth the trip. Ober Gatlinburg features excellent seasonal skiing, tubing and many summer activities such as go karts and an alpine slide.
Shopping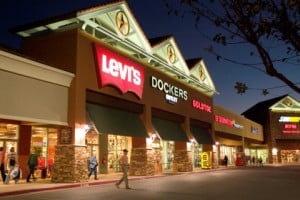 Downtown Gatlinburg is certainly unique and offers visitors a chance to stroll the parkway and the many shops along the river. Looking for big box stores? With over 1.1 million square feet of outlet malls within 25 minutes of the resort property - if hiking isn't on your agenda for the day, shopping certainly can should!
Golf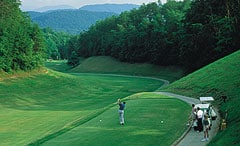 Two championship golf courses carved through the mountains are located just 15 minutes from the resort property. Gatlinburg Golf Course and Bent Creek Golf Club each offer unique course experiences. Be prepared to golf through valleys, the forest and to tee off from elevated tee boxes.